Capacity might be the most meaningful thing to consider in RAM. But the RAM speed also doesn't fall behind.
In a hurry, check my #1 recommended 4000 MHz RAM.
Or else, take some time to read my review on some top-notch memory modules.
Some CPUs benefit greatly from faster memory kits. The most recent Ryzen 5000 series, and to some extent, the Intel 10th Gen, needs faster modules for better performance.
I prepared a list of the best gaming RAMs under the 4000 MHz category to answer all your questions.
Also, check out the suitable RAM for Ryzen 7 5800x.
Best 4000 MHz RAM Reviewed
I know it's not a great feeling if you buy the wrong product. It's like wasting time, money, and effort at the same time. After going through this article, I assure you that the time you spent here won't be a waste.
Here I compiled some of the best memory kits that can meet all your specific needs.
Want to know about them?
Check out our experts recommended best RAM for Ryzen 5 5600x and Ryzen 9 5950x RAM.
Here are the nine best 4000 MHz RAMs for your gaming build:
1. Corsair Dominator Platinum RGB
Let me start with Corsair, the brand I trust the most. Whenever I am about to build a rig, I always look for its components. Because this brand has rarely let me down.
Especially the memory kits for which they are pretty well revered.
That said, this model from Corsair attributes the following specs:
Capacity: 32 GB
Ultra-bright LEDs
High-performance PCB
CAS Latency of 19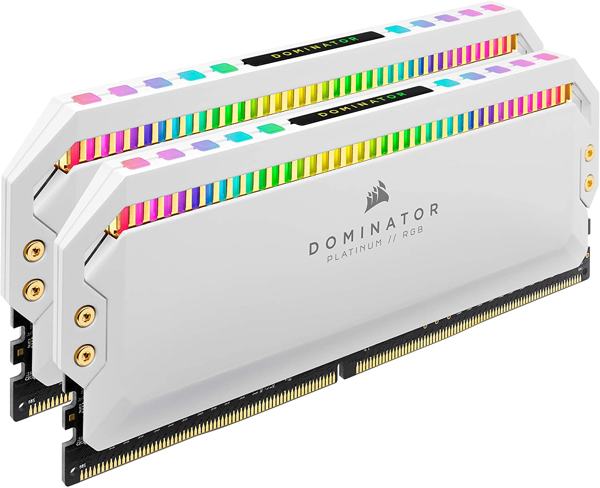 Check Today's Price of Corsair Dominator Platinum RGB ➜➜
The DDR4 RAMs from the Dominator Platinum RGB series are world-class. They fall under the category of the most advanced DDR4 modules. Here in this review, I will talk about the white version of this module that comes with a 32 GB capacity.
I honestly tell you that the whole white texturing looks very soothing to the eyes. Also, the finishing over the body looks pretty cool.
The best part is the DHX cooling tech. It ensures proper dissipation of heat so that the modules don't risk failing due to heat.
Now, performance-wise, I would say that this memory kit is unrivaled. It's a flagship product from Corsair that gained the trust of gamers for its top-notch output.
If I tell you about my experience, I tried this RAM module on my Ryzen 5800x gaming rig. I felt that this model does justice to its name. You will be able to reach the rated speed easily. Even if you go beyond that while tweaking won't cause any major issues.
Thinking of building a gaming  PC with all 3rd gen AMD components? Check out our experts recommended best graphics card for Ryzen 7 3700x, RAM for Ryzen 7 3700x, and the best motherboard for Ryzen 3700x.
About the RGB, I would say it's mind-blowing.
You will be able to control it using the Corsair ICUE software. And if your rig has other components from Corsair, you can sync the system's total lighting simplistically.
In case your rig doesn't have components from this brand, no problem!
You will still be able to set different lighting profiles using 15  default customized effects.
Want to know the best part about lighting?
It's the usage of Capellix LEDs, which are well-known for their superb quality. I tell you, if you are going to add this 4000 MHz RAM to your system, the glow would be stunning.
Sadly, even after all such remarkable features, this gaming RAM has its own share of flaws. There might be some sort of clearance-related issues due to the height of the modules.
Other than this, I would say this is the best 4000 MHz gaming RAM you will get in the market.
2. Thermaltake Toughram RGB
Class and performance go with the brand Thermaltake. They have been producing some top-quality memory kits over the years. The kits from the Toughram RGB series are class-leading.
This model from the same series sports the following specs:
Capacity: 16 GB
10-layer PCB
3-way RGB sync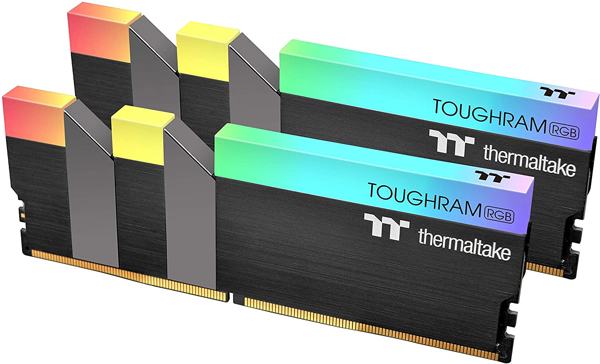 Check Today's Price of Thermaltake Toughram RGB ➜➜
I rate this DDR4 kit as one of the potent options for any high-end gaming rig.
Why wouldn't I?
As a RAM kit, it boasts top-tier aesthetics along with superb build quality. The heat spreaders are aluminum-made, which turns out to be quite sturdy. It ensures proper heat dissipation enabling top-notch performance.
Now, I feel the dynamic RGB lighting is one of the main elements of this RAM kit. It's like an eye-candy when turned on, and you can't take your eyes off it.
Per module, 10 LEDs offer such a flawless glow. For customizing, you will have a pool of 16.8 million colors. This will allow you to add any flair that goes with your taste. Don't forget to check out some of the best 3200 MHz RAMs for a faster gaming experience.
What made me more interested in this RAM is its software. It will enable you real-time monitoring of temps, frequency, and performance.
As I mentioned performance, in my opinion, this RAM fares up pretty well. I reached 4000 MHz smoothly. If you try, you can go beyond the rated speed to 4200 MHz. But anything beyond this, I would suggest you overclock a tad slowly.
The price is okayish. However, the bulky nature of the modules may not be likable to everyone. Also, the modules are heavy.
But if any of the issues aren't your concern, you are good to go with this gaming RAM. Check out some of the best 2666 MHz RAMs for a faster gaming experience.
3. Corsair Vengeance RGB Pro
The kits from the Vengeance RGB series of Corsair are suitable for gaming builds. They can help you out to squeeze the most out of your system. One such memory kit is this model I am going to discuss right now.
This DDR4 RAM from Corsair attributes some notable features:
Capacity: 16 GB
CAS Latency of 19
10 LEDs per module
Carefully screened IC's
Check Today's Price of Corsair Vengeance RGB Pro ➜➜
This DDR4 kit made it to my list because I think it's excellent in every aspect. I mean, there needs to be a solid reason for not choosing this RAM.
As a memory kit, it is extensively styled. But no compromise is made with the level of performance it will offer. It's quite promising for a gaming rig.
Especially if you seek to overclock your rig, this RAM would be a terrific option. In it, the IC's are carefully screened, which mainly assures the fact about its top-end stability.
I say this DDR4 4000 MHz gaming RAM is best for reaching your rig's max overclocking potential. Don't forget to check out some of the best 3000 MHz RAMs for a faster gaming experience.
Now, my opinion about the RGB implementation on this RAM is highly positive. While I tested it on my rig, I found a vivid lighting aura. It is something that will catch your eyes within a second.
The ten bright LEDs per module are the main reason behind such aura. These LEDs offer some striking effects that feel like a treat to the eyes. And for customizing them, you can use the ever-responsive Corsair ICUE software.
Besides, there are also other reasons to love this RAM kit. One such is its seamless installation, which doesn't involve any wires or cables.
One thing that isn't discussed is the price. I feel it's a tad on the higher side, though your opinion can differ from mine.
Nonetheless, this DDR4 gaming memory is worth buying and does deserve some appreciation.
4. Teamgroup T-Force Nighthawk RGB
Would you like something unconventional? Teamgroup has it in store for you.
This model from Teamgroup attribute the following specs:
Capacity:16 GB
10-layer PCB
Energy efficient
Lifetime warranty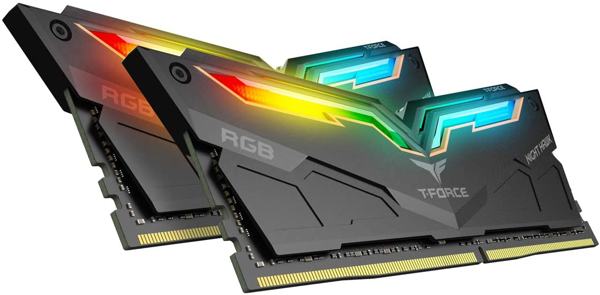 Check Today's Price of Teamgroup T-Force Nighthawk RGB ➜➜
At the start, I called this DDR4 kit unconventional because of its unique looks. By unique looks here, I meant that the RAM composes a unique design.
I felt that this design has some killer aspects. The totem-like shape will attract you at first glance.
Now, this model from Teamgroup isn't all about looks. It made it to my list because of the awesome performance backed by its killer design.
The heat spreaders look attractive and do the job of dissipation quite aptly. Besides, I found the lighting performance quite impressive. When the rig comes to life, the light bars become visible, and the lighting that it offers is quite enchanting. The vividness is outstanding, in my opinion.
Now, after I have done so much talking, a few questions might arise. Check out some of the best 4400 MHz RAMs for a faster gaming experience.
You might ask me why I added this RAM to this list as it's not rated 4000 MHz.
Well, I got reasons. This DDR4 kit might not be a 4000 MHz one, but it bears a high overclocking potential. That is, by overclocking, you can go beyond 4000 MHz.
However, note down one thing. When I tested, I tried manually overclocking instead of enabling XMP, and it was a success. That is why I suggest you try the manual way because auto overclocking bears some complications.
After all, if you feel that this is the memory kit that you should be buying, I would tell you to check whether it's feasible. Because the price is high for this model, which might not be reasonable to everyone.
But if the price isn't an issue, then this RAM is one of the coolest options you can get for your rig.
5. Adata XPG Spectrix D80 RGB
What is the most exotic-looking 4000  MHz RGB memory kit?
I reckon Adata got an answer for you.
This model from them sports some fantastic specs:
Capacity: 16 GB
10-layer PCB
Aluminum heatsink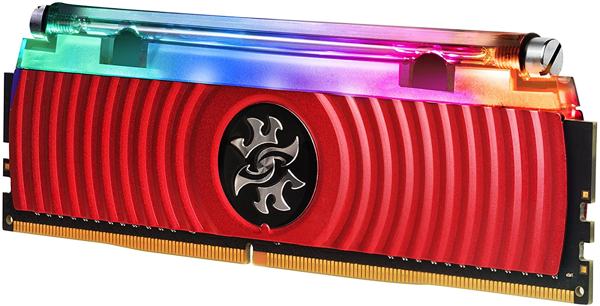 Check Today's Price of Adata XPG Spectrix D80 RGB ➜➜
I added this RAM kit to my list not just because of its exotic outlook. It does have some unique elements.
This RAM possesses hybrid liquid-air cooled modules. They are different in case of functionality, and also, when they come to life, they look quite enchanting.
If you are someone who prefers aesthetics, I bet you would love this module. It comes with a flashy design in the aluminum heatsinks that can allure you right at the moment.
Want to know the unique part?
Then listen, in the heat spreaders immersion cooling 3M liquid is used which has a high thermal conductivity. The best part is that this liquid is electrically non-conductive, which makes it a safe option. Don't forget to check out some of the best 4800 MHz RAMs for a faster gaming experience.
So what Adata claimed about hybrid cooling is true. The heat will be dissipated partly by the liquid and partly by the heat spreaders.
Now, I think we should talk a bit about overclocking. Since these are Samsung B-die kits, reaching rated speed won't be a problem, but you might face a few issues while tweaking.
Apart from this one problem, looks-wise and RGB-wise, I feel this DDR4 RAM offers a great value.
6. Corsair Vengeance LPX
I often wonder why this model from Corsair isn't hyped that much. It is an excellent gaming RAM that can exploit the most out of your system.
This model from Corsair has the following features:
Capacity: 16 GB
Aluminum heatsink
High-performance PCB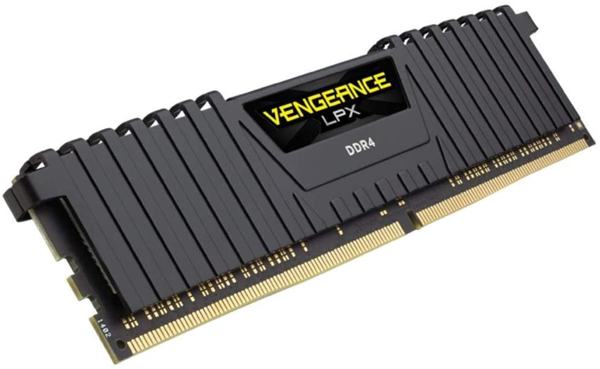 Check Today's Price of Corsair Vengeance LPX ➜➜
If your gaming rig is low-profile, this is the best DDR4 4000 MHz gaming RAM you can get. This kit is equipped with one of the smallest DIMMs, which eventually gives it an edge over other RAMs.
You'll also love to know that even if you have some bulky components inside your rig, this RAM kit won't cause you any clearance issues. It is that small!
Let's now talk about the outputs that this RAM has to offer.
I will not beat the bush around. This memory kit is performance-oriented. So, expecting too many aesthetic elements would disappoint you a bit.
It bears no RGB LEDs or flashy design. Therefore, looks aren't a thing in case of this RAM. Let that sink in.
But, if I have to give an opinion about its performance, I would say it is of the highest class. My testing results say it's fast and consistent. There is also a good balance between speed and stability—almost zero chance of breaking down.
To sum up, it may not be a RAM with striking looks, but it has the beast-like ability to get the best out of your system.
7. Crucial Ballistix MAX RGB
If you are an overclocking enthusiast, this RAM from my list can be a fantastic option for you.
As a RAM, it features some notable specs:
Capacity: 16 GB
8 RGB zones
CAS latency of 18

Check Today's Price of Crucial Ballistix MAX RGB ➜➜
Crucial always makes top-grade memory kits. Their Ballistix series of modules became famous over the years for its superb quality. This version, the Ballistix MAX RGB, is an excellent option for adding in a gaming build.
As I said earlier, this is mainly for the overclockers. After testing this DDR4 kit in my rig, I found that it's potent enough to take the hell out of any system with decent specs.
The best part is:
The design that Crucial went for this RAM provides enough durability to the modules.
Therefore, be it design or performance, you got nothing to complain about.
The lighting implementation is decent in the modules. You'll find eight lighting zones in each module, which actually delivers a vibrant spectrum.
The problem with this RAM is its price, which is high. But, apart from the price, I think there isn't any significant part you can talk about.
To end up, I would say, if you are an experienced overclocker or want to overclock your system, it's the RAM to go for.
8. Patriot Viper Steel Series
This RAM module from Patriot is well-known for the finishing given.
As a DDR4 kit, it sports some of the finest specs:
Capacity: 16 GB
All-aluminum heat shield
Limited lifetime warranty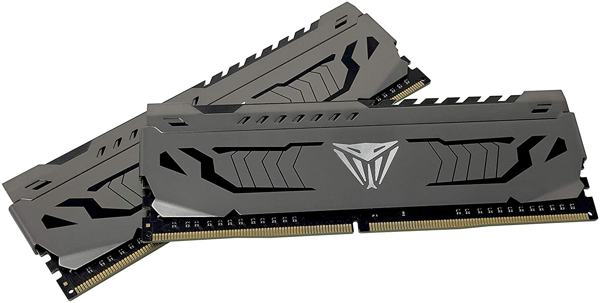 Check Today's Price of Patriot Viper Steel Series ➜➜
Starting off, let me go by its looks.
It looks simple, yet you will feel good when you have its first glance.
Modules present are relatively compact and durable. The 8-layer PCB construction plays a big part in this thing.
Now, let's not waste time and jump right into the performance.
I installed these modules in my i7-10700k and ran a test. What I can conclude from the test is that reaching rated speeds is comfortable with the XMP profile. And it's a must for you to enable XMP if you want to run your system beyond 4000 MHz.
Sadly, if you are an RGB freak, I have to disappoint you as this RAM doesn't support RGB lighting.
But, if you don't consider this one lacking, this 4000 MHz gaming RAM is worth buying at a reasonable price.
9. HyperX Predator
As the last RAM kit from my list, I bring you the HyperX Predator from Kingston.
This DDR4 RAM comes with the following specs:
Capacity: 16 GB
Aluminum heatsink
CAS latency of 19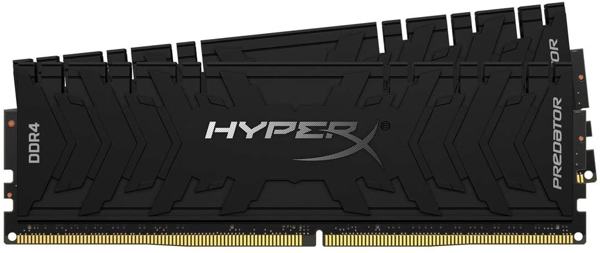 Check Today's Price of HyperX Predator ➜➜
Do you love all-black-themed gaming rigs?
If the answer is yes, then this RAM module is for you.
It is a perfect option for your black build. With the all-black design, it can match the aesthetic value that you require from your build.
As for performance, I got one word for this DDR4 memory kit… INSANE!
It is ultrafast and also gives you an edge while gaming. Any gaming freak would love such a wild performance, and I am quite sure that you are one of them.
Its durability is also unquestionably the best. So, forget to replace it after a few days as it's gonna last long.
However, the RGB control might have some issues. But if you sum up all aspects, this DDR4 memory kit offers a good value.
Final Thoughts
So, it's all over. These are the finest 4000 MHz RAM that you can buy for your gaming rig.
In my list, I tried to include modules of every type so that you don't feel that all the options seem identical. To be honest, all of them are good. Just you need to match the right one with your needs.
That's all for today. I hope you will be able to extract the best out of your gaming build.