If you have ever been in a Pokemon Unite match and got beaten up completely, then you landed on the correct page!
For such beaten-up situations, Nintendo Switch added an option to end a match early.
You may ask:
Does surrendering in Pokemon unite loses rank?
Yes, for a ranked battle surrendering is considered a losing match and thus results in a rank drop. Surrendering in Ranked matches decreases player rank by 1. By giving up the match, you are speeding up the gameplay but facing a penalty as well.
In this post, I will provide every bit of information regarding the Surrender Feature on Pokemon Unite and how you can surrender quickly.
So, let's get started.
Also, check out how you can easily change clothes in Pokemon Sword & Shield.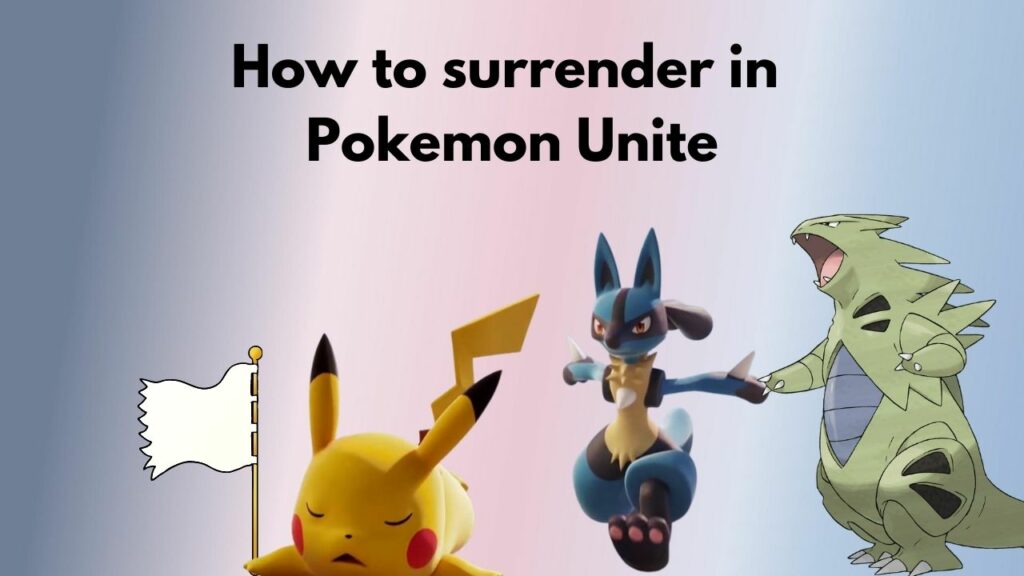 How to Surrender a Match in Pokemon Unite
I am going to show you how to surrender a game if you are losing badly. I highly recommend playing your games to completion but if you feel like you are struggling, it is a good option to surrender the match.
If your enemy team is ganking you as you are spawning every single time and you are losing badly, then I can understand.
But for every other case, there is a way to come back. You just need to have good teamwork.
Quickly check our related post on how to restart Pokemon Sun and Moon.
Here are the steps to surrender in Pokemon Unite:
Press the Plus (+) button to bring out the scoreboard after playing for five minutes.
Push the Minus (-) button to open up the settings.
Initiate a Surrender Vote by Pressing the X button.
Wait for your teammates to vote on it.
Depending on the majority of the votes the match will immediately end.
Note: You have to wait 300 seconds (five minutes) to use the surrender option. You have to wait 90 seconds to use the surrender feature again.
Check our epic guide on how to fix pokemon go error 0.
Why surrender in pokemon unite?
The reason why most players surrender in pokemon unite is because of teammate issues. Besides, if the match is completely not in your favor then it's better to forfeit the match to speed up the gameplay. A vote of a minimum of four players is needed for forfeiting.
Surrendering will only work within 5 minutes into a 10 minutes match. After you played for five minutes of the match, you can actually surrender. Don't forget to check how to soft reset Pokemon X&Y.
Some of the reasons to surrender are:
Huge Level Gap: Another good reason to surrender the match is a huge level difference between your pokemon and your opponent's pokemon. High-level pokemon have higher stats and powerful moves to stomp you.
Outnumbered Team Goal Zones: The number of goal zones indicates how far your teams are from your opponent's points. If your team goals are gone and your enemies' team goals are untouched, surrender the match.
Zapdos Taken By Enemy: Team defeating Zapdos gets a large amount of Aeos Energy. If your enemy team manages to defeat Zapdos, then it's better to surrender because it's a guaranteed victory for your opponent. It's nearly impossible to turn the tables.
Disconnected Teammates: As Pokemon unite is a multiplayer online battle arena game, it's possible that your teammates lost their internet connection. In such cases, you can surrender if your opponents are high leveled. If not, you can stay in the game and fight.
Recently I with my team's Eldegross, Gengar, Pikachu, Snorlax, and Zeraora in Pokemon Unite and headed for a team battle. Our team pokemon were so strong that they were stomped on and trying to surrender the game. Fix Frozen Pokeball in Pokemon GO easily in 60 seconds.
But they couldn't.
Because four trainers must agree to surrender for the match to end. Also, you can apply for the surrender feature only three times.
And they only had two votes. As it was a ranked match, I believe they lost their veteran rank.
It's true that ranked matches are tough in pokemon unite. But, sometimes the ranked matches are tough as nails. Although MOBA's are fun, most often you will be annihilated by your opponents.
But don't worry.
Timi Studios has provided a great way to overcome such issues. Also, Don't forget to check our epic guide if you are facing Error 11 on Pokemon GO.
What happens when you surrender in pokemon unite?
It depends on the type of match you are playing. If it's a ranked match, then you will lose a rank. If it's a random battle, then there will be no penalty.
When you surrender a match, you will see the tiered menu where your opponent team will be claimed as winners.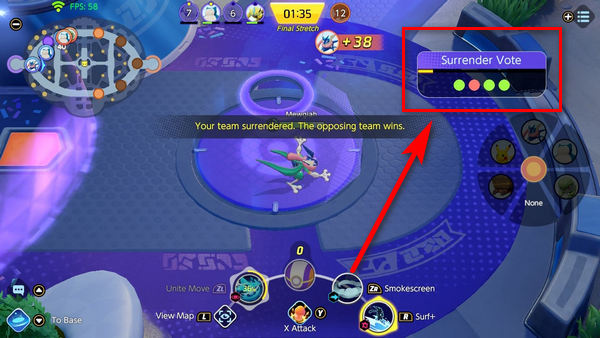 I highly recommend staying in the battle and fight if it's a ranked match. Ultimately, everyone's target is to become a pokemon master. Just turn the tables with strong communication and teamwork. For example, Defeating Zapdos in the first stretch will result in +300 points.
In short:
A surrender is counted as a regular loss and is recorded in your trainer info. Both Forfeiting and playing the game are counted as fair play. Check out all the working Pokemon GO promo codes this month.
How to vote to surrender on Pokemon unite
So, by now you know how to surrender but now I will show you how to vote on a surrender option.
Here are the steps to vote on a surrender option:
Hold the Plus (+) button to bring up the voting menu.
Press ZL to Agree and ZR to disagree on a voting poll.
A minimum of Four players agreeing on a vote will be counted as a forfeited match. The agreeable votes are marked as green and the red marks indicate disagreement.
However, in some battle arenas, the vote priority changes. It takes 3 Yes votes to successfully surrender in pokemon unite if you are playing in Mer Stadium and Shivre City. It's because the map is built for 4v4 battles.
In the case of Auroma park, it takes 2 yes votes as the map is designed for a 3v3 match.
There is also a cooldown timer of 40 seconds for starting a new vote to surrender. This cool-down period is necessary to avoid spoofing. You can only attempt to surrender 3 times every battle.
Quickly fix Pokemon GO Adventure Sync if it's not working.
Final Thoughts
Surrendering is not an offense. In fact, surrendering in MOBA games is common.
You can save your free-play points above 90 to receive Aeos coins as a daily reward.
In case of any more queries, comment down below, and I will surely respond.