Microsoft Word was the first application I used on my computer. Though the appearance and functionality have significantly improved since my first day with Word, it still has numerous errors.
I recently encountered "Insufficient memory or disk space. Word cannot display the requested font." error on my system.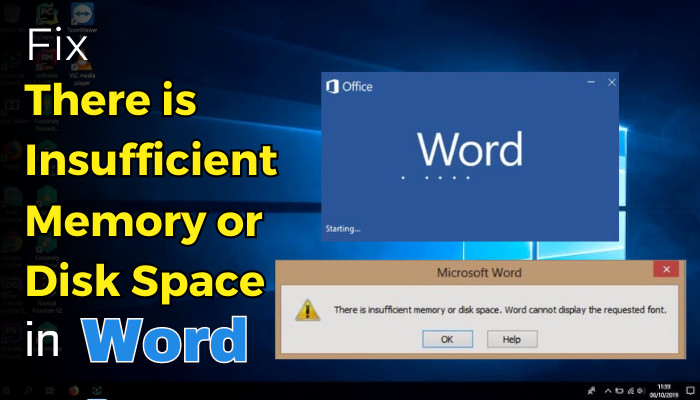 Though the problem seemed easy to resolve, it took a whole lot of time in my case. I realized understanding the problem is more crucial than fixing it.
Why is Microsoft Word Saying There is Insufficient Memory?
Though the error message says there is insufficient memory or disk space, based on my research, I have found that the problem primarily occurs for corrupted add-ins & font cache, lack of proper file permission, too much RAM already used, and broken Office files.
Without inspecting the details on your system, it's hard to determine which reason is leading to insufficient memory or disk space error.
However, after checking several affected PCs, I gathered some primary grounds that are the main culprit behind insufficient memory errors in Word and Excel.
Normal.dotm File: Inside the Microsoft Office Template folder, you will find the Normal.dotm file used for default templates. When the Normal.dotm file gets corrupted, it leads to several errors like insufficient memory issues or not opening Word on Windows/Mac-related issues.
Add-Ins: Add-ins increase productivity. But when an add-in gets corrupted, it stops working and conflicts with other resources leading to insufficient memory error in Word.
If you face the issue after installing a new add-in, there is a great chance that the newly installed add-in is causing this error.
Fonts (Insufficient permissions, Corrupted font cache): If you are trying to open a file that contains a font set without proper permission, you will encounter an insufficient memory or disk space error. Besides, the problem might appear if the font cache gets corrupted.
File Permissions: When the file you open in Word is blocked or lacks proper permission, Word's insufficient memory or disk space pops up. And most people are not aware of this issue.
RAM in Use: If you use Word on an old computer with less RAM compared to modern CPUs, there is a huge chance that most of the RAM is already being used by other applications. Because of less free RAM, Word cannot open the document, leading to this error.
Now, let's move on to the next section to eliminate this annoying issue permanently from your device.
How to Fix Insufficient Memory or Disk Space in MS Word
To solve insufficient memory or disk space in your MS Word, change the file permission, set font permission, and rebuild the font cache. Besides, deleting the Normal.dotm file can also resolve the issue.
But before diving into the real fixes, make sure you're not facing this error because of disk space or insufficient free memory.
If the drive storage is almost full, delete unused files and applications. It'll free up some storage for Word. Besides, if you have too many opened Chrome tabs, close all the tabs and ensure RAM has enough free space to run Microsoft Word.
Clearing the temp files and app data can also help free up storage space. Moreover, you can increase Virtual Memory to cope with your system demands.
If you have enough free memory and disk space, yet facing this annoying error, consider the following methods to resolve the error permanently.
Here are the methods to fix there is not enough memory or disk space in Word:
1. Change File Permission
When the file gets altered by third-party software, you won't be able to open the document. If you face an error while opening a particular file, you should change the file permission to resolve the issue. Here's how to do that:
Right-click on the file that is showing the error, and select Property.
Locate Unblock at the bottom of the General tab.
Click on Unblock and select OK.
The above steps will unblock the file and let you open it without showing errors. However, if you face this issue for multiple files, move on to the next one.
2. Delete Normal.dotm File
Microsoft Office stores its several default settings in the Office Template folder as a Normal.dotm file. When the template file gets corrupted, it fails to function as it should, leading to this annoying error.
Deleting the Normal.dotm file will force MS Word to create a new fresh copy which will resolve the error. But before deleting the file, remember to close Microsoft Word. Once Word is closed, perform the following steps to remove the Normal.dotm file and create a fresh one.
Here's how to remove the Normal.dotm file:
Press Windows + E keys to open File Explorer.
Navigate to the following path:

C:\Users\*username*\AppData\Roaming\Microsoft\Templates

Locate the Normal.dotm file and delete it. You can also rename it Normal.dotm.old to accomplish the same.
Restart your device.
Now, launch MS Word. Are you facing the error still? Then the problem is with the fonts. Follow the next method to fix that.
3. Set Font Permission
All the default fonts are stored in the C:\windows\fonts folder. If Microsoft programs don't have the necessary permissions to access or edit this folder, you may encounter insufficient memory or disk space errors in Microsoft Word or Excel.
Perform the following steps to set font permission:
Open the Run dialog box by pressing the Windows + R keys.
Type powershell in the text field and press the Ctrl + Shift + Enter to launch the advanced Powershell window.
Paste or type the following commands in order and hit Enter after each command.

Get-acl C:\Windows\fonts\arial.ttf | Set-Acl -path c:\windows\fonts\*.*
Get-acl C:\Windows\fonts\arial.ttf | Set-Acl -path c:\windows\fonts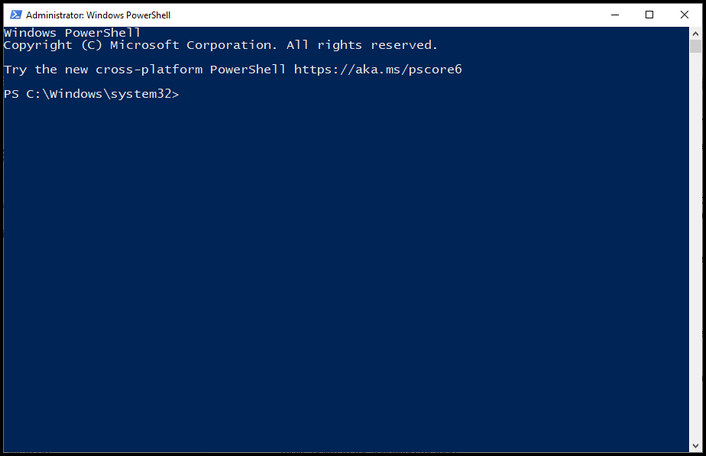 When the above command process is finished, restart your computer.
4. Rebuild the Font Cache
Several users claimed their error got resolved by flushing the font cache. Font cache is responsible for managing and showing all the installed fonts of Windows. It can trigger the there is insufficient memory or disk space error when it gets corrupted.
However, you can quickly rebuild the font cache in a few steps. Here's how:
Right-click on your desktop and go to New > Text Document to open Notepad.
Paste the following code inside Notepad.
@echo off

:: Stop and disable "Windows Font Cache Service" service
:FontCachesc stop "FontCache"
sc config "FontCache" start=disabled
sc query FontCache | findstr /I /C:"STOPPED" 
if not %errorlevel%==0 (goto FontCache)

:: Grant access rights to current user for "%WinDir%\ServiceProfiles\LocalService" folder and contentsicacls "%WinDir%\ServiceProfiles\LocalService" /grant "%UserName%":F /C /T /Q

:: Delete font cache
del /A /F /Q "%WinDir%\ServiceProfiles\LocalService\AppData\Local\FontCache\*FontCache*"

del /A /F /Q "%WinDir%\System32\FNTCACHE.DAT"

:: Enable and start "Windows Font Cache Service" service
sc config "FontCache" start=auto
sc start "FontCache"
Navigate to File > Save, set a name for the file, and add .bat as an extension.
Right-click on the Notepad file and select Run as administrator.
Once the operation completes, restart your computer. Launch Word and check if the problem vanishes.
5. Run Word in Safe Mode
If you encounter this error after installing new add-ins, possibly that new add-ins are causing this annoying error. In such scenarios, run Word in Safe Mode to check for problems with the add-ins.
Here's the process to run Word in Safe Mode:
Locate the Word shortcut. If unavailable on your desktop, go to the Start menu, search for Word, right-click on it, and select Open file location.
Press and hold the Ctrl key and double-click on the Word shortcut.
Click Yes when prompted.
Once the Word application is in Safe Mode, open the document showing the insufficient memory error earlier. I hope you don't face the error this time.
Starting MS Word in Safe Mode can also resolve other issues, such as Save As not working in Word. However, if the problem still annoys you even after booting in Safe Mode, the last option is to repair MS Office.
6. Repair MS Office
When nothing stops Word from showing insufficient memory or disk space message, the last option you should try is to reinstall or repair the Office program.
Reinstalling MS Office helps resolve numerous issues like copy-paste not working, Ctrl + Z not working, and so on. Go through the following procedure to repair the Office:
Press Windows + X keys and select Apps and Features from the menu.
Locate and select Microsoft Office in the app list.
Click on Modify, and when prompted, select Yes.
Select Repair from the options and click on Continue.
I hope you're able to open your documents without any disk or memory errors.
Wrap Up
Solutions for insufficient memory or disk space errors vary depending on the system. So finding the main culprit behind this error is the main challenge.
Once you know what is restricting Word from opening documents, you can quickly resolve the issue by following the above methods.
Let me know which one helped you to fix this issue. Besides, feel free to share your valuable thoughts in the comment below.