While working in Microsoft Office, you noticed an annoying yellow bar at the top of the Office window. The message in the yellow bar says, "Word hasn't been activated. To keep using Word without interruption, activate it before the date".
Well, without activation, you won't be able to use all the main features of Office. You can't edit in Words and others because all the editing features are disabled.
To get rid of this yellow bar of the activation message and use the full features of Office,  you must activate it.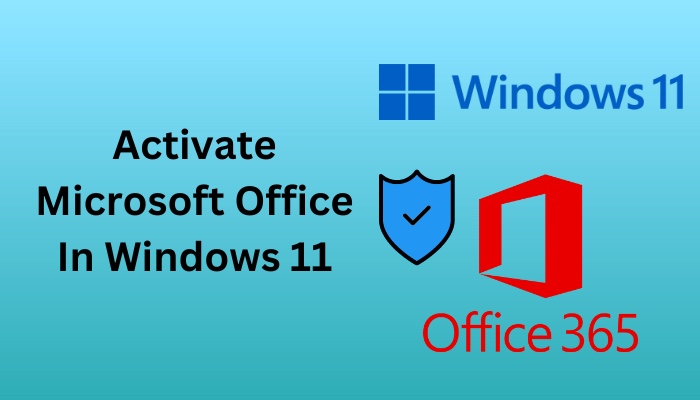 Don't know how to activate MS Office! Allow me to show you how to do that through this article. So, read till the end. Let's begin!
How To Activate Microsoft Office in Windows 11
You can activate Microsoft Office in both official and unofficial ways in Windows 11. But trust me, you don't want to activate it unofficially because, eventually, you may fall victim to malware or viruses. The official method is the safest way to activate MS Office.
With the official product key, you can activate it easily. First, you have to download Microsoft Office from the official website, or you can download the Office deployment tool.
You can download and install any Office version you wish, like Microsoft Office 365 or other versions such as Office 2021, 2019, 2016, etc. After downloading and installing the Office app into your PC, you must purchase the license key.
Next, follow the below steps to activate MS Office in Windows 11 after you purchase the activation key.
Follow our easy step-by-step guide to fix Microsoft Office Click-2-Run configuration failure error.
Here are the steps to activate MS Office in Windows 11 with the product key:
Open any MS Office app such as Word, Excel, PowerPoint, etc.
Click on the File tab from the upper ribbon.
Select Account from the left pane.
Click on the Activate Product option.
Click the Sign in button from the popup window.
Enter your login credentials like email id & password, and hit the Sign in button.
Select the Use a different account option.
Click on the I have product key link button.
Enter the purchased product key in the given field.
After entering the key, you will see the Product Activated message. Now, click the OK button to continue with MS Office.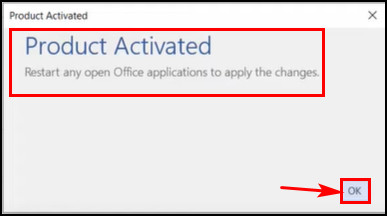 Bravo! You have successfully activated the Microsoft Office app from your Windows 11.
Also check our exclusive tutorial on how to fix Microsoft Office error code 30088-4.
Why Should You Activate Microsoft Office?
You should activate Microsoft Office to access all of the Office apps' features. Without activating it, you won't be able to use the editing feature. While using any Office app like Word, you will find the yellow product activation message bar quite disturbing.
So, what's the meaning of using an app without its full features?
Quite the meaningless one, I presume! Word, Excel, PowerPoint, Teams and Outlook are the gold standard apps among all the other Office apps in the app market. It will bother you so much when you can't use the required feature for your work because of an inactive MS Office.
While working, you don't want to see a popup activation message because it will break your working concentration. Additionally, with few working functionalities, it will become tough to finish the work in Office apps.
Hence, you must activate the MS Office app to continue working with the app's full functionality. And one thing more, the yellow notification message bar won't bother you again.
Check out our separate post on how to fix Office 365 stuck.
FAQs
How can I activate MS Office in Windows 11?
You can activate MS Office in Windows 11 with the activation key. Moreover, you will receive a product key when buying MS Office 365 or other versions from the online app store.
Is Microsoft Office free with Windows 11?
MS Office isn't free with Windows 11, but you can upgrade it freely on all compatible Windows 10 devices. You need to buy a one-off standalone apps subscription or MS Office 365 subscription.
How can I find the product key for MS Office?
You will find the product key in your mail that you used while buying the license or subscription. After buying, you will receive a confirmation mail, and in that mail, you'll get that activation product key.
Bottom Line
Microsoft Office suite is everywhere, from offices to schools. Most people are used to working with MS Office apps. So, to get your work done in Word, Excel, PowerPoint, or Outlook, you must activate the Office suite with an official license key.
You should activate the Office suite if you are using Windows 11 and have installed MS Office. I hope you have read to the end, purchased the license key, and activated the Office.
For any further queries, please leave a comment in the box below. Peace out!