Being a package of diversely useful software like Word, Excel, Powerpoint, Outlook, Microsoft Office 365, undoubtedly, tops each and every user's priority list. That's why people, anywhere in the world, keep installing Office 365 now and then.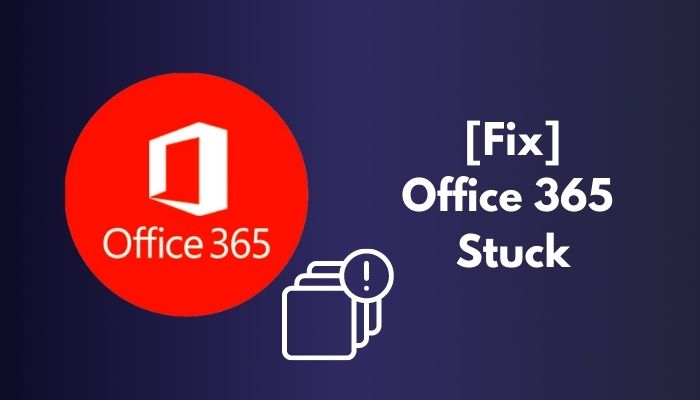 While installing Microsoft Office, unfortunately, a number of users complained about an error message: We're getting things ready. And then, the process of installation gets stuck and does not respond for long. Are you facing the same?
Well. Don't worry. You are in safe hands. As a tech geek, I will be right there to help you. Once I was repeatedly withstanding a similar scenario. Then I researched it profoundly and figured out a couple of soft solutions to rescue you from.
Read the entire article thoroughly. I know it will evaporate all your hitches.
Let's get the ball rolling.
Reasons Why Office 365 Stuck with an Error Message | Explained
During the installation of Microsoft Office 365, it may get stuck displaying a message on the screen: We're getting things ready. This is not that uncommon issue for Office 365 users. But, when this happens on a regular basis, of course, this is a matter to be annoyed at.
Do not get tense regarding this issue. I will demonstrate all the methods of fixing the error displaying and not responding to Office 365 later in this guide.
Before that, I want you to focus on the possible reasons that are actively accounted for this occurrence. So, keep your sharp eyes on this.
What are the reasons for Microsoft Office 365 being stuck on getting things ready?
Microsoft Office 365 getting stuck usually occurs if the previous Office 365 files are not properly installed on your computer. Another reason that can be held accountable for this incident is if Office 365 files are corrupted, or some of the files are accidentally found missing. It may also happen that a number of files are deleted by you unintentionally.
The reasons I mentioned are mostly reported ones. Out of this reasons' bucket, anything can cause Office 365 not to respond. Besides, there are cases where users face this due to the update of their computer operating system.
In gross, these are the probable reasons for Office 365 being stuck on getting things ready. But, whatever the cause is, I will give you fixes to solve it feasibly.
Follow our guide to know Microsoft Refund you already purchased something from the MS Store or Xbox store.
How to Fix Office 365 Stuck on Getting Things Ready
When you get Office 365 stuck, go through the following fixes that I will enlist with short and precise steps. Therefore, no need to worry about it. This guide will cover all sorts of solutions- elementary to advanced- to make you released from the problem.
Here are the methods to fix Office 365 stuck on getting things ready:
1. Quick Repair Office
Before applying other fixes, I recommend you try a quick repair. In this situation, this is so far the best rudimentary solution to fix the files if they are corrupted. I will use a built-in quick repair tool to repair the Office, not any third-party tool.
Here are the steps to repair Office 365 smoothly:
Open the Control Panel
Locate Programs and Features, and click on it. You will see the list of all programs currently installed on your computer.
Find Office 365 package and click on it.
Click on the Change button next to Uninstall. It will initiate repairing your Office. A window with repair options will show up.
Select Quick Repair from the two options, and finally click on the Repair
Check if Office 365 still gets stuck with We're getting things ready If yes, check the Online Repair tool this time over Quick Repair.
Let me know if your problem is solved.
Also, Check out the exact and appropriate steps to merge Microsoft accounts.
2. Run Office Installer in Compatibility Mode
Sometimes Office 365 files cannot match the system files, and thus, it creates incompatibility due to the lack of synchronization. So, try running your Office installer in compatibility mode to fix this problem.
Here are the steps to run the installer in compatible mode:
Locate the Office 365 installer file.
Right-click on it.
Click on Properties. A dialog box will pop up.
Navigate to the Compatibility
Check the box next to Run this program in compatibility mode for under the Compatibility mode section.
Select your computer operating system from the dropdown.
Click on OK to save the changes.
You are done. Now, launch the installer file as an administrator. And check whether or not the issue disappears.
Here's a complete guide on how to fix Microsoft error code 6009.
3. Run Microsoft Office Installer as an Admin
This is a pretty straightforward way to troubleshoot Office 365 problems. The process consists of a few steps in the following.
Right-click on the Office Installer file that you downloaded. A dropdown menu will pop up.
Click on the Run as Administrator
Wait until the installation finishes.
Check if the Office still gets stuck.
Not always, but sometimes it works when you run a software giving admin permission. Microsoft is not an exception. So, after checking, please let me know the result of your effort.
4. Uninstall and Reinstall Office 365
If the installer you downloaded is corrupted, or there is any flaw with the software itself, uninstall and reinstall it works with cent percent efficiency.
In this case, I will also suggest you reinstall Microsoft Office 365 on your system. It will most likely help you to be on the ball. Let's follow the steps and put it to bed.
Here are the steps to reinstall Office 365:
Go to Control Panel.
Navigate to Programs, and then Programs and Features.
Locate Microsoft Office 365 from the installed applications list.
Press the Uninstall
Go to C:\Program Files\Microsoft Office
Remove all the Office files, and delete the Windows Installer files.
Click on the Start button, and type %ProgramFiles% on the Search bar.
Delete the Microsoft Office folder.
Type %ProgramFiles(x86)% this time on the Search bar.
Remove the Microsoft Office folder as well.
Now, the Office Suite Installer has been completely removed. Download a fresh copy of the MS Installer and install it. Hope, you will get your problem solved.
Here's a complete guide on how to add email signature in Outlook.
5. Delete Microsoft Office Registry Keys
If nothing worked, try this. Because, for some users, it worked.
Here are the steps to delete Microsoft Office registry keys:
Open the Run You may use the shortcut of Windows+R.
Type regedit on the search bar.
Click on OK or hit Enter.
Navigate to the following path: HKEY_CURRENT_USER/Software/Microsoft/Office
Right-click on the Office folder and click on Delete.
Go to the following path now: HKEY_LOCAL_MACHINE > SOFTWARE > Microsoft > AppVISV
Delete the AppVISV
Move to the given path: HKEY_LOCAL_MACHINE > SOFTWARE > Microsoft > Office > ClickToRun
Remove the ClickToRun
That is the entire process. Now, restart the computer and open Microsoft Office Suite. Check if it still shows the screen with the notification We're getting things ready.
Final Thoughts
Summing up, all the methods I mentioned are tested and proven. I recommend you start trying from the first one and if you find it ineffective, go for the next one. But, I think at least one of the five methods must work for you.
If there is a case that even after trying and applying the steps, the situation is not improving, use Microsoft Support and Recovery assistant. Describe them your problem and the whole scenario in short and seek measures. They will analyze the nature of the problem and provide a practical solution.
Was this article helpful? If yes, comment down in the box below. Write to me as well if you have any further queries.