Happiness Grows When Shared—PlayStation Plus can be treated as a godsend in that regard. It makes the PS5 a great entertainment machine. You can also allow other users to rejoice in the benefits.
In this write-up, I'll shed some light on how you can share the advantages of PlayStation Plus among users on PS5.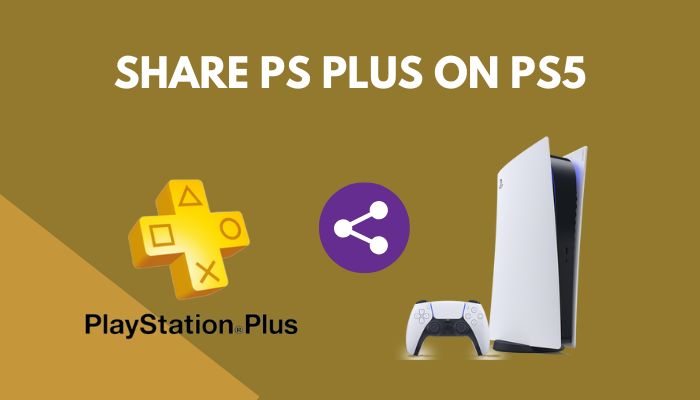 Let's have a look, shall we?
PlayStation Plus subscription allows a user to share some features and advantages among all accounts on a PlayStation 5.
Online multiplayer and access to downloaded games from a normal account on the same console is the primary feature. However, premium features such as cloud streaming, cloud storage, and game purchase with discounts or downloads are only bound to the main PS+ account.
This also allows you to harness parental control features. But if you are rooting for a way to disable it check our guide on how to remove parental control on ps5.
It is possible to share PS plus on the same PS5. All accounts on the console will enjoy games and media offline and online. It's also known as family sharing on PS5.
Here are the steps to share PS plus on PS5:
Log in to your account with a PlayStation+ subscription.
Go to Settings.
Select Users and Accounts.
Scroll down and choose Other.
Select Console Sharing and Offline Play.
Choose Enable.Note: If you see Disable, don't do anything. Just return by pressing the X button on your controller.
Click on Restore Licenses.
Select the account Avatar from the home screen and switch to any user.
Also, you can add a new user account that has no PS+ subscription. Choose an online game and kaboom! You are in.
Anyone who signs in on this console will now play multiplayer games without having a paid membership.
On an additional note, you can gift games to your friends and family members on special occasions with a similar approach. See this awesome article on how to gift games on ps5.
There's a popular question the PS5 users ask Can I share a PSN plus membership on two consoles for the PS5? The straight answer is Yes with an asterisk. You'll share PS+ benefits among all accounts on one console and just a single account on the second.
Let me explain.
The idea here is to turn your main PS5 into the secondary console and the other one into the primary one. As a result, all users on your friend's or family member's console will have access to games and other eligible benefits. But on your console, only the primary account which possesses the original PS plus subscription will enjoy the premium features.
Unlike single console sharing, other users on your console are simply unable to take advantage of PS plus membership. But remember, the accounts on the secondary console can only play games and media online or offline if you download them with a PS+ subscribed account on your console.
Here's how you can share ps plus on two different consoles:
Sign into your PS+ subscribed account on the main console.
Disable console sharing on the main console by navigating to Settings > Users and Accounts > Other > Console Sharing and Offline Play > Disable.
Login to the same PlayStation Plus membership account on the second console.
Enable console Console Sharing and Offline Play on this console.
Once you are done with the process, all the accounts on the second console will have access to downloaded and online games. But on the main console, only the PS+ account is capable of accessing PlayStation Plus benefits.
With multiple sign-in and sign-out operations, your PS5 may start to refuse to connect to PlayStation Network. To resolve it, read the guide to fixing PSN connecting issue. Even after a successful login, fix any data sync issue by reading our dedicated article.
FAQs
Can You Share Games on PS Plus?
Yes, you can share games on PS plus. Enable Console Sharing and Offline Play on your PlayStation console.
Can I Share PlayStation Plus With a Friend on Another Console?
No— is the typical answer. But you can work around this scenario. Disable Console Sharing and Offline Play on your console and Enable it on your friend's PS5. This makes your friend's console the primary one.
How Do I Add Family Members to PlayStation Plus?
Go to Settings > Parental Controls > Family Management > Add Family Member to family members to PS+.
Ending Remarks
Family sharing, gifting games, share game library among friends & family are the key benefits of PlayStation+. This article shows exactly how you can share these benefits with your group.
That's all for today. Happy Gaming!