You need an active PlayStation Network connection to be able to play multiplayer games. But sometimes, even when connected to the internet, I could not join my friend on duos in Fortnite.
That is very strange indeed!
And the worst part about this is there are countless reasons why PS5 cannot connect to PSN.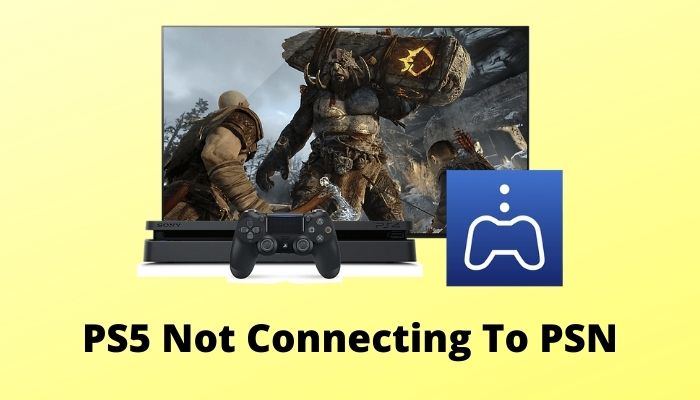 So, join me as I lay out the steps to resolve this issue and steer your path clear to play multiplayer games on PS5.
Why Your PS5 Cannot Connect to PSN?
A main reason why PS5 cannot connect to PSN would be when PSN servers are experiencing downtime. During that time, even if other apps such as Youtube and Netflix are working fine, multiplayer games won't connect to their respective servers.
Because on PlayStation, multiplayer games connect to their respective servers using the PSN servers. If you ever wondered why you would need to buy a PSN subscription, this is the sole reason.
But that is not the end of it. Network problems on your end can also cause problems with PSN. Maybe the DNS server is acting weird, your PS5 is having difficulty connecting with your router, or your ISP cannot connect to the PSN servers. The list goes on and on.
Before drowning in the sea of errors, let's fix the errors which are most likely to cause this connectivity issue in the next section.
PS5 supports keyboards in certain games. Read how to set up a mouse and keyboard in PS5 using our guide.
How To Fix PS5 Not Connecting To PSN 
To troubleshoot PSN not connecting on PS5, first check if the PSN servers are down. If they are fine, next reset your router and disable IPV6. Add ports specific to the PS5 if needed. On the network settings of the PS5, add a new DNS server. Finally, restart the PS5 and update it to the latest version.
This is mostly a network-related issue and the fixes reflect that.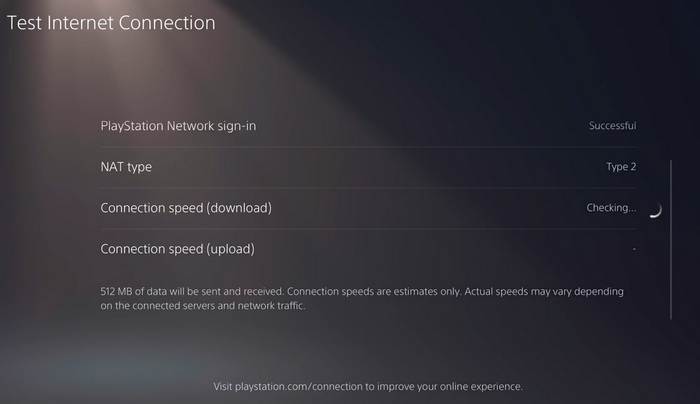 Also, if you haven't updated your PlayStation 5, that can be a problem as well. Let's not stretch the issue anymore and dive into the troubleshooting. 
Here are the steps to fix PS5 not connecting to PSN:
1. Check PSN Server Status
PlayStation network can be down sometimes, and if it is down, then there is no way you will be able to connect your PlayStation 5 with PSN.
You can check the status of the PSN services by going to the PSN status webpage from any web browser. From here, select your region, and if the servers are down or in maintenance, it is shown on the page. The same page can be accessed on PS5 too.
Here are the steps to check PSN status:
Navigate to Settings.
Go to Network.
Select Connection Status.
Click on View PlayStation Network Status.
Wait for the results.
If you see all the services are down, you have to wait until the server maintenance is done. Then you will be able to connect to the PSN.
As for PSN, there can be many different issues with it. Check our detailed guide to check additional PSN issues on your PS5.
2. Test Your Internet Connection
Your slow internet connection can be the issue behind this error. You can test your internet connection on PlayStation 5.
Here are the steps to test the internet connection on PS5:
Select Settings from PS home.
Navigate to Network.
Click on Connection status.
Select Test Internet connection.
Wait a while for the test to complete. If you see there is a significant loss in your network connection, then call your ISP and let them know your issue.
3. Reboot your Router
Any problems with internet connectivity have a very simple fix. Plug off your router and keep it turned off for 5 minutes. Then turn on your router again. If you use a modem/switch repeat the same procedure with them.
If you use IPV6 on your router, disable it. Some users found that doing this helps them in connecting to PSN.
Now different brands of routers have different naming to find the IPV6 Settings. You need to find IPV6 in the Advanced Settings and disable it.
4. Change DNS Server
Changing your DNS is the quickest and simplest way to fix Internet connectivity issues with your PS5. Your internet connection will be more reliable, and you'll notice a significant improvement in download and upload speeds.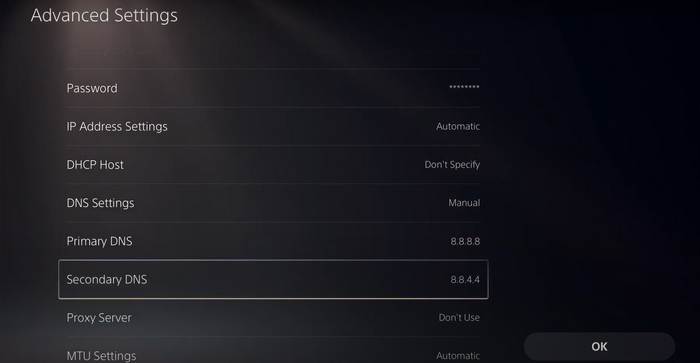 Among the list of DNS servers, I found Google (8.8.8.8) and Cloudfare (1.1.1.1) to be the most robust in terms of security and fast speeds.
Here are the steps to change the DNS server in PS5:
Open the PS5 Settings.
Go to Network.
Navigate to Settings > Set Up Internet Connection.
Choose between Wifi and LAN and press on it.
Select Advanced Settings.
Scroll down and open DNS Settings and set it to Manual.
Replace DNS servers with the following: 8.8.8.8 (Primary) and 8.8.4.4 (Secondary).
Press OK to save the network configuration.
There are several free DNS servers available. Additionally, you may utilize OpenDNS or Cloudflare DNS. Cloudflare DNS is deemed to be the safest DNS out there for gaming purposes.
And speaking of DNS servers, we have compiled the best DNS servers for PS5. Do check it out.
5. Port Forward on your Router
Opening the PSN ports on your router might help you to establish the connection between your PS5 and PSN.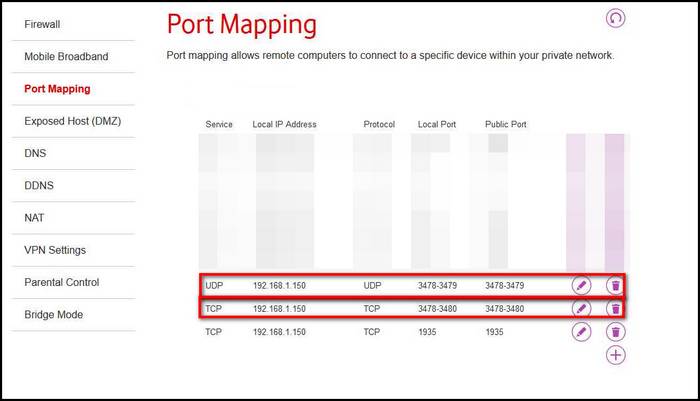 If your router is blocking the ports between PS5 and PSN, you would not be able to connect. In that case, manually add these ports from your router's advanced settings.
The admin panel for your router can be accessed by going to 192.168.0.1. Most routers use this address. If this does not work for you, see your router's manual or packaging to get the address specific to your router's model.
Here are the steps to port forward on your router for PS5:
Log in to your router's web interface through a web browser.
Navigate to the section on port forwarding, which is often placed under Advanced settings.
Enter the IP address of your PS5.
Connect TCP ports 80, 443, 3478, 3479, and 3480.
Type On UDP, type 3478, 3479, 49152 to 65535.

Save the settings.

Reboot your router.
Now test your internet connection to see if your issue is fixed or not.
Some PS5 users reported that their console is unable to connect to the internet. We have made a guide that will make troubleshooting easier when your PS5 is unable to find an IP address. Do check it out.
6. Try connecting with a LAN Cable
A wired LAN connection to your PS5 is one of the easiest ways to fix internet connectivity concerns. Using Ethernet Cable, you may play online games with your friends while downloading at full speed. And there will be no ping spike as well when you are playing online with your friends. 
A wired connection will fix all the problems related to joining a party. 
After connecting the LAN connection, test your internet connection; hopefully, your problems will be solved.
Is your PS5 on detected on your TV? Before changing the HDMI cables why not check our troubleshooting guide when your TV does not connect to PS5?
7. Update your PlayStation 5
If you are not using the latest software update from the PlayStation 5, you will not be able to connect with PSN. Updating your PlayStation 5 might solve the PSN network issue.
Updates often fix bugs that are related to the PS5 system software. If a bug prevents you from connecting the PS5 to PSN, updating it to the latest system software will help you out.
Before updating the console, ensure that internet connectivity is present. Follow Steps 2 and 6 to check your internet connection before updating your PS5.
Here are the steps to update PS5:
Go to the PS5's Settings.
Click on System.
Select System Software.
Tap on System Software Update and Settings.
Select Update System Software.
Press on Update Using the Internet.
Download and install the update.
After the update, try connecting your PlayStation 5 to the internet and see if your issue is resolved or not. If not, follow the next method.
Sometimes the PS5 cannot download games. The list of issues that prevents this is very long. To save your time and speed up the troubleshooting process check out how to fix PS5 not downloading games.
Frequently Asked Questions
Why am I not connecting to PSN?
If you cannot connect to PSN, first check if the PSN servers are down. Also, check your internet connection and use a wired connection to connect your PS5.
How to check the PSN server status?
Go to the PlayStation server status page and select your region. It will show if the PSN servers are down for your region.
Final Thoughts
When you are unable to play with your friends, text with them, or voice chat with them in the party lobby due to a petty internet problem, it can become quite stressful for any console player.
Hopefully, with this guideline, you can solve your problem.
And if you have any more questions, you can always get in touch with us.
With that said it's time for goodbye.