Receiving a game as a gift after acquiring a new PlayStation 5 for the first time might be an unforgettable experience for a gamer. It is exciting for gamers since, after purchasing a pricey system, purchasing a 70-dollar game is not a piece of cake.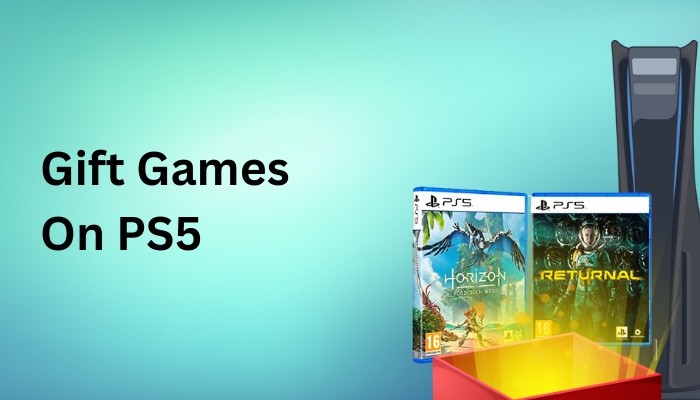 So, in this article, I will demonstrate several simple ways to gifting games on PlayStation 5.
Tag Along!
Here's a complete guide on how to fix PS5 not downloading games.
How to Gift Games on PS5
Though the PS5 lacks the ability to send games as gifts, the simplest method to present games is to share your game collection with your friends, and another alternative is to purchase gift cards from the PSN shop. You may even buy them actual copies of games to give as a present.
Before diving into the procedures, you should know a few facts about gifting PS5 games. You cannot give your digital copy of the game to a friend as a present because Sony discontinued the opportunity to purchase a gift set a few years ago. It is no longer accessible as of April 1, 2019.
However, this restriction contradicts Sony's console selling strategy because they only sell two versions of the PS5, one digital and one disk. It makes no sense if you own the digital version of PS5 and are unable to send your game as a gift to a friend.
Although Playstation limits our ability to give games directly, there are several ways to do it.
Also, check out our top picks for the best ps5 RPG games.
Here are the methods for giving games on the PS5 as a present:
On PlayStation 5, you can share digitally purchased games with friends. However, sharing does not technically count as a gift; it is a way of gifting games to your buddies. However, you will control the account rights to the game during this procedure, but after granting access, your friends can also play.
Note: However, proceed with caution: only do this with someone you trust, as access to the games also provides them access to your PSN account. Furthermore, both you and your buddy must have an active PlayStation Plus membership for this sharing method to work.
Here are the steps to sharing your game library:
Open the PS5 of the friend with whom you want to share your game.
Go to Settings.
Select Users and Accounts.
Click on Others and choose Console Sharing and Offline Play.
Press Disable button to stop console sharing. Note: You need to do these steps if your friend has previously shared any of his games with anyone. If your friend did not previously share any game-sharing options, proceed to the next steps.  
Log in with your account on your friend's PS5.
Go to Settings and select Users and Accounts.
Click on Others and choose Console Sharing and Offline Play.
Press Enable button to give your game library access to your friend.
Quickly check our epic post on PS5 1080p 120hz not working.
Purchase PSN Gift Cards
A PSN gift card is a sort of virtual cash that PlayStation 5 players can use. Users can use this virtual money to buy games and other services via the PlayStation network.
These cards are available at many major supermarkets, department stores, and electronics outlets. It is also available on websites like Amazon and Fnac.
You can purchase 10, 25, 50, and 100-dollar gift cards from any online or physical store. If you purchase the card online, you will receive a code that may be used to purchase games and other services.
You can give your friends the card or the digital code to buy their preferred games from the PSN store.
Check our exclusive tutorial on the fastest DNS servers for PlayStation5.
Gift Physical Game copy
If you do not want to give your pals gift cards, you can give them hard copies of the games.
You can buy them at any physical store or online. You also can wrap the physical copy with attractive ribbon and wrapping paper, which you cannot do with digital versions.
Note: Before you begin, make sure that your pals have the disc version of the PlayStation 5. Because the PS5 digital edition lacks a disc reader, it cannot read CDs, DVDs, or Blu-ray discs.
Quickly check out our epic guide on how long do PS5 Controllers last.
Conclusion
Sharing favorite games with friends is one of the most satisfying things for a gamer because it allows him to share enjoyment, adventure, and journey through a game.
So in this article, I have presented the exact methods to gift games with your friends on PlayStation 5.
If you have any comments or questions, leave them in the section below.