PlayStation 5 delivers a true gen experience, which has 4k 120HZ support and can even push to 8k, which is a big leap coming back from the older generation. It was impossible to get more than 30 FPS in any AAA games in the last generation.
But this high-resolution high-performance mode is possible because of the integration of the new HDMI 2.1 port. With the HDMI cable provided with the PlayStation 5, you will get the maximum out of your PlayStation 5. But it can also be troublesome for some people. Basically, people with HDMI 2.0 port on their TV.
Why is my PS5 HDMI not working?
Your PlayStation 5 HDMI might not be working because you have selected the wrong input on your TV. On the other hand, if the cable is not working, you will see a pitch dark screen. Also, if HDR is enabled, sometimes that can be a problem as well.
I know it is a matter of frustration that you cannot just right away plug and play with your PlayStation 5 without going into troubleshooting steps. Well, allow me to help you so that you can jump into the future of gaming in no time.
So keep reading till the end to get your desired fix.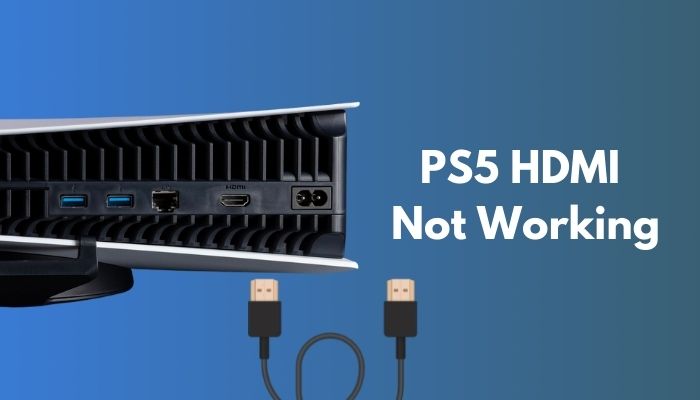 Why Won't my PS5 Show Up on my TV?
It's annoying for some PS5 owners when their system does not display any footage on their TV or monitor. When the PlayStation 5 attempts to play a game or read a disc, there may be a blank or black screen. A software error, a random bug, or a hardware failure may cause all of these issues.
When analyzing the PS5 black screen issue, it was discovered that this issue arises when your TV is incapable of providing a greater resolution than the PS5 does.
A good example would be that if you bought a 4K TV but decided to replace it with a 1440p one. Because the PS5 only supports 4K and isn't enabled to go to 1440p, the issue of a black screen will arise.
Now you might ask, Does PS5 support 1440p?
The PlayStation 5 is an extremely developed machine that will function at its peak on a 4K or 8K television equipped with HDMI 2.0 or, even better, HDMI 2.1. The television must have a low latency gaming mode and, if it is HDMI 2.1 compatible, it must be capable of displaying 140 frames per second.
Follow our guide on how to Fix Motherboard HDMI No Signal.
But sadly, it doesn't support 1440p, which is a back draw for some gamers as many want to use their PlayStation 5 with their gaming monitor. But as PlayStation 5 was made for big-screen TVs and as marketed for the home console, it fairly makes sense that it wouldn't have 1440p resolution support. So if you have a screen that only supports 1440p, it is likely that it won't support your PS5.
When setting up a PS5, double-check that you're utilizing the correct HDMI port on your TV. Make sure the HDMI cable from your PS5 is connected tightly to the TV by following the cable's path manually.
Check to see whether the HDMI cable is functioning before moving on. If you have access to another cable, give it a go. It's OK to utilize your PS5's HDMI cable if there is no other HDMI cable available. This will assist you in determining whether or not the issue is with the cable. It's either a cable issue or a problem with the console itself if your PS5 still doesn't have video when connected to another TV.
HDCP can be another problem for this issue. High-bandwidth Digital Material Protection (HDCP) coding is used by the PS4 to safeguard digital content (audio and video) while it travels across multiple networks. Digital content creators are protected against piracy by this measure.
If you have HDCP enabled on your console, you can use it to block illegal material, which can include video or audio signals. Anti-piracy measures such as these may make it difficult for the console to play videos when connected to a television. To check whether it makes a difference, you may disable HDCP.
Your television, PlayStation 5, or both might be experiencing problems if you're running outdated firmware on them. Check to see whether your TV's firmware is up to date if it is connected to the internet. If you want to check for firmware upgrades manually, go to the TV's user manual.
Here's a complete guide on how to fix PS5 not downloading games.
How to Fix PS5 HDMI not Working
I hate it when I get into a game and find out that my PS5 HDMI doesn't function. You may be able to switch on your console, but the television won't display anything. A damaged TV is likely, as in the HDMI port is broken, but most of the time, the problem is with the video connection.
It's essential that you have your PS5 connected to your tv at all times when gaming on it. The display wires linked to the rear of the console are often damaged by users dragging controller connections, resulting in display errors.
As I said earlier, you don't have to worry about it, just follow the steps below, and you will be out of this in no time.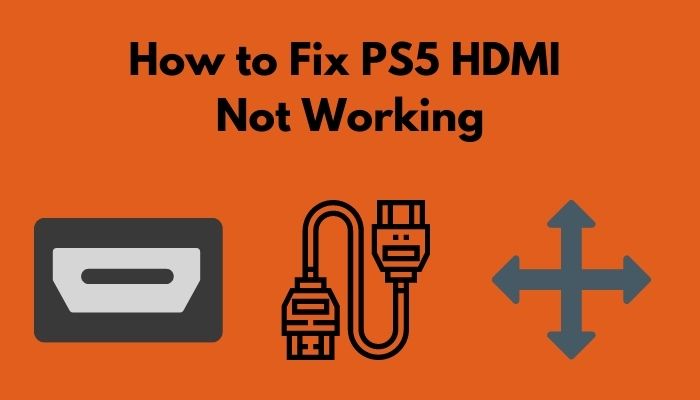 Here are the steps to fix PS5 HDMI not working:
1. Check your HDMI Port
It is quite impossible to break or bend a brand new PlayStation 5's HDMI port. Or even your TVs. If there is no rigorous stretch session with your HDMI port, you should be good to go.
But if you are really concerned that it is your broken HDMI port, then you should inspect it. Just take a flashlight and look at the back of your PlayStation 5, and you should be able to see the HDMI port.
While inspecting the HDMI port, look if the port's middle part is visible and it is not broken or bent. Do the same for your TV. If you have any other device with an HDMI option like your Laptop or another console, then inspect it to confirm that your TV's HDMI is working. And connect your PS5 with another TV or screen to make sure your PS5's HDMI port is also fine.
2. Inspect the HDMI Cable
If your PlayStation 5 starts on and a white light glows, it is working properly. This indicates a problem with the HDMI cable's video output.
So replace the HDMI cable and if unsure, test it with your laptop, desktop, or other TV. If the cable is broken, try replacing it with a new set of HDMI. You may use the HDMI 2.1 that comes with the device. If you want to buy another HDMI 2.1 cable, that will be very costly. Instead, go for the HDMI 2.0. If you purchase an HDMI 2.1 cable, be sure your TV supports it. If it doesn't, you'll have the same benefits as HDMI 2.0.
Quickly check out our epic guide on how long do PS5 Controllers last.
3. Select the Right HDMI Channel
On most high-tech televisions, you'll find at least four HDMI ports on the back. So it is very much possible that you are selecting the wrong HDMI to display your PlayStation 5.
However, if you're just using HDMI 1 on your TV, you won't see anything on your TV when you connect your PS5 HDMI to the 2nd HDMI port on your TV. The PS5 logo may only be shown if you're using an HDMI input with the correct resolution for the PS5.
You can rename your HDMI to ease your hassle by selecting the HDMI channel. Your HDMI input might well be named "Game Console" or anything like that so that it is easier to remember which HDMI is for your game console.
4. Disable HDCP 2.2
High-bandwidth Digital Content Protection can block your display output. Setting it to 1.4 can fix your problem. You can boot into safe mode and change the HDCP settings to 1.4
Here are the steps to disable HCP 2.2 on PS5:
Press and hold the power button until you hear two beeps.
Connect your dual sense controller.
Go to change video output.
Change your resolution to your supported TV settings.
Select HDCP settings.
Enable HDCP 1.4 only.
Restart PS5.
Now you should see the PlayStation logo on your TV. If you still cannot see anything, it would be wise to claim a warranty from Sony rather than opening it up on your own and revoking the warranty.
Check out our separate post: Second HDMI Port not Working.
Final Thoughts
It is highly unlikely that a PS5 will come with a broken HDMI port. It is more likely that your resolution or the HDMI channel output is wrong.
Hopefully, with this guideline, you can solve your issue.
And if you have any more queries, make sure to reach out to us.