Outlook rules are very productive while your mailbox gets flooded with emails day after day. These rules are developed to arrange and convey emails to their destination within a certain time.
Outlook rules sometimes face issues and even stop operation due to simple oversight. When it occurs, the fully synchronized email method gets spoiled.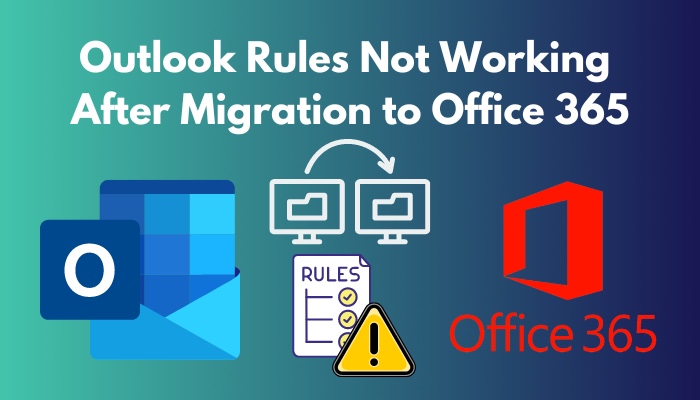 Rather than staying organized and spending productive hours, you are compelled to forward and reply to dozen of emails.
To give you some relief at that moment, I have researched thoroughly and tested all the possibilities to solve Outlook rules are not functioning after switching to Office 365.
Without further delay, let's begin!
Why do Outlook Rules not Working after Migration to Office 365?
When Outlook rules exceed the rules quota, then Outlook rules not working error occurs. Besides corruption in send/receive settings file, rules are set to run one computer only, and corruption using a POP3 or IMAP account is also the reason for causing this issue.
Let me clear things up for you.
Here are the reasons for Outlook rules not working after migration to Office 365:
Rules Exceed the Rules Quota
Mailbox rules are default set to 256 KB. Every rule will take up space in the mailbox. This rule depends on several factors, such as how long the rule is and how many conditions are applied. Users will warn if they exceed the default limit.
Corruption in Send/Receive File Settings
Users can't share essential files through email due to bad internet connectivity and incorrect email account settings. This error can also cause third-party add-ins and antivirus softwares which interrupt the communication system.
Rules Set for one Computer Only
By default, there are no rules set for Outlook. But users can select different rules to meet different purposes. If users set rules for any specific machine, no other account will be accessible through that rig.
Corruption Using a POP3 or IMAP Account
POP3 and IMAP are two different ways to download emails to a mailbox. POP3 first downloads the email and then loads it to the inbox. On the other hand, IMAP syncs and downloads the email automatically.
This error can occur due to technical glitches and not having the proper login credentials.
Follow our guide step-by-step to fix Outlook store button not showing.
How to Fix Outlook Rules not Working after Migration to Office 365
Fixing up Outlook rules not working after switching to Office 365 is not challenging. But there still have some steps to settle this ultimately. Here, I will propose the simplest methods to resolve permission issues to open the application within a minute.
But before trying anything out, ensure Outlook rules are enabled by default on your machine. Additionally, the rules don't refer to a deleted folder or file. Set POP3 or IMAP as the default ways to download emails from your profile and see if it resolves the issue in a snap.
Read along to know more about them and how you can settle this issue.
Here are steps to fix Outlook rules not working after migration to Office 365:
1. Enable Outlook Rules
There has a high possibility that Microsoft Outlook rules are disabled by default. This error will appear every time unless you enable Outlook rules.
To get rid of this error, always try to enable Outlook rules.
Follow these steps to enable Outlook rules:
Launch Outlook.
Click on the File tab.
Select Manage Rules and Alerts.
Select the specific account to allow rules.
Hit OK to save changes.
Here's a complete guide on how to fix Outlook can't create file error when opening attachment.
2. Delete and Recreate Rules
Outlook rules are always set under 256 KB space to impact each functionality and avoid errors properly. If you recreate any custom rules for Outlook, try to keep them under the declared space.
Here are the steps to delete and recreate rules:
To Delete Rules
Launch Microsoft Outlook.
Click on the File tab.
Select Manage Rules and Alerts.
Select any rule you want to delete.
Click on the Delete button.
Hit OK to save changes.
To Re-create Rules
Click on the File tab.
Select Manage Rules and Alerts to open a new tab.
Click on the New Rule icon to create a new rule.
Hit OK to save changes.
Go and check our other article on Outlook not working on WiFi.
3. Remane Outlook Rules
Errors can occur due to big and complicated rule name because it exceeds the provided space. In that case, always keep the Outlook rules small and simple.
Here are the steps to rename Outlook rules: 
Launch Outlook.
Click on the File tab.
Select Manage Rules and Alerts.
Click on the OK button if you get a notification about a scattered rule.
Check the box beside the red link.
Select the links under the Rule description.
Edit them as per requirement.
Hit OK to save changes.
4. Update Microsoft Outlook
Microsoft Outlook provides frequent updates for a better visual experience and enhanced layouts. It also removes errors and minor glitches.
Try to update Outlook for more excellent stability.
Follow these steps to update Microsoft Outlook:
Open Outlook on your rig.
Select the File tab.
Click on the Office Account option.
Select Office Update.
Click on Update Options.
Select Update Now.
Follow our easy step-by-step guide to turn off Outlook's junk email filter.
5. Change Email Saving Settings
To avoid this error, you need to change the email saving settings. Sometimes Outlook rules may fail if settings block the mail from syncing offline.
Once you change the settings, you can resolve the error immediately.
Follow these steps to change email saving settings:
Open MS Outlook.
Click on the File tab.
Click on Info.
Select the Account Settings option.
Choose the account to modify.
Click on the Change button.
Click and drag the slider to the right until the Mail to Keep offline shows All.
Select the Next icon.
Hit OK.
Exit and Restart Outlook to save changes.
6. Reset Outlook SRS File
If your send and receive settings file (SRS) gets corrupted in Outlook, then there is a chance that rules are not supported for this account. By resetting the SRS file, you can resolve this issue.
These are the steps to reset the Outlook SRS file:
Run the File Explorer.
Navigate to the path: C:\users\username\AppData\Roaming\Microsoft\.
Select Outlook.srs file.
Right-click on it to select the Rename option.
Change the Outlook.srs file name to Outlook.srs.old.
When you change the file's name, it will be recreated automatically.
Here's a complete guide on disable Outlook deleting confirmation message.
7. Repair Outlook PST File
Outlook rules not working issue after migrating to Office 365 can occur when PST files are damaged or corrupt. You need to repair the files to resolve this issue. Try using the Scanpst.exe tool.
Here are the quick steps to repair the Outlook PST file:
Run the Scanpst.exe tool on your machine.
Click on Browse to pick the corrupt or damaged PST file.
Select the corrupt PST file from your system and click Open.
Click on the Start button to run the scan.
Select the Backup option to store the old PST file when the scan is done.
Click on the Repair icon to start the PST file repair process. A pop-up window will appear after the repair is complete.
Hit OK to save changes.
A Final Thought
Microsoft Outlook is a day-to-day application we use for numerous purposes. It undoubtedly provides incredible features to notify us of our daily scheduled activities.
Now you know how to fix Outlook rules not functioning properly by following the steps such as enabling Outlook rules, deleting and recreating rules, renaming Outlook rules, changing email saving settings, resetting Outlook SRS files, repairing PST files and many more.
If you have any further questions, let us know in the comment section below.
Peace out!