Isn't it frustrating enough when you find outlook's store button is invisible when you need some Add-ins? Add-ins bring extra features into the outlook but what caused this invisible button issue?
Outlook is an app by Microsoft which is used to send and receive emails. It also performs other purposes. Outlook is mainly used for personal or company mailing purposes.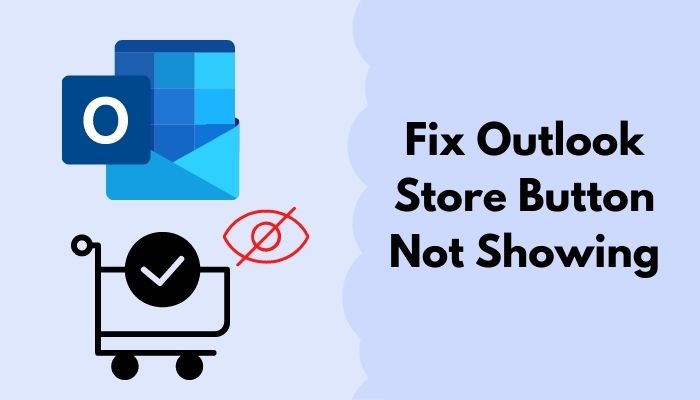 But everything has some flaws in them. Outlook has it too. The Outlook store button goes missing sometimes and it's a problem when someone wants add-ins.
But what's the reason behind this and why your outlook store button is missing?
After investing a lot I have found some quick fixes for this problem. In this article, I will show you those easy fixes so that you won't miss that button anymore. Just read till the end to find out.
This invisible button thing can happen in outlook if you forgot to install the plug-ins. In addition to that, not using the updated version can cause this problem. Not being compatible with the add-ins option can also result in store button invisibility.
There are two types of Add-ins in outlook,  COM-based Add-ins and Store Add-ins. If you are a regular account user or have accounts like POP3 or IMAP then you can use Com-based add-ins. But you won't get the Store add-in button if you don't have an Exchange account.
Outlook is considered to be a personal information manager-based software. It is developed by Microsoft and is also a part of Microsoft Office Suite. Without mailing, it performs other operations too like scheduling meetings, both Contact and task managing,  note tasking, journal logging, and many more.
It's available for both iOS and android and you can also use it as a web application by going to outlook.com. just like the browser extension feature outlook has an add-ins option. With this option, you can add extra tools to enrich your outlook experience.
These add-ins integrations are built by third parties. Sometimes these Add-ins won't function as they should.
If you are using outlook as a web application then the store button disappearance may be caused by the browser. You will not see the button if you forgot to install the outlook store plugin in the browser. If your browser is not up-to-date then you can face a missing store button in outlook.
Here's a complete guide on how to Turn off Outlook's Junk Email Filter.
After long research, I found some fixes for this missing Store button. Don't worry, these are the quick fixes that you can apply to fix this problem.
Here are some quick fixes for you to fix the missing Store Button in Outlook:
Step 1: Look for Account Type
Not all the accounts have this built-in store button feature. You have to be an exclusive account holder to get this button. Regular account users won't see a store button in the ribbon.
Just take a look first at what type of account you are using. If you are using a POP3 or IMAP type account then you won't see the Store Add-in button.
If you want a Store button then upgrade your account and go for an Exchange account. You will find the Store Button after upgrading your account.
Also, check out our separate post on Outlook Plugins.
You can also solve the problem by manually adding the store button in the toolbar. It happens sometimes that being an Exchange account holder you don't find the button. It will be solved by manually adding the button.
Just to the File tab and then select
In the Options menu, you will find the Quick Access Toolbar in the lower section. Click on it.
After clicking it you will see Choose commands from option and from it select All Commands. Under it, locate the Browse Office Store
Just select it and click on the Add button on the right side of it. Done, you are good to go and you will find your desired Store button in the toolbar.
Alternative one
You can also manually do this by another option. This procedure is the same as the previous one but the upper one only adds the Store button to the toolbar,  by following these steps you can add this button to the ribbon.
Similarly, go to the File tab and select Options
You will find Custom Ribbon in the upper section of the Quick Access Toolbar. Just click it.
You will find the Custom the Ribbon section on the right side. From it locate Add-ins. By clicking it you will find the Store Just add it.
Now close it and you will find the Store Button in the ribbon.
Step 3: Add Another Account
Adding another account can solve this problem. Try to add an extra account along with your current account in the outlook. Sometimes you may face this problem with your current account, adding a new account will solve this.
After launching the outlook go to the Preferences section, and next select the Account
You will find the + Add Account button underneath your current outlook account.
After clicking the button all you just need to do is enter your Email address and Password.
After filling up, just add the account. That's it, your problem will be gone. 
Check out the easiest way to Green Screen with Microsoft Teams.
Step 4: Try Repairing the Office
After trying all the above steps, if you are still missing the Store Button then try this last step by repairing the Microsoft office suite.
Just go to the Control Panel and after that click on the Programs and Features
Now find Microsoft office and select it by right-clicking it. You will see the Uninstall / Change
Click on the Change By clicking it you will launch a tab that has both Online Repair and Quick Repair options. Just select the Online Repair option and click on the Repair button. It will fix the missing button issue for you.
You will get your problem fixed if you follow the above steps. If the first step failed to fix the problem, try to apply the second step. Your missing button will appear by applying any of the above steps.
How to Fix Missing Add-ins in Outlook
You will find sometimes that your add-in feature is missing in your outlook. Don't worry. You can bring it back by applying some easy steps.
Here are some quick steps to bring back missing add-ins:
Check Add-in's active status:
First, go to the File tab in the upper-left corner of the outlook.
Then click on Options and after clicking it you have to locate the Add-ins Click on it.
If the add-in is listed under inactive then select the "COM Add-ins" in the "Manage" drop-down section. Then click "Go…"
After checking the checkbox which is next to the Add-in and click "OK". Next Restart the Outlook. 
Try to Enable the Disabled Add-in: 
First, select the Disabled Items from the drop-down menu of the Then click the "Go…" button.
A window named Disabled Items will pop up, after that select the Add-in that you want to re-enable.
Click on the Enable button in the lower-left corner. Next Restart the outlook.
After 5 seconds start the outlook again.
Also, check out our separate post on how to view message headers in Outlook.
Wrapping Up
Outlook is full of customizable features. This is a great app from Microsoft to handle all the emails and office-related work in one place. But it will be a frustrating matter for you if you find the Store add-ins button missing. Try to check your account type for fixing this issue. Only the Exchange account holders can have this feature.
Upgrading the existing regular account can solve this. Try the quick fixes that I have mentioned in this article, if you are still missing the add-ins button after upgrading the account.
I hope you will fix your missing add-ins button problem if you have read the article till the end. Just let me know if you face any issues while following those steps by leaving a comment. Happy mailing through outlook.