Your Outlook inbox is infested with fake lottery mails! Now you have to delete all those scam emails, but this turned out to be a painful job.
Every time, clicking the OK button becomes a pain in the ass because the deleting confirmation message prompts every time while deleting those emails.
Don't you want to disable this prompt-up feature? Do you want a perfect solution for these irritating pop-ups?
You can just count on me, mate. As a software engineer, I have dealt with this kind of irritating problem a lot.
I will not let you down as I have found the quickest way to resolve this matter.
Just keep reading till the end to find out the perfect solution for you to disable the Outlook deleting confirmation message.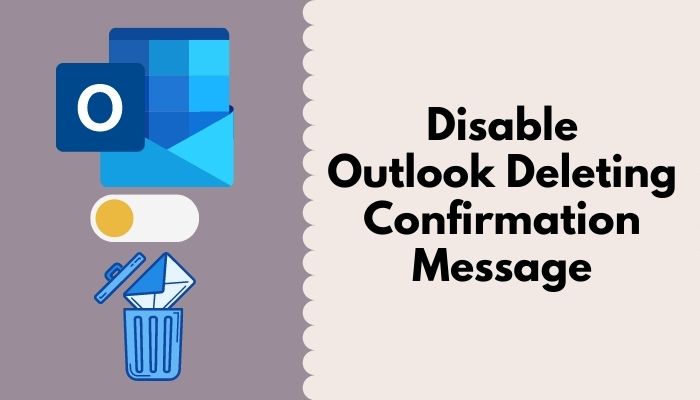 Check out the easiest way to Enable Read Receipts In Outlook.
Why Permanently Deleting Confirmation Messages Pop Up?
Not to delete important files or folders, emails, change settings or accidentally move files to another folder. These are the reasons to show you a popup message that you are confirming to perform those actions or not. Confirmation messages pop up to secure your activities.
Software is designed in such a way that you don't end up accidentally deleting any important files or messages when you are using it. Software designers implement confirmation popup messages to ensure that the user is aware when performing actions like deleting emails, folders, or files.
Users can sometimes delete emails, files, or folders mistakenly. After changing some settings randomly and saving them, you may find out that you have changed some settings that were not necessary. You may face problems after you change those settings by accident.
Confirmation messages give you the privilege to make sure that you are willingly taking those actions. For this reason, you will not end up regretting your mistakes later.
On the contrary, it can be troublesome or sometimes irritating when you have to delete random files and delete them separately by selecting them. It gives you so much pain when you have to click on the Ok button all the time for confirmation, but you are doing it willingly and not by accident then.
Henceforth, it becomes an obligatory matter to turn off or disable this confirmation message. These confirmation popups become so irritating when you may need to delete unwanted or irrelevant emails willingly in Outlook.
I will show you how to disable the confirmation popup messages. If you are bothered by those popups, please follow the below steps.
Also, check out our separate post on how to fix Outlook can't create file error when opening attachment.
How to Disable Permanently Deleting Confirmation in Outlook?
After doing some research, I have found the quickest way to disable permanently deleting confirmation messages in Outlook. I bet you will find it super easy while implementing the steps. 
Here are the methods to disable permanently deleting confirmation messages in Outlook: 
1. Disable Outlook's Delete Confirmation prompts
It becomes mandatory to turn off delete confirmation message popups that say,  This will be permanently deleted. Continue? Yes or No.
You will be irritated if you see this pop up randomly when you attempt to delete messages that are not important. It's high time to turn off this popup. If you are using Outlook 2013 or a later version below steps are for you.
Here are the steps to disable Delete Confirmation prompts for 2013 or later versions:
Go to the File tab, then click on the You will be redirected to the Outlooks Options window.
Click on the Advanced option and scroll down to the last.
Deselect Prompt for confirmation before permanently deleting items option under the other.
Click on the OK
It will disable popups when you want to delete a message permanently. But make sure to recheck the items you have selected before deleting them.
Here's a complete guide on how to add email signature in Outlook.
2. Disable delete confirmation prompts for Outlook 2007 or earlier versions
If you are using Microsoft office version 2007 or earlier, you must follow the below steps to disable confirmation message prompts.
Here are the steps to disable delete confirmation prompts for 2007 or earlier versions:
Go to the Tools from the ribbon. Select the Options.
Click on the Other tab and Select Advanced Options under the first General section.
Uncheck Warn before permanently deleting items.
Click on the OK
You are done. You won't see any prompt message from Outlook when deleting emails. But keep in mind to double-check the selected items before deleting them. You will be in big trouble if you delete important emails.
Check out the easiest way to Enable Read Receipts In Outlook.
How to Prevent Outlook to Delete Emails by Itself
It will be a nightmare for you when you find out that some of your essential old emails have been deleted. If you didn't do it, then who deleted it? After investing some time, you discovered Outlook itself had deleted those emails.
Outlook's auto archive is enabled, and emails are archived automatically, and It is the main reason behind these typo scenarios. Outlook automatically deletes received messages after 30 days. Want to prevent Outlook from deleting emails after 30 days?
Here are steps to prevent outlook emails from being deleted after 30 days: 
Right click on that specific folder from where messages were deleted.
Select Properties from the context menu.
Click on the AutoArchive tab from the Inbox Properties
Check on Do not archive items in this folder and click on OK.
Pro Tips: Alternatively, you can increase the time duration. You can set a time limit of 6 months or 12 months later to auto archive messages for that particular folder.
Here's a complete guide on how to add email signature in Outlook.
Here are steps to increase the time for auto archive emails for a folder:
Just check on the Archive this folder using these settings.
Input your desired time limit in the Clean out items older than section, and select Months if you want. You can also choose Weeks or Days.
Click on OK after this.
By following the steps mentioned above, you can turn off the auto archive feature in Outlook or set a time limit in your desired folder.
Check out our separate post on how to view message headers in Outlook.
FAQs
How long does outlook keep deleted emails?
Outlook keeps those deleted mails for 30 days. After this, outlook permanently deletes those emails.
Why are my emails being automatically deleted?
Your emails can be deleted automatically if your email account is set up to delete emails after a specific period. If that time is passed, then your emails will be deleted automatically. Email sent to an invalid address could be the other reason.
Can I recover outlooks permanently deleted messages?
Yes, you can recover permanently deleted messages from outlook, depending on your version of Outlook. If you deleted emails from outlook 2013 or a later version, you can't recover them. But if you have deleted from 2010 or earlier versions, you can recover the emails. They are only removed from the outlook search index.
Final Thoughts
Outlook is a product of Microsoft, and with Outlook, you can manage all your emails, schedule a meeting, task managing, etc. But when you try to delete multiple emails but not at a time, you will face prompts for confirmation of message deletion.
If these deleting confirmation messages irritate you, disabling this feature is a quick process to follow. In this article, I have shown the fastest way to disable it, and I have also demonstrated how to turn off the auto archive message feature from Outlook.
Please let me know for subsequent questions and other topic-related help by commenting in the comment box.
Happy mailing from Outlook!