MSI Mystic light is an official software from Msi to provide you full control of your PC RGB lighting. You can select and change your PC lighting to your preference with the software. The mystic light provides you with RGB color variations and color themes.
As a gaming enthusiast, I have used the software for a certain amount of time and found it to be quite useful. The software has RGB light syncing options. You can quickly sync your PC lightings with all the hardware.
Keep on reading, to know every bit of information about the mystic light app with a 100% working downloadable link.
Download MSI Gaming App to easily change your system setting and have all of your PC performance for your gaming.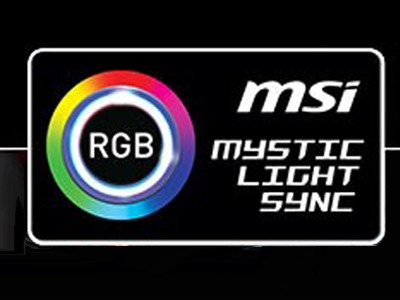 What is the MSI Mystic Light software?'
Msi Mystic light software is an efficient software officially released by MSI for your PC's RGB lighting. You can change and control all of your RGB lightings from this software.
The Mystic light software has a user-friendly interface for dictating the RGB lightings of your PC. You can change or select the colors for your hardware very quickly with the software. Download MSI Kombustor to test the overall aspects of your GPU.
Download MSI Mystic Light RGB for Windows
Light syncing gives you control over the color syncing of games. Syncing game color with the hardware is a useful feature of the software.
The Mystic light software gives you extensions over other components of your PC. You can use LED strips and custom their colors with the software. It is effortless and efficient for any user to custom the colors of the hardware with the software. Also, check out our separate post on how to fix msi mystic light not working.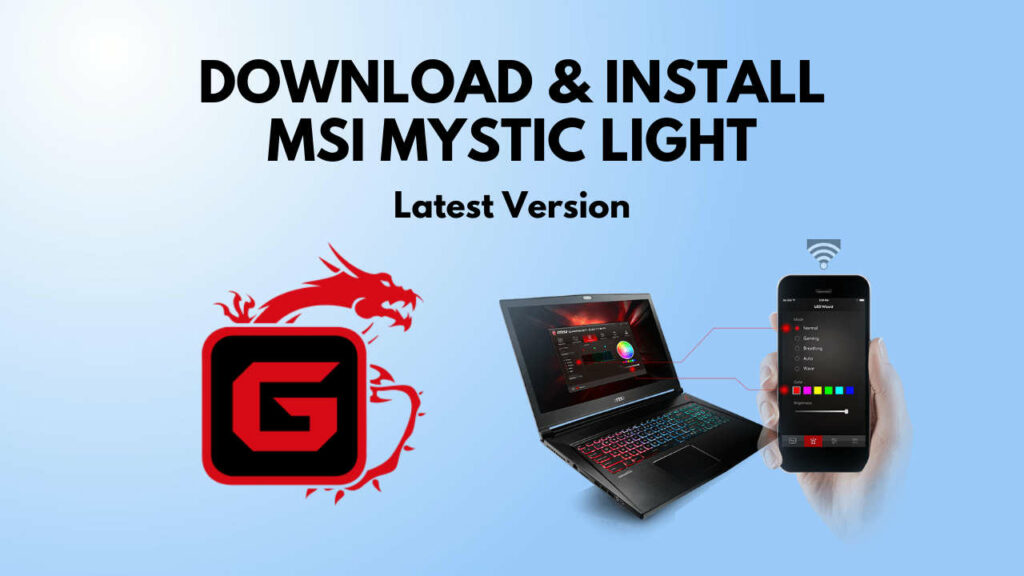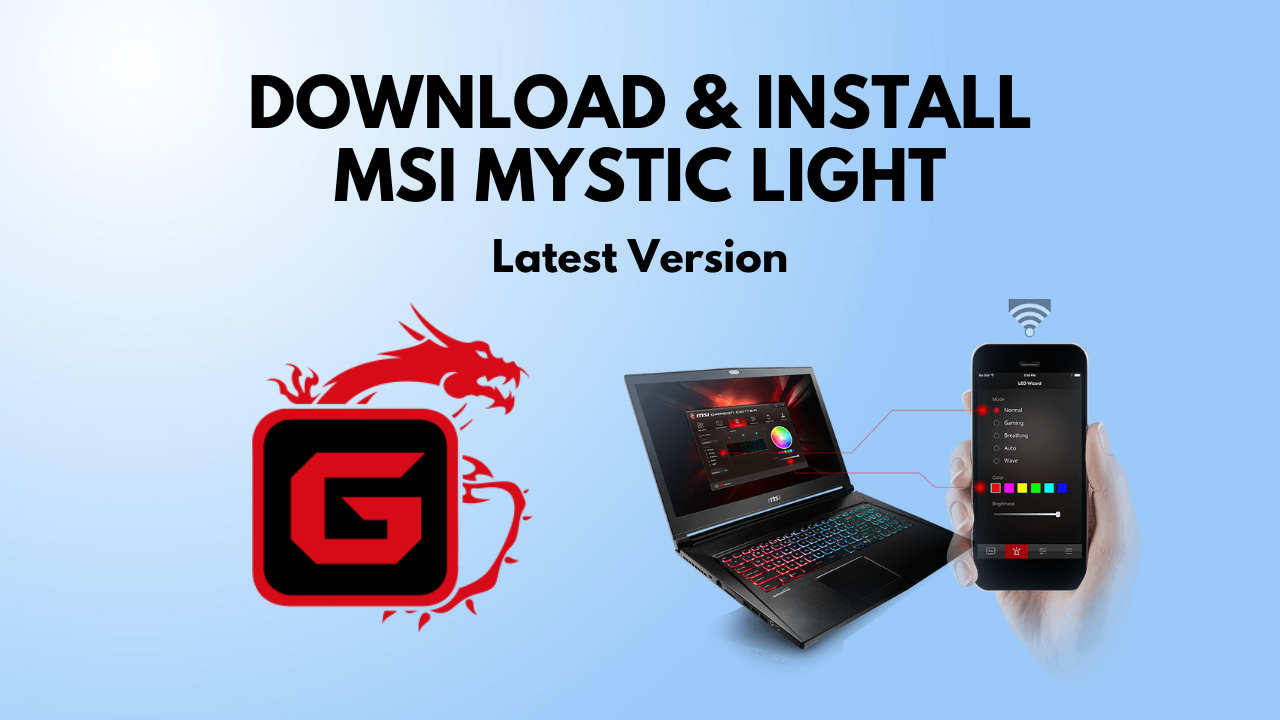 The Game syncing allows you to sync the color with your hardware. You can sync your in-game colors with your PC to have a quality gaming experience.
All the file/s mentioned above are hosted on MSI'S server. We don't host or modify any file whatsoever. Mystic Light is the proprietary software of MSI.
| Name | MSI Mystic Light RGB |
| --- | --- |
| Developer | MSI |
| Compatibility | Windows 10/8/7 |
| Latest version | 3.0.0.69 |
| Price | Free |
| Ratings | 4/5 |
Outstanding Features of MSI Mystic Light
Custom RGB lights
Select lighting effects
Sync colors with hardware
Sync game colors
Control LED strips RGB
Control intensity of lightings
How to install MSI Mystic light software
The MSI Mystic light extension is one of the features of the software. It allows you to custom the lighting of your computer's LED strips as well as other components.
The Mystic software is excellent software for you to custom your RGB lighting and have the best lightings for your PC.
Installing the MSI Mystics light software is very straightforward. If you are looking for the most popular GPU overclocking, tuning, hardware monitoring, and customizing utility software, then download MSI Afterburner.
Here are the steps to install MSI mystic light app: 
Click and download the dragon center link given above.
Download and extract the file.
Move the file to the desired location.
Run the file and click the mystic light option.
How to Use Mystic Light RGB software
Msi Mystic light is an efficient software to use. You can easily select the color and given effects to dictate the coloring of your PC RGB lighting.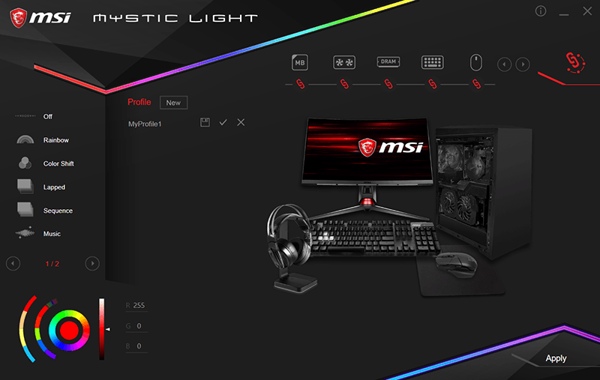 Here are the steps to use MSI Mystic Light 3:
Click the product icons to change the colors of your hardware. You can select different colors for your hardware by going through the icons and changing the color wheel.
Select the color of your hardware from the color wheel and click apply to set colors manually.
Click and Set auto lighting effects from the effects options of the software. You can select from various lighting options to sync your hardware lightings. Click apply to put on the light options.
Click the Big chain icon on the upper right corner to set game light sync. You can sync the color of your game with your PC with this.
Select the individual products to change the color. Click on the wheel and change the color, then click apply.
Use the Mystic light extension options and select or custom your RGB strip colors.
Does MSI mystic light work with razer?
Yes, Mystic light is compatible with synapse from Razer. Not all software is compatible with other devices. But Mystic light is luckily consistent with Razer synapse.
If you have the synapse from razer, then you can easily connect and run it with Msi mystic light software. You will not have much of an issue relating to the products. Check out how to Download MSI dragon Center to tune the lights and custom the visual aesthetics of your PC on your own. Also, Download Ryzen Master to tweak your processor to the full extent.
Does MSI mystic light work with iCue?
Yes, mystic light runs with corsair. ICue can control the devices of Corsair connected to a particular model.
Since the Mystic light runs with the RGB lights connected with JCorsair and other variations, It will run with Corsair devices.
If you have a Corsair device and connect it to mystic light software, you can join and run the tool effortlessly. Download Corsair iCUE to get updated information on your battery usage, Fan speed, clock time, and temperatures of your Corsair Components.
Is MSI Mystic Light RGB safe to use?
The Msi mystic light is an RGB light controlling app. It does not need any data, which could hamper your privacy or PC data. So, It is a secure app to use.
The software does not have any malware-related issues. Your PC will be virus-free from using the software. I have not experienced any negative traits from the software.
The app does not hamper your data or does not upload any data from your PC. So, your data remains safe and secure. These indicate the software to be relatively safe and secure to use. Also, Download Furmark as it is a benchmarking software built to test and benchmark your graphics card correctly and efficiently.
Is MSI Mystic Light Worth using?
The Msi Mystic software is an efficient and useful software to use. It is a great way to change and custom your RGB Lighting and fulfill your visual aesthetics.
The software allows you to dictate the lights of your PC hardware very efficiently. You can select different lights for specific hardware and also sync all the colors to your needs.
The game light syncing is a great way to sync the game colors of your hardware. You can manage the color sync of your games efficiently with the software help.
The software is very safe to use and has no data risking issues. It is free from viruses and other malware. So, you can use the app without any hesitation.
I have used the app for a long time, and I have found it very beneficial and easy to use. It is an app worth using.
FAQ
Question: Is Msi Mystic light safe to use?
Answer: the Msi mystic light is very safe to use. You do not need to worry about any data loss or malware issues regarding this app. You can use the app without any hesitation.
Question: Does Msi Mystic light sync game colors?
Answer: The Msi Mystic light syncs game colors with your PC to give you the best gaming experience. You can use the software to have the right game color syncing with your PC hardware.
Final Thoughts
Msi mystic light is an excellent app for controlling your RGB lighting. The interface of the software is straightforward to use and efficient in many ways.
The software has effects and syncing options for you to fulfill your visual aesthetics. You can sync the colors of your hardware with the gaming colors as well.
I have used the software for a hefty amount of time, and I have found it very efficient. It is an excellent app for managing and selecting your PC's RGB lightings. I would suggest MSI Mystic light to any consumer who likes to control their RGB lighting.