You may feel blue when you get the thing that you are going to lose all the inventory after your death in Minecraft. It is quite disappointing that you worked so hard to gather the inventory items, but all will nip in the bud when you die.
Isn't there any solution to this problem?
If you are struggling to retain the inventories in Minecraft, nothing to worry about, my friend. I am right here to help you out.
As a technological geek, I researched it minutely and found a number of ways to keep your Minecraft items. So, dive into the detail.
Please, read attentively till the end. Skipping sections may make you suffer from doubtful thoughts.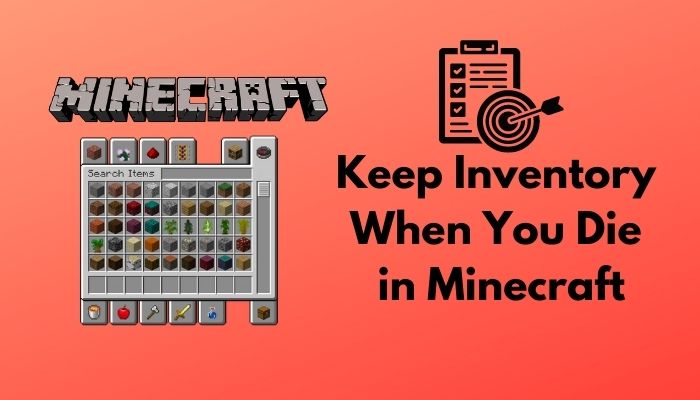 Also, check out my complete minecraft biomes list to explore the unknown.
What Will Happen to Your Minecraft When You Die?
Nothing can be worse to a Minecraft player having given up all the inventories. According to the ancient method you followed to date, you need to start collecting them again.
If you use cheat codes, you can permanently store the inventories in Minecraft. Also, a wooden chest box can help you with this.
In another way, you can solve it beforehand. While setting the game rule, make sure you select TRUE. Not selecting true may be the probable cause of losing all inventories after your death.
Let's go deeper into these things so that you can handle the keep inventory command in Minecraft.
How to Keep Your Minecraft Inventory When You Die?
In the forthcoming portion of this guide, I will show you how to enable the keep inventory rules in Minecraft. What this basically means is when I die, my stuff will not be thrown everywhere. It will remain in my inventory for when I respond.
So right now, if you have the keep inventory rule disabled or what Minecraft has, it defaulted to, follow my steps to keep it unharmed.
I am now going to be showing you how to make it so that you can keep at this stuff. So, you do not have to go through the hassle anymore.
Here are the steps to keep your Minecraft inventory command:
Open your chat or command feature.
Type /gamerule keepInventory true in the window.
Hit the Enter key from your keyboard. Now, what this is going to do is make it so your inventory will be kept, and as soon as you respond, it will still be there. After your death, you will be able to access all your tools. Obviously, if you want to put it back to the way it was, you can do this exact same command except put the command to False.
Tap on the Respawn button to restart the game.
Also, check out the best Minecraft Music Bots and the Best VPN for Minecraft.
Now, if you want to hold your tools and armors, you can take the help of a variety of cheat codes that are potent enough to let you change the core game actions. This is an out-of-the-box thought, and for this to implement, you have to make sure that your world supports cheat codes.
Here are the steps to retain your Minecraft inventory using cheat codes:
Open the Game Menu on the Minecraft window.
Navigate to the Open to LAN button and click on it.
Tap on Allow Cheats under the section Settings for Other Players. You can locate this in the middle of the window.
Toggle the button to ON.
Click on the Start LAN World at the bottom on your left.
Apply cheats and click on Respawn to check if it works perfectly.
Here's a complete guide on how to change difficulty levels in Minecraft.
You can enjoy the Minecraft experience on several platforms like Windows, Mac, Android, iPhone, etc. This is one of the features that very few games offer to their users. You can even think of PS4 and Xbox. Minecraft Pocket Edition (PE) is the hub of these multifunctional services.
So, if you have any of the mentioned platforms where you play Minecraft, and are afraid of losing your shields and armors upon your death, go through the following steps specifying your device.
Check out the easiest way to zoom in on Minecraft.
iOS and Android
Playing Minecraft on iOS and Android devices is another level of experience. Not only the multiplayer gameplay but also the parental controlling feature is the effective one to observe children's gaming activities. More or less, the steps may remain the same for the PE on every device.
Here are the steps to keep Minecraft PE inventory on iOS and Android devices after death:
Open Minecraft Pocket Edition (PE) on your device.
Open the chat window by clicking on the chat icon. You will find it at the top of the screen.
Type /gamerule keepInventory true in the box and hit Enter.
Click on Respawn to restart gaming.
Now, you will have access to your inventories after death.
Want to make a Jack o lantern in Minecraft? Click on the link to find out.
On Windows, Mac, or Chromebook
These are the most used platforms of Minecraft players. So, I will show you how to retain items after death. Prior to that, you have to make sure that your LAN world supports cheats. Let's see how to check.
Here are the steps to ensure your world supports cheats:
Launch the Game Menu on Minecraft.
Go to Open to LAN.
Tap on Allow Cheats
Turn on the toggle button to allow the cheats.
Click on Start LAN World on the bottom-left.
Set the game rule as I stated in the middle of this guide.
Click on Respawn to relaunch the game.
This way, you can apply cheats and save your inventory items in Minecraft.
You can download AMIDST and install the executable file. If you don't know how to use AMIDST tool, then here is a quick look-through the guide.
On PS4 and Xbox
Though Minecraft Console Edition offers the same features as Minecraft Java Edition, the process of enabling and applying cheat codes on both differs slightly from each other. Keeping inventory command on PS4 and Xbox are not way different. So, let's follow the steps group-wise.
Also, check out how to find all Minecraft Biomes using Biome Finder.
Here are the steps to save Minecraft inventories on PS4 and Xbox after death:
Click on the D-pad button on the right of your PS4 controller.
Insert /gamerule keepInventory true command there.
Press Enter from the keyboard.
The game rule has been changed. Now, no item from your inventory will be thrown away after your death in Minecraft.
Quickly find out how to get Minecraft free on PS4.
FAQ
Will I lose my inventory after my death in Minecraft permanently?
No. You will lose your inventory items permanently only if you die in the fire. If you die by any other means, you can collect your body and other belongings, and then you get the inventory back.
What is cheating in Minecraft?
Keeping inventory in multiplayer is considered as cheating in Minecraft. You can also play solo. In that case, you can keep your inventory anywhere you want. You can activate the cheats by entering Minecraft commands in the game.
Final Thoughts
To wrap up, keeping your inventory untouched after your death is as easy as child's play in Minecraft. The approaches I demonstrated above are merely the possible way-outs to this issue. So, without being frustrated and puzzled, follow the steps carefully. I hope you will be able to retain your items under control.
If you have any other possible solutions, please let me know.
Was this article conducive? If so, you may feel free to share this with your gaming mates so that they can save their own inventories too.