Pressing your computer's power button can trigger a message on your screen, Boot Device Not Found; Press any key to restart. And suddenly, you realize you cannot boot into your computer.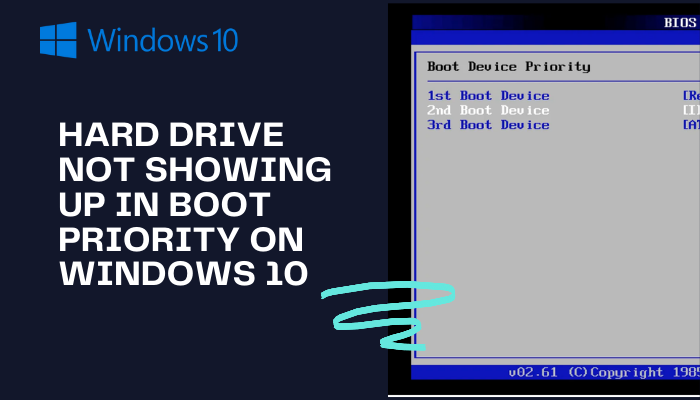 The anxiety is over 9000! The fear of losing all your important data has taken you aback. [image]
Many users, including me, faced the same issue at least once in their lifetime. I have also studied numerous other cases to narrow down the potential underlying factors.
In this article, I will walk you through how you can fix the hard drive not showing up in boot priority on your Windows 10.
Check out our separate post on Enable Remote Desktop RDP in Windows 10 Home Edition.
Why Hard Drive Not Showing in Boot Priority in Windows 10?
Hard Drive may not show in Boot Priority for a handful of reasons such as Faulty Drive, Damaged SATA Cable, Hard Drive not enabled in BIOS, Outdate device drivers, etc. Your motherboard checks for all the required components, including Bootable Hard Drive. If it fails, then you will have no post.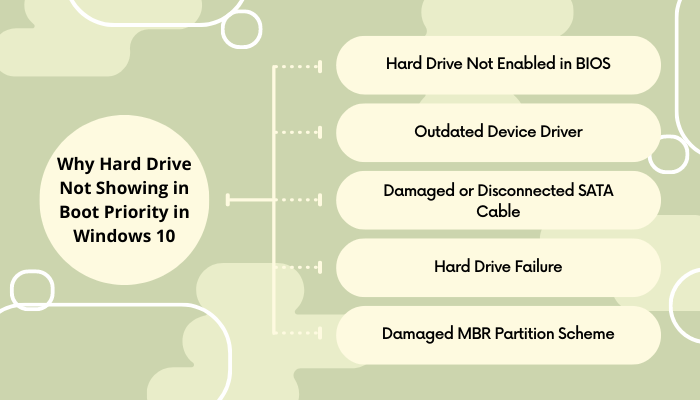 Here are the reasons why the Hard Drive is Not Showing in Boot Priority :
Hard Drive Not Enabled in BIOS
Sometimes a system's hard drive can somehow be disabled in the BIOS. A disabled hard drive can lead to an undetected boot device. Hence hard drive does not show in boot priority.
Outdated Device Driver
When the hard drive runs on an old driver, it may fail to be detected. As a result, it will not show up in boot priority.
Follow our guide on how to adjust page file in Windows 10.
Damaged or Disconnected SATA Cable
A hard drive is connected with a SATA cable to a computer's motherboard. It also needs a power source to operate. Thus another cable connects the hard drive with the power supply.
If one of the cables gets damaged or loosens up, the system won't find the hard drive. Hence, the hard drive will not appear in boot priority regardless of your OS.
Hard Drive Failure
Hard drive failure is straight forward as it sounds. If the hard drive fails, it won't be detected as a bootable device.
A hard drive may fail for multiple reasons, such as Physical Damage to the Spinning Disk, High Voltage, Burned Controller Chip or IC, Too many Bad Sectors on the Disks, etc.
Damaged MBR Partition Scheme
Master Boot Record (MBR) is a program found in each partition on the disk. It stores all the information about each partition and its size.
While booting a computer, it tries to communicate with the hard drive and tries to load OS. For excellent communication, MBR needs to load at first. The motherboard will not detect the hard drive if the MBR is corrupted.
Check out our separate post on Disadvantages of Not Activating Windows 10.
How to Fix Hard Drive Not Showing Up in Boot Priority on Windows 10
Fixing an undetected hard drive in boot priority is not so hard to fix. However, it requires some caution and sequential procedure to be followed.
Here are the methods to fix hard drive not showing up in boot priority:
1. Enable Hard Drive in BIOS
Enabling a hard drive in the BIOS often fixes undetected boot drive problems.
Follow these steps to Enable Hard Drive in BIOS:
Press the power button.
Keep smashing your motherboard's BIOS Mostly it is the Del / F2 button on your keyboard. To make sure, check your motherboard manual.
Find IDE Configuration under the Advanced Different motherboards has different names. But they are quite similar and self-explanatory.
Select SATA or anything related to SATA from the available options.
Save and Restart.
Now your hard drive should show up in the Boot Priority menu.
Here's a complete guide on 5 effective ways to Uninstall IE11 Windows 10
2. Check and Replace SATA Cable
Visual inspection is the primary stage of checking a cable. If any deformity is found, further steps are required to ensure the cord is damaged.
Here's how you can check and replace the SATA cable:
Plug the SATA cable into a working computer's motherboard SATA port.
Connect the other end to a functional HDD.
Check in the If the HDD is not found, we can conclude that the cable is damaged.
Replace the SATA cable.
If the SATA cable is the reason behind the undetected hard drive issue in Boot Priority, following all the steps above will fix your missing hard disk drive issue.
Also, check out our separate post on best places to buy Windows 10 key.
3. Make a Firm Connection and Re-connect HDD
There were situations when I found out that my connection cable had loosened. Reconnecting and ensuring the connections are firmly fixed an undetected HDD problem.
Therefore, I always recommend you ensure a firm connection and re-connect your component.
4. Update Hard Disk Driver
Updating the hard disk driver is a common fix for an undetected disk drive, reported by many users across the globe. If your hard disk fails to boot into Windows, fixing it can be tricky.
Here is a quick way to update the hard disk driver: 
Download the ISO disk image from Microsoft's official website.
Install Windows on the USB disk using 3rd party flashing tool. WinToUSB is such a tool.
Plug the USB into your computer.
Power on the PC.
Boot into Windows using the USB flash drive.
Press Windows + S key.
Type Device Manager.
Click on Disk Drive.
Right-click on it.
Click Update driver.
Select Search Automatically for Drivers.
Choose the found driver to install.
Restart your computer.
Your hard drive shows up in boot priority now. And you can boot into Windows. If not, simply reinstall Windows. It should solve your problem if it were due to the impaired driver.
Here's a efficient guide on how to fix Randomize Photos in a Folder.
5. Reset BIOS
Hard drives can be undetected due to BIOS. I found such cases in the past. Resetting the BIOS can be a cure for this problem.
Here is one of the easiest ways to Reset BIOS:
Unplug your PC from any power source.
Open the side panel of your chassis to access your motherboard.
Locate the CMOS battery on your motherboard.
Pull out the battery and wait for 5 minutes.
Re-insert the battery into the slot.
Turn on the computer.
Go to BIOS.
Check the Boot Device list.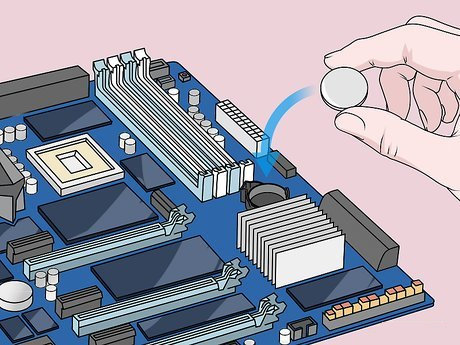 You should see your hard drive listed there.
Read more on how to Change File Attributes in Windows 10/11
6. Set Hard Drive Boot Order at Top
Incorrect boot order often results in not booting into Windows. It also may cause undetected bootable hard disk drive.
Here's how to set the hard drive boot order at the top:
Go To BIOS after the computer turns on.
Search Boot Options.
Set the first boot option as your bootable Hard Drive.
Restart.
If this was causing the problem, now you'll be able to see your hard drive in the boot priority list.
Here's a complete guide on how to switch domain controller on Windows.
7. Fix Damaged MBR
If your hard drive is not showing up due to a damaged MBR, you must rebuild it before throwing it out of the windows.
Follow these steps to Fix Damaged MBR :
Make a USB flash drive bootable.
Boot into the USB flash drive.
Enter Windows Setup Screen.
Press R to open Windows Recovery Console.
Type the following command fixmbr in the console. It will create a new MBR partition scheme.
Important Note: This method will only work if your Hard Drive runs on an MBR partition scheme. Modern Hard Drives use a GPT partition scheme.
8. Replace or Repair Hard Drive
If you are reading this far, that means none of the fixes I explained above have worked for you, which confirms that your Hard Drive is dead. You need to replace it with a new drive.
You can contact any data recovery shop to recover data from your dead drive. If you are lucky, they will be able to retrieve all the critical data.
However, you can try to repair your drive. But it will not perform as good as before, and there's a high risk of the sudden death of your hard drive.
Also, check out our separate post on windows audio device graph isolation high CPU.
Final Note
Being unable to boot into the OS is really frightening as well as frustrating. People often spend a lot of time figuring out the exact reason.
In my article, I have accumulated all the possible reasons and fixes that can help you to sort out the problem.