Piracy has been the biggest threat to software-based programs for a long time, and Windows is also not safe from this issue. That's why Microsoft introduced the activation program to ensure every personal computer is running on Genuine Windows products.
When you first install a fresh copy of Windows 10, Microsoft allows you to use all the functionality for up to 1 month. After 1 month of trial, a pesky Active Windows watermark appears at the bottom right corner, and some features and customizations become limited.
Personally, I don't like that watermark at all and the limitation of customization as well. So I ended up buying a Genuine Windows.
In this article, I will discuss the limitations I faced and the disadvantages of not activating Windows 10.
So read the article to know what you will miss on unactivated windows.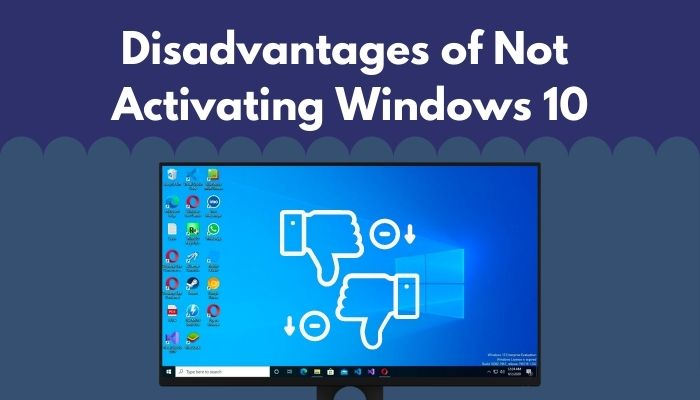 Check out our separate post: Enable Remote Desktop RDP in Windows 10 Home Edition
Disadvantages of not Activating Windows 10
Active windows or Genuine Windows license gives you all the facilities of Windows 10. Where trial version of Windows 10 has some limitations. That includes the lack of customizations, features, settings, crucial security updates, bug fixing, etc.
In other words, you will be locked up in a bottle after 1 month of trial in terms of customizations. However, other basic functionalities will be the same for both activated and unactivated windows.

Here is the stuff you will miss out in an unactivated Windows 10:
1. Limited Features
Dark Mode was first introduced on Windows 10. It is one of the most demanding features of Windows. And for people like me, it was one of the biggest reasons to switch to Windows 10.
Only premium or active windows have access to this special feature. You may switch to dark mode at any time. It reduces power consumption and improves viewing quality.
Although you may not like the dark mode feature, it is worth mentioning that dark mode gives you an extra edge over battery life and your personal preferences.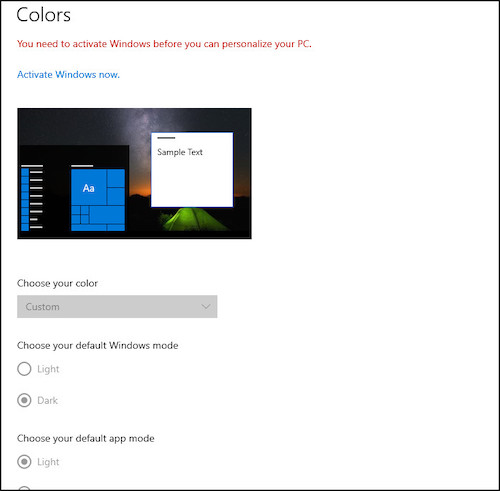 Follow our guide on how to Get Windows 10 Free for Students
2. Missing Crucial Security Updates
Unlike the previous versions, Windows 10 requires regular mandatory updates, which may bother some users. But these updates keep your system away from hackers and malicious files.
Activated Windows 10 users are usually eligible for all security updates. However, unactivated Windows 10 users don't usually get all the crucial updates. This means you may miss out on the latest security updates.
Though you can use third-party antivirus software, you are not fully protected. You will be fully secured by activating Windows 10, and it is the absolute way to achieve that.
3. Restricted Personalized Settings
Windows 10 offers excellent customization to the users. But those flexibilities will slip off your hands when you don't have a Genuine activated Windows. We'll go through some settings you will miss if you don't have activated Windows.
Also read, 3 Ways to Get Out of Safe Mode in Windows 10/11
Here are the personalized settings or customizations you'll miss:
Background and Wallpaper Settings
You will be limited to the default Windows wallpaper on unactivated Windows. You can not choose other free wallpapers that Windows offers.
However, you can set any images to your wallpaper by selecting from the storage.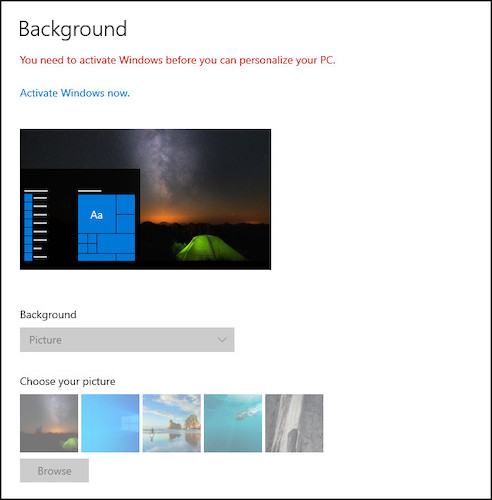 Restriction on Color Selection for Applications
Windows 10 won't allow you to change the accent color when you have an unactivated Windows. On the contrary, Windows automatically picks blue as the default color.
Many users are comfortable with that blue color. You need to activate the Windows first to choose the right accent color.
Here's a complete guide on how to Change Image Thumbnail Size in Windows 10/11
Stuck with a Default Lock Screen
Windows 10 won't allow you to customize the lock screen like the wallpaper in case you have an unactivated Windows. That means you have to settle down with the Windows' automatic lock screen changes.
But the good news is that you can select your preferred lock screen by opening the image from storage and set it from there.
Stuck with the Default Theme
Windows Themes allow users to choose and modify the interface, general appearance, and overall experiences. Users can change the OS's color, background, cursor, sound, etc.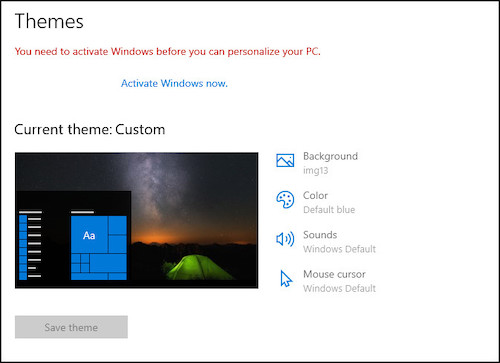 You will miss all these customization features when you own an unactivated Windows 10. Only activated Windows users can choose their preferred themes.
Read more on how to Disable Caps Lock Notifications in Windows 10/11
Limit to Default Fonts
This is certainly not a very used feature, but it is worth considering the fact that you can't change the fonts of your system with an unactivated Windows.
Activated Windows users have the edge to customize their system's fonts according to their preferences. It symbolizes that the device you are using is closer to your heart.
The start menu is an important feature in Windows 10. You can get quick access to all the applications and features from here.
In unactivated Windows 10, you won't be able to modify the small changes in the start menu. As a result, you won't be able to view suggestions or most used apps for quick access.
Check out our epic guide on how to Fix Windows 10/11 Update Error 0x80d02002 Easily
Non-Customizable Taskbar
The taskbar is one of the crucial parts of Windows, and Windows 10 has the most advanced taskbar than it's predecessors.
But in unactivated Windows 10, the customization is locked up. You won't be able to change the taskbar size, color, transparency, hiding feature, etc.
4. Missing Bugs Fixes and Patches
Microsoft releases a monthly update to fix the existing bugs in the OS. Windows 10 is very consistent in this segment. The latest update brings the latest bug fixes and patches.
Sadly, only activated Windows 10 users get the benefit of frequent updates. If you use unactivated Windows, you won't receive frequent bug fixes and patches.
This can heavily affect your user experience as sudden bugs and glitches may often appear.
You may also like to read: How to Change File Attributes in Windows 10/11
5. Active Windows Watermark
You will see a semi-transparent Watermark on the bottom right corner when you fail to activate the Windows. It sits there and reminds you to activate the Windows.
Though it doesn't hamper your viewing experience, it is quite distracting.
This watermark not only takes a good amount of space but is also impossible to remove until you activate your Windows.

6. Constant Windows Activation Prompt
Though Microsoft won't push you hard to activate Windows, it will show several irritating Windows activation notifications.
Sudden activation popups may break the concentration and hamper your workflow. So this isn't very pleasant, at least for me.
Read more on how to Adjust Page File in Windows 10
How to Activate Windows 10
You can diminish all the shortcomings and potential security threats by activating Windows 10. This is one of the easiest things you can do.
Here are the methods to activate Windows 10:
Open Windows Settings.
Navigate to Update & Security.
Select Activation from the left Navigation Panel.
Click on the Change product key button.
Enter the unique 25 characters product key in the popup box and hit the Next button.
Click on the Activate button to activate Windows.
Click on Close to exit from the activation wizard.
Also, check out the Best Places to Buy Windows 10 Key
Frequently Asked Questions
Will activating Windows 10 delete my files?
No, you won't lose any of your data while activating Windows. Your data will remain safe as they were before activating the Windows. You just need to insert the product key, and your Windows will be activated automatically.
Is it safe to use cracked keys?
I won't say it is unsafe to use cracked keys, but there is a slight chance of a potential threat of using these keys. Often buyers get scammed while buying cracked keys from the internet. It is better to use the officially licensed key from Microsoft to avoid any potential risks.
Is Windows 10 illegal without activation?
It is absolutely legal to use Windows 10 without activating it. Microsoft allows users to use free unactivated WIndows as long as they don't intend to activate WIndows. You can feel free to use unactivated WIndows, and it is not a crime!
Wrapping Up
That's about it. Hopefully, you have learned all the disadvantages of using an unactivated Windows 10 and the features you will miss. Now you can easily decide whether you will keep using unactivated Windows or Active it instead.
Thanks for reading this article. You can leave comments in the comment box to express your existing queries. I'll be delighted to help you with that.
Peace.