The Windows page file is often called Windows virtual memory. It creates a small portion of space in your storage system to store system crash dumps and enables the system to utilize physical RAM more efficiently.
You can call it the sidekick of the main protagonist of a movie whose job is to help the hero — RAM. Your system allocates the page file size according to your RAM size while installing the Windows. And it increases the overall performance of your system.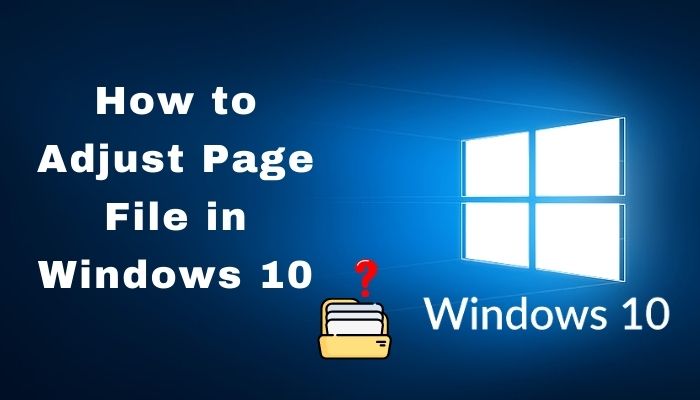 However, you may often require changing the page size when your system has low virtual memory. This article will help you find the easiest way to adjust the page file size in Windows.
So let's get started!
Check out our separate post on Disadvantages of Not Activating Windows 10
How to Adjust Page File in Windows
If you see a message, Your system is low on virtual memory while running any heavy RAM-intensive application, you may consider increasing the page file size. When your system doesn't get enough memory support, it won't let you run any heavy tasks on your computer.
Here is how you can adjust the page file size in Windows:
Open Windows Search by pressing Windows + S.
Type View advanced system settings and hit Enter.
Click on Settings… under the Performance section.
Navigate to the Advanced tab on the new window.
Click on Change… under the Virtual memory section.
Uncheck the box stated Automatically manage paging file size for all drives.
Select the drive you want to change the paging size for.
Check the radio button named Custom size.
Type 5xRAM size in the Initial size box. (This is the maximum that you can allocate)
(eg. if you have 8 GB of RAM, the maximum number you can put is 1.5 times 8 in MB, which equals 12288 MB)
Type 3xRAM size in the Maximum size (This is the maximum page file size that you can allocate)
Click on Set.
Click on Ok.
Here's a complete guide on 5 effective ways to Uninstall IE11 Windows 10
Should You Change the Microsoft Windows Page File Size?
No, you should not change the page file size of your system. Windows is more brilliant for this job. When installing a fresh Windows OS, your system automatically allocates the required virtual memory size.
So increasing or decreasing the page file size won't be a wise decision.
The reason behind this is that when you change the page file or virtual memory size, your system can face various issues and make it unstable. Often Windows users with a huge chunk of memory remove the entire page memory, which is a notoriously wrong decision they take.
You should never delete the virtual memory space, EVER!
When you increase the page file size, it prevents instabilities and crashes in Windows. But it comes with a price; your hard drive will perform slower than before. Your hard drive needs to work harder when you implement a larger page file size. And that causes everything else to run slower.
You should only increase the page file size when you encounter out-of-memory errors. And one thing you should remember is that increasing page file size should be a temporary solution. The best way to solve the memory shortage issue is to add more RAM to the computer.
Follow our guide to Uninstall Windows 11 and Return to Windows 10
Frequently Asked Questions
What is the maximum paging file size?
You will typically get 1.25 GB on an 8 GB system, 2.5 GB on a 16 GB system, and 5 GB on a 32 GB system. The larger the memory size, the smaller the paging size should be.
Does increasing paging file increase performance?
No, increasing the page file doesn't make your computer run faster. It is just a temporary solution to the memory shortage issue. The best way to improve the performance of your system is by upgrading or adding more RAM to your system.
Should I use the paging file with SSD?
Absolutely yes, if you have an SSD installed on your system. SSD is way faster than the traditional hard drives. You will get better output from SSDs compared to hard drives.
What happens when the page file is full?
The page file is full issue only happens when the hard page faults occur. It isn't good or bad, but too much page faulting can impact the system's performance.
Also, check out our separate post on how to Create RDP Shortcut Icon on Windows 10
Final Thoughts
Here you go! Follow these simple steps to change the page file size, aka virtual memory in Windows.
However, I'm stating again that you should only change the paging file for a temporary period. You should never permanently settle on a modified virtual memory size.
Thanks for reading the article. I believe you get the proper guideline for adjusting the page file size in Windows. In case you have any questions left in your mind, feel free to share them in the comment section.
Talk to you on the next one. Till then, have fun and stay safe.
Peace!