Windows 11 is the latest buzzword among everyone who is using a PC, so you are thinking it's time you need an upgrade. The only question that remains is how? This article will precisely answer that.
Should I install Windows 11 now?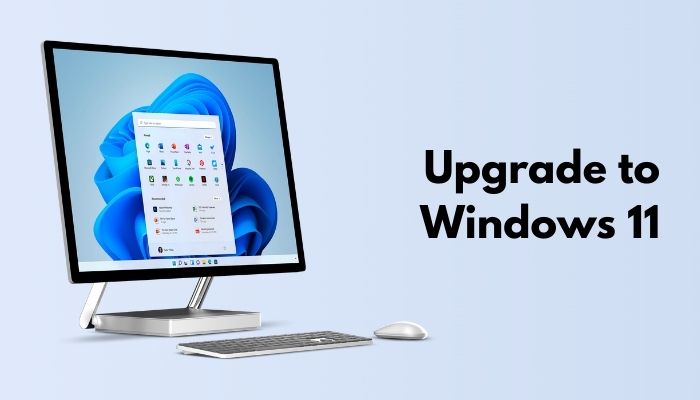 Yes, you should install Windows 11 now, because it's been months since the initial release. By now, most of the major bugs will be fixed so you can have the perfect experience. However, you are free to continue using Windows 10 till 2025.
As a tech enthusiast, I couldn't wait too long to try out the latest and greatest from Microsoft, so I installed Windows 11 as soon as it came out. I installed this OS on both my desktop and laptop using the same installation method you will see in this article.
So, what's with the waiting? Grab some drinks and have fun reading my guide.
How to Upgrade To Windows 11
There are multiple ways to get the latest OS on your PC, and the best part is, all of them can be done in a short time.
Before you can get started with Windows 11, you first need to make sure that your PC meets the minimum requirements to run Windows 11. The quickest way to do this is by using an app called PC health check.
Here are the steps to upgrade to windows 11:
Download the latest version of the PC health check application by searching for it on Google.
Once it's downloaded, launch the application from the Downloads folder.
Click on the blue 'Check Now' button to let the program run a scan and determine whether your PC hardware and software is compatible with Windows 11.
If the results show that your PC isn't compatible, don't worry, you can still force-install Windows 11, and I will show you how to do this later, but I wouldn't recommend doing this because there is a very good chance of running into performance issues.
Check out our separate post: Upgrade to Windows 11 on Mac Using Boot Camp.
Here are the ways to upgrade to Windows 11:
1. Use a Windows Installation DVD
There's a very good chance that you know about this method already, since it's classic. This was the only way to install Windows back in the day and it is just as effective today as it was around 12 years ago.
All you need to do is go to any PC or CD store, purchase a Windows 11 installation CD and then insert it into the CD drive of your laptop or desktop before bootup. You will automatically boot into the Windows 11 installer.
2. Use the Windows 11 Installation Assistant
This is a new tool provided by Microsoft to simplify the installation process and, I have to say, they did a very good job with it. It's super quick to download and use the tool but the best part is that you won't need to configure anything manually.
There is already a separate article on our website showing detailed instructions but here's a short guide on how to use windows 11 installation assistant:
Go to the Google homepage, and search for 'Windows 11 installation assistant'.
Click on the first result from the official Microsoft website.
Scroll to the Windows 11 installation assistant section and click on the button labeled Download Now.
Go to the Downloads folder, right-click on 'Windows11InstallationAssistant.exe' and select 'Run as administrator'.
If the PC health check app detected that your PC is incompatible, the installation won't proceed. You should see a terms and conditions list that you should read carefully. I recommend connecting your PC to the internet before clicking on Accept and Install.
After that, you should be seeing the Windows 11 files download progress on the app.
You will need to restart your PC after the download has completed, but you can choose to Restart immediately or after half an hour. Whichever option you choose, remember to make sure the you have more than 80 percent battery before the reboot.
During the installation process, make sure to not disconnect the power supply or force shut down the PC. Also, don't freak out if your PC restarts frequently during the installation process since it's supposed to do that.
You can login and use your PC as usual once the installation completes.
Check our latest post on how to Fix Sound Cracking Issue on Windows 11.
3. Use Your Pen Drive
This is the only method I use to install Windows since Windows 7, simply because it's so convenient and straightforward. All you need is an empty 8GB pendrive and a Windows installation iso.
In addition to that, I also used this to install Windows 11 on one of my old laptops that didn't match the required specifications so you can do the same too.
Here are the detailed steps to use pendrive to upgrade to windows 11:
Download a software named Rufus by searching for it on Google.
Next, search for 'Windows 11 iso' on Google and click on the first result from Microsoft.
Click on the blue Download now button below Windows 11 Disk Image on the next page, after selecting Windows 11 on the drop-down menu. 
Launch the Rufus application from the Downloads folder.
Before configuring Rufus, you need to note your PCs BIOS mode. To do that, search for System Information on Start and launch the first result.
Look for the BIOS mode value and memorize or note the value down somewhere.
Exit the System Information window, and select your USB drive in Rufus. After that, select your ISO file using the Select button. Then, for legacy BIOS mode, select MBR under the partition Otherwise, you need to select GPT.
If your PC is incompatible with Windows 11, select the Extended Windows installation from the drop-down menu below Image option. jpg
Click on Start to begin the flashing process.
The entire process should complete within 10 to 20 minutes depending on your processor, but once it's done, you will be able to use the pen drive to install Windows 11 on any laptop or desktop.
FAQ
Will Windows 11 be free for Windows 10 users?
Yes, Windows 11 is free for Windows 10 users and you will receive the upgrade as long as you can meet the minimum hardware requirements for running Windows 11. You should also have enough storage space to download and install the update.
Can I upgrade to Windows 11 later if I decline now?
Yes, you can upgrade to Windows 11 later if you decline now by simply going to the Windows Update section of the Settings page.
Does installing Windows 11 delete everything?
No, installing Windows 11 doesn't delete everything if you are installing the same edition of Windows 11 as the 10 you already have installed. However, you will lose all your files if you install a different Windows 11 edition on Windows 10.
When did Windows 11 release?
Windows 11 was released on the fifth of October in 2021 to the public. A few people were able to try out Windows 11 before that using a Windows Insider account.
Is Windows 10 better than Windows 11?
No, Windows 10 is not better than Windows 11 because there are several performance optimizations and improvements in Windows 11. In addition, there is also a major redesign that makes everything simpler so it's definitely an improvement.
Will there be a Windows 12?
I can't say with certainty whether there will be a Windows 12 yet since there are no official announcements from Microsoft but it is likely that there will be a successor some time in the future.
Is Windows 11 good for gaming?
Yes, Windows 11 is good for gaming since Microsoft has optimized and further improved the performance. As a bonus, there's also a new Game Mode that can prioritize all the game processes higher than any non-game process.
Final Thoughts
If you are a long-time Windows user, there's no reason to wait any longer to install Windows 11. You can install Windows 11 without any pain if you just follow my guide step-by-step as long as you have proper hardware.
I recommend skipping Windows 11 if your hardware is weak because installing it on a poor processor might slow down your entire PC.
I hope this article provided some insight into Windows 11 installation and do leave your thoughts below.