Who doesn't love to have a robust system that can run absolutely anything? But the reality is we can't always build a pc with powerful components in the first place. Upgrading down the road is the only way for a lot of users.
Swapping core components such as CPU, Motherboard, or SSD requires fetching the Windows activation process for new hardware changes. Usually, this process doesn't take more than one minute to execute, and you may reactivate Windows without any hassle.
However, the situation gets inverted when this simple process doesn't seem to work. It keeps prompting We can't reactivate windows on this device. Try again later. You may have tried several methods, but those didn't work.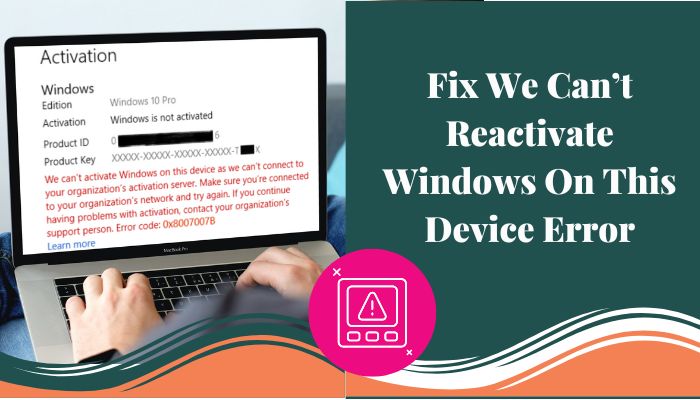 Don't worry. In this article, I'll provide the best fixes for this issue, and they work on Windows 10 and 11. So, stick together till the end.
Check out our separate post on Keyboard and Mouse work in BIOS not Windows.
What are the Reasons for the Windows Reactivation Issue?
There can be several reasons that are responsible for this Windows reactivation issue. Major hardware changes, OEM locked Windows, Invalid product keys, using the wrong version of Windows product key, fake licenses, malware attacks, etc are common reasons for this issue.
Let's learn more about these reasons in detail.
Note: These reasons are responsible for both Windows 10 and 11 reactivation errors.
Here are the reasons that cause Windows activation errors:
Major Hardware Changes
When you initially install Windows, the digital license links itself with your computer's hardware. As a result, if you replace hardware like the motherboard, CPU, or other essential hardware, Windows will no longer be able to locate a license that fits your device.
Also, check out our separate post on Windows 11 high disk usage.
OEM Version of Windows
When you buy a pre-built pc, the OEM installs the Windows for you. It's most of the time the OEM version of Windows. So, when you change any hardware or simply use that product key to a different system, it shows an error while activating Windows.
Invalid Product Key
The product key you try to use may be invalid. It can happen when you type your product key manually and mistakenly miss one or change a key. As a result, you get to see the Windows reactivation error.
Product Key with a Different Windows Version and Edition
If you have a genuine Windows 7, 8, or 8.1 license key, you may encounter this issue and use them to activate Windows 10 or 11. Moreover, each Windows has a different edition. So when you mismatch different edition licenses, you most likely face the Windows reactivation error.
Product Key that Exceeds the User Limit
When you buy Windows, you can choose the number that the license will be used for. When the number gets exceeded, you won't be able to use that product key to any other systems. As a result, you may see the error while reactivating Windows.
Here's a complete guide on how to use Windows 11 installation assistant.
Fake License
Fake licenses are also responsible for this reactivation error on Windows. When you use a fake license to reactivate Windows, the OS refuses to accept that. And that's why you see an error while reactivating Windows.
Malware Attacks
Malware can affect the activation files and make them corrupted. As a result, you may see the Windows reactivation failure.
Corrupted Drivers
Viruses and malware can corrupt the system drivers. When the system lacks essential driver support, it may fail to reactivate Windows.
Digital License Associated with Other MS Account
Many users activate Windows with a digital license. And that license is associated with a Microsoft account. When you have a digital license but have a different account logged in your system, you will not be going to reactive Windows.
Follow our guide to change Mouse polling rate.
4 Essential Things to Do to Prepare Your System
Before diving into the troubleshooting methods, let's get your pc ready for it. You must update the Windows and its drivers and perform a full system antivirus scan first.
Let's see how you can do all these tasks without any hassle.
Here are the things you must do to prepare your computer:
Update Windows and Drivers
You need to update Windows to the latest version with security patches. If you have a pending Windows update, update it right away. All the drivers will also be updated when you perform a Windows update.
Here is how you can update Windows:
Click on the Windows Start icon.
Select Settings.
Click on Updates & Security.
Select Windows Update from the left pane.
Click on Check for updates.
Wait a while since the updates finish downloading and Installing. Your computer may need to restart multiple times.
Warming: Don't turn off your computer while the update installation is running.
Also read, turn on or off device Encryption on Windows 11.
Run Antivirus Scan
If you have third-party antivirus software, run a full system scan to check whether the system has any viruses or malware. You can also use the Windows built-in Windows Defender to scan when you don't have any other antivirus software.
So scan the system and remove if you find any malware on your system.
Assure Your Windows Edition
Before Installing Windows, make sure to Install the same edition as your product key. You simply can't use a Home edition key to a Pro edition system to activate Windows.
Get Your Product Key
If you bought your key from Windows or any authorized retailer, bring that key at the time of reactivating Windows.
Here's a complete guide on how to fix can't install Windows 11 on SSD.
How to Fix We Can't Reactivate Windows on This Device
You have learned the reasons for this issue and also prepared your computer for the troubleshooting procedure. Now let's see the fixing methods for the Windows reactivation failure issue.
Here are the methods to fix the reactivation error of Windows:
1. Reactive Windows Using Product Key
If you have the correct product key, you just need to use that key to activate Windows. It's that simple.
Here is how you can reactivate Windows using a product key:
Click on the Windows Start icon.
Select Settings.
Click on Updates & Security.
Go to the Activation tab from the left pane.
Select Change product key.
Enter the product key you currently own.
Also, check out our separate post to install active directory users and computers on Windows 11.
2. Run Windows Activation Troubleshooter
You must first add your Microsoft account and connect it to your device's digital license. Run the Activation troubleshooter once you've registered your Microsoft account to reactivate Windows.
You can only use the troubleshooter when the copy of your Windows isn't activated.
Here is the procedure to run the Windows activation troubleshooter:
Click on the Windows Start icon.
Select Settings.
Click on Updates & Security.
Go to the Activation tab from the left pane.
Click on Troubleshoot.
Select I changed hardware on this device recently.
Click on Next.
Enter your connected Microsoft account and password, and select Sign in.
Select the check box next to This is the device I'm using right now.
Click on Activate.
Note: If you don't see the device you're using in the results list, make sure you signed in using the same Microsoft account you associated with your device's Windows 10 digital license.
Check out the easiest way to compare two folders on Windows 11.
3. Reactive Windows Using CMD or PowerShell
Another way to reactivate Windows is using PowerShell or Command Prompt. You can use this method when the usual process seems to fail to activate Windows. So bring your product key along, and let's get started.
Here is the process to reactivate Windows using PowerShell or CMD:
Press Windows + X and select Windows PowerShell (Admin).
Type vbs -ipk xxxxx-xxxxx-xxxxx-xxxxx-xxxxx and hit Enter. (where xxxxx-xxxxx-xxxxx-xxxxx-xxxxx is your product key)
Type slmgr.vbs /ato and hit Enter.
Reboot your computer.
Check out the easiest way to fix blue screen on Windows 11.
4. Wait Up to Two Days
Many Windows users have reported that just waiting a few days (one or two) resolved this issue.
You must be thinking, how can waiting resolve the Windows reactivation issue?
Windows needs some time to register your new components to its server. It may take a day to two to complete this process. If you are not into tweaking system settings or any troubleshooting methods, just sit back and wait at least two days.
5. Restart Your Computer
Computers often face various bugs and glitches that can result in the issue of reactivating Windows after installing new components. You can simply restart the computer to solve this problem.
But keep in mind that it is a temporary solution. The issue can reappear at any time. So you should apply some of the proper fixing methods described in this article to resolve the problem completely.
6. Input the Product Key Accurately
People often make mistakes while using the product key as they accidentally input the wrong product key. And it is obvious that they face errors, and the Windows don't get activated.
So make sure that the product key you own is the same as you input while activating Microsoft Windows. Recheck after you input the product at least a couple of times.
Check out our separate post on move a window that is off-screen on Windows 11.
7. Check If the Product Key is Expired
Microsoft encourages users to use the original and legal product keys to activate Windows. You can buy it from their website or any authorized retailer and get a lifetime activation.
However, your key can expire if you buy it from any unauthorized source or retailer. When your product key expires, you simply can't use it to reactivate your system.
Here are the steps to check if your product key is expired:
Press Windows + X and select Windows PowerShell or Command Prompt.
Type the following command:
Hit Enter.
When you press Enter, a new pop-up window will appear. It'll either show you a message reading The machine is permanently activated or the expiration date.
Also, check out our separate post on is drag clicking bad for your Mouse.
8. Use your Phone to Activate Windows
You know what! You can activate Windows using your mobile phone. It has worked for many users, and you should try it as well.
Here is how you can activate MS Windows using your phone:
Press Windows + R button to summon Windows Run.
Type SLUI 4 and hit Enter.
Select your country or region and click on Next.
Call one of the provided phone numbers for a Microsoft Product Activation Center. (It would be best to call the toll-free number.)
Enter the Confirmation ID.
Click on Activate Windows.
9. Reactivate Windows After Removing Device from MS Account
When you connect a Microsoft account to Windows for Digital License, you may encounter a Windows reactivation error. In case you face this issue, remove your device from your Microsoft account.
Here is the way to remove a device from your Microsoft account and activate Windows:
Head to the Microsoft Devices management portal.
Log in with your Microsoft account credentials.
Find the one with the activation problems from the list of devices connected to your Microsoft account.
Click on the Show details option.
Click on the Manage option underneath the device's name and select the option that says, Remove laptop [or device-name].
Check the box next to the I'm ready to remove [this device] option and hit the Remove button.
Head over to Settings on your computer.
Open the Accounts section, and you should see a link that says Sign in with a Microsoft account instead.
Click on it, and enter your Microsoft account credentials with the digital license linked.
Complete the login process and try to activate Windows again.
If your activation issue persists, you can buy a new license. But ensure to buy the license from Microsoft's website or any authorized retailer. Any unauthorized or illegal licenses can cause issues in the long run.
Once you have purchased a new product key, use that to activate your Windows. It shouldn't cause any more problems.
11. Reinstall Windows
Often the installation error can cause the activation issue. When you see no previously described methods work, reinstall Windows to your system. Make sure that you have installed Windows properly with the exact edition of your product key.
For Windows installation, use the clean iso from Microsoft's official download site. Avoid using any modified or third-party installation files. They may contain harmful bugs and viruses that can crash your system, or even your system can get hacked.
12. Contact Microsoft Support
If nothing of the above methods works for you, the product key must have some issues. To resolve that, you can contact the Microsoft Support center and explain to them your problem.
But the most straightforward way is to chat with a representative. You can call them or can even use the Get Help app.
I'm sure they will give you the best solution regarding any product key issue.
Here's a complete guide on how to Flatten A Mousepad.
Frequently Asked Questions
How Long Can You Use Windows Without Activating?
Microsoft lets you use the free version of Windows for a month. After that period, you either activate it or live with an Activate Windows watermark on the bottom right corner of your screen.
How many times can you reactivate Windows 10?
Suppose you had initially upgraded from a retail Windows 7 or Windows 8/8.1 license to the Windows 10 free upgrade or a full retail Windows 10 license. In that case, you can reactivate as many times and transfer to a new motherboard.
What happens if Windows 10 is not activated?
When your Windows isn't activated, you won't be able to personalize the desktop background, window title bar, taskbar, and Start color, change the theme, customize Start, taskbar, and lock screen, etc.
Final Thoughts
Windows activation is necessary to get all the essential and crucial security updates. When you face an activation error, you miss all the important updates.
To resolve the issue, run the Windows activation troubleshooter, activate Windows using CMD or PowerShell, reboot your system, and use the correct product key. Then check the product key validity, use your phone to activate Windows, remove your device from your MS account and so on.
Thanks for reading this article. Feel free to share your thoughts and questions in the comment section. And also, don't forget to share which method worked for you.
Peace!