Playing Roblox games on your computer for quite some time or a long time but suddenly facing crashing issues in it? Sometimes it keeps freezing?
Well, if your answer is Yes for one of them or both of them, you're screwed.
If you are playing on your Android, iPhone, iPad, you might be seeing something like, "Something went wrong. Unfortunately, Roblox has stopped, Roblox not responding."
Oh, I know. It's annoying, isn't it?
But don't worry. I will explain every reason behind this problem and provide you with every solution out there to solve your problem efficiently.
So, Why is Roblox keeps crashing?
Roblox keeps crashing for many reasons, for instance, the compatibility between your PC and the Roblox game in terms of system requirements, missing or corrupted files, problematic background tasks running, and some more. I'll explain later.
I have mentioned some of the reasons behind Roblox keeps crashing. I will mention the rest of them and provide solutions for every device running Roblox.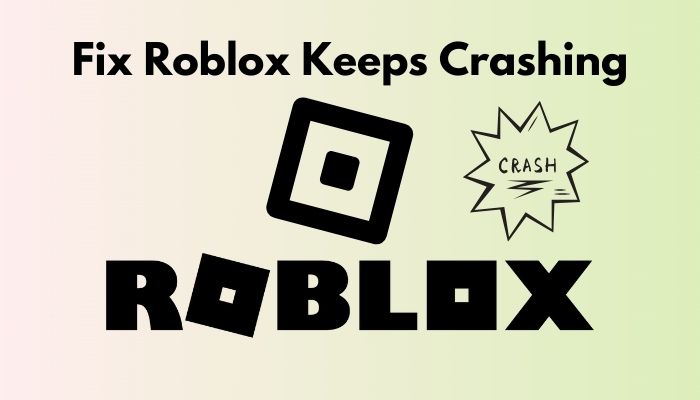 So, let's get started by getting the latest Roblox download.
Reasons Behind Roblox Keeps Crashing
As I have said earlier, there are many reasons why Roblox keeps crashing. I am mentioning every one of them here.
Running an outdated game version is one of the people's primary problems, and it triggers Roblox to keep crashing.
Running antivirus programs in the background is a reason behind Roblox keeps crashing. It sometimes causes interference with the Roblox files.
An outdated Windows OS may sometimes create problems.
There may lie corrupted or missing files in the game. Usually, it happens when a new update comes.
There can be any temporary glitches that can help the crashing problem happen.
There might be issues like your PC configuration is not compatible with the Roblox game's system requirements.
Outdated graphics drivers are also possible reasons that keep crashing Roblox.
Check out the easiest way to make a Roblox hair.
How to Fix Roblox Keeps Crashing in Windows
Roblox games can be played on a lot of devices. So, the problem and solution come with a long list. I have titled them clearly so that you can jump straight into your solution area.
But if following one by one doesn't solve your problem, I highly recommend you follow until the end. As I am enlisting here all the solutions, there can't be one that doesn't resolve your issue.
But before installing any application on your PC, always make sure you check the compatibility of your PC running that application. If the application is compatible with your system requirements, feel free to download it.
Anyways, let's jump to the solutions and solve our problem, shall we?
Check my latest post If you are facing problems with Roblox Error code 267.
1. Reinstall the Roblox
Uninstall Roblox from your PC right now. You have to follow different steps on different OS. So, I'm giving solutions for every one of them.
If you are going to uninstall Roblox from Windows 11, you need to:
Press Windows key+S.
Type Apps and features in the search box and right-click to it.
Scroll down to find Roblox.
Tap into Roblox and click on uninstall.
Quickly check what to do when the Roblox account is hacked.
For uninstalling Roblox from Windows 7, 8, or 8.1,  you have to:
Go to the Start menu and type Programs and features.
Click on Programs and features. You may find Apps and features Well, click on that.
Scroll down to Roblox. Tap into it and uninstall
Then, open your browser, type www.roblox.com/install. Download Roblox and reinstall it.
Fix Roblox lag in seconds for faster and smoother gameplay. Also, increase the fps count using Roblox fps unlocker.
2. Run the Program as an Administrator
Make sure to run the game file as an administrator on your Windows. Why? Thus, you can give proper access to the .exe file of Roblox. To do this, you have to:
Go to the file manager and type exe in the search box. When you find the game.exe file, right-click on it and click on Properties.
Click on the compatibility
Select the Run this program as an administrator option below on that window.
Click on Apply and OK
Open the Roblox game again and check if your problem resolves.
Also, learn how to reset Roblox password.
3. Update your Graphics Drivers
All the gamers around the globe know this vital piece of information on updating the Windows and graphics drivers when facing any gaming problems. Updating drivers both solve the game crashing and optimize the performance of visuals.
The graphic card driver manufacturers release the latest driver updates from time to time. So you need to:
Go to your browser and visit your manufacturer's website with or without the help of google.
Find the particular file and double-click on it to download
Follow the on-screen instructions and install
Note: Don't forget to create a new account and open Roblox.
If you are a beginner then you should definitely go through our guide on how to add friends on Roblox and make a Roblox group.
4. Adjust the Game Settings
Games are more up-to-date these days and come with some requirements. Though your PC contains the requirements, sometimes it fails to adapt properly in the game that's when we face lagging, freezing, and then crashing. To solve this, you need to:
Launch Roblox and click on the menu icon in the top left corner.
Go to the Settings
Change the Graphics Mode from Automatic to Manual.
Find the Graphics Quality You'll see a slider there. Drag the slider to the left to reduce graphics quality.
If you do this, you'll find a significant improvement in your game. Besides, have a look if it solves your crashing problem.
Check out our epic guide if you don't know how to make clothes on Roblox.
5. Update your Windows
As the latest version of Windows contains security patches and improvements, updating Windows can help you to solve system glitches and crashes. To do so:
Press Windows key+I, and it'll open up the Windows Settings
Click on the Update and Security. In the Windows Update section, you'll find Check for updates; select that.
Select Download if you find a feature update available.
Restart your PC after completing the update and install the update.
Updating Windows can solve your problem. Make sure to apply it.
Have some time to spare? Quickly check out our epic guide on how to fix Roblox studio not working/responding.
6. Disable the Antivirus
If you have a third-party antivirus program running on your computer, this might create problems with the Roblox. To disable it:
Open the system tray and right-click to select shields control. You may find a close enough option like this. I don't know which antivirus you use, but I believe you'll find something similar.
Choose Disable until computer is restarted and close the program.
If you are a Windows 10 user with no additional antivirus, you have to perform some tasks on the Windows Defender because it is automatically enabled.
Click on the Search menu on the bottom left corner, type Settings, and hit Enter.
Click on the Update and Security.
Go to Windows Security and then find Virus & threat protection.
Choose Manage Settings and look for You'll find Add or Remove exclusions. Tap into that.
Click on Add an Exclusion and then choose the Roblox.
Thus you can easily disable the antivirus and check your issue is solved. Check out some amazing Roblox facts you may not knew.
7. Disable Background Running Programs
If there are too many programs running in your background, your Roblox might be crashed. So you need to disable some of those programs. To do this:
Go to the Search option, type Task Manager, and hit Enter.
Right-click on each program you want to turn off and click End task.
End them one by one and close the Window.
Check whether your problem solves or not.
Here's a complete guide on how to fix Roblox graphics drivers too old error.
8. Delete all the files of Roblox
If you can't solve your crashes problem on Roblox until now, I believe it's time to give you the final method to resolve every issue on your Roblox. To apply this, you have to:
Go to the Search option and type Apps and Features. Open it.
Scroll down until you find Roblox. Uninstall both Roblox Player and Roblox Studio programs and close the window.
Type File Explorer Options in the Search option and open it.
Go to the View tab and check on the Show hidden files, folders, and drivers.
Hit Apply and then OK.
Click on the File Explorer
Double click on your Windows logo labeled HDD. You'll see some faded folders, and these are the hidden files.
Go to Users>your computer name>Appdata>Local.
Scroll down till you find the Roblox folder and delete it.
Close the program and empty your recycle bin.
Press Windows key+R. Type regedit and hit enter. Click Yes if this requires any confirmation.
Navigate to HKEY_CURRENT_USER>Software.
Find the Roblox right-click to it and press delete. Do the same for the Roblox Corporation folder and Close the window.
Open your browser now and type roblox.com/install, and hit Enter to download Roblox and install it.
I am confident that your problem is resolved by now.
Also, receive Roblox Toy codes for free.
How to Fix Roblox Keeps Crashing in Xbox One
There can be a lot of reasons behind Roblox keeps crashing in your Xbox One. But the solutions are straightforward and efficient as well. Here are steps to fix Roblox that keeps crashing in Xbox One.
1. Restart the Roblox
Restart the Roblox right away. This is very simple to look at. But trust me, this helps to hold back or solve the temporary glitches.
2. Update Xbox Software
If the current version you are using is outdated, consider updating your Xbox software. Besides, check if your Roblox software needs an update too.
3.Clear the Xbox cache
You should clear the cache on your Xbox One. To do so:
Press and hold the Xbox button on your controller for 8-10 seconds. Thus it'll turn off the controller.
Unplug the device from the AC source, cords, and wait for 1-2 minutes.
Replug all the cables and cords.
See if your problem resolves. If not, go to the last one, and follow the process.
4. Quit the Roblox
If your problem doesn't resolve yet, follow this:
Press the Xbox button on your controller.
Select Roblox from the list.
Press the menu button on the controller to access the settings.
Restart Roblox.
Many users thus solved their Roblox crashing problem. I hope this one works for you too.
How to Fix Roblox Keeps Crashing in Android/iOS/iPad
Android and iOS users face crashing problems with Roblox over time. For solving this pathetic problem, you might consider following a couple of methods. Follow these and solve your issue:
1. Update Roblox
Check if the update of the Roblox app is available on your device. If it is available, update it, and  Apart from updating Roblox, make sure your phone is updated too.
If you are an Android user, you have to:
Open the Google Play Store
Search Roblox and click on the app when it appears on the screen.
Update your app if an update is available. You'll see it on the screen written Update.
Click on the Update that will help download the update patch and install it.
But if you can't see an Update option, don't worry. The latest version may be already installed.
But If you are an iPhone or iPad user, you need to:
Open your App Store.
Type Roblox in the Search option and click on the app when it appears on the screen.
Tap into Update if you see it on your screen. But if you can't see any Update option, your phone has the latest version on your device by now.
That's how you can update Roblox both on your Android and iOS.
2. Reboot your device
Reboot your device to solve the ongoing problematic glitches. To do so:
Hold down your power button for 10-12 seconds.
Tap into the Power Off
Power on your device after 2 minutes.
Open the Roblox
3. Reinstall the Roblox app
Reinstall the Roblox app as it can prevent your device from constant crashes. To reinstall the app, you need to:
Hold down to the Roblox
Tap into the cross sign/(–) sign/uninstall.
Confirm you want to uninstall it and then wait for a minute.
Open the App Store, search Roblox and reinstall
Open the App and check if the problem solves. If these three solutions don't solve your problem, see which other apps are not working on your devices because I think you have a hardware problem that should be resolved.
Conclusion
There can be many reasons behind Roblox crashing on your devices but I hope these total problem-solving techniques help you solve your problem. Furthermore, ensure that all the programs are closed on your device before installing or updating Roblox to minimize future problems.
If you still can't solve your Roblox crashes problem following these or if you have other concerns, don't forget to comment below.