Are you having trouble logging in to Pokemon Unite?
If so, you do not need to worry.
There are a large number of gamers who are facing the same issue. Luckily, I have some fixes to try, which I am going to show you in this post.
What is the Pokemon Unite authentication error?
Pokemon Unite authentication error is a login error that gamers face when they start the game. It shows an error message that says Pokemon Unite Login Error Occurred and advises gamers to restart the game.
Keep reading the whole post to learn in detail.
Also check out the related fix for Pokemon Unite Authorization Expired Error.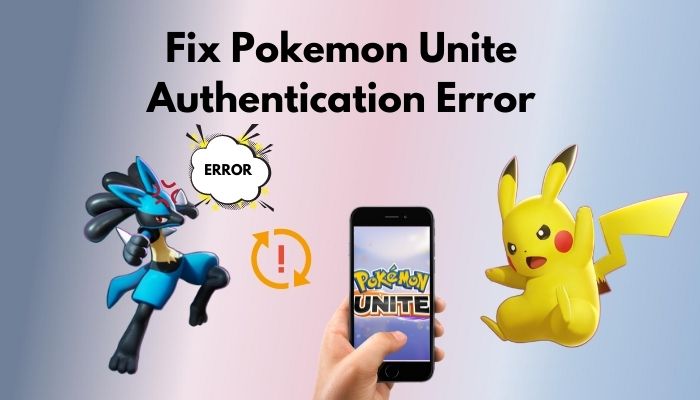 Why Can't I Log Into Pokemon Unite?
You can not log in to Pokemon Unite due to one of the many reasons: an internet issue, Pokemon Unite server issue, user account problem, geo-restriction problem, a bug or glitch on the Pokemon Unite app, or problem with game app updates.
Pokemon Unite is a free MOBA (multiplayer online battle arena) game made for Pokemon fans. It features 5v5 battles where players get to choose their favorite Pokemon and engage in battles.
Unsurprisingly, Pokemon Unite is hugely popular among Pokemon lovers. Hence, within a small time span, it accumulated a massive amount of downloads.
However, when gamers are opening the app to play the game, an error message pops up in some scenarios. The error message reads:
'Pokemon Unite Login Error Occurred. Please restart your game'
Indeed, this message makes the gamer unhappy. Nobody wants to play a game eagerly and launch the game only to receive such a message. Also, Don't forget to check our epic guide if you are facing Error 11 on Pokemon GO.
There are several different reasons the login or authentication error might occur. Here's some of them:
Game not officially available in a region.
An issue with the internet.
Issues related to Pokemon Unite server.
User account error or bug.
A bug on the Pokemon Unite app.
Conflicting or broken updates to the Pokemon Unite app.
Obviously, some of the issues can only be resolved by the Pokemon Unite developers.
However, there are some fixes that you can try to check if the issue is from your end.
How To Fix Pokemon Unite Authentication Error
Pokemon Unite login errors could happen due to a variety of reasons.
The good thing is, there are some easy and quick fixes to try. Fix Frozen Pokeball in Pokemon GO easily in 60 seconds.
Here are the steps to fix the Pokemon Unite authentication error:
1. Restart the Pokemon unite app
You will see this advice right at the error message. The game tells you to restart. So you might want to give it a shot.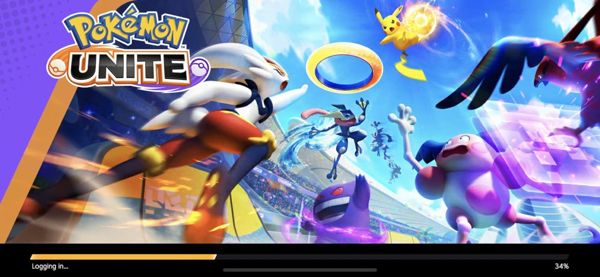 If it does not fix the issue, you do not worry. You can repeat the restart process multiple times, as some gamers were successful following this method.
2. Restart your device
As Pokemon Unite is a new game, there might be conflicts with the device or network settings. Or, a bug might be triggered while you were playing the game last time, which caused the error.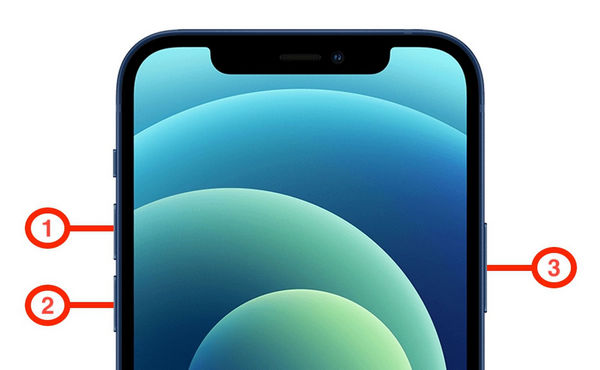 Hence it is worth a try to restart the device to see if it fixes the issue. Check our epic guide on how to fix pokemon go error 0.
3. Check for game updates
Pokemon Unite is a relatively new game. Hence it is common for it to glitch out sometimes. So you can manually check to see if there is an update to the game.
Who knows? The update might contain fixes to the login error.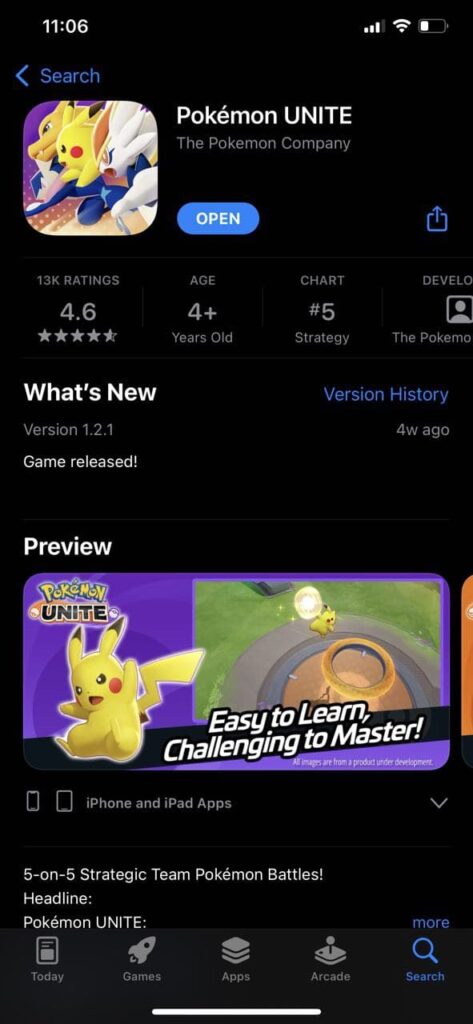 Whether you are on Android or iOS, go to your application store (app store/play store) and check if the Pokemon Unite app is pending an update. Who knows? The update might contain fixes to the login error. If so, apply the update immediately.
4. Verify your internet connection
The problem might occur from your internet connection. If you have a weak internet connection, the Pokemon Unite app will have a hard time connecting to the servers. Hence the login error.
So check your internet connection. You might run a speed test to see if the internet speed or bandwidth is up to the mark. Quickly check our related post on how to restart Pokemon Sun and Moon.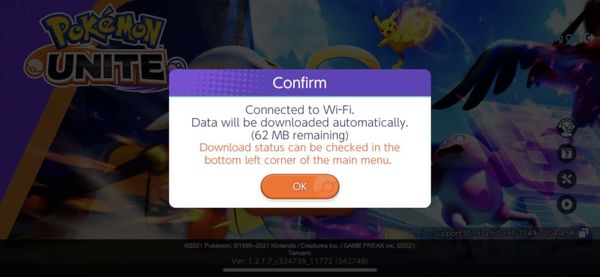 The problem might not be with your internet connection. Instead, some other devices consuming most of the bandwidth can be the issue.
5. Clear background apps
It is possible that an app on your device is eating up all the bandwidth for the device. Hence Pokemon Unite is not able to connect to the server to log you in.
So you can clear up all the background apps on your device before starting up the game.
6. Restart the wifi router
It is a good idea to restart the wifi router to fix internet issues most of the time.
It could be that other internet activities like browsing the web and playing videos are working perfectly fine, which might tempt you to believe that the internet is not the issue.
However, sometimes the Pokemon Unite app is caught behaving weirdly with the home internet. Being a newly released app, the problem might persist with your version of the game.
So you can give the idea of restarting your wifi router a shot. Also, check out how you can easily change clothes in Pokemon Sword & Shield.
7. Make sure servers are online
As more and more people are getting into gaming these pandemic days, servers are hit pretty hard.
Moreover, as Pokemon is a popular franchise and has a huge fanbase, a Pokemon-based game like Pokemon Unite will obviously draw a massive number of users.
Hence, the server may be down for a while. You can always make sure if that is the case through Pokemon Unite's official Twitter account. They will have the latest updates if anything goes wrong.
8. Try airplane mode
Some users have reported that turning on airplane mode on the phone before starting the game fixes the issue. So the problem might be with the mobile networks as airplane mode cuts off cellular connection.
You can turn on airplane mode and try to play using wifi to see if it works. Check our awesome guide if you don't know how to get mew on pokemon sword and shield.
9. Reinstall the game
As with most bugs or errors, a reinstall can fix the issue. Simply uninstall the game, then install it again from the app store or the play store and see if it fixes the issue.
10. Try again after a couple of hours
If everything else fails, it is your last resort. It is frustrating, but there is nothing else to do if you have tried out all the above steps.
Take a break and try to launch the game after a couple of hours. There is the possibility that something is wrong on the backend of the Pokemon Unite game that is causing all the trouble.
What Is Pokemon Unite?
Pokemon Unite is a 5v5 multiplayer online battle arena (MOBA) game. Currently, it is available for Nintendo Switch, iOS, and Android platforms. In the Pokemon Unite game, you team up with four other players and compete against five to win the match.
Pokemon is one of the most popular franchises, which has a lot of successful games under its cover. Pokemon Unite is the latest addition to it.
Though it has been released only recently, it attracted a considerable number of gamers and fans. Most percentages of the users are from iOS and Android platforms.
The Nintendo Switch version came out first, followed by iOS and Android versions.
However, it has not been released to all countries. The game is currently geo-restricted to only the app stores of some countries.
You could face a login error if you downloaded the game from any place other than the app store or play store. It happens as the game is not officially available in your region.
FAQ
Question: How do you restart a Pokemon Unite game?
Answer: To restart the Pokemon Unite game, simply get out of the app, clear the app from memory and then relaunch it.
Question: Why is Pokemon Unite so laggy?
Answer: Pokemon Unite is laggy mainly due to bad or slow internet connection. As it is a multiplayer game, having slow internet will cause lags and stutters. Also, make sure your device checks the minimum requirements of the game.
Question: Can you play Pokemon Unite offline?
Answer: As Pokemon Unite is a multiplayer game, you cannot play the primary mode offline. However, there is a new update that adds an offline mode.
Final Thoughts
Pokemon Unite is a hugely popular game among Pokemon lovers.
However, there is an authentication error in the game. Luckily, some methods can solve the issue quickly.