So, you were playing Pokemon GO for a long time and suddenly faced the error code 0?
What is error 0 in Pokemon GO?
Error 0 in Pokemon GO means that there is no error in the game. However, the Failed to get Friends list error pops up whenever you want to send Gifts or add new friends. The error 0 won't impact any part of the game other than loading the friend's list.
In this post, I am about to show you how you can easily fix error code 0 in Pokemon GO.
So, Let's get started.
Quickly check our related post on how to restart Pokemon Sun and Moon.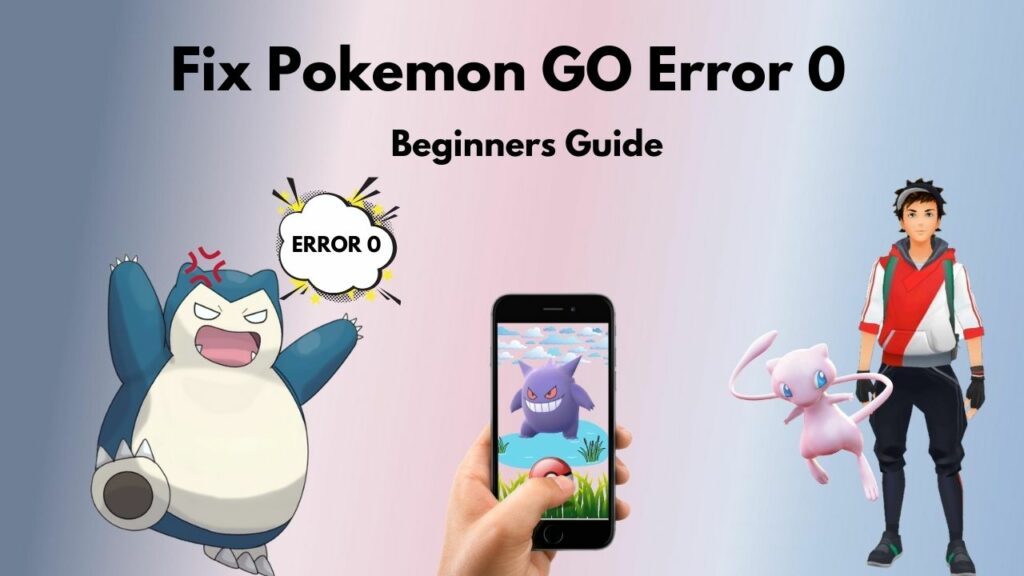 What causes Pokemon GO Error 0?
Error 0 on pokemon GO occurs due to a bad game cache stored in your phone. Each device is considered as a single user, and thus data are stored accordingly. However, there might be issues with the application itself. Reinstalling the game will fix this error.
Error Zero appeared more often on the login screen. The error does not affect the player's progress. However, error zero does not allow you to more friends and send gifts too.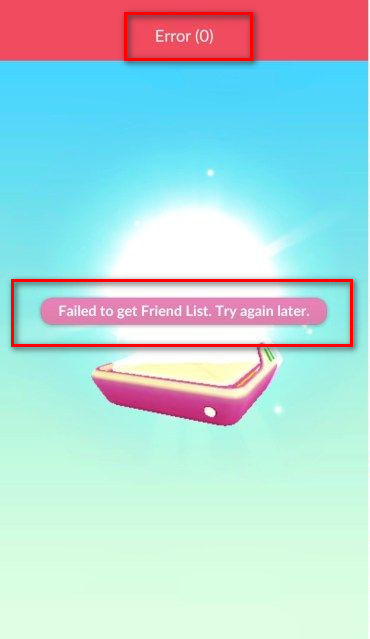 Besides errors, 0 can occur during games action again, which is frustrating. Don't forget to check how to soft reset Pokemon X&Y.
In this post, I will also discuss how to get rid of this Pokemon Go error.
But before starting any troubleshooting steps, ensure that you have an active internet connection on your device.
How to Fix Error 0 in Pokemon GO
Error zero can be somewhat frustrating if you are playing with friends. Being unable to add new friends can also be quite frustrating.
Although you need to be Level 10 to add new friends, this error zero can occur for below levels too.
The error first pops up for higher-level players. Then, gradually the error pops up for lower-level players.
But, don't worry. You can easily get rid of the error with my handy guide.
Also, Don't forget to check our epic guide if you are facing Error 11 on Pokemon GO.
Here are the steps to fix Pokemon GO Error 0:
1. Clear Pokemon GO Game Cache
No error issue can occur for bad cache files that are stored in your phone. It's a common issue for any application present on your device. But don't worry, you can permanently delete cache files to store new cache files, replacing the old ones.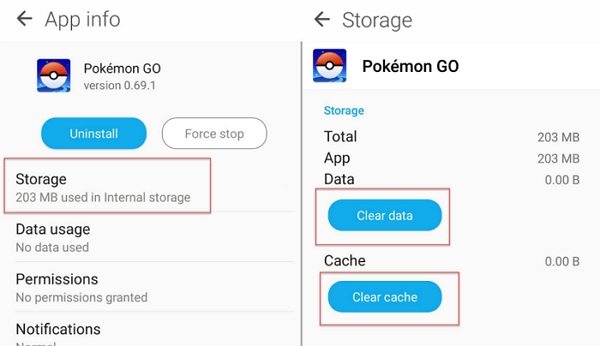 Here are the steps to clear Pokemon Go cache files:
Press on the Home Screen of your Phone and Go to Settings.
Scroll down and select Apps.
Select Manage Apps and find Pokemon Go.
Click on Clear Cache and Relaunch the game.
NB: Clear Cache every week if you log in to the game frequently. This will prevent you from errors.
2. Clear the Data of the Game
Clear the data of the game if clearing the cache doesn't work for you. But remember, by clearing the data of Pokemon GO, the games currently logged in data will delete too. You need to re-enter the login credentials to continue the game.
Here are the steps to clear a game's data on android:
Go to Settings > Apps.
Click on Manage APPS and find the Pokemon GO application.
Select Clear Data and Restart your Phone.
Relaunch the game and Enter the login credentials.
NB: Clearing APP DATA may disable Adventure Sync. If you enabled your adventure sync, recheck that it's still toggled on.
3. Update Pokemon GO
This step is essential because, as a hardcore Pokemon fan, I want to play Pokemon GO no matter what. But, I have seen people downloading the hack version or the previous version from third-party sources instead of downloading it from PlayStore or App Store.
Know the game's requirements, and if your device doesn't support the game, don't forcefully download it because it's common to face error zero on previous versions of the game.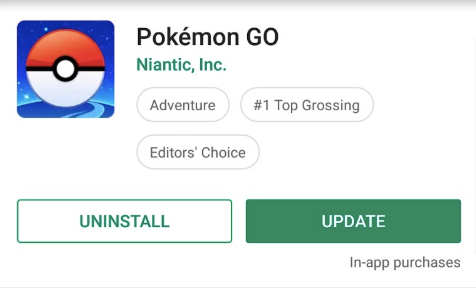 For those who play Pokemon GO for months, check if the app is up-to-date. Don't just Allow Playstore not to update any application until you say so.
The applications need to be up-to-date.
Here's how to ensure your Pokémon GO app is up to date:
Go to Playstore or App Store and search for Pokemon GO.
Click Update if there is an updated version of the game.
Also, check our epic guide on how to change clothes in pokemon sword and shield.
4. Check your internet connection
Ensure that your device is connected to an Internet source (Wi-Fi, 3G, 4G). Try to switch internet connections between Wi-Fi and 3G or 4G and check if the error persists or not.
5. Use Automatic System Time
Set your Device's Date and Time to Automatic because Pokemon GO uses the AR Sync to match the environment. Go to Settings > General > Date and Time > Set Date & Time Automatically.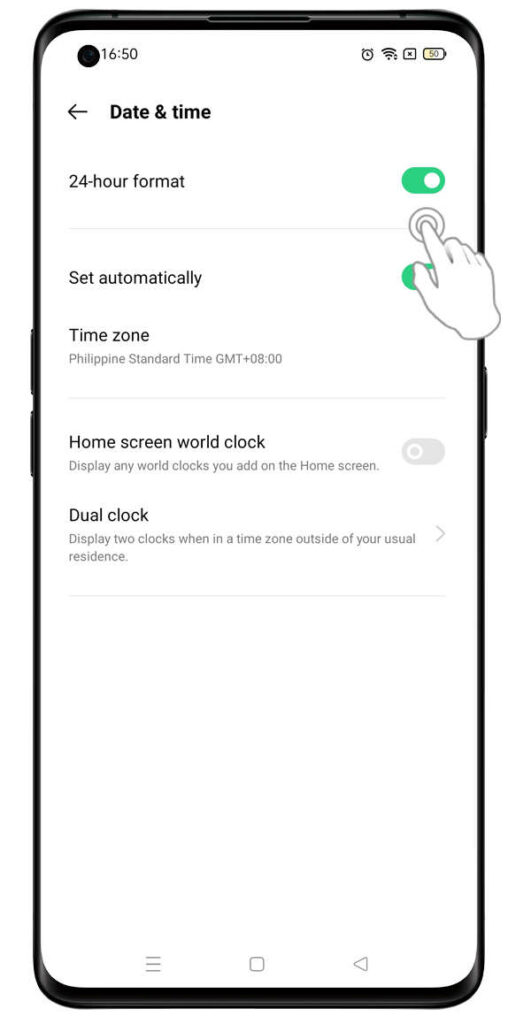 6. Reconnect Google's access to Pokémon GO
This step is also applicable to fix login issues of Pokemon GO. Refresh Google's connection to Pokémon GO. You won't hamper your game progress. So, it's a safe method.
Here are the steps to refresh Google's Access to Pokemon GO:
Go to Google's Connected App Settings page.
Select Pokemon GO from the list.
Click Remove to disconnect Pokemon GO from Google.
Launch the game and Enter the Login credentials.
Allow Google to Connect them with the Game.
7. Reinstall Pokemon GO
Every day, new bugs and errors occur in the game because this type of game is first made in the world where AR syncs perfectly with your environment. So, it's common to show such errors.
However, every error code has a fix. This error zero, meaning there is no error, also has a definitive fix.
If clearing both cache and data didn't help, you can download Pokemon Go and install it on your device. But, before you newly install the game, make sure to delete all the stored data from your device's File Manager.
Go to File Manager > Storage > Pokemon GO. Delete this file and install the latest version of the game from the Play Store or App Store.
Why is my friends list not working on Pokémon Go?
Your friend's list is not working on Pokemon GO because of Error 0. Due to Error zero, you cannot add friends nor send gifts to them. Reinstall the game or clear the game's cache to fix error code 0 on pokemon go.
Do note that, you have to be level 10 to add friends. To add friends, go to the Add new friend option and enter the Trainer Code. Wait for the notification to pop up on your friend's screen. Increase the friendship levels between you and your buddy by sending gifts.
But, If you face pokemon error 0 on iPhone or Android then you can't send them gifts.
Final Thoughts
Pokemon Go is somewhat unique from other pokemon games. Niantic did maintain this game error-free for a long duration. But, Pokemon Go won't open in some cases. And sometimes show error zero. In that case, you can troubleshoot the game by following the steps mentioned in my guide.
I hope you can now interact with friends, send them gifts, interact with pokemon and the red error zero notification won't pop up.
If you face any other pokemon go errors then do mention them in the comments below. I will definitely make a new guide for you beginners and professionals. You Gotta Catch'em All!