You are using a dual monitor on your PC to get more screen space, more productivity, reduce downtime, and increase workflow on your computer. On the other hand, are you experiencing lag issues while using a dual monitor?
If you do so, you are in the right place. I have also faced this situation and researched a lot regarding this problem. Finally, I was able to figure out the solution.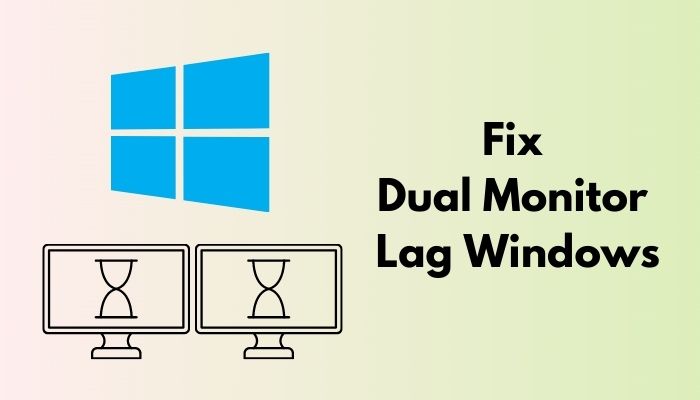 So, how to fix dual monitor lag windows?
You can fix it by following some basic solutions, checking monitor refresh rates, updating display drivers, checking monitor resolution, disabling windows transparency, setting up dual monitor properly, checking monitor connection ports, checking GPU specs, disabling windows aero theme.
Don't skip or go anywhere if you want to get rid of this problem.
Why does Dual Monitor Lag in Windows?
Dual monitor lag in windows due to temporary glitches, faulty image management, unmatched refresh rate, improper set-up, outdated video drives.
Here I will briefly discuss the reasons for lagging while using the dual monitor:
Temporary Glitches: A glitch is a problem or malfunction in the system. Glitches are temporary, not permanent. Due to temporary glitches, your dual monitor may lag.
Image management: Two monitors are inserted into the system, and they should work harmonically. If there is any problem in image rendering, there is a possibility to face this problem.
Unmatched Refresh Rate: Refreshing your device is very important before using it. There are two monitors, and if the refresh rate doesn't match each other, you may face lagging on any monitor.
Lack of Proper Set-up: You have to manage settings properly for using a dual monitor. Due to a lack of proper setup, your dual monitor may lag.
Outdated Video Driver: If you use an outdated video driver, you may face lagging while watching videos or playing games.
Using Heavy Software: If you continuously use multiple software simultaneously, you may face lagging in the monitor.
These are the main reasons for lagging while using a dual monitor.
Now you may be thinking about the ways of fixing dual monitor lagging. Don't overthink and keep reading to solve your problem.
Also, check out the easiest way fixes for Motherboard can't detect Monitor.
How to Fix Dual Monitor Lagging in Windows?
People generally use a dual monitor for better working performance, doing multitasking at the same time, more screen space. For this, your device must not face any difficulties.
In the above, I have shown you the reasons for lagging in your dual monitor. Now, I will show you the ways to fix it. 
The problem may seem very critical but it isn't.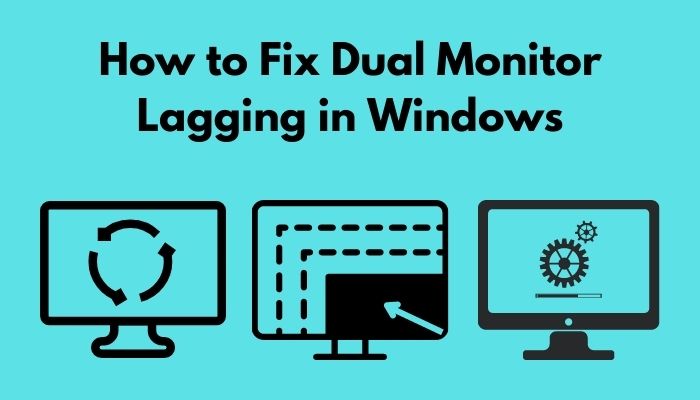 Read more on how to Connect a Windows Laptop to a Projector or TV
Here are the steps to fix dual monitor lagging in windows:
Restart Your Whole System: When you face lagging in any monitor, you have to shut down your system and restart the system. Then see it will be better.
Reboot The System: When you see your one monitor lagging or performing slowly you can reboot the system. It means you are forcefully stopping applications and restarting the system.
Change Connection Cord: Sometimes you simply can change the connection cord and see the result.
Using short Cable: The two monitors will be connected to the CPU box. You have to use a shorter cable. It's easy to carry and will not create any problem.
These are the basic solutions that can be useful to fix dual monitor lagging in windows.
Check Both Monitor Refresh Rate:
Right-click on your mouse and you will see the Refresh option. Then you will left-click on the mouse. By this process, you can refresh your system and it is very important to refresh your system before starting. You can notice that your one monitor is refreshing slowly. You can face lagging issues in that monitor.
For this, you have to refresh until both the monitor's refresh rates match.
Check Monitor Resolution:
If your monitor resolution is high and you are dealing with big files or heavy software, you can face lagging in a dual monitor. You have to change your monitor resolution. For changing monitor resolution, you have to follow the below instructions.
In the first step, you have to click on the control panel then you have to look for the Appearance and  Personalization option. By clicking there, you will see Adjust Screen Resolution option  Click here to fix a suitable monitor resolution for you.
Quickly check out our epic guide on how to hook up dual Monitors.
Update Display Driver:
An up-to-date display driver is essential for the performance of your device. You must update your display driver.
Here are the steps to update the display driver:
From your Windows search box, you have to go to the Taskbar enter Device Manager.
After opening the device manager, you will see all the categories of drivers.
Select Automatically Update Display Driver.
Enter Ok.
Check Dual Monitor Setting:
The monitor is an output device. After inserting another monitor, you have to set up the other monitor properly. You have to check the connection properly and thus get relief from this problem.
Check Monitor Connection Ports:
There are two monitors and a CPU box. You have to connect properly in all the ports to secure proper performance. For this, you have to open all the wires and connect again. By this, you can get rid of this lagging problem in a dual monitor.
Disabling Windows Transparency:
Windows transparency is another major reason leading to dual monitor lagging. It happens because it takes a lot of energy for Windows to maintain transparency effects.
You can turn this effect off and clear up lots of space for Windows to improve performance. You have to right-click on any point on the desktop and select Personalize.
Go to the Window Color and go to Disable Transparency" option, and then save changes.
Check GPU SPecs:
You have to make sure that your GPU supports multiple display setups because it's a GPU-intensive task.
If your GPU doesn't support it, you can use a dedicated graphics card, such as Nvidia, and connect each monitor to one of the graphic cards.
Disable Windows Aero Theme:
Sometimes, your windows aero theme can create this problem. You can disable the Windows aero theme by following the next steps.
At first, Choose the Stat option and go to the Control Panel. Then, you will find the Appearance and Personalization option. Then go to the Customize Color. Then you have to open Properties for more color options. Finally, you have to select a color scheme other than Windows Aero and click Ok.
Check out our separate post on how to run two Computers with one Display Monitor.
Conclusion
In this article, I have tried to make you understand the reasons responsible for dual monitor lagging in Windows. I have also shown you the solutions so that you can experience dual monitors without any trouble.
Read this article carefully to understand all the procedures.
Read it carefully to understand. If you have any questions regarding this problem, you can ask in the comment section. Our experts will try to clear your confusion.