The latter desktops and laptops mostly include the graphical features and configurations that are required to run dual monitor setups. So, all you need to have is just a second monitor. Fortunately, you can make it within $100 with ease.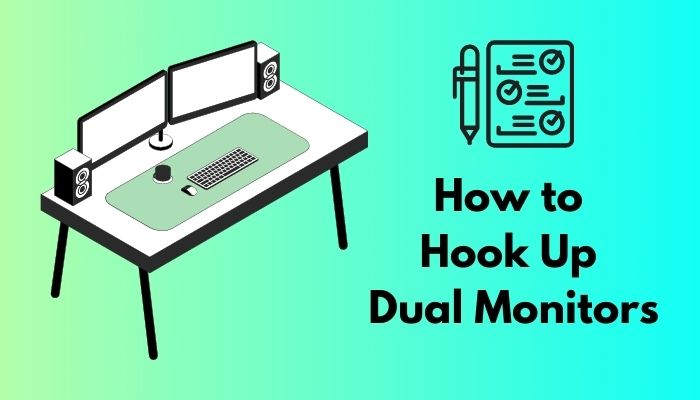 However, hooking two monitors under one single system is not mandatory, but preferable. Even if you use a lavish 22"-24" monitor, it may get deemed before a multi-monitor setup. You will unquestionably love it more if you are a pro gamer or crazy coder. Here, I want to make you sure of one thing, combining two monitors is not a herculean task, instead, the process is relaxed enough to happen. So, do you really want to have a cool workstation like this?
If yes, you are in safe hands. Don't worry. As a geek, I researched it and even set my own station with dual monitors. So, you are going to get tested and experienced guidance here.
Please, do read till the end, my friend. I know it will fade all your doubts.
What Do You Need to Set Up Dual Displays?
As I told you earlier, the process is pretty straightforward provided that you have the necessary equipment, cables, and so on. Since you want to add another display alongside the existing one, of course, you will need a new display or monitor.
What do you need to set up dual displays?
These days, a typical monitor comes with a hybrid of HDMI, VGA, DVI ports, and DisplayPort. In some cases, you will find USB-C with some monitors. While purchasing a new monitor, the manufacturers will provide you with the essential connecting cables to round the system.
In terms of display, you can choose one of the globally renowned brands like Dell, Hp, Acer, Asus, Samsung, Lenovo, and many more. Besides your budget, try to enquire and compare the size, maximum resolution it can offer, warranty policies, and other features.
How to Hook Up Dual Monitors
After gathering all accessories, you are now ready to hook your two monitors up. I will share the entire process with you both on Windows and Mac OS. So, let's get started.
Here are the steps to hook up dual monitors:
Windows
Attach both the monitors to the CPU with their corresponding cables. In case you have a laptop, fix the new monitor with the laptop using cables. Though the wirings may vary depending on the brands and monitor types, in gross, a VGA, HDMI, USB cables are required. Make sure you have not kept the power on while preparing things.
Supply power to the computer. Your system is supposed to recognize the new display immediately. Please, do not get tense if you notice the monitors being gone black or flicker a little.
Right-click on either of the monitor's blank field on your desktop once the screen twinkling is settled down. A dropdown menu will show up on the screen.
Choose Display Settings from the dropdown.
Click on Multiple Displays from the left pane. You may find it in the right window as well. Then, tap the down arrow to expand more options. There are four modes of display available. Here is a glimpse regarding them.
Extend these displays: The monitors will be set to display different things and you can move your cursor between the two displays.
Duplicate these displays: The monitors will be set to display the same thing on both screens that is much required in PowerPoint presentations.
Show only on 1: The primary monitor will only be set in use.
Show only on 2: The secondary monitor will only be set in use.
Select an option from the above four.
Click on Apply and then OK.
Mac OS
Affix your new monitor to any MacBook, iMac, or any other Mac device. Use an HDMI cable to do so. If you do not find any HDMI port on your Mac device, connect the HDMI to a USB or a hub. Thus, the USB will connect the HDMI. Ensure the power is off during the assemble.
Supply power to the computer. Your system is supposed to recognize the new display immediately. Please, do not get tense if you notice the monitors being gone black or flicker a little.
Go to System Preferences once the screen flickering is settled down. You can also uncover it by clicking on the Apple icon at the top-right corner of the display.
Go to Display. Two floating windows will appear- one on each screen. Locate the window that comes to your main or primary display as it has options more than that of the secondary window.
Navigate to the Arrangement option next to Display at the top.
Check the box Mirror Displays if you want both monitors to show the same content. Uncheck it if you want them to perform separately.
Click and drag the white bar on either of the monitors- to select your main monitor.
You are done!
How to Set Your Monitor's Resolution 
After combining two monitors as display panels, you can fix the monitor's resolution. You can even do it beforehand while hooking up both. For this, nothing much you need to do but doing the following things.
Here are the steps to set the monitor's resolution:
Go to Display Settings or Graphics Properties. A dialog box will pop up containing two monitors with two numbered boxes- one represents the left monitor, another represents the right one.
Select a monitor to be adjusted.
Press the Advanced Display Settings at the bottom.
Choose Resolution from the dropdown and set your preferred resolution.
Click Apply and then OK when you are done.
Conclusion
Summing up, the things I covered are quite enough to set up a workstation after your own heart. I also mentioned the pivotal attributes you should bear in mind while organizing the entire system. One thing, as you want to merge the two monitors keeping them in close proximity to each other, go for the monitors with thin bezels to minimize obstacles between the screens.
Interestingly, you can use even your television screen as one of the monitors if you want. Whatever the scenario is, just follow the steps sincerely that I mentioned. Hope you will have the utmost feelings.
Was this article helpful? Please, let me know whether or not you are helped. Leave a comment in the box below if you have any queries.