You might need to connect your laptop to a projector or TV when you are in a meeting or want to watch movies on a bigger screen. That's why laptops come with one or two external display connectivity ports.
But not all laptops do have the same ports. Both HDMI and VGA ports are standard for all modern laptops. Higher models do have mini or regular-size display ports in them.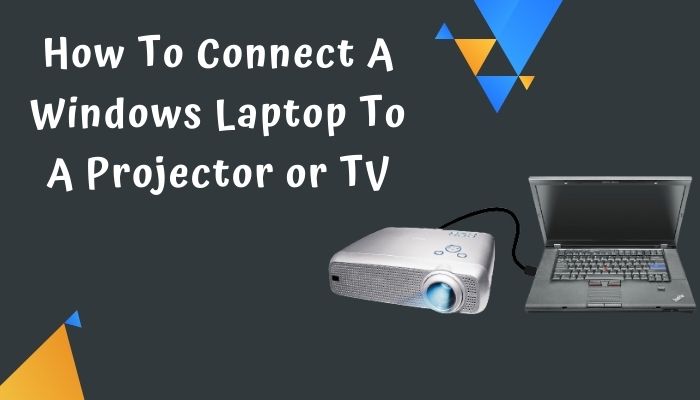 As a beginner, if you don't know how to connect your laptop to a projector/TV, it's totally fine!
This article will show you how to connect a projector or TV through external display ports. Just read till the end.
Let's begin!
Follow our guide on disadvantages of not Activating Windows 10.
Why Connect your Laptop to a Projector or TV?
You will need a bigger screen to present your research, display project works through PowerPoint, or show an overview in a meeting. You need to connect your laptop to a projector or TV. Projectors are kinda mandatory for the students to show their projects and research works.
Sometimes you might want to watch movies on a more prominent display by connecting your laptop to the TV.
Though, the modern corporate world has to go through this process daily to cover their meeting in a big display. People in a big room won't be able to see things from a 14-inch laptop. That's why a bigger screen is a must.
Laptops have display output ports to share or mirror displays to external display sources. Maybe you have an old laptop, and you will find at least a VGA port in it.
Can you share your laptop's display with a VGA port?
Of course, you can, but you will need to connect the laptop and the projector via VGA cable. Go for a VGA to HDMI converter in case your projector doesn't have any VGA port.
High-end laptops have mini or regular-size display ports to share the display with an external display. As technology evolves faster, you will now mirror the laptop display with display connectivity supported Type C port.
But keep in mind not all Type-C port supports display output functionality.
Here's a complete guide on how to create RDP shortcut icon on Windows 10.
How Many Variants of Display Output Ports is Available?
There are lots of display output ports available on laptops. To share your laptop screen, you will need to know which display output port your laptop has. You won't see all of them in a single notebook. The ports vary from one laptop to another.
In a budget notebook, you will find an HDMI port. VGA ports are outdated, and modern-generation laptops come with an HDMI instead of a VGA port.
Here is the list of output display ports available right now in a laptop:
VAG.
HDMI.
Mini HDMI.
DisplayPort.
Mini DisplayPort.
USB Type-C.
Let's discuss these available display ports first and then snoop in the next section, where we'll connect our Windows laptop to the projector or TV.
Also, follow our guide on how to Fix Slack Installation Issues on PC
VGA Ports
VGA (Video Graphics Array) ports have been used for a long time. This port doesn't share any audio signals. This port can only transmit a maximum resolution of 640 x 480. If you want to share a higher resolution through the VGA, you won't be able to do it.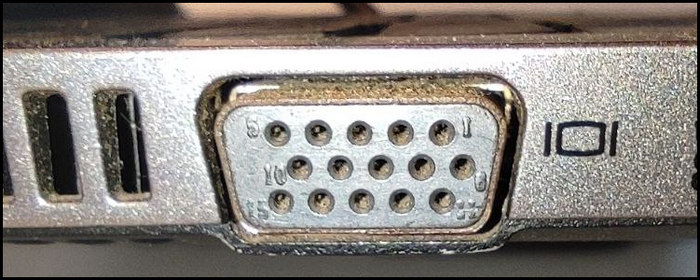 HDMI Ports
HDMI (High Definition Multimedia Interface) is available on most laptops. Not any other port is vastly used as this port. Almost all devices like laptops, desktops, TVs, Monitors, and GPUs come with this port. HDMI port can share a maximum resolution of up to 10K with 120Hz. This port can transmit audio signals also.
That's massive when you compare it with the VGA port. But some laptops come with HDMI 2.0 version port, and those can transmit video at a resolution of 4K at 60Hz.
Connect the computer, projector, or TV with the HDMI cable. When both support 4K (4096 x 2160) resolution, you can mirror your laptop display with the projector at 4K.

Check out our other post to Fix A Referral Returned from The Server Error Windows
Mini HDMI Ports
Mini HDMI is a small version of a full-HDMI port. This port is also known as HDMI type-C. For sleek and stylish design, Mini HDMI ports are used in many laptops. In case your computer has this port, and the projector doesn't, you must use a converter to share the display.
This port is also capable of sharing 4K resolution.
DisplayPort
DisplayPort is mainly seen on the Desktops, but you can also see this port on some laptops. However, you can share the display when your computer has a DisplayPort. To do this, you will need a DisplayPort cable.
Along with the video, this port also supports advanced audio features. To share the video with this port, your projector or TV should have a DisplayPort. Otherwise, you will need to use a converter. This port can also share resolutions up to 8k (7680 x 4320).

Also, check out our separate post on how to fix the Start button not working on Windows 11.
Mini DisplayPort
Many brands like Lenovo, Microsoft Surface, Dell, or HP use this port in their notebooks. When your projector or TV lacks this port, you can use a converter to use the port. You can use Mini DisplayPort to HDMI cable or converter to mirror the laptop's display.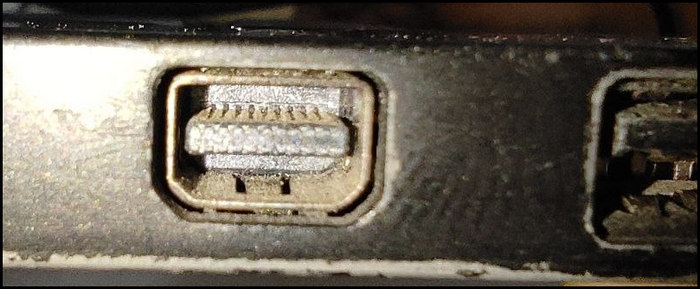 USB Type-C Ports
You can see this port in all new model notebooks. USB Type-C is faster than a standard USB Type-A port. This port alone equals several ports like HDMI, USB Type-A, RJ-45 Ethernet port, etc. With a docking station, you can use all ports just using the single Type-C.
Some projectors support USB-C video input ports, and you can directly share your laptop's screen via a USB-C cable. In case the projectors don't support a USB-C video input port, you will need to buy a doc station. You will have a full-size HDMI video output port in a doc station.
Else, you can buy a USB Type-C to HDMI adapter. This Type-C port supports resolution up to 4K. You can also find a Thunderbolt port that looks the same as a USB-C port, which can share an 8K super crisp resolution.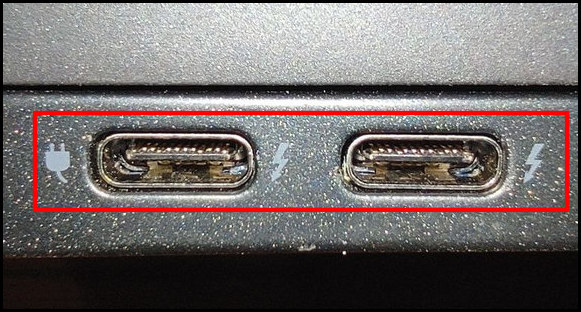 Here's a complete guide on how to restore files from File History on Windows 11.
How to Connect your Laptop to a Projector/TV
Now, you know about different display output ports available on a laptop. Let's learn how to connect your laptop with the projector or TV.
Choose the cable wisely according to the display output port your computer has. If both laptop and the external display source have the same port, just buy the display cable.
In case the projector or TV doesn't have the same port go for an adapter or converter. Plug in the cable on both sides. Next, follow the below steps.
Here are the steps to mirror your notebook display to a projector/TV:
Press Windows key + P to launch the projection selection mode.
Choose your desired option among the four modes. You will see modes like PC Screen Only, Duplicate, Extend, and Second Screen Only.
Check whether your projected image looks good or not.
Go to Settings by pressing the Windows key + I.
Navigate to System > Display > Multiple displays.
Select the secondary or projected display.
Adjust the resolution until the secondary display looks good.
Superb! Now, you are good to go and use the projector/TV as your secondary display.
Note: Some laptops require holding the Function (Fn) key and pressing the dedicated key to toggle between the secondary display.
Check out the easiest way to switch domain controller on Windows.
FAQs
How to connect my laptop with a secondary display?
You can use the laptop's HDMI, DisplayPort, or VGA port to connect your laptop with a secondary display like a TV, projector, or monitor. Connect the laptop and external devices port with a correct display cable.
Do projectors work with the laptop?
Projectors can work with any laptop if you have connected them with a suitable cable. Make sure the ports and the cables are not damaged. Buy a converter or adapter when the laptop display output port does not match the projector's display input port.
Why is my laptop not connecting with the projector?
Your laptop's HDMI, DP, or VGA port is not working or gets damaged. The display cables could be damaged; check that too.
Conclusion
To share your laptop's screen, you will need to connect the laptop with the projector/TV through an HDMI, DisplayPort, or VGA cable.
But it is troublesome for someone who is not used to sharing displays. To help them, I have implemented the fastest way to connect a Windows laptop to a projector or TV in this article. After reading till the end, I hope you can mirror your Windows laptop's display to a projector or TV.
Best of luck connecting your laptop to other external displays. See you at the next one!