Slack is one of the best messaging and collaboration platforms for remote workers. It is available for various platforms, including macOS, Windows, Android, and iOS. A devoted web version is available for users who want to avoid installing Slack on their devices.
Installing Slack on your PC takes only a few minutes; however, unexpected errors may occur while installing. Some people reported that they are facing difficulty while installing Slack on their PC.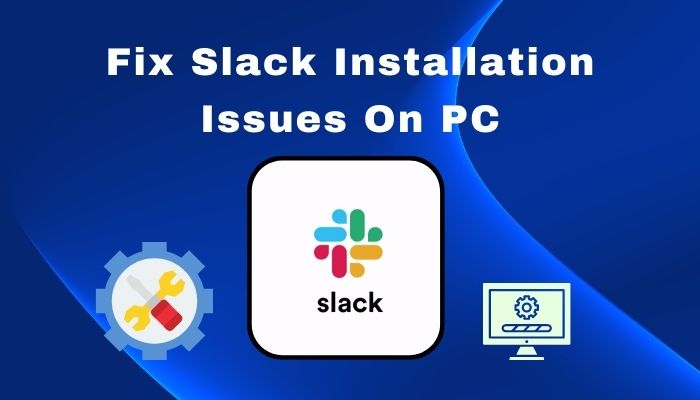 I was in the same boat as you and could not install Slack on my device. So I have gone through numerous fixes to resolve this issue. And luckily, I have found some working solutions.
In this well-researched article, I will show you the complete process of installing Slack without any hassle.
Let's get started!
Check out the easiest way to Slack Hide Who Is Currently Typing a Message
How to fix Slack installation issues on PC?
Installing Slack can be frustrating if any error message shows up. It can kill your valuable time and make you uncomfortable, especially if you are in a hurry.
Let's go through the possible fixes to perfectly install Slack on your device without further discussion.
Here are the steps to fix installation issues on PC:
1. Restart Your Device
Restarting your device can solve most problems if you face any installation issue for corrupted cache files. It also helps eliminate all the unnecessary data stored in RAM and possibly fix the installation error.
You can simply restart your device from the start menu. Let's see how you can restart your PC.
Here are the steps to restart your PC:
Go to the Start menu.
Click on the Power button from the left corner.
Select Restart to restart your device successfully.
After a complete restart, try installing Slack. If the issue persists, let's go to the next fix.
Follow our guide to know how to Change Your Slack Account Email Address
2. Terminate All the Background Applications
Other programs running in the background can prevent installing new software on your device. Try closing all the unnecessary applications from the background.
Here are the processes to terminate all background applications:
Right-click on the Start

button.

Go to Task Manager.
Right-click the application you want to quit.
Select End task from Processes.
Close all the inessential applications from the task manager. Then, try installing Slack again to check if this method works for you.
Here's a complete guide on how to fix Facebook dating not showing up.
3. Remove Old Installation Files
In case your first installation attempt fails, you need to delete the old installation folder before trying again.
Failed installation files can corrupt your new files. You can delete the destination folder by following the below steps.
Here are the steps to remove old installation files:
Open your File Manager.
Go to C:\Users\UserName\AppData\Local\slack.
Remove the folder.
After removing the Slack folder, try installing it again. Make sure you restart your computer after removing the files.
Also, check out our separate post on fix the problem of Facebook feed not loading.
4. Deactivate Your Antivirus and Firewall
Sometimes your antivirus program can detect the Slack installation file as malicious. To prevent that, you can download the software from the official Slack website. Downloaded applications from a third-party website can contain unwanted code sequences.
After downloading the installation files from the official site, disable your antivirus and firewall to install Slack on your computer successfully. Also, ensure you are not using VPN services when installing the program.
Here are the processes to deactivate your antivirus and firewall:
Open the Control Panel from the Start menu.
Go to Windows Defender Firewall.
Click on Turn Windows Defender Firewall on or off.
Turn off Windows Defender Firewall for both Private network settings and Public network settings.
Click OK to save changes.
After disabling your antivirus and firewall, now try to install the program. If the problem remains, go to the following method.
Check out the easiest way to fix something went wrong Facebook login error.
5. Use Compatibility Mode
Installing Slack in compatibility mode can solve this annoying issue. Some users confirmed that their problem was gone after trying to install it in compatibility mode.
Here are the steps to install Slack in compatibility mode:
Right-click on the installation file and select Properties.
Switch to the Compatibility tab.
Go to Run this program in compatibility mode for and select a previous windows version.
Check the Run this program as an administrator

checkbox.
Now try to install your software and check if your device can install the program.
Follow our guide to Fix Can't Change Instagram Username
6. Modify App Installer Settings
You can check your app installer settings to see whether you have permission to install a non-Microsoft store software. Try this fix if you don't have permission to install software outside of the Microsoft store.
Here are the processes to modify app installer settings:
Right-click on the Start

menu.

Select Apps and Features.
Go to Choose where to get apps, and use the drop-down menu to ensure the setting is not set to The Microsoft Store only (recommended).
Change it to Anywhere if the setting is set to The Microsoft Store only.
This process will allow you to install software from any source. Check if this process works for you.
Also, check out our separate post on the What Does an Instagram Handle Mean
7. Reboot the Windows Installer Service
Sometimes the Windows installer service can cause trouble in installing software. You can easily fix this issue by following the below steps.
Here are the steps to reboot the windows installer service:
Press the Windows+R key to launch the Run

window.

Type services.msc in the Run box and press Enter.
Find Windows Installer and check if the service is running.
Right-click on the Windows Installer to Start or Stop its service.
These steps should fix your installation issue. If you find the windows installer service running, stop it and relaunch it to make sure your Windows installer is running without any problem.
8. Contact with Slack Support Team
If none of the fixes above worked for you, I suggest you contact the Slack support team. You can contact the Slack Help Center and get in touch with their beautiful customer support to ask for assistance regarding your issue.
Make sure you are providing them with enough information regarding your issue, and also add screenshots of your problem.
Frequently Asked Questions
How do I install Slack on my desktop?
To install Slack on your desktop, Go to slack.com/downloads > Click Download > Double-click on the setup file after downloading is completed. After installation, Slack will launch automatically.
Why is Slack not installing?
The possible reason for Slack not installing is that something is blocking the installation files. It could be your firewall, antivirus, app installer settings, or corrupted installation files.
Why isn't Slack working on my computer?
If Slack didn't work on your device, it's probably due to the network settings or the security settings (Proxy, Firewall, Antivirus, or VPN) interfering.
Final Thoughts
Slack makes communication easier for collaborating with remote teams. Though you can use Slack on different platforms, installing Slack on your PC can be annoying. People claimed they had faced several issues while trying to install Slack on PC.
Throughout the article, I have covered all the possible reasons and fixes for this annoying issue. After going through this article, now you know the reason for this issue and how you can fix them quickly.
This ends my guide for fixing installation issues of Slack. I hope you find this article engaging and stress-relieving. If you have any additional queries, don't hesitate to mention them in the comment below.
Signing Out!