Some of the channels you're following might be highly active, and texts are constantly coming. While it seems beneficiary, sometimes it can be irritating too!
You care about receiving messages from some channels, but right-clicking on the rest of the channels and selecting Mark as read seems a tiresome task. So, like me, you can neither temporarily nor permanently mute them — such sweet oppression.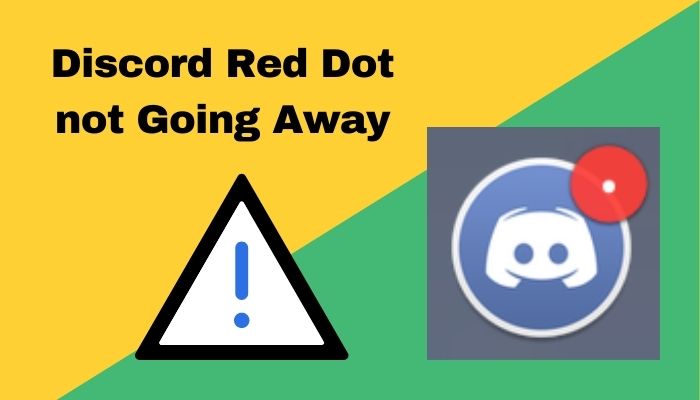 However, you muted some of the channels, or maybe all of them, but surprisingly it resulted in a total failure; new messages triggered the indicator, and the red dot stayed.
If the case is somewhat familiar to you, tag along. We'll undergo every possible way that is capable of turning the red dot off, and one of the methods will resolve the issue next time.
Let's dive in and get our problem fixed.
Check out our separate post: Discord Phone Verification not Working
How To Fix Discord Red Dot Not Going Away?
Your Discord red dot is not going away because you have unread messages on Discord.
For all Discord users like us, a red dot with a small white dot inside helps remind us that we have new notifications. So, performing other tasks while a quick notification from Discord might help us get the awaited latest info.
But for some people, it can be the reason for taking their concentration away while heavy gaming or performing highly intensive tasks.
Well, for me, it seems that the red dot always keeps staring at me.
Whatever your case is, to fix the Discord red dot on the icon, I suggest you go through the 5 working solutions below.
Here are the 5 viable solutions to fix the Discord red dot not going away:
Method 1: Toggle off Enable Unread Messages Badge Option
You might be facing the anxiety occurring red dot issue because the Enable Unread Messages Badge option is enabled. So, to permanently resolve the issue, turn off the option and see if this works for you.
Here are the steps to turn off the Enable Unread Message Badge option:
Launch Discord and click on the User Settings.

Move to Notifications from the left bar under App Settings.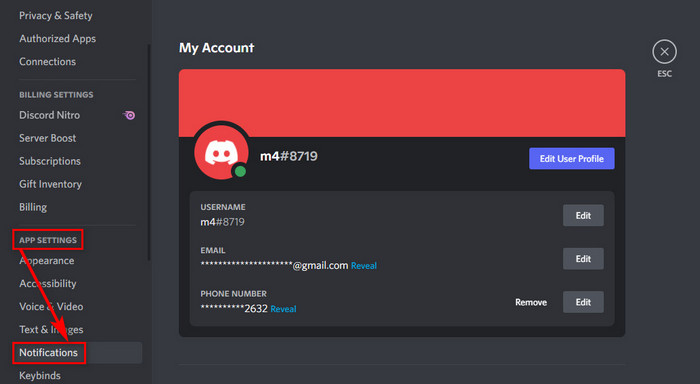 Toggle off the Enable Unread Message Badge option and close Discord.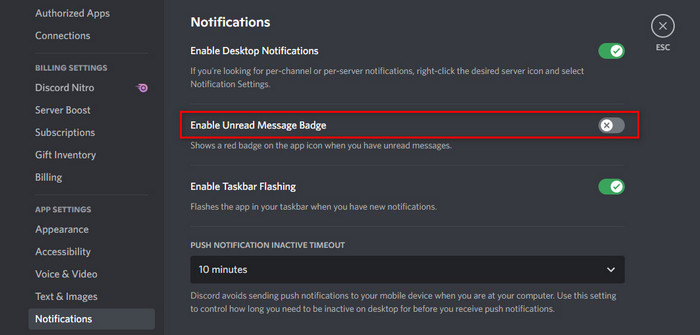 Relaunch Discord, and your problem is gone for good. But check out the rest of the methods if your problem persists.
Also read, Discord Pictures Not Loading
Method 2: Enable Do Not Disturb Mode
So, I guess you don't want any destruction while working with a hell of a concentration. It would be convenient for you to fix the problem by simply enabling Do Not Disturb mode on your Discord.
Here are the baby steps to enable Do Not Disturb mode:
Open Discord and click on your avatar.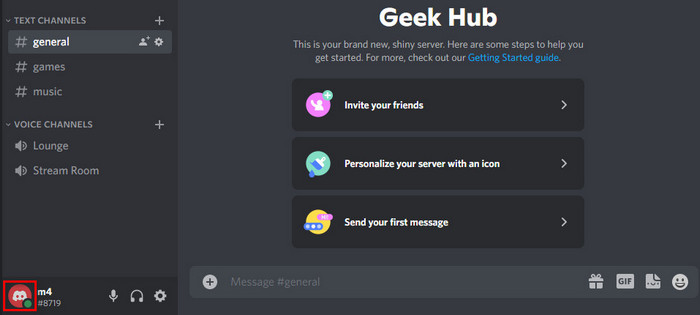 Close the Discord app and relaunch it.
See if the Discord red dot won't go away issue is solved or not.
Method 3: Check your Previous Notification
If the above two methods fail to resolve the issue, I firmly believe you have some unchecked messages from your associated server. So, you need to check your previous notification to solve the Discord red dot on icon.
Here are the decisive steps to check your previous notifications:
Open Discord and right-click on a server.
Select Mark As Read.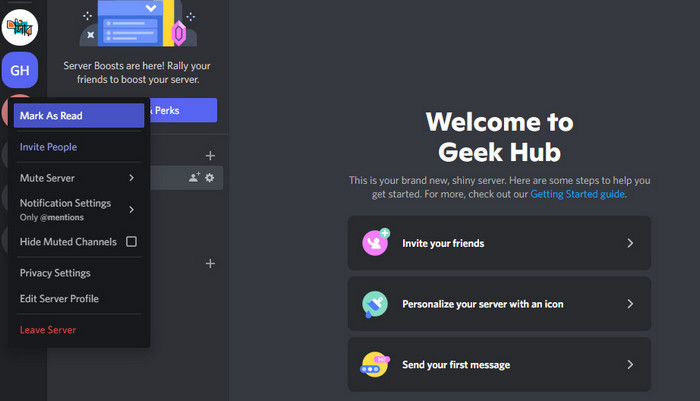 Do the same for the rest of the servers.
Yet if the issue persists, follow the above steps as well as the below ones. I hope you can fix this by yourself.
Follow our guide to Fix Discord Headphones Not Working.
Method 4: Mute Notifications of a Specific Server
How I get rid of the red dot on Discord can be answered with dozens of nonsensical methods. But without exaggerating the issue, I am mentioning only the working ones here.
One of the working solutions includes turning the notifications mute of a specific server that troubles you most.
Here are the paths to mute notifications of a specific server:
Launch Discord and right-click on the server you want to mute.
Choose Mute Server.
Click on Until I turn it back on.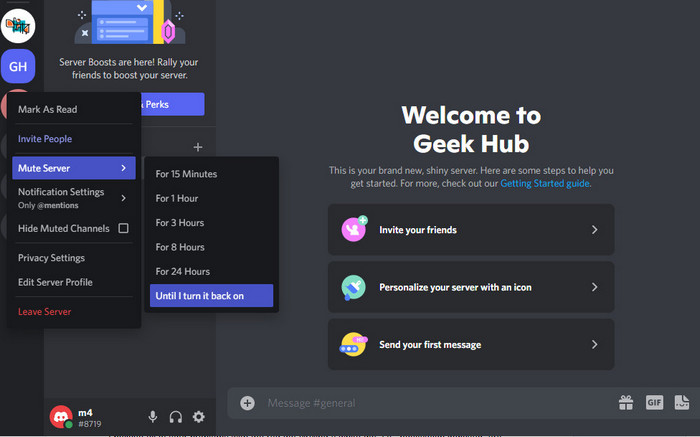 I hope you have already gotten rid of the irritating red dot issue. But if it persists, try the last method to resolve the issue for good.
Method 5: Make Changes on the Taskbar
Making some changes on the taskbar can remove the red dot from your Discord for good. To perform this method, you don't even need to open Discord.
Fascinating, isn't it?
Well, making changes on the taskbar comes with a significant drawback for phone users. When you toggle off the Show badges on the taskbar buttons, it turns off badges for all the other apps.
Here is a way to make changes to the taskbar:
Tap the Windows button and go to Settings.
Select Personalization and choose Taskbar.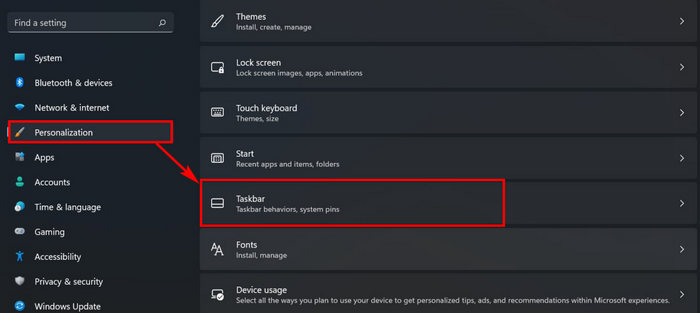 Toggle off the Show badges on the taskbar buttons If you don't find this with your Windows 11, click on the Taskbar corner overflow and turn off the overflow menu.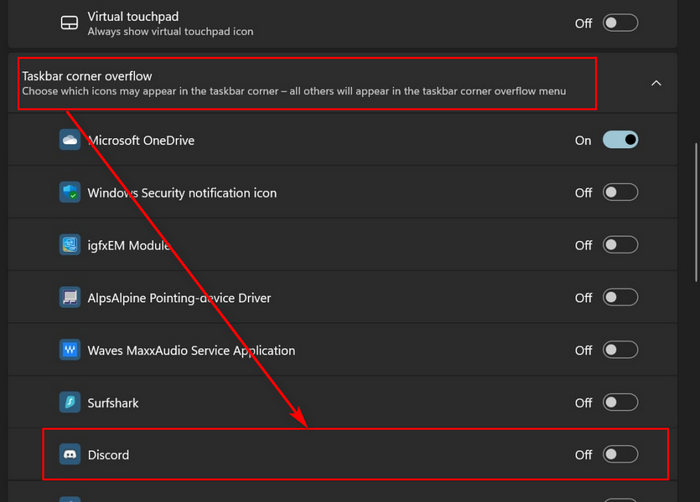 I believe all of your problems with the red dot circling a white dot, i.e., notification indicator, are solved.
Related content you should read: Discord Stream not Loading
FAQs
How do I get rid of the red dot on my Discord?
Go to User Settings > Notifications > turn off Enable Unread Message Badge option.
Why is there a red dot on my Discord icon?
There is a red dot on your Discord icon because you have any unread messages.
What does a red circle mean in Discord?
A red circle with a black line indicates the Do Not Disturb mode, whereas a red circle with a white dot means you have unread messages.
Also, check out our separate post on how to change Discord background.
Wrapping Up
Discord is a day-to-day application we use for numerous purposes. The red dot is undoubtedly an incredible feature to notify us whenever there is an unread message.
But users might get awful experiences because of this irritating and disturbing notification indicator. If you face issues with the red dot, I suggest you consider turning it off.
Read till the end and follow the methods accordingly to get rid of the red dot on Discord. To fix other Discord issues, check out other articles below.
Don't forget to comment below on which one resolves your issue.
Peace out!