Think about a SWAT team out for an operation but can't communicate with each other. It's a tribulation that no member ever wishes to come true.
Well, it's the same thing when you play a tactical shooting game like Rainbow Six Siege without communicating with your teammate through Discord. Whether you like it or not, Discord issues like voice chat problems, high CPU usage, and overlay not working are common nevertheless.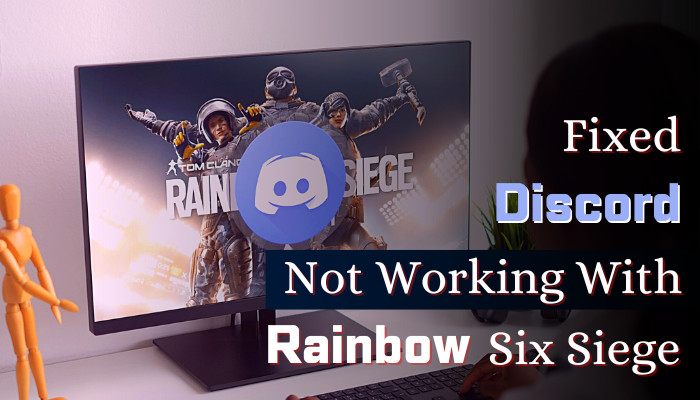 In this write-up, I'm going to walk you through all the possible methods to resolve discord not working with Rainbow Six Siege. So, saddle up!
How to Fix Discord Not Working With Rainbow Six Siege
To sort out the discord not working issue with R6 Siege, you need to follow different approaches for a variety of issues such as voice, text, or overlay. Each difficulty requires a specific method to get fixed. So follow the below fixes and check which one is applicable to you.
1. Change Game Activity Settings & Add Rainbow Six Siege
As silly as it sounds, if the game activity option is disabled, R6 Siege often doesn't work with Discord.
So turn on the game activity by following the below steps to make Discord work perfectly with Rainbow Six Siege:
Go to the Discord User Settings by clicking on the gear icon in the left bottom corner, just next to your username.
Scroll down and access Activity Privacy under ACTIVITY SETTINGS at the left pane.
Flip the Display currently running game as a status message toggle switch to green.
Go to Registered Games from the left pane.
Click on Add it! and press the Add Game button.
Choose Rainbow Six Siege.
By doing this, discord acknowledges R6 Siege as a compatible program and will work flawlessly henceforth.
2. Turn On Developer Mode & Hardware Acceleration
See, a Game can gobble up a respectable amount of hardware resources, especially competitive online tactical shooters like R6 Siege. To say the least, these games take a toll on CPU usage, leading Discord not to comply with the game properly.
The good news, however, is that you can allocate the GPU to accelerate the Discord app to perform smoothly together with Rainbow Six Siege. And that is achieved by enabling hardware acceleration.
The following process shows how you can turn on developer mode & hardware acceleration in Discord:
Enter the User Settings by pressing the gear icon beside the username.
Access the Advanced options under APP SETTINGS.
Toggle on Developer Mode and Hardware Acceleration switches.
Restart the discord and check whether the overlay, audio, mic, and other issue are resolved.
3. Disable Discord Overlay
No question that in-game Discord overlay is cool, but it rather works up the CPU unnecessarily.
The result? A broken discord app compatibility with Rainbow Six Siege or other games.
On the flip side, if you disable this feature, the discord overlay won't show while running your games. At worst, the app may stop responding completely.
To get around this problem, try disabling the Discord game overlay first. If it solves the problem, keep it as is. However, if the issue escalates, turn the overlay feature back on.
Here's how you can disable or enable discord overlay:
Access Discord settings by clicking on the gear icon.
Press the Game Overlay option under ACTIVITY SETTINGS on the left pane.
Disable or enable the toggle switch next to Enable in-game Overlay.
After going back and forth with the toggle switch, check whether there's any improvement with Discord and R6 Siege's not working situation. Move on to the next fix if there's no positive outcome.
4. Set Discord Priority to High
One of the most effective solutions that appeared to me is to prioritize the Discord app to let it exploit enough hardware resources. This particular method worked for me and many of my friends.
Basically, when you set priority to high, Windows allocate maximum resources for that program to ensure flawless and smooth performance.
Below is the process to set discord priority to high:
Open Windows Task Manager by pressing Ctrl + Shift + Esc.
Switch to the Details tab from the top.
Find Discord and right-click on it.
Hover or select Set priority.
Choose High.
Reboot your rig. Launch Discord and Rainbow Six Siege, and voice chat difficulties will be gone.
5. Run Discord as an Admin & Disable Fullscreen Optimization
You know, lack of proper permissions often provokes the Discord app not to work with R6 Siege. Windows restricts the app's functionality when it sees no validation by the administrator. That is, to prevent any violation and harm to the system.
Having said that, the fix is unimaginably simple. Just run the Discord app as an administrator and disable full-screen optimization.
To run Discord as an admin and disable full-screen optimization:
Right-click on the Discord desktop shortcut.
Click on Properties from the context menu.
Switch to the Compatibility tab from the top.
Check Run this program as an administrator.
Uncheck Disable fullscreen optimizations.
To save the changes, hit Apply and click OK. Now, re-launch Discord and check if everything is in order.
6. Tweak V-Sync in Rainbow Six Siege
Voice chat functionality is often interrupted due to incorrect V-Sync settings in R6 Siege. At least, that's been the case for hundreds of users. Though I'm happy to report that a simple tweak in the game settings can fix it quite easily.
To modify VSync in R6 Siege:
Launch Rainbow Six Siege on your computer.
Click on the gear icon in the top right corner to open the Settings screen.
Choose Options.
Select the Display tab from the top.
Find VSync and change the value to 1 Frame.
Click Apply to save the changes.
Restart Discord and try to communicate with your channel. It should transmit input and output audio immaculately. Hence, the Discord audio issue is easily fixed.
7. Limit Rainbow Six Siege Game FPS
Oddly enough, one of the effective fixes for Discord not working with Rainbow Six Siege is to cap the game frame rate. Doing this will eventually fix Discord game overlay and voice chat issues.
The following steps will guide you to limit the frame rate in Rainbow Six Siege:
Right-click on the Rainbow Six Siege desktop shortcut and select Open File Location.
Open GameSettings configuration file in Notepad.
Scroll down and find [DISPLAY] section.
Type 75 in FPSLimit if the value to set the new FPS.
Press Ctrl + S to save the doc.
Close the notepad and right-click on it.
Select Properties.
Check the Read-Only box.
Hit Apply and Click OK.
Note: Save a backup of the configuration file. If anything goes wrong, replace it with the one you edited.
Fixating the FPS as low as 75 is not ideal for online shooters. But this happens to fix discord compatibility issues with R6 Siege.
8. Disable Antivirus Temporarily
For the most part, an antivirus might not seem like a program that can cause challenges with different programs and games, but it does in reality. Discord is no exception.
See, the built-in Windows real-time protection or any third-party antivirus apps might consider Discord as a suspicious program, especially the Update.exe file.
Consequently, this file gets blocked, and Discord does not behave properly. So before you opt to dive into a gaming session, make sure to turn off the antivirus momentarily.
To disable antivirus temporarily:
Hold down Win 🪟 + S to open the Windows Search bar.
Type virus and open Virus & threat protection.
Click on Manage settings under Virus & threat protection settings.
Toggle Off Real-time protection.
Disable a third-party antivirus program from the Task Manager if it's applicable. Open Discord again, and all the functionalities should be in order.
Ending Remarks
After you execute all the methods I listed and described above, there should no longer be any issues with Discord and R6 Siege. It covers all the possible fixes that you need to know. Let me know in the comments how did it go for you.
Happy Gaming!