Discord was all ok and running perfectly, but suddenly you couldn't connect to Discord and tried a VPN. Sounds familiar?
As it's a great platform to connect with your friends and family, I use Discord very frequently and have faced this issue many times. But, I did some research and found a solution myself.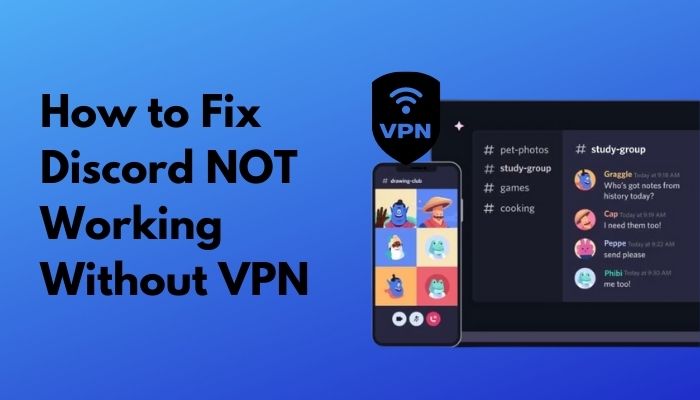 Why is Discord not working without a VPN?
Discord won't work without a VPN due to invalid User Datagram Protocol (UDP) requirements. If the proxy settings in your PC do not match with Discords UDP requirements, it'll be stuck on connecting, and only a VPN with UDP will solve the issue.
 But, there might be other issues that are blocking Discord from connecting without a VPN. Don't worry; I will share my findings with you and show you how to overcome this problem.
Stick with me till the end, and don't skip anything to solve Discord not working without a VPN.
Why is Discord Stuck on Connecting?
Discord gets stuck on connecting when it can't connect to it's server. Discord uses User Datagram Protocol to connect with it's server. But several issues can force it to change it's settings and block Discord from connecting to the internet.
I've told you before that when the internet setting on your device is changed by you or any other software of your PC, it differs from the default settings for Discord.
The issues that might force the Discord app to be stuck on connecting are as follow: 
Windows Firewall
Windows Firewall ensures the ultimate protection of your PC from any suspicious internet activity and constantly monitors every incoming and outgoing connection.
Sometimes it asks you to choose whether you allow the internet connection of a specific app or not. But, most of the time, Windows Firewall decides on it's own and blocks a safe network activity.
Discord might be the prey of Windows Firewall, which doesn't let it connect with the internet, and the VPN comes as a savior to it. With the help of a secured VPN connection, Discord can bypass the firewall blockage and connect to the internet.
Check out our separate post on how to get rid of IP bans on Discord.
Use of Antivirus
Antivirus usage can block some processes of the Discord app, which might cause connection failure.
Third-party antivirus softwares like MacAfee can force stop the internet process of the Discord app and end it's network activity process. I which case, you'll be stuck on the connecting screen.
Proxy Server
If you use any proxy server to connect with the internet, you'll most likely be stuck on the connecting screen of Discord.
As I told you before, Discord is based on User Datagram Protocol, and it only connects with proxy servers that use UDP. Not only that, if you use a VPN for Discord, make sure that it also supports UDP.
Interfering Background Apps
If there's any app conflicting with the processes of Discord, it might interrupt it's connection to the internet.
I've found that some apps like Twitch cause this issue of conflicting background processes, resulting in unstable internet access and forcing Discord to terminate its connection.
The use of a VPN solves this conflict issue, and lets Discord connect with the internet. That's why, when you try to open Discord without the VPN, it gets stuck on the connecting screen.
These are the main reasons that might cause the Discord app to be stuck on Connecting dialog.
Check out the easiest way to fix discord entry point error.
How to Fix Discord NOT Working Without Using VPN
I explained the issues that might interrupt Discord's connection to the internet and leave you stuck on the connecting screen.
You've seen that several issues might cause Discord not to work without a VPN. Now, you have to go through the possible reasons and guidelines below to find and fix the issue causing you trouble.
Here are the steps to fix Discord not working without VPN:
1. Configure Windows Firewall for Discord
Configure Windows Firewall for Discord to fix the issue of not working without VPN. It'll grant internet access to the Discord app and won't force it to use a VPN for a stable connection.
Follow these steps below to allow internet access of the Discord app through Windows Firewall:
Open Windows Search and type Window Defender Firewall.
Open the first entry.
Select Allow an app or feature through Windows Defender Firewall from the left side panel.
Find Discord from the application list. (If you don't find Discord, press Browse and find exe. You'll find it in the default folder at C:\Users\YOUR USER NAME\AppData\Local\Discord\app-0.0.309).
Check the box beside Private and Public.
Click OK.
If the firewall is the issue, your problem is solved now. I hope you won't face the problem again.
2. Disable or Uninstall Antivirus Software
You can make an exception for the Discord app to your Antivirus software.
Or, you can disable your antivirus temporarily to see if the issue still appears. Based on which antivirus you use, you can find the procedure on their respective websites.
However, I'm showing you how to disable the Windows defender virus and threat protection.
Follow these steps to turn off the virus and threat protection of Windows Defender:
Go to Windows Start and click on Settings.
Find and select Update & Security.
Click on Windows Security.
Go to Virus & Threat Protection.
Click on Manage Settings.
Switch off Real-Time Protection.
This process will turn off the Windows Defender virus and threat protection. Now rerun Discord and look if it works without a VPN.
3. Disable Proxy Servers
Proxy servers can block the internet connection of the Discord app. So, make sure that the proxy servers are disabled in your proxy settings.
If you don't know the process, don't worry; follow these steps:
Press Win+R key to open the Run dialog box.
Type inetcpl.cpl in the box and press Enter.
Go to the Connections tab of the window and click on LAN settings.
Check on Automatically detect settings, and uncheck on Use a proxy server for your LAN.
Press OK to apply the settings.
4. Check If Discord is Blocked
If you face Discord not working without a VPN only if you're on a school or workplace network, your network admin blocked Discord in those networks.
The network admin implemented the blockage to prevent accessing Discord while using their network and restricted it's usage while working. You should disconnect from these networks and use mobile data to use Discord.
You can follow a tweak that will allow you to use Discord. Do the following steps to connect Discord with servers outside your network:
Press the Win+R key to open the Run dialog box.
Type control, then hit Enter to open the Control Panel.
Click on Network & Internet.
Go to the Network & Sharing Center.
Click on your connection name.
Click on Properties on the next window.
Click on Properties on the Networking tab again.
Set the Preferred DNS server value to 8.8.8 and Alternate DNS server value to 8.8.4.4.
Click OK and save the changes.
Now, close all running processes and restart your PC. Look if the problem is appearing again.
5. Reset IP Configuration
Resetting the IP configuration of your PC can fix the Discord not working problem for good. It can permanently solve your problem of using a VPN to use Discord.
Here's a quick guide with the steps of resetting your IP configuration:
Press the Win+R key to open the Run dialog box.
Type cmd and press Ctrl+Shift+Enter to open the elevated command prompt.
Type ipconfig /release and hit Enter to release the current IP configuration.
Type ipconfig /flushdns and hit Enter to flush the DNS.
Type ipconfig /renew to renew the IP configuration.
Restart you PC
Now, your IP configuration is reset to the original one, and hopefully, this will fix your problem.
Follow our guide on how to Fix Discord Not Working on Wi-Fi
FAQ
Question: Does Discord require a VPN?
Answer: Discord doesn't require a VPN unless you're using it in a restricted network or in a network where The network admin blocks discord.
Question: Why is Discord not working with VPN?
Answer: The discord app is built on a UDP (User Datagram Protocol) platform. So, most proxy servers won't work with it. Only the VPNs that have UDP support will work to connect Discord with the internet.
Final Thoughts
I hope you will fix the Discord not working without a VPN problem by following the methods I've shown you above.
If your problem isn't solved, try to re-install Discord from the official website and try the above methods again.