If you recently created a discord server, then deleting is way more normal for you. You can make it happen in less than a minute.
I own and maintain several Discord servers. I deleted one of my servers a few days back, and the process was pretty straightforward, believe me.
Keep Reading, as I will share the process step-by-step through this guide. So, don't skip any section, and do read till the end.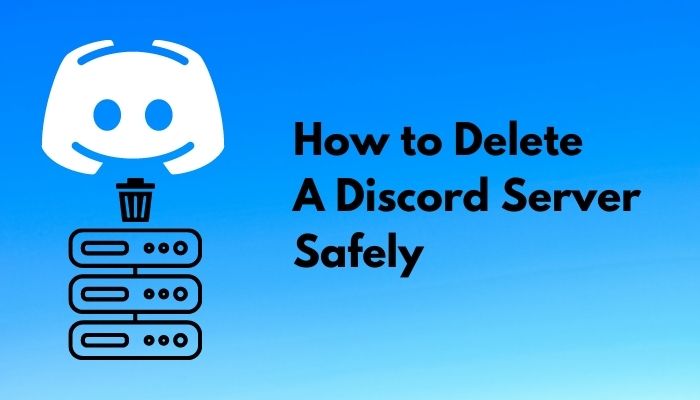 Follow our guide to fix Discord channels not showing.
How to Delete a Discord Server on Windows
If you are a Windows user and self-assured about the deletion of your Discord server, I can offer you a straightforward process. The steps are, on average, the same for the users of desktop and the web application.
Check out the easiest way to fix Discord won't connect to incoming calls.
Here are the steps to delete a Discord server on Windows:
Open the Discord application on your PC or sign in to the website.
Enter the server you want to delete.
Click on the name of the server located in the upper-left corner of the window.
Select the Server Settings option from the drop-down menu.
Click on Delete Server to be found at the bottom-left menu bar.
Enter the server's name accurately when a pop-up window appears. If you have enabled two-factor authentication (2FA), you have to insert a six-digit authentication code.
Click on Delete Server again to finish the entire process.
This process is irreversible. Your server will be permanently deleted once you confirm. So, be absolutely sure before deleting your Discord server.
If you are not sure, you may transfer the ownership of the server if you want.
Quickly fix Discord No Route Error by following our epic guide.
How to Delete a Discord Server on Mobile
It has become handy and preferable to use Discord on Android or Apple devices like iPhone or iPad for a few years. Here also you have the option of deleting your created server via the Discord mobile application.
Also, check out our separate post on how to fix Discord not letting me unmute.
Here are the steps to delete a Discord server on your Android and iOS device:
Run the Discord app on your Apple or Android device.
Navigate to the server you wish to delete.
Swipe to the right side of your screen to open the sidebar.
Tap to the server's name.
Click the settings icon from the pop-up that appeared.
Tap on the 3 dots menu icon.
Click on Delete Server at the bottom of the page.
Tap Yes to confirm that you really want to delete the server. If you have enabled two-factor authentication (2FA), enter the authentication code found in the Authy app.
Follow our guide to fix Discord overlay not working.
How to Transfer Discord Server Ownership
We, all Discord users, definitely know that it was developed focusing on the transaction of crypto-currency and communication among the users. Now, the applications of Discord went far beyond that. That may be the reason; perhaps you need to transfer your server ownership.
There you can find another valid point. A scenario may appear when you don't want the server active anymore; at the same time, you don't want to delete it. In that case, transferring the ownership of your server to another user can be a feasible solution.
The process is entirely stress-free, as usual. The steps apply to Windows or macOS.
Many people face the problem of 'Discord not opening'. You can fix it easily by following a few steps on our separate guide.
Here are the simple steps to transfer the ownership of a Discord server:
Launch the Discord
Navigate to the server from the left-hand-sided server list.
Right-click on the server icon.
Tap to the Server Settings.
Click on Members from the pop-up menu.
Find out the server member that you want to transfer the ownership to.
Hover over the entry.
Click on the Options (3 dots) icon.
Select Transfer Ownership.
Confirm the transfer from the dialog box.
This way, you can transfer your server ownership to another user.
Check out our post if you want to know if your friends blocked you on discord.
How to Confirm the Deletion of your Discord Server
Well. Can you firmly tell me whether your Discord server was deleted or not?
You are getting confused, right! No worries. I will give you a clarification on this.
You can check it in this way. If the Discord server disappeared from your server list, and if you cannot find the server in the search, it is most likely that your server was deleted.
But, if the server disappeared from your server list but is still visible in your search, that indicates that you have probably been banned from Discord.
Check out some interesting discord commands for your server.
Is it possible to recover a deleted Discord server?
It is so unlucky that there is no valid option of restoring a deleted server. Once you delete the server, you cannot retrieve it or get it back from the Discord server archive.
If you do not intend to delete your server, yet want to get rid of the responsibilities, just transfer the ownership to another user.
And, if you want to fetch some members from the previous server, the best way to handle this is to create a new server. You can send them Discord invitations so that they can join.
Have some time to spare? Quickly check out our epic guide on how to fix Discord not ringing for incoming calls.
You may ask:
What happens when a Discord server has been deleted?
Nothing happens! Isn't it strange? This fact seems mysterious to me.
Like most other accounts on different media, Discord will not notify you when you delete your Discord server. The deletion just happens, and the server just disappears from the server list. You cannot even find it in the search as well.
Here are some awesome voice changers for discord.
FAQ
Question: What happens to the documents when you delete a Discord server?
Answer: All members of the server will be automatically removed. And the saved documents along with shared content will be erased and expunged.
Question: What is 2FA?
Answer: 2FA is a code consisting of 6 digits. It stands for Two Factor Authentication. It helps your Discord to have an extra layer of security by preventing unauthorized login attempts.  You can easily manage all of your 2FA accounts just by using the Authy application. You just need a mobile having Authy installed. It is easy to sync multiple devices via the app.
Question: Does deleting Discord delete the server?
Answer:  No. If you delete your Discord account, Discord will take a certain period (most like 2 days) to completely delete your account. After that, the instances, i.e., your posts, messages, content you created, will be known as the post of a Deleted User.
Final Thoughts
As a text and voice chat platform, Discord is unique. It provides the platform to create and manage the users' servers without any complications.
There are so many options available to perform for an owner or user of a server. In this article, I just went through the practical process of deleting a Discord server on different platforms. I discussed ownership transfer and necessary other aspects of a Discord server as well.
The process is practically too simple to perform. You can do that even within a minute. I hope you found this article helpful. Stay connected to be guided in solving other contemporary technical issues.