If you are tired of playing Roblox with the same username, you landed on the correct page!
Changing your username in Roblox is easy if you know the correct steps.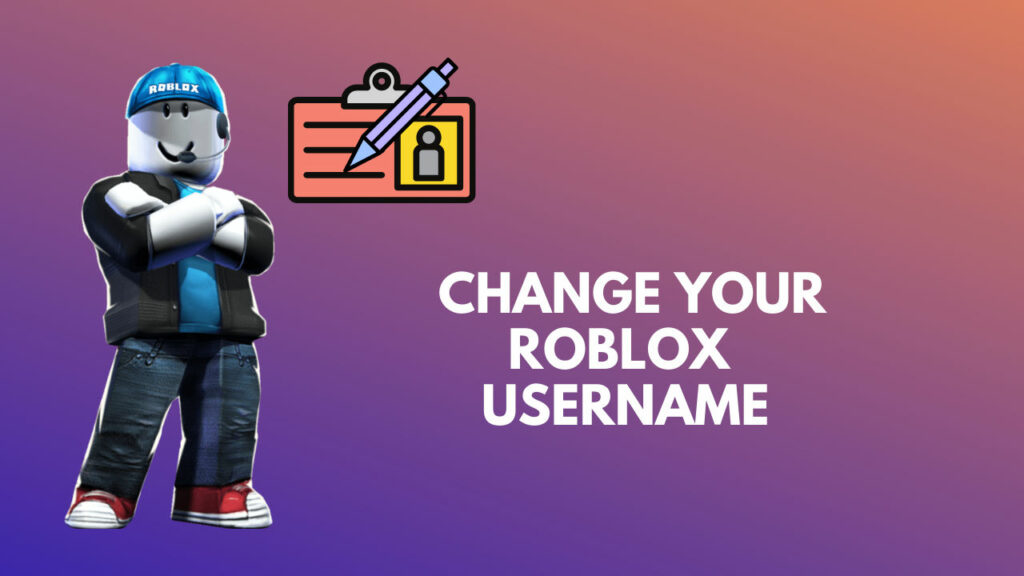 Can I change my Roblox name?

It is permissible to change the display name on Roblox. The best solution to change the Roblox username or the display name is to change it from account information settings. It will cost 1000 Robux to change your display name.
Stick together as in this tutorial; you will get to know how to change your Roblox name with and without using Robux.
So, let's get started.
But, Before doing anything, get the latest version of Roblox download to make sure that it's not the app that's causing this problem.
How to change your name on Roblox
Changing the username is easy if you have a minimum of 1,000 Robux in your existing Roblox account.
But, before modifying your existing display name on Roblox, you have to keep in mind that:
You cannot use a name belonging to your other account.
You cannot swap usernames with your Alternative account.
You cannot change your display name for simple changes, such as making a name or an alphabet capitalized. You have to proceed forward after agreeing to the terms above to change your display name.
Also, check out our free Roblox admin commands list for having premium features in the game.
Here are the steps to change the Roblox Username:
Log into your existing Roblox account.
Go to your Account Settings at the top right corner of the screen in a gear-icon. In the case of mobile apps, find the three dots icon for More.
Select the Account Information tab
Select the Edit Username button and enter your new username with the current Roblox password.
Press on the Buy Button. This modification will cost 1,000 Robux.
If you are a beginner then you should definitely go through our guide on how to add friends on Roblox and make a Roblox group.
Why does changing your username cost 1000 Robux?
Changing names on Roblox costs 1000 Robux because many people try to claim as many usernames as possible on multiple accounts. Roblox developers decided to charge 1000 Robux every single time you try to change the username to reduce such occurrences.
Roblox discourages users from modifying their names. Whenever a user changes usernames, it's always a hassle to identify the same person.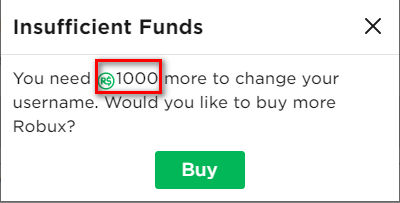 Suppose Roblox permits to change the username for free, and a Robloxian player named Bobby1234 joins a gaming group and gets exiled for inappropriate behavior. He will surely grab the opportunity, change his name for free, and rejoin the group with no background checks. For such activities, other players feel insecure.
You will face ROBLOX error codes like ROBLOX error code 610, ROBLOX error code 267, ROBLOX error code 279, etc.
How often can my username be changed in Roblox?
There aren't any restrictions on how often the username in Roblox is changed. The name-changing process is a paid service. As long as the user has 1,000 Robux on their account, the name is often changeable.
Also, there isn't any cooldown timer for changing names. You can change it whenever you want.
Follow the next section below to generate a Roblox name without Robux.
Changing Roblox Username Without Robux
To change Roblox's username for free, you must have a verified email account.
You usually have to pay one thousand Robux to change the username.
Here are the steps to change your Roblox name for free:
Go to roblox.com/support from your browser.
Fill up your contact information exactly like the existing account.
Select the device you are having a problem with.
Select User Safety Concern, Inappropriate game, or User Behavior from the type of help category.
Describe your issue similar to the following lines-
Hello Roblox, I am the father of (your name), and I am concerned about my child's safety in Roblox. His username includes bothering their first and last name (not applicable for names like MrOofydachirstmaspoo). This situation is a worry for us because we don't want people online knowing my son's name. Also, during the pandemic of Covid-19, I do not have the money to waste on Robux. Thank you for listening, get back to me as soon as possible, have a lovely day.
Wait for the developers' reply, and eventually, they will permit you to change the username only once.
How to retrieve username in Roblox
Forgetting usernames and passwords is a common issue if you play a lot of games. Roblox ensures every possible measure to help you retrieve the omitted information.
Here are the steps to retrieve username and passwords in Roblox:
Go to the login page and click Forgot Username and Password.
Enter your email address or phone number you used while signing up for your Roblox account. A retrieve message will be sent to both sources, and you can log in to Roblox verifying your information.
If you are facing Authorization Error in ROBLOX then, here is how you can fix ROBLOX error code 524.
FAQ
Question: How to change your Roblox name on iPad?
Answer: To change your Roblox display name on Ipad, you have to:
Log in to your account and go to the account information tab.
Edit your username and click on Buy. This process will cost you 1000 Robux. Change your username smartly as it is pricey.
Question: How much Robux do I need to change my name?
Answer: You will need 1000 Robux to change your display name. There aren't any discounts.
Question: How do I change my name in Adopt Me Roblox 2020?
Answer: Click on the tray bar and select Dress Up once you are in the game. Look for your name above in the game and tap on it. Remove the existing name and give any representation as to your wish.
Question: How to delete my old username on Roblox?
Answer: It is impossible to delete the old username in Roblox. The past username displays below the new one, and other players can also see them.
Question: Can I change back to my previous username on Roblox?
Answer: You can migrate to your past username, but it will cost you 1000 Robux.
Question: Can Someone Steal my Past Username?
Answer: No, your old username won't be hacked or stolen if you change it to a new one.
Question: Will my join date change from the original day on Roblox?
Answer: No, the join date won't change, and your original account creation date will carry over to the new username.
Question: Will I still have everything when I change my username on Roblox?
Answer: Your game data won't be deleted or changed. You will have your existing game data over your new username.
Final Thoughts
Changing the Roblox username is sometimes needed as there aren't any rename cards. You can easily change your username with the help of Robux but do remember that you can only modify your username once.
For multiple changes of names, you must open up a new Roblox account. In this case, you can download Roblox from its official site and Sign up for a new account for a fresh start.