Instagram helps you to express yourself and connect with the people you love. With over a billion monthly users, It has now become one of the pillars in the social media market. You can create fun, entertaining videos or images and share them with friends or anyone on Instagram.
However, like all other applications, Instagram has some shortcomings; among them, Server Error 5xx is quite frequent.
When this error occurs, the app becomes unresponsive, media upload stops in the middle, or you can't send messages in the chat section. Because of this, I thoroughly investigated Instagram 5xx Server problems and put everything in this article.
So read this article thoroughly to learn the potential causes and proper solutions for Instagram 5xx Server error.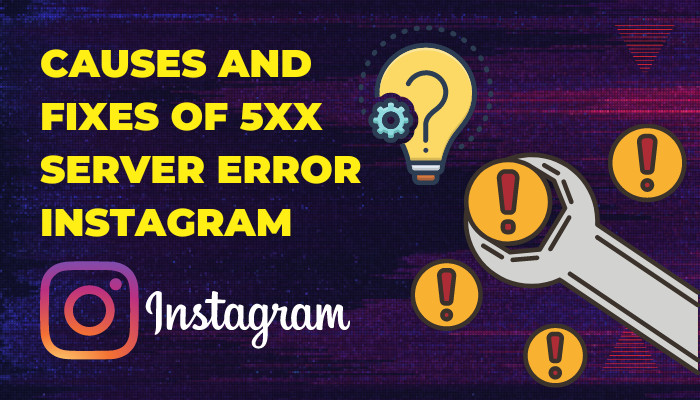 Follow our guide on how to Group Chat With Multiple Instagram Users
What Does 5xx Server Error Mean on Instagram?
In a general sense, The Instagram 5xx server error means a fault within the Instagram server. But the meaning is different for different numbers. The Server error 5xx is generally numbered between 500 to 511. The Instagram authorities provided different numbers for the errors to help you determine the cause.
Here are the types of Instagram 5xx Server errors described below:
| Error Code | Meaning |
| --- | --- |
| 500 | Internal Server Error |
| 501 | Not Implemented |
| 502 | Bad Gateway |
| 503 | service unavailable |
| 504 | Gateway Timeout |
| 505 | HTTP Version Not Supported |
| 506 | Variant Also Negotiates |
| 507 | Insufficient Storage |
| 508 | Loop Detected |
| 509 | Bandwidth Limit Exceeded |
| 510 | Not Extended |
| 511 | Network Authentication Required |
Among the errors the 501, 502, and 503 are most common and frequent. And you can not do anything but wait when those errors occur.
Check out the easiest way to Fix Instagram Not Working on WiFi
What Causes 5xx Server Error on Instagram
Error 5xx occurs on Instagram when the server has some issues or technical issues at the user end. But don't panic. This 5xx error doesn't mean anything wrong with your account. You will be able to use your account generally after the issue is solved.
After intensive research, I've found the real reasons for the Instagram 5xx Server issue.
Here are the reasons behind the 5xx Server error on Instagram:
Error 500 occurs when some Script of Instagram server becomes faulty.
The reason behind the 501 error is the connection doesn't meet the server requirements.
Error 502 is caused by an invalid response in the Instagram server.
503 error happens during the routine maintenance of Insta server ongoing.
504 happens for a defective internet connection of your ISP.
Variant 505 and 506 take place when the web server is unresponsive.
Error 507 is caused by low storage on your phone.
The 508 happens as you use an outdated application.
Unsteady connection of your ISP is responsible for Server errors 509, 510, and 511.
As you can see, 5xx Server error on Instagram can be caused by a problem in your device, your internet provider, or server issues in Instagram itself.
Read the following paragraph to solve the problem quickly.
You may also like to read: Fix Can't Change Instagram Username
How to Fix Instagram 5xx Server error
As you can see, most of these server errors happen from the server side. The meaning of server error 5xx (500-503, 506 & 507) is either the Instagram DNS is down or has some configuration issues. In that case, you can do nothing except wait for them to fix the server.
However, as for other Server Errors 5xx (From 507 to 511 and 504), you have some control in fixing them.
Here are the working fixes for the 5xx Server error on Instagram:
1. Wait for Instagram to Fix The Server
For Instagram Server Errors 500 to 503, you have to wait for the authorities to fix the server issue. You can check the server status online to get the latest updates.
One of the trusted sites to check server status is DownDetector. To check Instagram server status, just go to https://downdetector.com/.
2. Update Instagram App
Among the Server Errors 5xx, error 504 is caused by an outdated application. So you need to update your Instagram application when you face Server Error 5xx on Instagram.
Here are the steps to update your application:
For Android:
Tap Play Store.
Write Instagram in the search bar. A green button named Update will appear in the Right corner.
Press that green button and your app will start updating.
Also read, Instagram Clear Search History Not Working
For iOS:
Go to the App Store.
Press the Profile
Scroll Down to see pending updates and release notes.
Tap Update next to Instagram.
In this way, you can update the application manually. It's always better to use the updated version of Instagram because the updated version has fewer bugs than its predecessor.
3. Switch Networks
Low-speed internet can't broadcast the feed from the Instagram server. This can cause server error 5xx.
For this reason, in time of Instagram error 5xx, switch the network you are using. If you use a WiFi connection, switch to Mobile Networks and contact your ISP to check the issue.
Follow our guide to know What Does an Instagram Handle Mean
App cache and cookies fill your devices with unnecessary files. One of the main causes of Instagram error 5xx is low RAM and storage. Clearing the cache and cookies can free up some spaces on your ROM and RAM.
Here are the steps to clear Instagram cache and cookies:
Go to your phone Settings.
Select Apps & Notifications.
Click see all apps > Choose Instagram.
Press storage and cache.
Hit clear cache.
After that, restart your phone and open Instagram again.
Generally, the cache file creates problems in Android devices. The iOS version of Instagram doesn't get affected by cache files. So if you are an apple user, there is no need to clear the cache and cookies file.
Check out our separate post: Windows 11 Remote Desktop Authentication Error
5. Use Instagram Website
You can try using the Instagram website if your phone application continuously faces Server Error 5xx. If the web version of Instagram works perfectly, your phone is to blame.
In this case, open any browser, go to the insta website, and start browsing.
6. Re-install the Application
Reinstalling Instagram will delete the unnecessary app scripts which aren't deleted with the cache file. Also, most incompatibility issues go away after re-installing the application.
Here are the steps to re-install Instagram app on your phone:
Press and hold the Instagram app.
Choose the "i" button in the quick menu.
Tap Uninstall > Ok.
Long-Tap your power button > select Restart.
Open the Play store after restarting your phone.
Write Instagram in the search bar.
Press Install [the green button].
When you have tried updating Insta from the play store, but the Server issue 5xx still happens, the only way to fix the issue is by reinstalling the application.
Read more on how to Fix Update Error Code 0x80004005 in Windows 11
Conclusion
Long story short, the Server Error 5xx on Instagram is caused by both internal problems and problems in your phone or your ISP. When the server itself causes issue 5xx, you can do nothing but wait.
But you can apply fixes like updating Instagram, clearing the cache file, switching the network providers, etc., if there's a problem at your end.
After reading this article, I'm sure you know the meaning of server error 5xx and what you can do to solve it. Which of the following does the trick for you? Comment below.
And for everything else, stick with 10 scops.