Because of Intel's low pricing, better productivity, and gaming performance, it's tough not to be tempted by Intel processors.
You are always welcome if you want to change your AMD processor with an Intel one.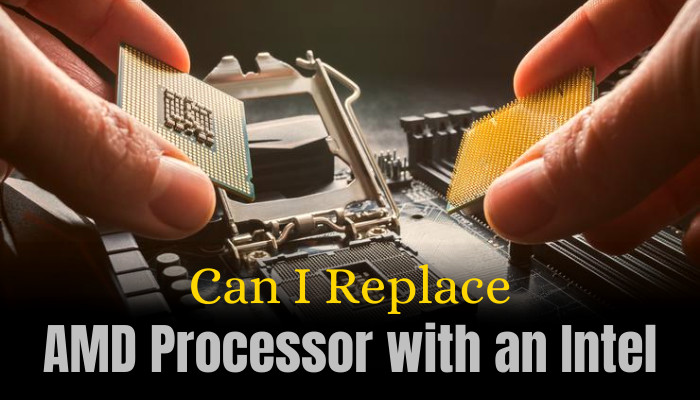 In this post, I will focus on the question — "Whether you can replace an AMD processor with an Intel processor?" And what you need to know before making this switch.
So, tag along.
Can you Replace AMD Processor with Intel Processor?
To shortly say, no, you can't. There is no way you can set up an Intel CPU in place of an AMD CPU. It's because Intel & AMD are two completely different brands, and the motherboard designs are separate. Plus, both the motherboard sockets are not the same.
That's why an Intel processor won't be compatible with an AMD configuration motherboard.
Technically, the socket is the leading cause you can't install the Intel CPU in the AMD processor's place. A processor socket is a place on the motherboard where the CPU stays plugged in.
The interesting aspect of CPU sockets is that all sockets are different. Even in the same brands of motherboard and CPU, the socket isn't the same.
The differentiation happens due to its pin count and type. For example, the 9th Gen Intel CPU has 1151 pins, and the 10th Gen Intel CPU has 1200 pins.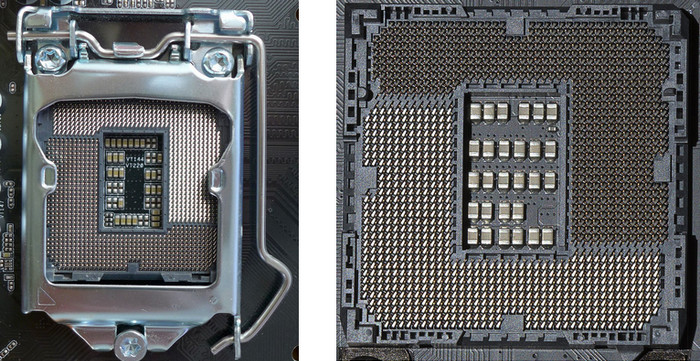 The same reason goes for laptops. It is impossible to replace the AMD processor with the Intel one. You can't upgrade your laptop's CPU.
Generally, there are two types of sockets. One is LGA (Land Grid Array), and the second is PGA (Pin Grid Array). Most motherboards have one socket. But if you buy an expensive or custom-built motherboard, you can get more than one socket in the motherboard.
Below I have given a list of sockets and chipsets for Intel and AMD processors. Check those out.
For Intel Processors
|  CPU | Type | Pins | Socket | Chipset |
| --- | --- | --- | --- | --- |
| Intel 7th Gen | LGA | 1151 | LGA1151 | C236 |
| Intel 8th Gen | LGA | 1151 | LGA1151 | Z390, B360 |
| Intel 9th Gen | LGA | 1151 | LGA1151 | Z390, B360 |
| Intel 10th Gen | LGA | 1200 | LGA1200 | Z590, Z490, B560, B460, H570, H510 |
| Intel 11th Gen | LGA | 1200 | LGA1200 | Z590, Z490, B560, B460, H570, H510 |
| Intel 12th Gen | LGA | 1700 | LGA1700 | Z690, H670, B660, H610 |
| Intel 13th Gen | LGA | 1700 | LGA1700 | Z790, Z690 |
| Intel Core & Xeon Workstation | LGA | 2066 | LGA2066 | X299 |
For AMD Processors
 CPU
Type
Pins
Socket
Chipset
AMD 1000 Series Athlon & Ryzen
PGA
1331
AM4
A520, B550, X570
AMD 2000 Series Athlon & Ryzen
PGA
1331
AM4
A520, B550, X570
AMD 3000 Series Athlon & Ryzen
PGA
1331
AM4
A520, B550, X570
AMD 4000 Series Athlon & Ryzen
PGA
1331
AM4
A520, B550, X570
AMD 5000 Series Athlon & Ryzen
PGA
1331
AM4
A520, B550, X570
AMD 7000 Series Athlon & Ryzen
LGA
1718
AM5
X670, X670E
AMD Ryzen Threadripper
1000 & 2000 series
LGA
4094
STR4
X399
AMD Ryzen Threadripper
3000 series
LGA
4094
sTRX4
TRX40
AMD Ryzen Threadripper Pro
5000 WX series
LGA
4094
sWRX8
WRX80
AMD Epyc
LGA
4094
SP3
Chipset Free
From the table, you should understand how different both of these brands' sockets are. It also indicates why you can't change the AMD Processor with Intel Processor. To learn more, read how to check the AMD chipset version.
If you want to switch from AMD to an Intel processor, you must require an Intel motherboard. As I clear in this section, AMD and Intel motherboards will only support the installation of their respective CPUs.
As you can see, you have to use either an Intel or AMD CPU; you cannot swap one with the other. And in case you are wondering which processor to go with, the AMD vs Intel article will clear all your doubts.
Moreover, if you are looking to buy an entry-level CPU, check out the differences between AMD Athlon Vs Intel Pentium.
Can I Upgrade My AMD Processor or Intel Processor?
Yes, you can upgrade your AMD or Intel processor. However, whether or not the new CPU will operate depends on what type of motherboard you have. Most motherboards support all the latest CPUs. Your latest CPU might work if you have bought your motherboard in recent months or years.
Before you buy any Intel or AMD processor, check all the specifications. Make sure your motherboard and hardware components, like RAM, GPU, Hard Drive, etc., are compatible with it.
Once you are certain all the parts will work fine, then you can move forward to buy & install your new upgraded CPU on your motherboard.
If you are going to install the new CPU all by yourself, make sure you take all the proper precautions and have all the tools you need, like a screwdriver, thermal paste, etc.
You should not change the CPU if you have no idea how to do that. It is better to consult a PC expert and ask him to replace the CPU.
Related articles you should check out which is the best CPU cooler and best motherboard for Ryzen 9 5900x.
Do you Have to Change RAM, GPU & Hard Drive If you Change the Processor?
No, you don't need to change your RAM, GPU, or Hard Drive when you upgrade your processor. The processor should easily be compatible with other hardware products that are connected to the motherboard. On the bright side, you won't have to install a new OS if you replace your processor.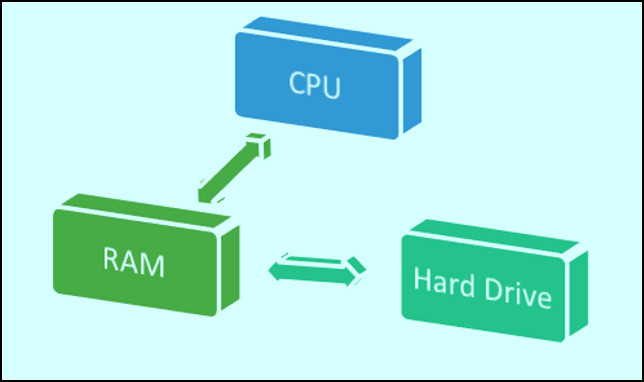 You don't need to worry about changing other hardware parts until you switch your processor brands. As you already know, if you replace the processor with another brand of CPU, obviously, you will need a new motherboard.
The new motherboard may or may not support your old hardware components. If the motherboard cannot adapt to the old components, you'll have to spend money to repurchase those motherboard compatibility products.
It means you have to waste extra dollars just because the new motherboard can't compact with your already installed hardware parts.
My advice, check every detail before you switch or upgrade your CPU.
FAQs
Can you swap a Ryzen CPU for Intel?
No, you can't swap a Ryzen CPU for Intel. It's because Ryzen is an AMD series CPU. You can't place an Intel CPU on an AMD motherboard.
Do I need to reinstall Windows if I switch from AMD to Intel?
You don't need to reinstall Windows if you switch from AMD to Intel. You will have to install Windows if you change your hard drive, not for changing the processor.
Why do people prefer AMD over Intel?
People prefer AMD over Intel because of its cheap price range. Users can experience similar CPU performance on AMD without spending more on Intel.
Final Thought
I hope I have cleared the concept of whether or not an Intel processor can be used in place of an AMD processor.
If you are looking for a suggestion, my advice would be to stay with the processor you have right now. As you already know, switching to different brands requires replacing your motherboard.
Consider making an upgrade with the same brand. It's more cost-effective and advantageous. Comment below if you have any queries. I will gladly answer them all.
Peace!