In modern days, AMD, who used to sell weaker processors than Intel, offered us the Ryzen series. They took control of the chip market & offered performance as Intel in both single & multithreading scenarios.
But that doesn't mean Intel is dead, instead, they provide remarkable performance with their Raptor Lake series. Both team red & blue makes it harder to choose a CPU with their superb processors.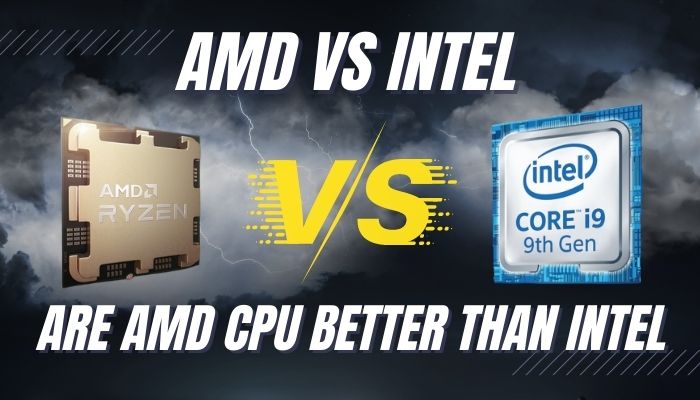 AMD vs Intel is an extensive topic, but in this article, I will explain the most to-the-point issue you should care about to know the battle of these chips.
What is The Difference Between AMD & Intel Processors?
If you compare the functionality of two desktops, one with an Intel chip & the other with an AMD CPU, it will be hard to distinguish any difference. It is also hard to differentiate in plain eyes which PC is powered with what CPU without further checking.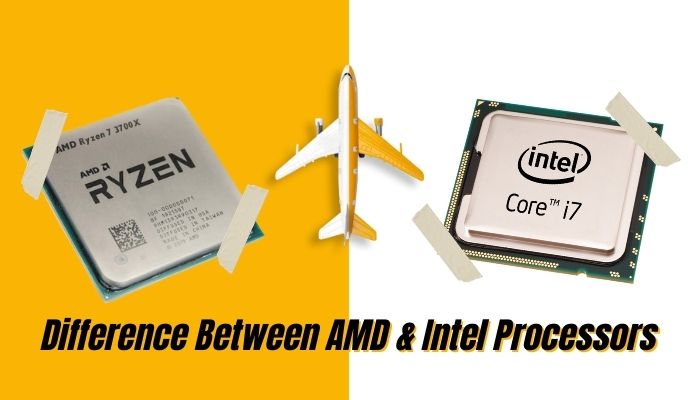 So, what's the diversity these two chips offer that makes us concerned about the performance?
Here are the varieties the two chip titans make us harder to pick:
Performance boost in gaming
Productivity performance
Overclocking potential
Power Consumption
Integrated graphics
Potential longevity
Pricing
Besides these, the processor manufacturers produce consumer & enterprise CPUs, which makes a difference during picking a CPU.
Enterprise CPUs having much higher cores are designed for high workloads and can sustain 100% load for a longer time, but consumer CPUs with less core count are not made for that. That's why server chips are costlier than desktop processors.
Also, check out our separate post on is Intel i5 good for gaming?
AMD vs Intel: The Chipmaker's Impact on Different Fields
The legendary technology battle continues between AMD & Intel. This clash gives us the latest advanced tech at a better price. Both of them improve power efficiency with reduced die size & increased amount of transistors with newer architecture.
But the question is, "Is AMD CPU better than Intel?" To know this, we have to know the chip's influences in different categories.
Before that, in short, we can say AMD gained a lot of attention & appreciation for their Zen-based CPUs in the desktop lineup. Conversely, Intel is not far behind & also offers the best performance at an attractive price with their Raptor lake. So, this makes it hard for customers to decide & comment straightway which is the best CPU.
Here are some categories in which the two giant chip producers make difference:
1. Gaming Scenario
As technology is advancing, modern monitors are now aiming for higher Hz for the least latency. ASUS ROG Swift is a 500 Hz monitor aimed at competitive gamers. To get the full benefits of a higher Hz monitor, higher frame rates are also required.
To squeeze out a powerful GPU, a well-balanced processor is also crucial. In the gaming context, choosing a CPU can get fuzzy. Games don't always rely on the speed of a chip. So that's why the fastest CPU will be the best for gaming is not correct.
Following this, we just can't say that AMD's latest top-tier Ryzen 9 7950X is best for gaming, even though it's the fastest. That being said, we can say that AMD's Ryzen 7 5800X3D is one of the best which is specially optimized with V-cache for gaming which can be found for around $450.
Despite being i9-13900K the fastest CPU in the Intel lineup, the 5800X3D is so close in games benchmark score with $250 less than the Intel chip. This raises a question, are the extra bucks worth the extra frames?
If you have a powerful GPU, which is underutilized for a weaker CPU, or if you are not gaining enough frame rates for your higher refresh rate monitor, then the extra FPS is worth it.
As game optimization, RAM, GPU, etc. varies the frame rates, here is a glimpse of some games' avg. FPS with different CPUs. The benchmark is done with RTX 3090 & 32 GB of DDR5-6000 RAM.
| Name | Core i9-13900K | Ryzen 9 7950X | Core i5-13600K | Ryzen 7 7600X | Core i9-12900K | Ryzen 7 5800x3D |
| --- | --- | --- | --- | --- | --- | --- |
| Forza Horizon 4 | 273 | 257 | 257 | 248 | 234 | 214 |
| Cyberpunk 2077 | 128 | 128 | 128 | 125 | 126 | 128 |
| Far Cry 6 | 142 | 153 | 142 | 141 | 141 | 147 |
From the table, you can clearly see that the battle is so intense. Though overall, 5800X3D performs so close for its 3D V-cache technology, it doesn't affect all games & doesn't work on applications either.
This creates 3 types of choice when you go for a CPU; bang for buck, budget chip & value chip.
Price to performance is a balancing act, by which you go for a chip that justified its price. Alternatively, budget CPUs are a lower-cost solution without compromising too much performance.
For example, if Intel's 13th-gen is a bit higher for the budget, you can go for the 12th-gen processor with some fewer bucks. Besides this, you can also choose AMD's 5000 series chips for such cases instead of the 7000 series.
The best value CPU is when you want the best performance for your case, like gaming. Intel's i5-13600K is one such value processor, which fights better than AMD's 7600X in a mid-range budget. Though AMD's X3D version of the 7000 series can change the plot, the price will justify the value.
Now you know about gaming performance distinction between AMD and Intel CPUs, let's jump into how they help us boost productivity. Shall we?
2. Productivity Performance
Even though it can be a fact that the fastest is the best, budget is also a considerable thing to find the sweet spot. For content & multimedia, mid-range chips offer bang for the buck & this section is prevailed by Intel at the moment.
While writing this piece of information, Intel's i5-13600K offers a lot for creative cloud or MS Office, with its 14-cores support for only around $319. This saves both your budget from the CPU & also from the power bill.
Top-tier battles for Intel & AMD are supposed to happen between Ryzen 9 7950X & i9-13900K. In this case, i9-13900K is slightly ahead of the 7950X in benchmarks.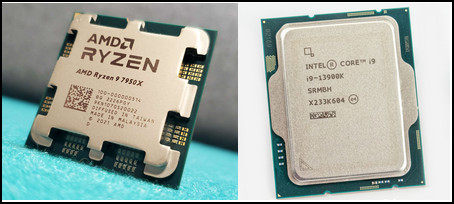 As Intel's 24 cores 13900K has P-core & E-cores, it makes some differences for the Ryzen 9's 16-core chip with less price. Despite being both remarkable, when the higher priced 7950X gets outscored by the 13900K, it raises a question whether to invest the extra bucks on the Ryzen. DDR4 support is another factor that hampers decision-making.
Here is a table of Geekbench 5 & Cinebench R23 overall scores for various CPUs paired with RTX 3090 & 32 GB DDR5-6000 RAM.
| Name | Core i9-13900K | Ryzen 9 7950X | Core i5-13600K | Ryzen 7 7600X | Core i9-12900KS | Core i9-12900K | Ryzen 7 5800x3D | Ryzen 9 5950X |
| --- | --- | --- | --- | --- | --- | --- | --- | --- |
| Geekbench 5 (Single-core) | 2206 | 2149 | 1958 | 2088 | 2008 | 2036 | 1599 | 1726 |
| Geekbench 5 (Dual-core) | 23786 | 23764 | 16199 | 11230 | 18664 | 18259 | 10633 | 14239 |
| Cinebench R23 (Single-core) | 2259 | 2018 | 2000 | 1962 | 2087 | 1989 | 1460 | 1541 |
| Cinebench R23 (Dual-core) | 40191 | 37182 | 24083 | 15421 | 26372 | 27344 | 14544 | 27328 |
From the table, it is easy to say, Intel's top one justified its price for greater performance than AMD's superior one.
Also, check out our epic guide about what is AMD equivalent to Intel Core i5?
3. Overclocking Headroom
For hardware enthusiasts, overclocking is a feature they don't overlook. As this can offer some boost in performance without spending extra bucks. Though for newbies, it is often overlooked, nowadays, this is becoming trending as OCing is becoming safe with some auto OC features.
Both Intel & AMD provide an identifier with their CPU model which indicates the chip's capability. Here's the table of the CPU identifiers which will help you to know about the chip.
| Intel Suffix | Meaning | | AMD Suffix | Meaning |
| --- | --- | --- | --- | --- |
| E | Embedded | | X | High performance (desktop) |
| F | Requires discrete GPU | | XT | Slightly higher boost speeds |
| G | Includes discrete GPU | | G | Includes discrete GPU |
| K | Overclockable | | U | Mobile power efficient |
| S | Special Edition | | H | High performance (mobile) |
| U | Mobile power efficient | | GE | Efficiency with discrete GPU |
From the intel suffix, it is the K variant including KS & KF, which is overclockable. Whereas, almost all AMD chips are unlocked for OC.
Besides that, AMD's X variant is more effective to OC, which helps for an extended frequency. While the rest of the AMD chips have the capability of auto OC with PBO, Ryzen 7 5800X3D is excluded from this.
Not to mention, OC depends largely on the motherboard. So having an unlocked CPU is not enough for overclocking. While Intel had the most OC headroom in the past, Ryzen is not far behind.
Having the max clock is not worth it if it's unstable. So, maintaining stability with a higher clock differs from the battle of overclocking. Here are some differences in base & max frequency between the latest Intel & Ryzen.
| Processor Name | Base Clock | Turbo Clock | TDP |
| --- | --- | --- | --- |
| Ryzen 9 7950X | 4.5 GHz | 5.7 GHz | 170 W |
| Core i9-13900K | 3.0 GHz (P-core) | 5.8 GHz (P-core) | 125 W |
| Ryzen 9 7900X | 4.7 GHz | 5.6 GHz | 170 W |
| Core i7-13700K | 3.4 GHz (P-core) | 5.4 GHz (P-core) | 125 W |
| Ryzen 7 7700X | 4.5 GHz | 5.4 GHz | 105 W |
| Core i5-13600K | 3.5 GHz (P-core) | 5.1 GHz (P-core) | 125 W |
| Ryzen 5 7600X | 4.7 GHz | 5.3 GHz | 105 W |
After learning about the overclocking ability, another important area to look for is iGPU. Read along to know more about this.
4. Integrated Graphics
Both Intel 12th & 13th gen contains the same Intel UHD 770 integrated GFX, which is also known as iGPU. Here is a benchmark of Intel's Xe-LP architecture-based iGPU with AMD's RDNA 2 architecture-based iGPU.
iGPU performance
Application name
Intel i9-13900K
Intel i5-13600K
Ryzen 9 7900X
Time Spy (Graphics score)
1388
1315
739
GTA V (low gfx settings)
64
63
54
CS: GO (high settings)
60
53
131
From the table, it is clearly stated that the i9-13900K is way ahead from the 7900X with 1388 points. For the game GTA V & CS: GO, Intel's top tier outperformed the 7900X for the GTA V, but lost the battle for the latter game at 1080p.
This indicates how dominating Intel's iGPU is & their shipment share against Nvidia & AMD. From 2009-2021, Intel's GPU shipment share was avg. 60%-70%, without producing dedicated graphics with just iGPU. Whereas, NVIDIA & AMD's share was only 10%-20%.
5. Potential Upgradability and Compatibility
With some pros & cons, each chip manufacturer has different chipsets in their motherboards. This ensures the longevity of a CPU generation for a chipset or mainboard & how often you have to upgrade the mobo for the latest gen processors.
Intel's Compatibility
Forces to buy new motherboards for each generation is not a good practice. In recent years, Intel is practicing this & implemented a new socket system for their latest chips, which forced the motherboard usability for a certain period & lacked future compatibility.
Whereas AMD just publishes a BIOS update to support their newer CPUs for their AM4 socket. Intel changes the sockets frequently, which requires a brand new mainboard.
AMD Ryzen Compatibility
As already mentioned, AMD extended their compatibility for their Ryzen series chips with a BIOS update for their B & X series AM4 motherboards. But as technology is evolving, they have to move to the new AM5 mainboards after six years of AM4 support.
In terms of upgrade path, AMD prevails. You can install a Ryzen 5000 CPU on an A320 board. You need no reinstallation of Windows to upgrade these AM4 CPUs.
The AM5 motherboards are for Zen4 CPUs, which are also compatible with DDR5 memory only. So if you want to stick with DDR4 RAM, you have to stay with AM4 as AM5 has no backward compatibility for DDR4. But from this perspective, Intel has both DDR4 & DDR5 support for their Raptor lake chips.
Check our latest post on difference between Intel Atom vs. Celeron vs. Pentium CPUs.
6. Pricing
From low budget to the latest mainstream, both giant CPU manufacturers have a wide variety of chips. The latest 13th gen is called Raptor Lake for Intel, whereas AMD's Ryzen 7000 series is called Raphael CPUs.
With the Raptor lake, Intel offers almost 6 GHz frequency with up to 24 cores & more cache than their previous gens. Whereas AMD's Raphael CPU offers up to 16 cores with 80 MB cache! But these benefits come at a cost.
Here is a chart for the latest gens Intel & AMD processors price with cores & cache size. (The price may differ when you read this for manufacturer price cuts or discounts)
| Name | Cores / Threads (P+E) | Cache (L2/L3) | Price ($) | TDP (W) |
| --- | --- | --- | --- | --- |
| Core i9-13900K | 24 / 32 (8+16) | 68MB (32+36) | 589 | 125 |
| Ryzen 9 7950X | 16 / 32 | 80MB (16+64) | 699 | 170 |
| Ryzen 9 7900X | 12 / 24 | 76MB (12+64) | 549 | 170 |
| Ryzen 7 5800X3D | 8 / 16 | 96MB | 449 | 105 |
| Core i7-13700K | 16 / 24 (8+8) | 54MB (24+30) | 409 | 125 |
| Ryzen 7 7700X | 8 / 16 | 40MB (8+32) | 399 | 105 |
| Ryzen 5 7600X | 6 / 12 | 38MB (6+32) | 299 | 105 |
| Core i5-13600K | 14 / 20 (6+8) | 44MB (20+24) | 319 | 125 |
Now you know, some fields where AMD & Intel differentiate their CPU & makes it harder to give a direct statement which is the best. It really depends on the consumer & their usage cases.
Besides these, another thing customers want to make sure of is power efficiency & cooling. To know more about this, read along.
Read more on difference between AMD Athlon vs Intel Pentium.
AMD vs Intel: Which CPU Runs Cooler?
CPU & GPU are the two components that get the warmest under load. As we are talking about CPU, we can set aside GPU. When the CPU consumes more power, it produces massive heat. This leads to a louder cooler with extra electricity bills.
So to keep a system cool with less noise, we need a power-efficient CPU. But how to tell if a processor is efficient? Intel & AMD both publish a TDP value (Thermal Design Power) which indicates how much heat the CPU will dissipate. That being said, a lower TDP chip will run cooler & more efficiently.
From the above table, you can see that mid-ranged AMD chips have less TDP value than Intel's. However, this doesn't mean the processors are not able to cross that number.
During overclocking & with an unlocked power limit, the chip can cross the TDP value & generates more heat.
AMD vs Intel: Laptop CPU Performance
While everyone talks about desktop chips, their high price & power consumption, many users still preferred & required a laptop for day-to-day work. In the laptop market, Intel is dominating with various gens & iGPU.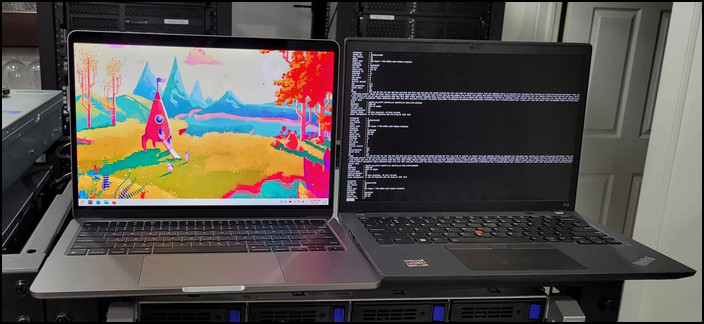 In contrast, AMD is trying to establish its reign with its Ryzen 6000 & its upcoming Ryzen 7000 mobile processors. Compared with Intel, these chips show a positive performance with efficiency.
Whereas AMD will release new laptops with their 7000 series, Intel is marketing with their Alder Lake generation. These laptops come with U, P, H & HX models. The models are from low-power to high-power designs. Though H & HX chips are faster, some models come with fewer cores than the P model, which makes a difference during choosing a laptop.
Like Intel, Ryzen laptops come with C, U, HS & HX models where performance increases with the model name respectively.
Generally, C, P, U models are lighter with a decent iGPU, on the contrary, H & HX models known as gaming laptops & come with a powerful Nvidia or AMD graphics card. Intel's 12th gen is dominating the market, but Ryzen's 6000 series-Asus Zenbook S13 OLED is an amazing notebook, you can't resist trying.
Typically, normal everyday users will need an i5 or Ryzen 5 which will resolve their usage. For gaming purposes or heavy video editing software, i7 or Ryzen 7 would do the task.
What is Better Overall Between AMD and Intel?
Both Intel & AMD processors can give the same experience for normal day-to-day movie watching, working with mail, or web browsing. Though, some specific work performs better with certain CPUs.
Like, AMD's top-tier enterprise chips with higher core count act better in workstations, whereas, Intel is best for your work criteria for its higher clock frequency with high-end chips. Besides that, Intel CPUs are also more reliable.
But as the chip needs to meet your requirement, if you are into productivity work that requires intensive multithreading like rendering, encoding, decoding, and editing, an Intel-powered laptop will give you better battery life. Whereas, on a desktop, for a mid-range budget, go for an Intel chip & for the high-end processor, any chip will be good.
For hardcore gamers on desktop, top tier i9-13900K is the best CPU overall, but AMD's 7900X is also a great substitute. For the mid-range, Ryzen 7700X & i5-13600K will give you the best experience.
But don't forget about the Ryzen 7 5800X3D, which is superior for many games for the 3D V-Cache technology. The upcoming 7000 series X3D has the potential to change the game too.
Last but not least, while Intel still leads the market due to bang for the buck, gamers still want to buy an Intel chip. Whereas, for higher-end multithreaded performance, AMD will be slightly ahead of Intel for their powerful workstation CPUs.
In case you are an AMD CPU user but want to use Intel now, go through the article, can you replace your AMD processor with Intel, before swapping the CPUs?
FAQs
What could be the normal temperature for gaming Processors?
A normal operating range for a CPU, while you're playing games, should be between 61° C-73° C (142° F-164° F).
Which CPU models Support overclocking?
Intel's K variant & all Ryzen chips are able to overclock with proper motherboards.
Is 5800X3D worth it?
Ryzen 7 5800X3D has 96 MB cache & with 3D V-Cache technology, it helps most of the games
To perform exceptionally better. But this is not applicable for other applications. So for gaming, it is definitely worth it.
Final Verdict
AMD vs Intel, the battle of prowess, still running like fine wine. Their competition offers us newer technology with more performance benefits. This also ensures a price cut for the customers.
While Intel is offering the best version in the consumer section, AMD is showing its superiority in workstations. But depending on the requirement, both CPUs have available options to compete in all segments.
In this article, I deciphered the battle between Intel & AMD. It is a never-ending combat at the moment, which is great for advancing technology. If you have further queries, leave a comment.