It doesn't matter whether you are a gamer or a professional. The latest Ryzen 5900x can deliver all types of performances that you want.
Now for housing such a high-end processor, you would obviously want the best possible motherboard.
In a hurry, check my #1 favorite AMD motherboard.
As in this post, I rated and reviewed the best options that would suit your Ryzen build.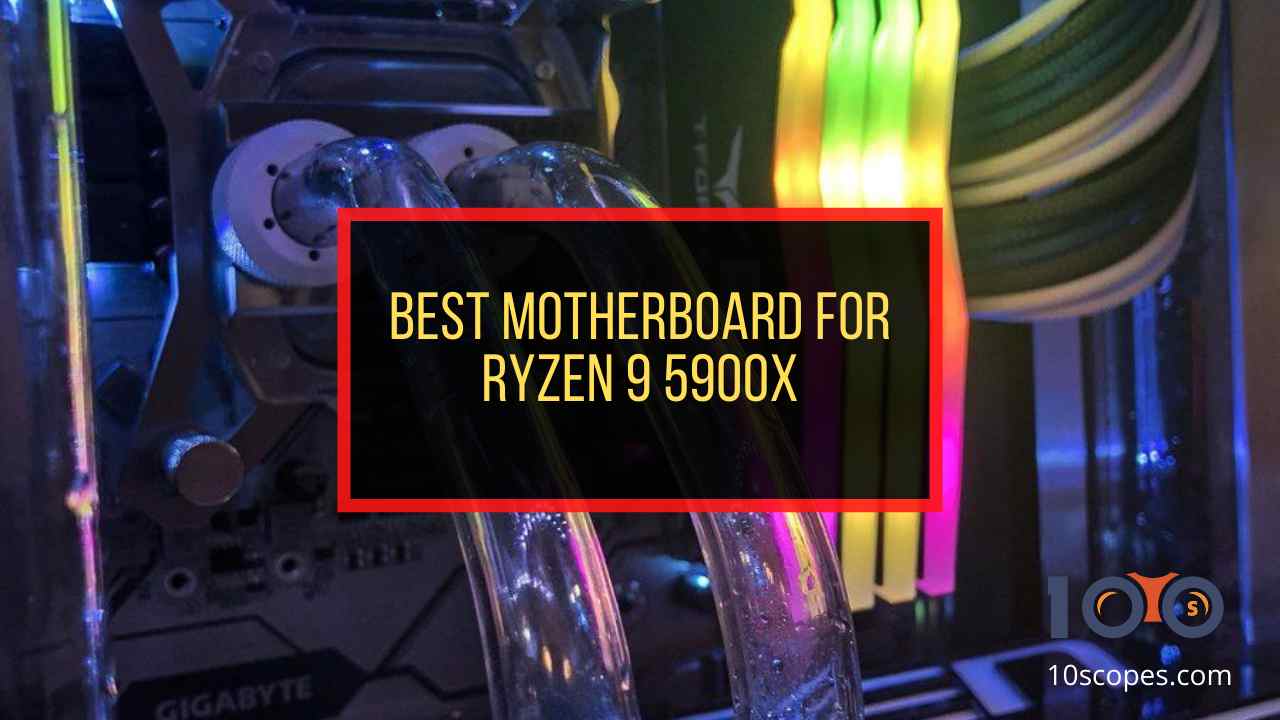 Or take a chill-pill and read my take on some finest motherboards for 5900x.
Have a couple of minutes to spare? Check out our related post on the best motherboard for Ryzen 7 5800x.
Best Ryzen 5900x Motherboard – Our Recommendations
Since this Ryzen 9 5900x is a high-end chip, you need a reliable motherboard to handle it properly.
Because if you go for a random option, high chances are there that the performances would be limited.
You should buy those motherboards that give you enough headroom for overclocking and consists of other necessary features.
Thinking of building a gaming PC with all 3rd gen AMD components? Check out our experts recommended best graphics card for Ryzen 7 3700x, best RAM for Ryzen 7 3700x, and the best motherboard for Ryzen 7 3700x.
Here are the best motherboards for Ryzen 9 5900x:
1. Gigabyte X570 Aorus Xtreme
For top-end chips, top-end motherboards are paramount. So, let me start with a flagship option.
Gigabyte brings you one of the most potent motherboards where you can house your Ryzen 5900x. This model from them attributes the following features:
16-phase power delivery
12 USB ports
Memory Speed: 4400 MHz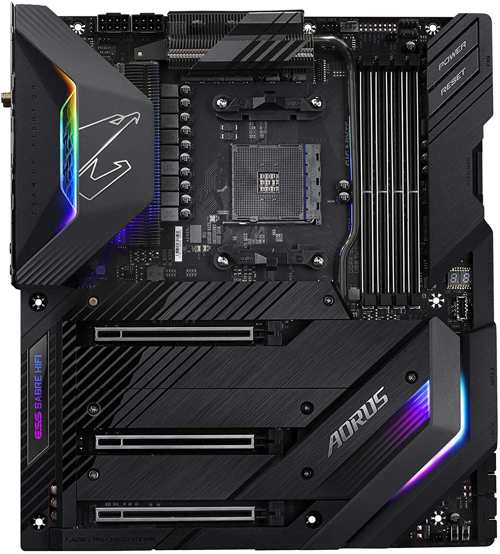 Check Today's Price of Gigabyte X570 Aorus Xtreme ➜➜
Gigabyte built this motherboard to give you a top-end experience. It looks gorgeous.
The all-black armored cover gives it a subtle look. It proves the point that it is here to make things Xtreme.
The total build-up is phenomenal. Every choke, capacitor, or even connection is highly durable.
You will also love to know that this board makes the best use of passively cooled chipset heatsink. It is excellent news for people who want high-end boards.
Other vital features include 16-phase power delivery, two full-length PCIe 4.0 slots. About the memory support, you can accommodate 128 GB RAM at max. Also, as a user, you can use the unbuffered ECC memory.
The best part is:
24-pin motherboard output is hidden, which is mainly beneficial for cleaner looks and proper cable management.
So, in my opinion, this is the best Ryzen 5900x motherboard that you can get.
Also, check out the suitable RAM for Ryzen 9 5900x.
Pros
»

Durable chokes and capacitors

»

Top-notch performance

»

Gorgeous looking
2. ASUS ROG X570 Crosshair VIII
The ROG series of motherboards from ASUS are well known in the gaming community. For their super reliability, gamers like me often sought them as a suitable option.
That said, this motherboard with an X570 chipset can be a good deal to make.
This model comes with the following specs:
5-way optimization
Pre-mounted I/O shield
Comprehensive thermal design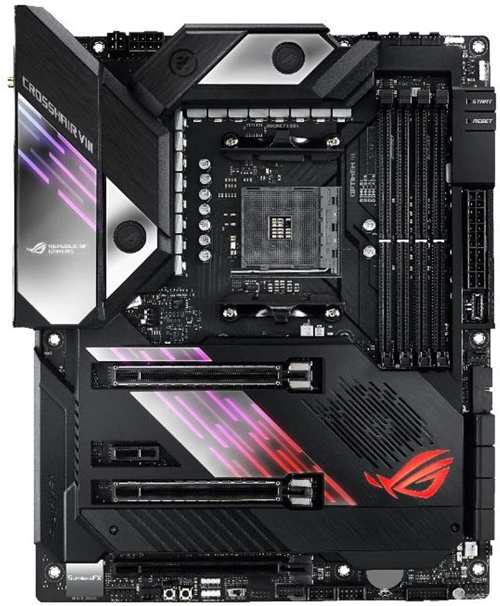 Check Today's Price of ASUS ROG X570 Crosshair VIII ➜➜
The ASUS ROG X570 Crosshair VIII formula is what every performance enthusiasts should look for.
It consists of many features, which are enough to lure any gamer to buy this board. To be precise, this motherboard for 5900x is something that will allow you to go beyond limits.
This motherboard everything in it. Fastest data transfer speeds or gorgeous looks. It has everything to offer. It will enable you to tweak your system further and achieve the best possible output.
In a real sense, if you're one of those average users, then I would not suggest going for it. Because I know you won't be able to make full use of it.
Such a waste of money… isn't it?
But if you seek powerful performance, this motherboard is a sure-shot top buy.
Check out my recommended motherboards for Ryzen 5 5600x.
Pros
»

Plethora of features

»

Fancy looks

»

Overclocking is flexible
3. ASUS ROG Strix B550-A Gaming
The B550-A gaming from the ASUS ROG Strix series of motherboards is a top choice for Ryzen 5900x. This model comes with some superb features:
14 USB ports
Dual-channel memory architecture
2x M.2 slots and 6x SATA 6 Gbps ports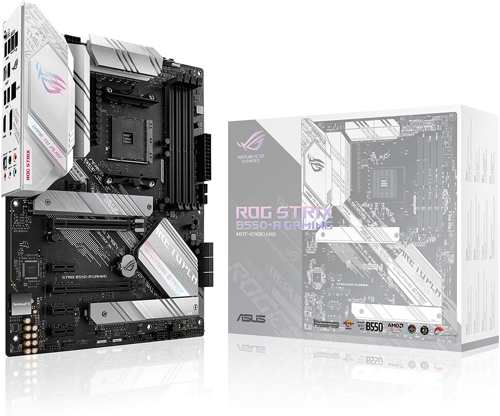 Check Today's Price of ASUS ROG Strix B550-A Gaming ➜➜
If you are building a white gaming rig, I reckon this motherboard might be the most appropriate option. Durability, performance, and aesthetics of the superb quality; this motherboard got all to offer.
All over the body, superb finishing is given. I found the silver-white finishing to look great. Now, if you are fond of the cyberpunkish type of vibe, you will love this board.
This type of outlook makes this board stand out from its competitors. Besides, if you are a beginner in building rigs, this motherboard is the most suitable one for you.
I would say that it's impressive.
Also, receive some latest updates concerning the best CPU Coolers for Ryzen 7 5800x.
When testing, I was extremely pleased with the 5900x working better with all four channels of RAM used.
The best part is:
You will be able to have NVMe RAID, which will ensure the performance boost of the system. As for temperature control, the top-quality capacitors and chokes are good enough to lower the temps.
Besides, lag in file transfer rates wasn't an issue, thanks to the onboard 2.5 Gb ethernet. Moreover, this board is a great option that ASUS got to offer. I highly recommend you to use this if money is no issue.
Pros
»

Great for all-white themed builds

»

Durable choke and capacitors

»

Ensures lag-free file transfer
Cons
»

Not be suitable for budget buyers
4. MSI MAG X570 Tomahawk
Here I bring you another option with an X570 chipset. This time it is from the gaming brand MSI, which is mostly known for its motherboards.
This model from MSI comes in with some excellent specs:
Memory speed: 4600 MHz
Frozr heatsink design
Number of memory slots: 4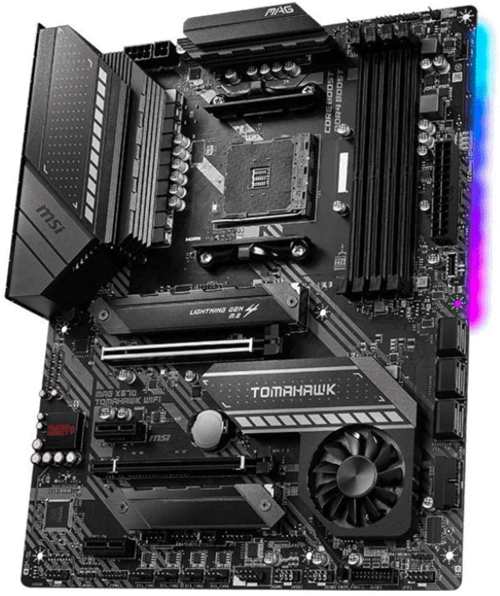 Check Today's Price of MSI MAG X570 Tomahawk ➜➜
As a mainstream motherboard, it's an excellent option to build your system around. Like other MSI boards, it does possess a plethora of features. So, no reason for worrying about the money you are going to pour on it.
I liked the fact that it perfectly suits the Ryzen 9 5900x. This board got a well-optimized circuit layout, which is essential for this very processor.
Also, Check out our experts recommended CPU coolers for Ryzen 9 5900x.
You'll love to know that:
The heatsink of this board is its unique selling point as it has a Frozr heatsink design. You will get through such a design is the patented fan and double ball bearings, ensuring the best possible performance.
In my opinion, the power delivery parts are top-notch. They will surely provide the utmost stability while in operations.
As for RGB, the Mystic Light extension will allow you to customize the lighting using 16.8 million colors in 29 different patterns.
The only downside that I felt was the limited space between USB ports. They were a bit congested—otherwise, no significant issues. Overall, this motherboard for Ryzen 9 5900x is a nice one to buy at a reasonable price.
Pros
»

Bugless RGB software

»

Nice heatsink

»

Reasonable price
Cons
»

Limited space between USB ports

»

No clear CMOS button
5. ASUS ROG Strix B550-I Gaming
For low-profile rigs, motherboards with smaller form factors would be more appropriate than traditional ones.
In that case, the ASUS ROG Strix B550-I gaming should be your consideration. This model from ASUS possess the following features:
11 USB ports
4x SATA 6 Gbps ports
Bluetooth 5.1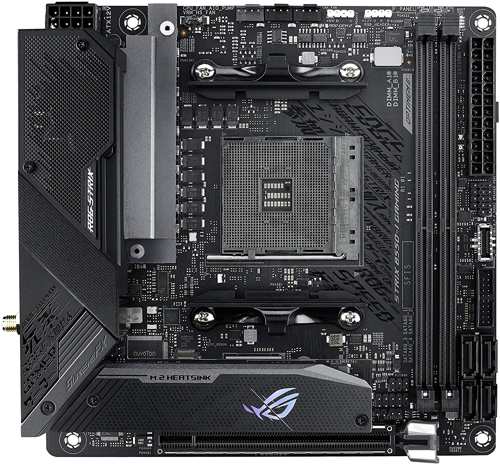 Check Today's Price of ASUS ROG Strix B550-I Gaming ➜➜
This Ryzen 9 5900x motherboard is an ideal option for the mini-ITX builds. If you feel that you are short of space and need a top-end motherboard for your compact rig, then it is the best choice to buy.
At first sight, I was in love with the design and the textures used in the body. The cybertexts and the bold slashes gave me a cyberpunk-like futuristic feel.
The aluminum-made heatsink is very durable. Does a superb job in dissipating heat. Using the Ryzen 5900x, I found the data speeds pretty awesome. There was almost no lag.
Use this futuristic design with the best Ryzen 9 5900x RAM.
Now, if you love overclocking, the ASUS Optimem II is there to make your job easy. Also, I found it super-easy to set up this motherboard.
To sum up, I would label this board from ASUS as a workhorse. Pretty sure it will live up to my labeling when you use it in your build.
Pros
»

Futuristic design

»

Durable heatsink

»

Suitable for builds with smaller form factors
6. Gigabyte B550 Aorus Pro
Here I bring you another motherboard from Gigabyte. It is the one with a B550 chipset, called as B550 Aorus Pro.
This model comes with the following features:
4x DIMM
12+2 power stage design
6x SATA 6Gbps ports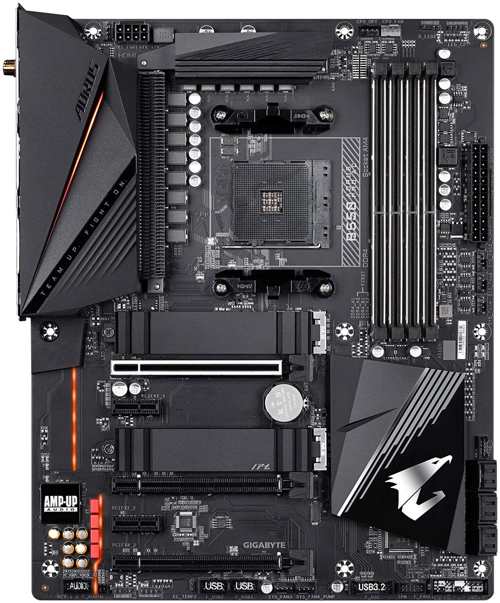 Check Today's Price of Gigabyte B550 Aorus Pro ➜➜
If you want my honest opinion about this board, I would say it's pretty decent. The layout is well built and looks nice. It also includes a good number of features, which makes it suitable for Ryzen 5900x.
A plethora of USBs, along with robust VRMs, is like icing on the top of the cake. Now, if you are into flashy designs, this motherboard wouldn't be an ideal choice. But the neutral gray-blackish theme is pretty decent, in my opinion.
At least it isn't over-appealing. That makes it a perfect choice for gamers who are minimalists.
When I tested this board, I was able to overclock without any issues. Also, the installation was a pretty easy task. Though it doesn't possess USB 3.2, other USB ports somehow make it up.
Consider looking at my best Cpu coolers for Ryzen 5 5600x.
Pros
»

Robust VRMs

»

Perfect option for minimalists

»

Easy installation
7. MSI MPG B550 Gaming Edge
Here I got the last option for you from MSI. This is the MSI MPG B550 Gaming Edge that can be a decent option.
This model attributes some fine specs:
Memory Storage Capacity: 128 GB
2x M.2
2x PCIe x 16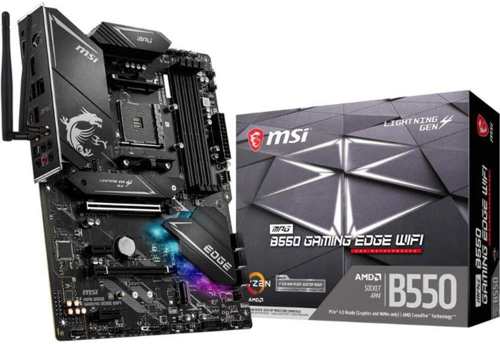 Check Today's Price of MSI MPG B550 Gaming Edge ➜➜
This ATX motherboard comes with a splendid layout. The all-black texture looks ecstatic. I won't waste much time on features. It's pretty the same as all other B550 boards out there in the market.
Now, this might make you question its specialization.
Fair Enough.
What makes this board stand out is its superior memory-boosting capability, unlike its competitors. The memory circuit layout is optimized in such a way, which ensures the highest level of performance.
Taking about the RGB, like all other boards from MSI, it uses the Mystic light extension. You will get a staggering pool of 16.8 million colors to choose from for customization.
Nonetheless, it is an excellent option to choose that too at an affordable tag.
Pros
»

Offers great value

»

Onboard Bluetooth
Cons
»

Wi-Fi might have connectivity issues

»

The Number of USB ports could've been greater.
Ryzen 9 5900x Overclocking Guide
Once you make everything fall on places like getting the perfect motherboard and other components, it's time to make sure that you get the most out of it.
Let's get this straight:
I am talking about overclocking your Ryzen 9 5900x.
To do this, you need to know the right process and apply it appropriately. As overdoing it or faulty tweaking can hamper your PC's components.
Therefore, what to do?
Worry not as I got your back.
Here are the ways to overclock your Ryzen 5900x:
Try Precision Boost Overdrive
It is an extension of AMD's precision boost. Shortly known as PBO, it can handle clock speeds at variable workloads.
Through this, you will handle various parameters and raise them to push the system's performance.
The results might not be the same that you may find on the internet or others. But the simplistic way of handling this process makes it a viable way to tweak.
Go for Auto OC
Auto overclocking will enable your Ryzen 9 5900x motherboard to tweak the system automatically.
As far as I am concerned, I got an override of 150 MHz that too with minimum effort through this process. So, do consider it while you tweak.
Try Ryzen Master
You'll be manually able to adjust the whole tweaking of your 5900x through this method. It doesn't require any restart of the system. Also, you can set the speeds for memory.
But be aware, as it is somewhat susceptible to crash.
Overclock using BIOS
It is time killing yet a very reliable method. As risks associated with it are almost negligible.
I always recommend using this one if that person is a beginner because it is always better to be on the safe side.
FAQ
Question: Does a good motherboard betters gameplay?
Answer: A good motherboard will keep your system functions in the best possible way. So yes, your gameplay will be better if you got a good motherboard.
Question: What is the best mini-ITX motherboard for Ryzen 5900x?
Answer: The ASUS ROG Strix B550-I gaming is the best mini-ITX motherboard you will get for Ryzen 5900x.
Question: Does Ryzen 5900x support X570?
Answer: Yes, the Ryzen 9 5900x supports the X570 chipset, but you need to make sure that your BIOS is updated.
Final Thoughts
That's all for me. These are the seven finest AMD Ryzen 9 5900x motherboards that you can choose from.
Be it high-end, budget, or smaller form factor, you can find it here all.
Still, if there is anything that might seem vague, let me know in the comments.