All these fancy & expensive cooling systems and different types of fans can make you think that the colder the CPU runs the better. But is that truly the case?
Turns out, there's an ideal temperature range that a processor must maintain. A CPU shouldn't exceed this limit nor fall below it.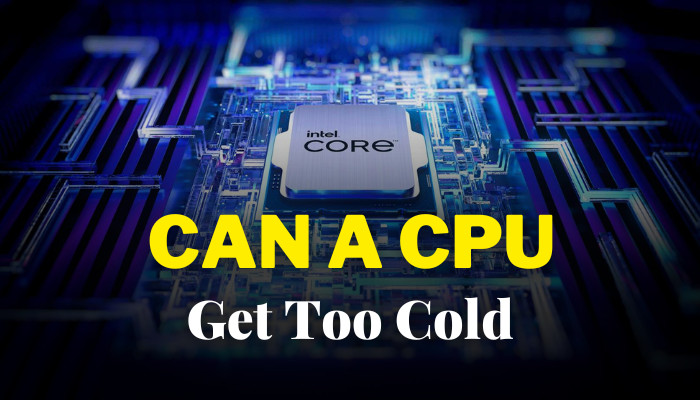 And in this article, I'll explain how cold is too cold for a processor that it becomes a problem, what is the optimum CPU temperature and how you can maintain it.
Let's begin!
How Cold is Too Cold for a CPU?
Although Most manufacturers have rated their processors to run at -40 °C, you should ensure that the temperature doesn't fall below 1.7 °C. Because running the CPU at such a low temperature can cause corrosion and short-circuit the motherboard.
If the processor goes below the dew point, condensation will build up inside the PC case.
As a result, corrosion will occur on the motherboard of the CPU and short-circuit the computer parts.
So, when running the computer in freezing environments, just put the computer case into enclosures to keep moisture out and make sure the processor temperature stays well above 0 °C.
Otherwise, the performance of the CPU will take a big hit, which I've explained in the following section. To know more, here's our extended guide on CPU temperature.
How does Cold Temperature Affect the Performance of a Processor?
We all know what overheating can do to a CPU. But as it turns out, cold temperatures can also be harmful. When a processor operates at extremely low temperatures, it can cause issues such as system instability, malfunction, and even permanent damage.
Most processors can operate in extremely cold environments. But this icy atmosphere can create condensation and damage the CPU. Just a few drops of compressed water can break your processor permanently.
Also, there's fluid inside the display, hard drive, and CPU fan, which can freeze up in the cold temperature of snowy winters and slow down the systems' performance.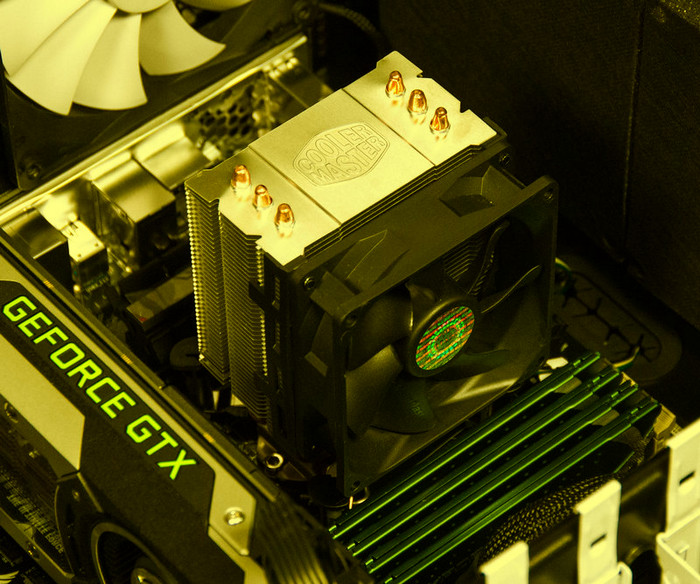 That's why running the PC at a low temperature is a good thing, but don't let it fall below the freezing point, and the CPU will be fine.
So, what is the perfect temperature for your computer?
Let's find out.
What is the Ideal CPU Temperature Range?
Generally, anything between 70–80 °C (158–176 °F) is a safe temperature limit for your CPU when running graphically intensive programs and games on the computer. And for a normal workload, the range can reduce between 40–65 °C (or 104–149 °F).
Let's see what the suitable temperatures are during different CPU operations.
Here's the ideal CPU temperature range:
| Condition | Ideal Processor Temperature for Desktops | Ideal Processor Temperature for Laptops |
| --- | --- | --- |
| During Idle State | 40–54 °C (104–130 °F) | 54–65 °C (130–149 °F) |
| During Full-Load | 70–80 °C (158–176 °F) | 82–87 °C (180–190 °F) |
You should know, for some power-hungry CPUs like the Ryzen 9 7950X or 13900K, the temperature can go beyond the range described in the table at full throttle. And it is also normal for Ultrabooks to be at 75 °C when it's not even running anything intensive.
Now, let's figure out the temperature of your processor and determine whether you should raise or reduce it.
How to Check and Monitor CPU Temperature
To check the processor temperature, go into the BIOS or UEFI menu if you are using Windows 11, 10, or other older versions. Enter the BIOS mode by pressing a specific key, generally, F2, F12, ESC, or DEL repeatedly, when the PC is booting up, and you'll see the CPU temp on the main menu.
Besides, from the BIOS, you can find out how hot the processor is running along with the temperature of each core from third-party apps such as HWMonitor, Temp Core, and MSI Afterburner.
In case you're wondering whether these readings can be wrong or not, read the embedded article to ease your mind.
With the Temp Core app, you can set the temperatures of all the CPU cores right on the toolbar, and MSI afterburner lets you set the processor temperature reading as an on-screen display to monitor the temp while gaming.
Here's our detailed guide on how to check CPU temperature in Windows and Linux.
Let's see how you can keep the processor at an optimum level.
How to Maintain a Normal CPU Temperature
To maintain the perfect processor temperature, whether it's running graphically intensive games or sitting idly, make sure to clean the computer parts frequently and place the CPU case somewhere well-ventilated. Additionally, keep tabs on your CPU temperature while you're gaming.
Follow the instructions below for more details.
Here are the tips to maintain a normal CPU temperature:
Check and replace the thermal paste between the CPU and heatsink if necessary. It helps transfer heat from the CPU to the heatsink, so it is essential that the thermal paste is in good condition.
Clean your PC regularly to remove dust and debris that can block airflow and cause overheating.
Make sure the PC case and any fans are not blocked by anything, as this can restrict airflow.
Ensure that the CPU fan is functioning properly and that it is not obstructed.
Install CPU temperature monitoring software to keep an eye on the temperature of your CPU and to receive alerts if it starts to overheat or becomes too cold.
Keep the PC in a well-ventilated area with plenty of space around it to allow air to circulate.
Upgrade your PC's cooling system if necessary. This might include adding additional fans or replacing existing ones, or installing a larger or more efficient heatsink.
Keep your PC cool by using a desk fan or air conditioning to blow air over it.
Avoid running CPU-intensive tasks for extended periods.
In case you notice the CPU temperature fluctuating, you need to fix it ASAP.
Remember that excessively low temperatures or overheating can cause permanent damage to your CPU and other components. So it's important to take steps to maintain a normal temperature, and the tips described above can ensure that your PC runs smoothly.
FAQs
Can cold damage a CPU?
Yes, a cold can damage a CPU. Extremely low temperatures can cause corrosion on the motherboard and short-circuit the CPU, permanently damaging it.
Is 40 degrees too cold for a CPU?
40 degrees is not too cold for a CPU. Processors are designed to run at 40–65 °C (or 104–149 °F) when idle, and 70–80 °C (158–176 °F) at full load. So, 40 degrees is ideal for a CPU.
What temp will destroy a CPU?
If a CPU runs well above 85 °C or falls below 0 °C consistently, it can destroy the CPU.
Final Thoughts
Yes, every geek dreams of a CPU that runs at a very low temperature. But too much of a good thing is actually bad.
Now you'll understand why you should never run processors at cold temperatures, what is the ideal temp for a CPU and how to maintain it.
Leave a comment below if you have further inquiries, and we'll get back to you.