Are you facing performance issues with your Computer after few minutes of use?
There may be many reasons. I will tell you only one reason now for which this problem happens 99% of the times.
What's a Good CPU Temperature?
A good CPU temperature is anything under or around 50 degrees Celsius (122 degrees Fahrenheit) when idle. Under load, the CPU temp resides under 80-95 degrees. Some CPU's may run hotter when they're in laptops or small-form-factor (SFF) computers.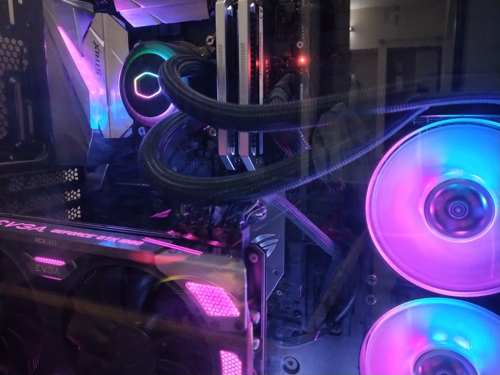 I think you will agree with me when I say:
You start to feel undesirable performance & lags gradually after running the PC for some time.
It's very Simple.
Your PC is getting hotter from time to time by overload.
In fact, high temperature of your CPU and GPU can reduce your computer's performance drastically.
That's why, I am here to help you out monitoring your computer's CPU temperature and also to let you know about how to control it.
3 Easiest Methods to Check CPU Temperature
Do you know? High CPU temperature reduces your computer's performance while multi-tasking, video editing & rendering. Sadly it can also cause bottlenecks and lags while playing your steam games.
It's obvious that:
Your CPU will perform better if the temperature is tolerable.
Moreover, you will be able to overclock your CPU according to your need if you can monitor it's temperature easily.
Here ​are the methods to check CPU temperatures.
1. Check the BIOS Settings
The simplest way to check the CPU temperature from a computer without installing any app is using BIOS.
While starting or restarting your PC you need to enter the BIOS by simply clicking the Bios key (usually "F2" key or the "Del" key).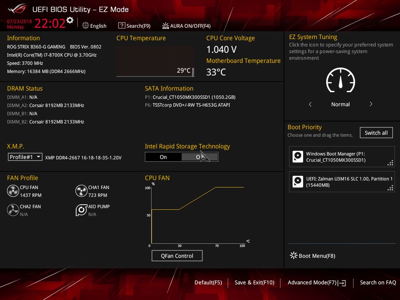 Different motherboard's bios have different interfaces.
But it's nothing to worry about.
You will see a "Hardware Monitor" tab in the bios where you will find the CPU temperature.
2. Use the CPUID HWMonitor Software
It is a hardware monitoring application that reads system data like voltages, temperatures, fans speed.
After downloading and installing this application you can check the temperature just by opening the application.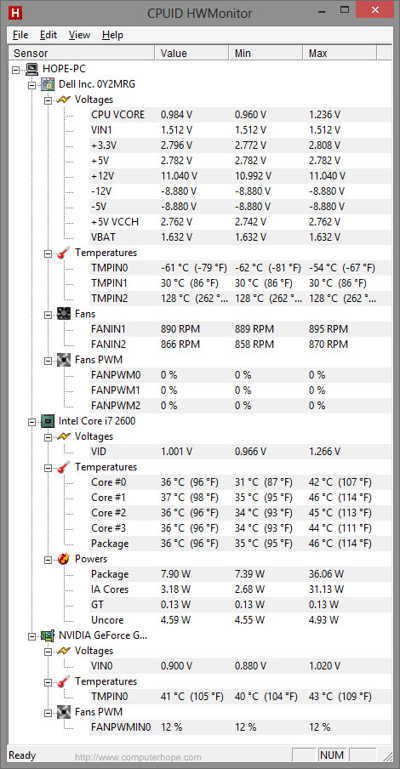 3. Download CPU utilities
Intel and AMD have individual app to overclock and check the status of their Processors.
For Intel processors, You will need the app Extreme Tuning Utility.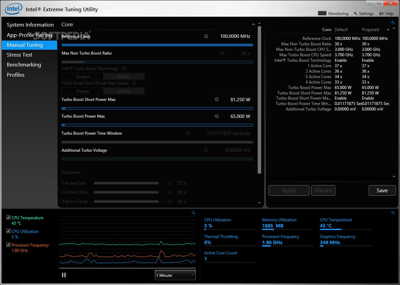 For AMD processors you will require Ryzen Master.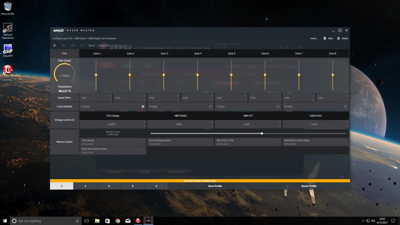 Both of these utility apps are easy to use and you can check your CPU temperature just by opening the app.
Optimal Temperatures of Intel/Amd CPUs with Stock Cooler
The optimum or suitable temperatures of some popular CPUs (without overclocking) are shown below:
| Intel processors of 6-8th generations | Average Temperature in Celsius |
| --- | --- |
| Intel Core i9 | 53°C - 72°C |
| Intel Core i7 | 50°C - 67°C |
| Intel Core i5 | 50°C - 63°C |
| Intel Core i3 | 52°C - 60°C |
| Intel Pentium | 45°C - 62°C |
AMD processors of ryzen
(1-2nd generations)
Average Temperature in Celsius
Threadripper
45°C - 70°C
Ryzen 7
42°C - 62°C
Ryzen 5
40°C - 58°C
Ryzen 3
38°C - 55°C
AMD Athlon FX
45°C - 60°C
What Causes High Temperatures in CPU?
Computers overheat due to the CPU being too hot. There are many reasons for high temperatures of CPU like drying up of the thermal paste used in CPU after a certain period of time. If the computer is hotter than the usual temperature, quickly monitor the CPU temperature.
Additionally some other reasons include:
1. Stock coolers cannot handle much heat.
2. Bad air flow inside the case of the PC.
3. Lack of ventilation inside the case.
4. Lack of intake and exhaust fans in the case.
5. Bad cable management inside the case blocking air flow.
6. Keeping the case in a congested place.
How to Lower the CPU Temperatures
You can take the following measures to get an instant result in preventing high CPU & GPU temperatures.
Here are the steps to lower CPU temperatures:
1. Use a good CPU cooler for processors (air cooler/liquid cooler).
2. Apply good quality thermal paste every year.
3. Keep more intake and exhaust fans for better air flow inside the casing.
4. Control the fan speed of CPU cooler, GPU and case fans according to need.
5. Keep the cables in such a manner that they don't create obstructions to air flow.
6. Make sure to build the PC in such a way that heat of GPU doesn't reach the CPU.
7. Build the PC in a well-ventilated casing.
8. Clean the interior part of the pc in a regular basis of 3 months at least.
Bonus Tip for Reducing Temperatures:
From BIOS or from other tweaking apps set the speed of the intake and exhaust fans to 75%.
While playing games or running load giving apps, set the fan speed of the GPU to 90%.
Try to use at least one liquid cooled component (either CPU or GPU) which will save one component's heat from another.
I will recommend you to get atleast an AIO cooler for your CPU as these are more convenient and price worthy.
The Basics of PC Cooling Solutions Explained
First of all you need to understand how the cooling solution for your PC should be. Before advancing further, we will first divide the cooling system into 5 types.
Which are:
1. Stock CPU & stock GPU cooler.
2. Third party Air cooler CPU & stock GPU cooler.
3. AIO liquid cooler for CPU & stock GPU cooler.
4. Custom liquid cooling system for both CPU and GPU.
5. Custom liquid cooling systems for CPU & GPU separately.
Now it is time to:
Choose the right cooling system for your PC.
First of all you need to know the type of PC you are using. Accordingly you will choose the right cooling solution.
If you are using a PC of normal configuration like, non-overclocked CPU & GPU and you are not doing any hardcore stuff then you don't need to expend on coolers. You are good to go with the stock CPU and GPU coolers.
But if you are using a gaming/workstation /editing PC then you must have a good cooling system for your PC.
Graphics cards can be overclocked easily with their stock coolers but the PC need to have good ventilation facilities.
But the problem is:
Most of the processors can't be overclocked by the stock coolers. So, you need a third party air or liquid cooler for that.
And if you are running a beast gaming PC then you need a custom liquid cooling system.
Air Cooling Vs Liquid Cooling
I believe you'll agree when I say, "Efficient PC cooling can give you an instant change in the performance of your PC." Right?
Well, I've been there myself, getting confused with thousands of coolers.
A good PC always needs a good cooling solution to give the best overclocking results.
Not only this, coolers can:
Turn your PC into a Piece of Art.
But it might be confusing to you that, which type of cooling components to use for your system.
In this article I will be giving you some fantastic ideas to cool your PC'S CPU and GPU.
I will also give some instructions on your PC's cooling system according to its need.
Then I will suggest you which cooler is for you.
At the end, there is a comparison of different coolers
Before going to the instructions and suggestions, you can have a look at some of the most popular air and liquid CPU coolers for your PC given here:
What is Better Air cooled or Liquid Cooled?
Before going to any comparison you need to know which is best for your PC case.
Air coolers can perform their best if there is a good ventilation inside your case. It will perform better for more fans in your PC case
On the other hand liquid coolers are suitable for those PC cases which have radiator mounting options.
The best thing about AIO Liquid coolers is:
The hot air coming from the GPU can't effect the cooling of the CPU. But AIO liquid cooler needs more power and more space inside the case as their tubing are hard to bend.
Other than that of a air cooler and AIO liquid cooler, there is another way to cool the system. And this is by Custom Liquid Cooling.
Custom liquid cooling turns your PC into a piece of art.
And this gives you the best overclocking results.
But the main problems are:
It is very expensive and requires a lot of time and hard work to setup up.
Benchmarks for Air Cooler Vs Liquid Cooler 
To tell you which is the best among air and AIO cooler in case of performance we have make some benchmarking tests.
So, for this comparison I have used NZXT S340 elite as our case in the benchmarking PC. 4 fans are at 800rpm speed.
Specifications:
Core i7 8700k overclocked to 4.8GHz,evga gtx1080 GPU clock +180MHZ memory Clock +200MHz,Corsair dominator Platinum 16GB Ram overclocked to 3200MHz, PSU 750w gold rated.
Coolers:
Air cooler: Cooler Master MA620p
AIO liquid cooler: Cooler Master ML240R
Stress test tools used:
CPU stress Testing, Memtest 64, Furmark, Unigine Heaven
Test results:
| Components | Average Temperatures fro Air Cooler | Average Temperatures for AIO liquid Cooler |
| --- | --- | --- |
| CPU | 72°C | 70°C |
| GPU | 65°C | 61°C |
Clearly, AIO liquid cooler is the winner here but it's not like that AIO is the most suitable for your PC.
What's the bottom line?
It may vary from PC to PC for different parts in them.
Here are the things that really matters:
Other than performance, you might find some issues from both air and AIO liquid coolers.
It gets worse:
When the tubing of AIO liquid cooler is not long enough according to the need of your PC's case.
On the other hand, most of the smaller air coolers easily fit inside the case. But few of the coolers are very big to be fit in smaller compact cases.
It gets even worse:
When larger air coolers make clearance issues with the memory modules. Fitting an AIO liquid in some cases may be very hard. But they mostly don't have problem in clearance issues with the rams.
One the other hand cleaning of an air cooler is easier than that of an Aio liquid cooler as the radiator gets filled with dust within few months.
Want to know the best part?
You can be totally risk free using an Air cooler. If you get an air cooler you will not have to worry about any leakage.
AIO liquid coolers are often heard to get leaks. This can completely ruin some of the expensive major parts of your PC.
It's your choice now to:
Select the most suitable cooler for your PC.
If you have a big budget and you want the best of the bests in your PC then custom liquid kit is your thing.
Else you can go for an AIO liquid cooler to have a beauty with beast performance.
And if the only thing that matters to you is performance and risk free PC then Air cooler is what you need.
How to Choose the Right Type of Cooler?
So, after reading all these information, are you feeling a lil bit confused?
The best 3 coolers options are Air, Liquid and AIO . I discussed everything in this article
Truth be told, It's a wild confusing world out there when it comes to choosing the right type of cooler.
Air? Liquid? AIO? Let's pick the right type of cooler…
Air coolers
Air coolers are the easiest to install. They the cheapest and they give good performance too. Air coolers are the best if you want to stay relaxed thinking that, there will be no leaking of liquid.
The best thing is:
A good Air cooler can perform more or less like a liquid cooler and it is of reasonable price too.Now there are many coolers which also look very gorgeous.
Want to know the best part?
Now the some good air coolers perform similar to aio liquid coolers or better in a low budget. Such a cooler is the "be quiet! Dark Rock Pro 4"
Some people may find problems for larger CPUs like the AMD Threadripper. And for this reason many people don't buy an air cooler although supporting it the most.
So, here's the kicker:
Air cooler: ​Pros & Cons
Advantage
»

Risk free

»

Easy to install

»

Power Consumption is relatively less.
Cons
»

Can have clearance issues with the Ram modules.

»

Is not efficient for compact cases.

»

Absorbs the hot air form GPU.
AIO Liquid coolers
Liquid coolers look very amazing and they are also of reasonable price than that of custom liquid kits.
But your question might be:
Are AIO coolers worth it?
To answer this question I will say:
They perform the best and they also separate the hot air of GPU from the CPUs' cooling.
There are a variety AIO coolers on market now which gives stunning performance.
This is crazy:
When you find some budget AIO liquid coolers and they perform very well.
Such a price worth cooler is the gorgeous ML 240R by cooler master.
We have an article of it's in depth review. Be sure to check it out.
Liquid Cooler: Pros & Cons
Advantage
»

Doesn't absorb the hot air form GPU.

»

Efficient for compact cases.

»

Doesn't have clearance issues with the Ram modules.
Cons
»

There is risk of leaking of the tubes.

»

Hard to install.

»

Power consumption is relatively high.
Custom liquid coolers
Now you are looking for a Beast cooling system.
Disclaimer:
There is nothing best than a custom liquid cooler in Performance, Aesthetics and High Price.
It is obvious that:
Liquid can cool a metal better than that of air.
And if you can cool that liquid or remove its heat to a good level then your PC will be cool enough for overclocked to bigger numbers of clocks and memory speeds.
The good thing is:
You can build custom liquid system according to your wish. You can add solutions of various coolers too.
The minimum parts you will need for building a liquid system are:
Water block, reservoir, pump, radiator & fans, fittings, tubings, cooling solutions and thermal paste.
You can buy this separately.
Or else you can buy custom liquid cooling kits which are a package of all the things you will need.
The best thing is:
You can bend the tubes as you like to make it more gorgeous.
You need to note that you need a good powerful PSU to run this kind of cooling system.
There are two types of tubing:
Hard tubing and Soft/Flexible tubing.
Hard tubing looks better but the problem is it needs all the fittings of the same size.
Some major problems are:
If you have hard tubing over the ram modules or the m.2 SSD then you will find difficulty to add or remove them.
If you don't want those problems then you can use flexible tubes. It also makes the process of its installation easy and worth it. For the people who are upgrading their components frequently, I will not recommend the custom liquid cooling.
So, here's the deal:
For those, to whom nothing really matters more than a Beast PC, custom liquid cooling is a must have for them.
Gamers can't take their satisfaction to the highest level without having a custom Liquid cooled PC.
If are confused about which parts to buy for custom liquid cooling, and you want a simple solution for your problem. And if you don't want to sacrifice the the beauty of RGB for any means then, I will suggest you to buy the thermaltake pacific m360 plus RGB kit.
It comes with almost everything you need to build the custom cooling system including the solution. And most of the parts have RGB illuminations on them too.
Final Thoughts
You might be wondering:
Which method will be the best for you to check both CPU and GPU temperatures at the same time?
My answer will be to use CPUID HWMonitor.
This app will let you see both CPU and GPU temperatures at the same time.
You also might be thinking:
Which will be the best pick among those methods for checking only CPU or GPU temperatures?
Then I will say:
Go for Bios for checking the CPU temperature only unless you are overclocking the processor.
And for checking GPU temperatures I will suggest you to use MSI After Burner as it supports all the graphics cards.