Are looking for the best looking Gigabyte RGB Fusion LED Strips for your gaming PC case?
Are you thinking about which LED strip would be best to sync with Gigabyte's RGB Fusion?
In a hurry? Check out our recommended Overall Best RGB Strip.
Don't worry, this is where I come in to help you by narrowing down your options to just five.
And in this post, I will be reviewing the top 5 RGB Fusion compatible LED strips.
Best RGB Fusion LED Strips Reviewed
I have first compared the basic differences between my top 5 picks then I've review them with pros and cons.
Here are the best RGB Fusion LED Strips:
1. BitFenix Alchemy 3.0 LED Strip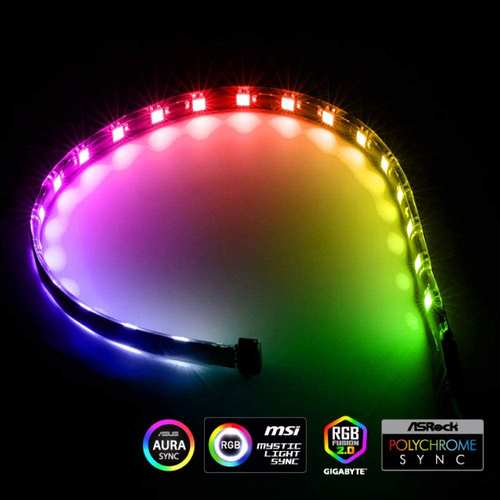 Check Today's Price of Alchemy 3.0 LED Strip ➜➜
I was amazed when I get to know that:
The Alchemy 3.0 LED strip comes to you with the incredible TriBright LED Technology that creates RGB effects with higher saturation and brightness with its individually addressable LEDs, while ensuring you the best longevity.
With the RGB Fusion, you can customize your LED strip with multi-colour rainbow effects and make it suitable to your eyes with adjustable speed and brightness.
Moreover, With 15 LEDs per 30cm, and strips available in lengths of 30cm and 60cm, the light is evenly scattered, casting a softer shadow, and increasing the overall lighting effect.
With the high quality 3M adhesives, you can attach the strips on any flat surface of the chassis.
The great thing about this case Strip is:
The strips are also equipped with magnets 5cm apart, allowing you to easily install and relocate them around the metallic parts of your case.
So, you can easily create unique designs and change them as frequently as you want.
Outer surface of each strip is coated with clear rubber, which saves the LEDs from short circuit and helps you in easy maintenance.
2. Speclux rgb fusion light strip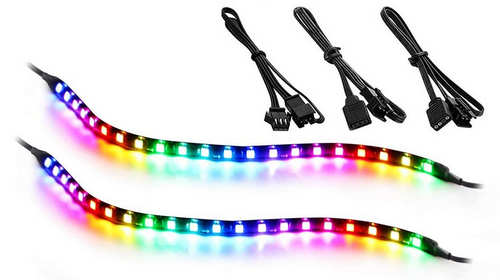 Check Today's Price of Speclux RGB fusion light strip ➜➜
Speclux rgb fusion light strips are great for custom gaming PCs.
This ARGB LED strips are compatible with RGB Fusion and RGB Fuison 2.0.
The best thing about these LED strips are these are cheap yet they come with both magnets and adhesives for mousting inside the PC case.
These Speclux rgb fusion compatible strips are super bright which becomes a great feature if your PC case is big.
I think this is the best budget LED strip suitable for syncing with your gigabyte built PC.
3. DeepCool RGB 200 Pro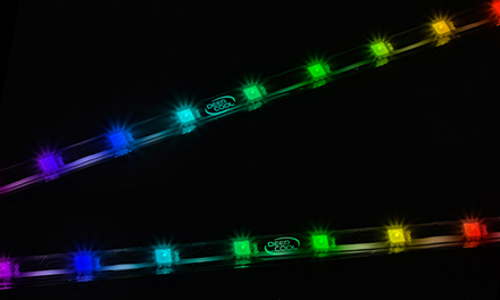 Check Today's Price of DeepCool RGB 200 Pro ➜➜
DeepCool RGB 200 Pro brings you the latest addressable RGB to provide the best visualization.
With Gigabyte motherboard and RGB Fusion you can control that a RGB LED strip and illuminate your whole gaming rig and meet your aesthetic desires.
Each strip has 12 LEDs, each individually giving out different amounts of RGB to create spectrum of nearly 16.8 million different colours.
Being certified as RGB Fusion Ready with the DeepCool RGB 200 Pro you can customize the addressable RGB anyway you want with just a few clicks.
Thanks to its 5V 3-pin connector, you can synchronize it without any additional controller, only by connecting it to your motherboard.
You can also connect them to any other 5V ARGB device, like coolers, fans, cases and hubs.
The 200 Pro offers you magnets and double sided adhesive, letting you mount your LED strip on both metal and plastic surfaces.
4. Cougar RGB LED Strip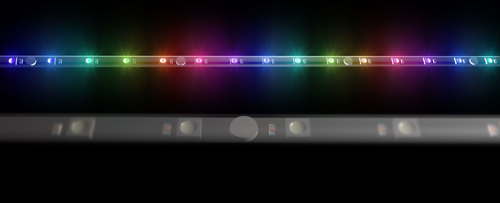 Check Today's Price of Cougar RGB LED Strip ➜➜
With its 5V 3-pin RGB header you can connect it with the motherboard and create amazing RGB effects with a spectrum of more than 16.7 million colours.
A useful feature, Instead of connecting it with the motherboard header, you can connect the strip to any Cougar RGB case fan and it will automatically sync with the fan, so you can customize the LED strip and fan at once with the RGB Fusion.
Additionally, You can use the Cougar Core Box to choose from 100 default RGB effects.
The LED strip does not come with any adhesive, but lets you conveniently install it on the metal surface of your case with built-in magnets.
5. Phanteks PH-LEDKT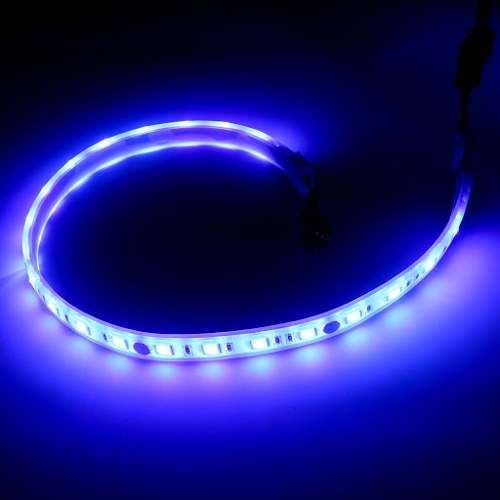 Check Today's Price of Phanteks PH-LEDKT ➜➜
The PH-LEDKT RGB strip from Phanteks is compatible exclusively with several cases, namely the Enthoo Luxe, Luxe Tempered Glass, Mini XL, Evolv ATX TG, and Eclips P400/P40S and P400/P400S Tempered Glass.
So if you are using any of these cases, I highly recommend you to get the Phanteks PH-LEDKT.
This LED strip also comes with magnets and double-sided tape, making it easy for you to install it anywhere in your PC.
Its 4-pin RGB connector allows you to connect it to any motherboard with the same header, and with the male and female ends, you can connect multiple strips in daisy chain.
Moreover, They are available in lengths of 40 cm, 1 meter and 2 meter, with a density of 21 LED per 40 cm.
Each strip is fully covered with silicone housing, making it durable and easy to handle.
Since the strips are made of PCB material, it is easier to bend them around the corners without breaking or cracking them.
RGB Fusion Compatible LED Strip Buyer's Guide
Now that you've reached this far, let me treat you with some tips about what you should keep in mind while purchasing RGB Fusion compatible LED strips.
Here are the things you need to consider while choosing the best LED Strip that is compatible with RGB Fusion:
Connector type
3-pin connector: This type of connector has 3 slots, one for +5V power supply, one for data (D) and one for the ground (GND). These are used for Addressable RGBs.
4-pin connector: This type of connector has four slots, one for +12V power supply, and three ground or negative for each red (R), green (G) and blue (B). Regular RGB LEDs require this type of connector.
Always remember to check the RGB header of your motherboard, if it is 3 pinned or 4 pinned. The connector and header must be the same type. Otherwise it won't work.
LED diode type
RGB strips are Surface Mounted Devices (SMD) which are categorized in different types depending on their dimensions.
3528: These LEDs have a dimension of 3.5mm×2.8mm. They have a surface area of 9.8mm2.
These are the most commonly used LEDs for RGB/ARGB, but there are more like: 3014, 4014, 5630, 2835, 3030, etc. among which the 5630 has the highest brightness.
Material
It's very important for the strips to have a good building material. It has to be flexible yet durable, so it doesn't break or crack when you bend it around the corners in your case. Choose that wisely.
Magnets
While most LED strips come with 3M adhesive either on the back or on both sides, some strips have built-in magnets. I consider them the best and highly recommend you to use these. You can conveniently attach, detach and relocate the strips on any metal surface without any tape.
Final Thoughts
Now that you know all about the coolest RGB Fusion compatible LED strips, you can purchase the one that best suites you. Just remember to be sure if the connector matches with your motherboards header.
Now you can sync you LED strips with the Gigabyte RGB Fusion and create your own unique designs and illuminate your rig with the amazing RGB effects.