Finding a high-speed yet stable RAM is an obligatory task if you are building a Ryzen PC.
If you are looking for a suitable RAM for your Ryzen 3700 X build then my researched results will certainly help you.
Have no time to read? Then here's my recommended #1 pick RAM for you.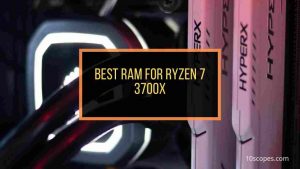 After testing over dozens of Ryzen compatible RAMs I've found my personal favorites.
And here, I am going to tell you about the 8 High-speed RAMs that are compatible with Ryzen 3700X.
Keep reading till the end to know about the interesting test results of these memory modules inside their immersive reviews.
Best RAM for Ryzen 3700X Reviewed
For top-notch gaming optimum performance, you need a RAM of the greatest quality in your gaming PC.
It is because:
Improved game framerates along with faster processing of data is what RAM does to your system.
Also, check out the best motherboard for Ryzen 7 3700X.
In this case, you need to check whether you are exposed to the supreme RAM available in the market.
As a gaming freak, I always look forward to building the best gaming setup. Through this blog, I'm going to help you do the same by selecting the right RAM.
According to my research, I have compiled a few options that might prove to be the right ones for your gaming setup considering all aspects.
Here are the best RAM for Ryzen 7 3700X:
1. Kingston HyperX Predator DDR4 RGB
To begin with, I have the HyperX predator RGB as one of the best options to choose a memory module for your gaming PC.
This version of HyperX Predator RGB by Kingston has some outstanding features:
Aluminum heat spreaders
HyperX infrared sync technology
High DDR4 performance at low latencies
Intel XMP support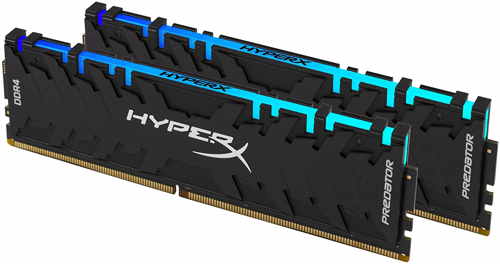 Check Today's Price of HyperX Predator DDR4 ➜➜
This is one of the RAM kits that is going to guarantee you a highly optimized performance along with good looks.
It comes with two sticks each being 8 GB with aggressive styling and designing done on both of them.
It has an excellent implementation of RGB lighting.
The design for both the sticks is Sleek and it kind of gives an extreme gaming type feeling.
The DDR4 and predator logo are painted on both edges of the black metallic part with the HyperX logo being upfront.
This RAM comes with HyperX Infrared Sync technology which helps the proper syncing of the RGB effects.
The overclocking is optimized very well. It hits 4000 MHz at a lower CAS Latency of 17 decently.
The overall overclocking potential is very high compared to the other competitors which are much more expensive than this one.
As a gamer, I feel that you would like the output it gives while playing games like GTA V, Shadow of Tomb Raider, etc.
Pros
»

Unique gaming design

»

Top-level performance

»

Reasonable price

»

Good memory clock speed
Cons
»

You can't control the RGB effects
Also, check out the best gpu for Ryzen 7 3700X.
2. G.Skill Trident Z Neo
G.Skill is a big name in the market, especially when it comes to producing quality memory modules.
The 16 GB version of their Trident Z Neo Series is what an ideal DDR4 kit should be.
The G. Skill Trident Z Neo series comes up with some coolest of the specs:
Has a CAS latency of 18
PCB is of 10 layers
it has a dual-tone design
it comes with the tested voltage of 1.35 V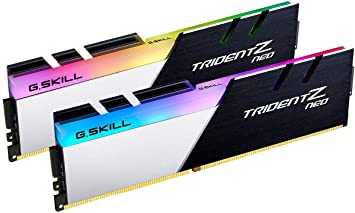 Check Today's Price of G.Skill Trident Z Neo ➜➜
While designing this memory kit a two-tone color scheme has been used.
This kit comes with two sticks each being 8 GB.
In both the sticks you will see a toned design with black texture all over and a part of silver coating.
In the black part, you will see the Trident Z logo is being placed. The edges of this memory module look ecstatic.
These are with a tri-fin design with stripes like that of the racing type which is relevant mostly in sports cars.
It makes the memory look very sleek and neat.
This random access memory comes up with 8 zone RGB lighting and to control the lighting there is the Trident Z lighting control software.
You will have the option of selecting from a large number of color presets using different patterns.
The memory clock speed is 3600 MHz. The good part is that it doesn't really crankle while overclocking.
The color flow in the lighting that you will notice is absolutely blissful.
The only issue it has is regarding the heatsink. In dissipation of the heat, you might face a bit of issue but that's almost negligible.
This RAM kit is a good choice to add up to your system because of its drastic performance boost and great outlook.
Also, check out our expert's recommended best Corsair RAM.
Pros
»

The performance level is solid

»

Great design

»

Good memory clock speed
Cons
»

The heatsink has a few issues
Also, check out the best ram for i9-10900k.
3. Corsair Dominator Platinum RGB
If you are looking for a memory module with a capacity of 32GB, then this model from Corsair can be the ideal choice to make
The Corsair Dominator Platinum RGB 32 GB has some of the finest specs:
Comes with 12 ultralight LEDs per module
Dual-channel Dhx cooling technology
Also equipped with Corsair ICUe software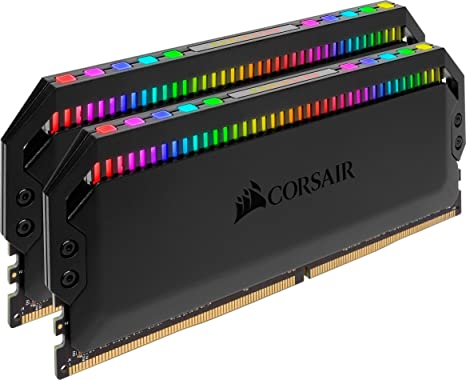 Check Today's Price of Corsair Dominator Platinum ➜➜
This memory kit from. Corsair has a premium level build-up. You will find its exterior to be very sleek.
It has a very beautiful aluminum construction with a blackish stealthy design that blends all over.
This Ram kit is with two sticks, each stick being 16 GB.
Also, in each of the sticks, there are 12 addressable LEDs that are there for lighting. The LEDs used in these modules are the Capellix LEDs developed by Primax.
The lighting is controlled by the ICUe software, with which u can apply 15 different lighting effects using various color patterns.
The vibrancy you will notice in the lighting is absolutely astonishing.
You can overclock it at 4000 MHz with stability, facing almost no issues. It faces no problem in withstanding heavy loads.
The only thing that might concern you is its price, which is on the higher side. But, you also need to consider its premium level build along with top-tier performance.
I would say it's somewhat reasonable but that is again my personal opinion.
This can be the perfect high-end choice for your latest Ryzen PC build, considering all aspects.
Have some time to spare? Check out our latest post to Enable Aura Sync Control for Corsair RGB Memory
Pros
»

Best RGB implementation

»

Advanced ICUe software

»

Build-up is durable

»

Stable overclocking
Cons
»

Costly

»

It has clearance issues

»

The heat Spreaders used in it might not be liked by everyone.
Also, check out the best motherboard for i9-10900k.
4. Adata XPG Spectrix D41 RGB
If that's the case that you are looking for a relatively cheap option, then you can go for this RAM kit from Adata.
The Adata XPG Spectrix D41 RGB has the following specifications:
It has a CAS latency of 18
It has an operating voltage of 1.35 V
The memory speed is 3600 MHz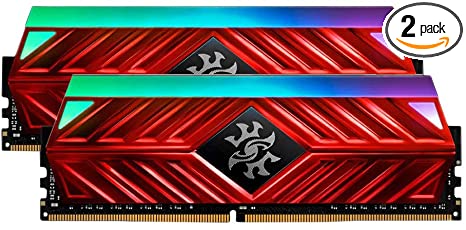 Check Today's Price of Adata XPG Spectrix D41 ➜➜
Here, the version I am going to talk about is the gray one which has grayish patterns all over its body.
This memory kit comes with two modules with each being 8 GB. Adata has adopted to use high-quality chips in building these sticks that make it outstandingly durable.
The PCB is 10-layered and blackish. It does a very good job of heat dissipation.
There is the XPG RGB Sync app that controls the RGB lighting.
You can customize the lighting patterns in the way you want using different presets and not to mention the wide range of colors.
In lighting, you will find no hues and the color vibrancy is at a controlled level.
When it comes to performance, this is one of the fastest RAM modules available out there in the market. You can overclock it to a high potential without any sort of issues.
To sum up, it is a cheap option so it does have a few issues. But considering everything, it is definitely a good buy.
Also, check out our expert's recommended best Corsair RAM.
Pros
»

Easy installation

»

Cheap

»

Very fast
Cons
»

RGB effects often deviate sync

»

Heat spreaders can be problematic
5. Corsair Vengeance RGB Pro
Now I have another RAM kit from Corsair which can be one of the prominent choices to make for your 3700X processor.
It is their Vengeance RGB pro, the 16 GB version.
The Corsair Vengeance RGB pro comes with some decent features:
Comes with a memory clock speed of 3600 MHz
dynamic multi-zone RGB lighting
PCB is custom layered
each of the modules has 10 RGB LEDs

Check Today's Price of Corsair Vengeance ➜➜
When talking about designing, I would say Corsair tried to be unique in the case of this model.
The Heat spreaders have a very bold design with aluminum construction. The two sticks it has in its kit have an all-black color scheme.
You will find some vented slots in both modules. The coolest part about these slots is it helps in reflecting the lighting.
Talking about RGB lighting, it is controlled by the Corsair ICUe software. You will have the freedom for setting presets and patterns as you can do in the case of every other Corsair memory kit.
The only drawback you will find in the case of this memory module is its latency timing is mediocre.
This is a good Ram kit if you play games and are into video editing, especially considering the aesthetics it provides to your gaming rig.
Check out our experts tested and reviewed the best 3200 MHz DDR4 RAMs, best 2666 MHz RAM, best 3600 MHz RAMs, best 3000 MHz DDR4 RAMs for a better gaming experience.
Pros
»

Reasonable Price

»

Easy Installation

»

Top-notch RGB lighting
Cons
»

Has issues with latency timing
6. Crucial Ballistix MAX RGB
If you are looking for a memory kit with extreme overclocking potential, then this model is the exact one that you are looking for.
The Crucial Ballistic MAX RGB has the following noteworthy features:
Heat spreaders made of aluminum
Precision temperature sensor
Memory speed of 4000 MHz

Check Today's Price of Crucial Ballistix ➜➜
This module comes with two sticks with each being 8 GB. Each of the modules is made of a top-quality chip.
The heat spreaders are of high quality. The way they dissipate heat is commendable.
The aluminum construction present in these spreaders strongly validates my statement.
The total color scheme used in these heat spreaders is matte black.
Coming to the RGB, there are 8 zones which comprise a total of 16 LEDs for lighting. The software support is there to customize and control the effects of the lighting.
Don't forget to check out some of the best 4800 MHz RAMs for a faster gaming experience.
As I have said earlier, this memory is extremely good for overclocking. This claim of mine becomes stronger as this Ram kit can go beyond 4000 MHz quite easily while overclocking.
If you are considering buying this RAM modules for your latest Ryzen 7 processor, I would say you should go for it.
Pros
»

Best for extreme overclocking

»

Good looking

»

Warranty of 10 years
Cons
»

RGB Configuration doesn't get saved by default

»

Heat spreaders aren't that robust
7. Corsair Vengeance LPX
The 16 GB version of Corsair Vengeance LPX is yet another RAM kit that you can look for in your Ryzen 7 3700X.
Corsair Vengeance LPX comes with some decent specifications:
Memory speed of 3600 MHz
A tested voltage 1.35 V
Aluminum made heat spreaders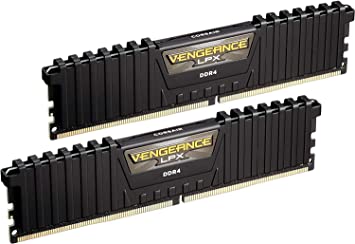 Check Today's Price of Corsair Vengeance LPX ➜➜
It is a memory module that comes with a very low-profile design. The kit has two sticks, each of them being 8 GB.
The PCB it has is custom layered. It comes with a small form factor. That is, it is suitable especially for small PC cases.
So you don't need to worry about anything if your PC case is having a small form factor.
The heat spreaders in this module are made up of aluminum. It does a great job of pulling the heat away from the ICs.
You also need to know that this kit is also a very good fit for high-performance overclocking. This is because top-quality aluminum spreaders are being used that improve the performance.
Check out some of the best 4400 MHz RAMs for a faster gaming experience.
One thing that is absent from this RAM kit is the RGB lighting. So, if you are an RGB freak, stop right here.
Other than this, still, it's the option to avail of your system given the top quality heat dissipation and overclocking performance it provides.
Pros
»

The price tag is reasonable

»

Extreme overclocking is possible

»

Heat dissipation is excellent
Cons
»

Not equipped with RGB lighting
8. Teamgroup T-force Dark Z
If you're looking for something very out of the box, then this Ram kit is the perfect solution for your latest AMD Ryzen 3700X processor.
The Teamgroup T-force Dark Z comes up with the following specs:
It has an armor type design
Has a CAS latency of 18
Warranty of a lifetime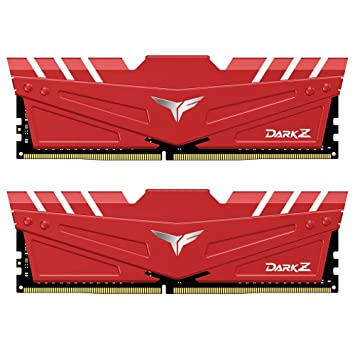 Check Today's Price of Teamgroup T-force Dark ➜➜
This memory kit looks outstandingly cool. It comprises two sticks, both being of 8 GB.
It has a memory speed of 3600 MHz. Talking about the heat spreaders it has, those are made of high-quality aluminum.
The armor-type design along with the metallic logo makes it look very durable. It feels like you're having something with which you can go on a war mode.
The overall construction that is Ram Kit has, also initiated enhanced heat dissipation.
Don't forget to check out some of the best 3600 MHz DDR4 RAMs for a faster gaming experience.
It also works with a tested voltage of 1.35V.
As a RAM, it consumes less power compared to its competitors.
The overclocking potential is very good and the most amazing it supports auto overclocking mode.
It is a RAM with an exceptional design along with top-tier heat spreaders. Do go for it if it meets your exact needs.
Pros
»

Cheap

»

Works well at rated speed
Cons
»

LEDs used aren't that good

»

Timings are mediocre
Ryzen 3700X RAM Buyer's Guide
Now that you know about the amd's ryzen processors available out there in the market, it is the perfect moment to make a buying decision. Which aspects should you consider while buying the finest RAM?
In this case, I have got the solution for you.
Here are a few factors that you should consider while buying memory modules for your amd processors 3700X built PC.
Memory & Memory Speeds of RAM
One of the most prominent factors is the memory capacity that the RAM you are going to buy possesses.
Different RAM module comes off with different memory sizes. The more memory size of the RAM the easier it gets for you to retrieve data.
As you are building a gaming PC that too with a Ryzen processor, you need to check the RAM size before you buy it.
CAS Latency of RAM
The CAS latency matters in the case of RAM because it is the time between receiving and executing a command.
Your memory timings will determine how fast the RAM will respond to the command you initiate. If the memory speed of a RAM is fast but the CAS timings are slow then it does no good.
All things need to be proportionate.
Aesthetics of the RAM
Aesthetics matters in case you are planning to build a gaming rig with high aesthetic value along with an astonishing outlook.
The RGB, the design, and the materials used in the construction of the RAM module depend a lot on determining how high the RAM is valued aesthetically.
While you buy, do consider these factors.
Final Thoughts
So these are the coolest memory modules for Ryzen CPUs that you will find in the market.
Among these 8 types, I have tried to compile those options considering different buying factors as well as the perspectives of the users.
I hope that by going through this guide you will be able to a suitable gaming RAM module for your system. Still, if you face any issues do let me know in the comments.