Getting the right motherboard isn't that easy as it seems to be.
I wanted to build a top-end gaming rig using an aura sync motherboard. That's why I went through a handful of options. And guess what, only 7 of them were suitable enough for consideration.
In a hurry? Check my recommended aura sync compatible motherboard.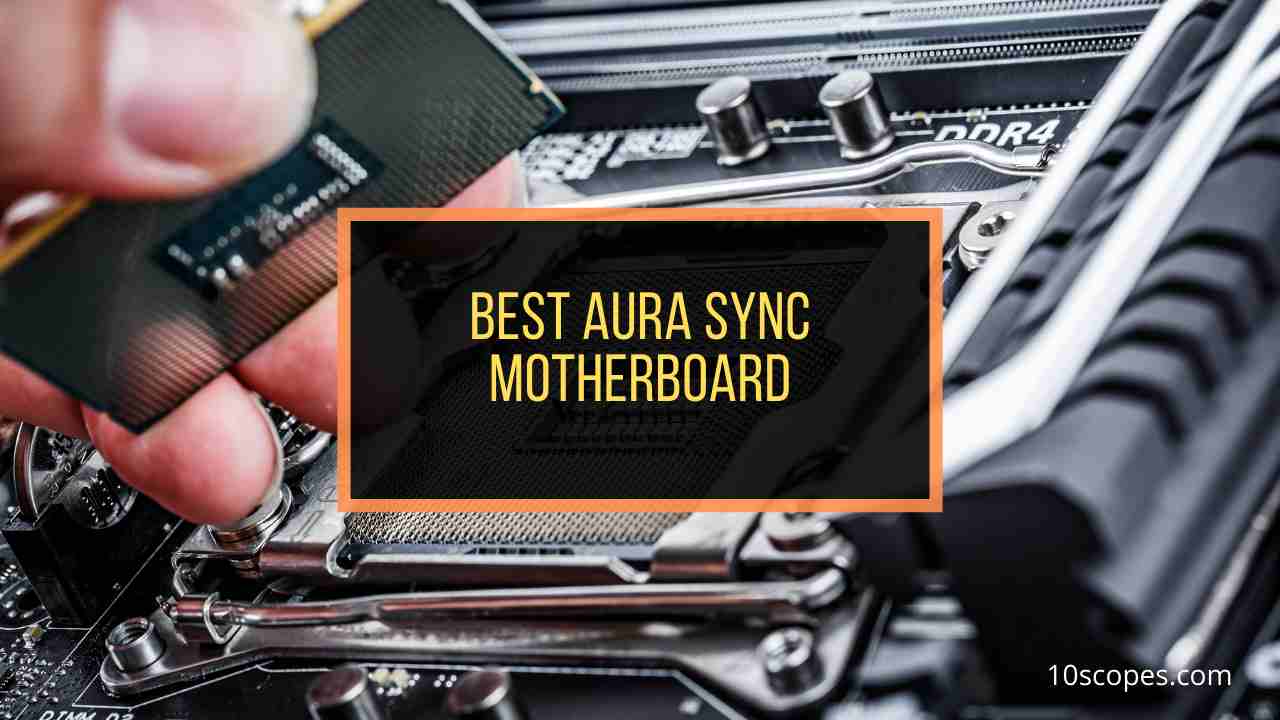 I know that you don't want to waste your money on the wrong product. Therefore, sit back and go through this blog thoroughly.
By the end of this post, you'll get to know where to spend your money and where not.
Here's a complete guide on how to fix motherboard can't detect hard drive.
Best Aura Sync Compatible Motherboards Reviewed
A good motherboard is an unsung hero for your build because it optimizes your system's performance to the next level.
It enables all the hardware connected to it to reach its maximum potential.
While buying, if you don't have enough ideas, then the chances are high that you would end up with the wrong option.
To make things simpler, I have come up with some of the finest aura sync motherboards.
Also, check out our separate post on how to fix motherboard HDMI no signal.
Here is the list of the 7 best aura sync motherboard:
1. ASUS ROG Maximus XII Formula Z490
If I have to talk about one motherboard perfect in everything, it must be the ROG Maximus XII Formula. The ASUS ROG Maximus XII Formula comes with some superb specs:
It comes with Intel LGA 1200 socket
Top-notch power solution
6 SATA ports
It comes with a hybrid cooling system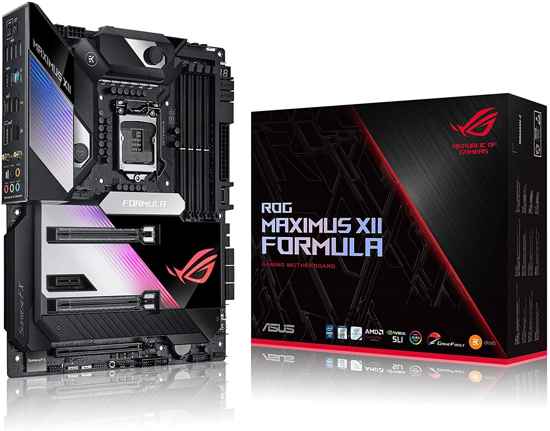 Check Today's Price of ASUS Maximus XII Formula Z490 ➜➜
As a motherboard, it is based on a Z490 chipset and was designed mainly for those users who love water cooling.
If you have used the previous version of this model, I bet you'll have a hard time differentiating. I am saying this because the layout for both motherboards shows a similarity in the components' placements.
These motherboards are similar, considering different aspects; there is one slight difference that makes the Maximus XII formula better. This new upgraded version is composed of more cores that can clock at a way higher speed.
This motherboard has a Z490 chipset compared to the previous version having a Z390, making it a better option. For those who love darkish or blackish themes, this board is an excellent choice. If you are one of them, you should also know that the body is also a bit bulky.
Have some time to spare? Quickly check out our epic guide on are motherboard standoffs necessary.
For your high-end build, you'll find this motherboard as a compact option, thanks to the protective steel backplate.
Also, you'll see the heatsinks, which are adapted by the hybrid cooling system. The best part about them is that it's possible to cool the VRMs lazily due to the chunky heatsink and also actively through water cooling.
Since both the previous and upgraded versions are with a similar socket, the same cooling solution is eligible for usage.
Previously I mentioned that the socket, Intel LGA 1200 is for this aura sync motherboard. This socket is there mainly for the latest 10th gen processors.
Besides, if you plan to shift to the upcoming 11th gen processors, I recommend you not change the board. As this board is for futuristic purposes, hence it will be compatible with the latest processors.
The aura sync software can fully control the RGB lighting. While testing, I set the presets as per my whims, thanks to this software.
One of the crucial factors in motherboards is the type of ports used. In the ROG Maximus XII formula, you'll get many I/O ports from which the notables ones are- 6x USB Gen1 3.1 ports, 3x Gen2 3.2 ports, and Wi-fi 6 connectors, etc.
Also check our exclusive tutorial on are motherboard screws universal.
For this motherboard, you don't need to worry about thermal throttling. The gaming performance is also excellent.
Pros
»

Heavy and solid structure

»

Hybrid cooling system

»

Affordable

»

Plenty of ports
Cons
»

No thunderbolt port

»

No dual-BIOS
2. ASUS ROG Zenith II Extreme Alpha TRX40
I think you are already getting the vibe about what this motherboard has to offer for you with that name. The ASUS ROG Zenith II Extreme Alpha comes with some of the coolest features:
It comes with an sTRX4 socket
8 SATA ports
Comprehensive thermal design
16 phases of power stages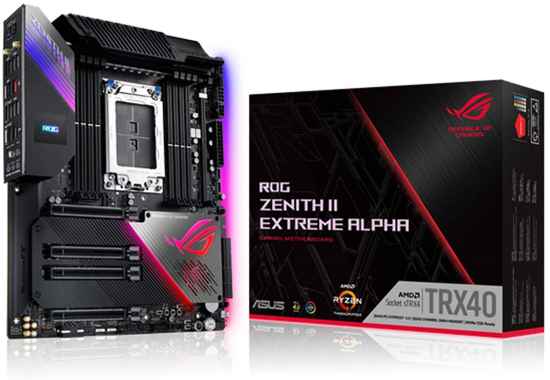 Check Today's Price of ASUS ROG Zenith II Extreme Alpha ➜➜
This E-ATX motherboard is one of the best motherboards you will find out there in the market. In my opinion, it is an absolute beast.
Compared to its previous version, there is almost no difference aesthetically. The layout looks almost identical, only the difference being a slight addition of name on the VRM heatsink.
The backplate is all metal, which also makes it one of the heaviest motherboards available. It has a typical color scheme that is common for motherboards under the ROG series.
Have some time to spare? Quickly check out our epic guide on are motherboard batteries rechargeable.
All over the board, there is a blackish texture with few silverish patches at different places.
The large VRM heatsinks present pulls the job in a befitting manner. It provides an active solution that enables the board to facilitate top-notch performance at a higher temperature.
Now, you might want to check the information regarding the performance. It is possible in the case of this motherboard. Not many boards offer this sort of luxury.
The 1.77″ OLED display makes it possible for you to view information regarding temperature levels and other relevant things that you should know. The power delivery of this motherboard is another thing worthy of discussion.
The 16-phase architecture of which each of the phases handles 90 A does a fine job ensuring optimal performance. Also, this board supports a quad-channel controller that can hold up to 256 GB of DDR4 memory.
In the board, I found three RGB Lighting zones: over the rear edge strip, chipset, and the I/O cover. I was able to optimize and control them using the ASUS Aura software quite subtly.
The effects available are like the ones you will find in every premium motherboard.
Now coming to the ports, the board has 8x SATA ports with 2x USB 3.2 Gen2 headers. Besides, among other ports, the prominent ones are- 4x Type-A, a single Type-C, and 5x analog audio jacks.
Thinking of building a gaming PC with all 3rd gen AMD components? Check out the suitable graphics card for Ryzen 7 3700x and Ryzen 7 3700x RAM.
The controls for the onboard fans are substantial. Though this motherboard with a TRX40 chipset is susceptible to heating, the fans do a fine job in cooling.
To end up, this ASUS aura sync board with such a wide range of features is an excellent choice for any high-end build.
Pros
»

Well-built and designed

»

Excellent power delivery

»

Superb overclocking abilities

»

OLED display
3. ASUS ROG Strix B550-E
We have already talked about the motherboards with the Z490 chipset. If you're seeking something different, this board might be a fine choice to make.
The ASUS ROG Strix B550-E comes with some top-notch features:
AM4 socket
6-layered PCB
Robust power design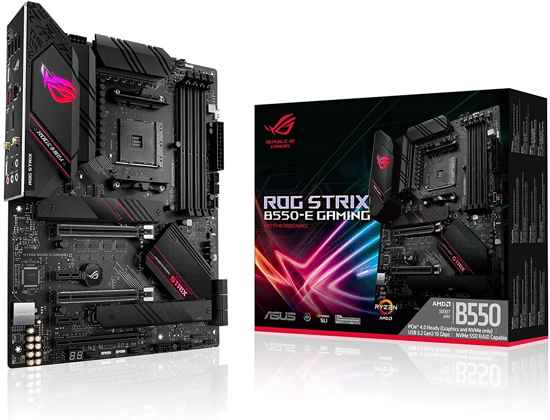 Check Today's Price of ASUS ROG Strix B550-E ➜➜
This ATX motherboard has a B550 chipset. Such chipsets are mainly for the AMD builds. As it is for an AMD build, the AM4 socket is there in the layout.
All over the whole layout, you'll find a blackish scheme with some dark greyish patches uniformly put on. Such a color scheme looks ecstatic and pleasing to the eyes.
This B550 board also comes with a robust power design, one of the most significant factors that differentiate it from other boards with a similar chipset.
Also, this aura sync compatible board has enough heatsinks that do remarkably well in the cooling process.  You'll find 3x PCIe expansion slots, of which 2 are PCIe 4.0 and a single PCIe 3.0. These expansion slots enable the motherboard to support dual-GPU.
Also, check out the suitable RAM for Ryzen 9 5900x.
Having the 8-pin and 4-pin power connectors for the CPU and the PSU makes it one of the best designed high-end motherboards.
The rest of the motherboard also has to offer a lot of things as well. If I talk about the audio hardware, then I would say that the SupremeFX S1220A Codec usage is one of the best things about this board.
The rear I/O shield has in total 8x USB port, of which the prominent ones are- USB 2, USB 3.2 Gen2, Type-C, etc.
The RGB implementation used all over is stunning and can be controlled smoothly by the ASUS aura software.
The overclocking is somewhat mid-tier, which the users preferring high overclocking wouldn't like.
Also, check out our separate post on can motherboard bottleneck GPU.
Pros
»

Good build quality

»

Nice array of features
Cons
»

Expensive for a B550 board

»

Overclocking could've been better.
4. ASUS ROG Strix Z490-I
By any chance, if you are building your system based on a mini-sized PC case, the traditional motherboards with ATX form factors won't be a fit in the build.
In such a scenario, this mini-ITX case can exceptionally be an excellent choice for your rig. The ASUS ROG Strix Z490-I has a good array of features to offer:
Intel LGA 1200 socket
Optimized power design
Superb gaming connectivity
4 SATA ports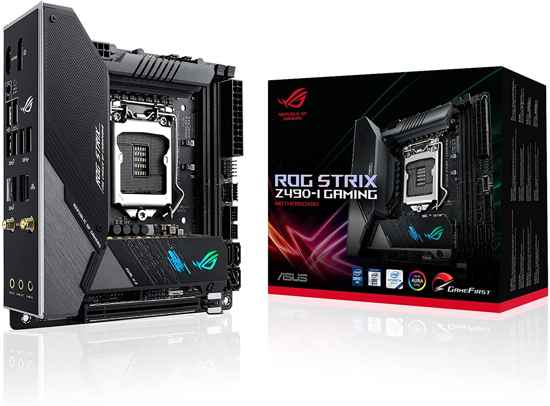 Check Today's Price of ASUS ROG Strix Z490-I ➜➜
Mini-ITX boards are somewhat underrated, in my opinion. This board particularly comes with a Z490 chipset, which makes it suitable for housing an Intel processor.
Though it is smaller in size, I assure you that the motherboard can deliver high-level performance. And that is possible due to its compact design. Talking about the design, the board looks fantastic. At first glance, you would find it to have a cleanish look with elegant styling.
The rear shield hides most of the components of the layout. On the rear I/O side, you'll find BIOS flashback buttons along with 8x USB ports.
Follow our guide to know can motherboard be repaired.
One impressive thing about this Asus aura motherboard is its optimized power design.
The 8+2 power stage design plays a part in its power circuitry and enhances the performance level. The motherboard also contains 2x M.2 mounts under the heatsink. Both of those are compatible with PCIe 3.0 x4.
The layout housed 4x DIMM slots, 4x M.2 NVMe SSD slots. Also, the thunderbolt three expansion card. It can support up to 64 GB of DDR4 memory.
Pros
»

High-end performance

»

Durable capacitors

»

Superb aesthetics
5. ASUS ROG Strix X299-E Gaming II
This one motherboard from ASUS is for the Intel core-X series of processors. The ASUS ROG Strix X299-E has some excellent features to offer:
Intel LGA 2066 socket
12 power stages
AI overclocking
Active cooling solution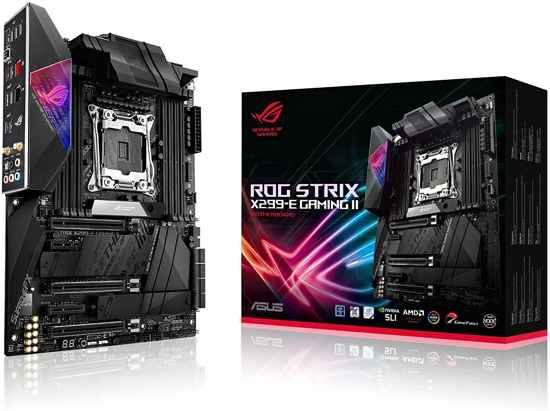 Check Today's Price of ASUS ROG Strix X299-E Gaming II ➜➜
This aura sync motherboard has an ATX form factor that comes with an X299 chipset. At first glance, you will find it very striking. It has that eye-catching vibe that will enhance the aesthetics at a whole new level.
In the I/O shroud, you see the ROG logo engraved, inscribed by laser lights. An acrylic plate with cybertext patterns goes to a whole new level when the RGB lights are into life in the body.
You'll be able to control the lighting using the ASUS aura software. While running a test, I found that it offers eight different lighting presets to customize the lighting and make it more enchanting.
Also, check out our expert's recommended EVGA X570 Dark Motherboard review.
This ASUS ROG motherboard also features quad-channel memory, which can support 256 GB of DDR4 memory in 18 slots. What makes it absolute kickass is that you can hit up to 4266 MHz speeds and beyond with almost no hindrances.
This board has 3x PCIe 3.0 M. 2 to offer. One of them supports both SATA and PCIe 3.0 x4 modes, and the other PCIe x4 is there for NVMe. You'll find 4x USB 2.0, 2x USB 5 Gbps, and 4x USB 10 Gbps on the back panel.
The fan functions in such a way so that it stops whenever each of the 12 phases voltage regulators reaches 60°C.
Also, check out the best aura sync keyboards for a premium feel.
To be honest, I was not too fond of this board because it is not compatible with old generation processors. It limits the versatility of the board.
Pros
»

Good layout

»

Multi-GPU support

»

Excellent aesthetics
Cons
»

Not for old generation processors
6. ASUS ROG Crosschair VIII Hero
Another AMD motherboard that you should watch for, in case you are planning to have an AMD Ryzen CPU.
The ASUS ROG Crosschair VIII Hero has some superb specifications:
AMD AM4 Socket
5-way Optimisation
Wifi-6 support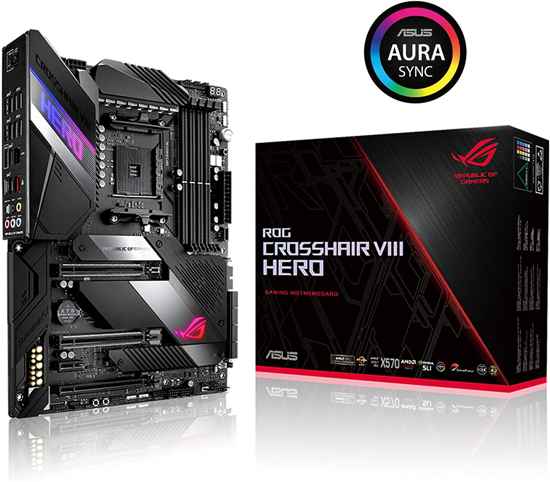 Check Today's Price of ASUS ROG Crosschair VIII Hero ➜➜
It is an AMD based board that is into the market specifically for Gamers and overclockers. It sets a perfect foundation for the Ryzen Rigs.
This motherboard comes with a superb layout based on power design architecture. This motherboard has a blackish PCB like all other high-end gaming motherboards. Not only the PCBs, but you'll also find such blackish texture on the heatsinks, VRMs, and even on the shroud over the I/O panel.
Also, check our separate review on the best motherboard for i9-10900K
You will also find grey stripes that are done diagonally all over the black scheme across the board. When the RGB LED lights up, it seems like the board comes to life. The illuminating ROG logo with the backlit looks stunning.
Nothing is overdone on the board in terms of lighting. The subtle implementation looks ecstatic. The power design that the motherboard has consisted of 16 power stages. Each of the rates at 60 amps.
Talking more about the power design, the circuitry is under two large heatsinks. You'll also find a small fan for cooling, which can last for 6000 hours.
The rear I/O has 12 USB ports- 4x USB 3.1 Gen1, 8x SATA 3.0 ports, and 2x Key-M slots. It also comes with a flash BIOS button.
The motherboard is also supported by PCIe 4.0, which enables high-speed connections. These expansion slots are there in numbers. You'll find it easy to have a triple card installation just because of the presence of 3x PCIe x16.
This aura sync compatible board has 4 DIMM slots, holding up to 128 GB of DDR4 memory. It has the Wifi-6 AX200 network adapter, which is the main reason behind its superb connectivity.
Check out our post on can motherboard affect FPS.
Overall, it's an excellent board for heavy overclocking. Perfect choice to make when building a high-end setup.
Pros
»

Abundance of ports

»

Solid power delivery

»

PCIe 4.0
7. ASUS Prime Z390-A
The board comes with an ATX form factor based on a Z390 chipset. The Prime Z390-A has some of the excellent specs to offer:
LGA 1151 Socket
AI overclocking
Enhanced power solutions
Next-gen connectivity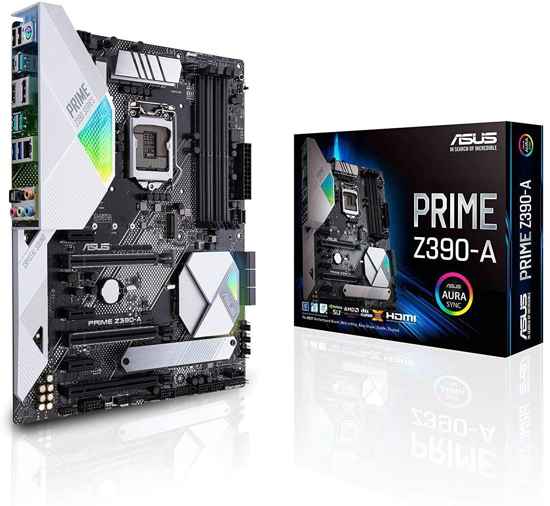 Check Today's Price of ASUS Prime Z390-A ➜➜
As a motherboard, it is compatible with 8th generation and 9th generation CPUs.  You'll find this board flexible as it is a fit in all types of PC cases.
The board has black and white shedding all over the layout. The features it has to offer are well-rounded. About the cooling solution, I would say the board has a decent offering. Comprehensive cooling is possible via Xpert 4.
Another thing I like about this motherboard is its ultra-fast connectivity. It has onboard M. 2 slots PCIe x4 express 3.0.
The lighting is controlled entirely by the aura sync software. You can customize the presets quite easily. A total of 12 presets available for customization. Besides, the 5-way Optimization that this board has initiates a superb overclocking performance.
Here's a complete guide on can motherboard affect performance.
Pros
»

Ultrafast Connectivity

»

Superb RGB lighting with ample presets

»

5-way Optimisation
Cons
»

Mid-range

»

Not for the latest 10th Gen CPUs
Aura Sync Motherboard Buying Guide
As for now, we got to know about the best aura sync compatible motherboards. It is time that we should know how to choose the right one that can serve our needs. You should have a motherboard that compliments all other components of your system.
It is not very easy to buy as a product, so you need to know the specific things that make a difference in detail.
As per my research, I have developed a few specific factors in selecting the best motherboard. I am quite sure that these factors will act as a helping hand for buying the right aura sync compatible motherboard.
Also, check out our experts recommended motherboard for Ryzen 9 5900x.
Here are the factors that will help you to find your desired motherboard:
Platform
Whether it is Intel or AMD Ryzen, there are different motherboards with different layouts for both the processors.
All the other important factors are usually dependent on this. That is why you should have a clear idea about the specific requirements for each of the platforms.
Type of Socket
Not all the motherboards will come up with the same socket. For each of the platforms, be it Intel or AMD, the socket types are different. The AMD platforms use AM4 OR sTRX sockets, whereas you will find Intel's LGA ones. So, while you choose, make sure that whether it is compatible with your CPU or not.
Also, don't forget to check out our experts tested best Aura Sync Compatible RAM for gaming freaks.
Form Factor
By form factor, here I mean the size of your motherboard. Different motherboards come up with different sizes. You will have enough flexibility while choosing, don't worry about that.
If you are building your system on a full-size PC case, you have enough room for an ATX motherboard.
For smaller cases, you will have to opt for the mini-ATX or the ITX ones. Moreover, you should keep in mind that the larger the motherboard's size, the more components it can support.
Type of ports
Since the motherboard connects all other PC components, it is essential to consider what ports are available in it. You should always check the I/O panel to be sure about the connection options you are looking for.
Also, Get an aura sync compatible RGB fan for your rig!
Expansion Slots
Over the years, there have been many kinds of slots used on the boards. Now, things got much simpler with the advent of PCIe slots.
They are of four types, with PCIe 3.0 being the most used one. You will also find PCIe 4.0 on the boards that support the latest releases from Ryzen and Intel Comet Lake processors.
You just need to be sure about the boards having the required slots required to fit the components.
Check out our experts tested and reviewed the best Aura Sync Compatible SSDs.
FAQ
Question: What is an aura sync motherboard?
Answer: The motherboards fully controllable by the ASUS Aura sync software are known as the aura sync motherboards.
Question: What are the chipsets used in aura sync compatible motherboards?
Answer: There are various types of chipsets compatible with the ASUS Aura software. You can distinguish the chipsets based on the platform. For Intel, the most notable ones are- Z490, Z390, X299, B360, etc. And for AMD, the notable ones are- X570, B350, X399, X470, etc.
Final Thoughts
So, these are the best aura sync compatible boards that can be an ideal part of your setup. Here, I have compiled the seven best aura sync compatible motherboards, which are the finest ones among all others available.
Whether you are having an Intel build or an AMD Ryzen, you will find the options for both types. Also, there is a guide which will help you choose the right one.
Still, if you face any issues while selecting your desired option, don't hesitate to let me know in the comments.