Ah yes, TikTok; some see the platform as pure cringe, while others see it as a potential to start their career as an influencer.
Whether to share funny videos or have a legitimate outlet for promotion/income, you must know the basic features of TikTok to use the platform properly.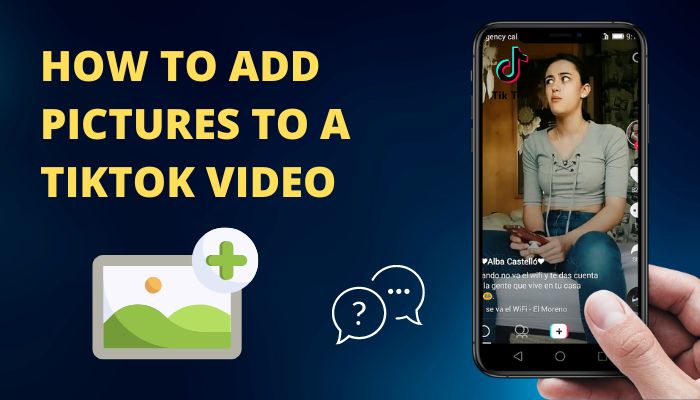 Beginners who are new at making TikTok videos often struggle to figure out certain basic features, such as adding photos to a video. Been there, done that.
If you want to add pictures to your TikTok videos but don't know how to do that, you're in the right place. I have shortlisted the easiest ways to add photos to a TikTok video in great detail.
So without further ado, let's get started.
Check out our separate post on Why Are My TikTok Ads Not Delivering
How to Add Pictures to a TikTok Video
Adding an image into a TikTok video is not a particularly complicated process and only takes a few steps.
The most straightforward way to add photos to your TikTok video is by using the Effects feature in the app. The Effects section is accessible during the video editing phase on TikTok
You can also manually add photos to create a slideshow or video made entirely of pictures only.
Before we begin, ensure you have the latest TikTok app installed on your phone & have a stable internet connection.
Here's how to add pictures to a TikTok video:
Method 1: Use Effects Feature
You can place photos inside your video as an inset using Effects. An inset is a set of pictures inside a video.
Here are the steps to add pictures to a TikTok video using Effects:
Launch TikTok and press the Plus(+) icon.
Tap Effects.
Click on the inset photo icon.
Press the + icon & select your desired image.
Record your video & tap the checkmark after finishing.
Adjust any other settings you want for the video.
Click Next.
Fill out the rest of the Post screen.
Hit Post.
Additionally, make sure no object or person is facing the camera during this process. Otherwise, they may get visualized in the effect.
Also, check out our separate post on Why Is My TikTok Out of Sync
Method 2: Use Green Screen
Another great way to add pictures to your TikTok videos is to use the green screen filter effect. This filter lets you superimpose yourself in front of a picture of your choosing.
Using a photo as an artificial background can enhance your video as it adds a neat effect by transporting you to a new location.
Here's how to use the green screen effect to add photos to your TikTok videos:
Launch TikTok & tap + icon at the bottom of the screen.
Start recording your video.
Pause the recording.
Tap Effects.
Navigate to the Green Screen tab.
Select any option to upload your own image with the desired effect.
Press the + icon.
Choose the photo you want to set as your video background.
Resume recording your video.
Now you can record a TikTok video with your preferred photo as the background.
Have some time to spare? Quickly check out our epic guide on how to Fix Can't Change TikTok Username
Method 3: Use Templates
TikTok has an amazing feature where one can add photos to your video by using templates. It will also spice up your video by adding fancy effects & animations.
Here are the steps to add pictures to a TikTok video using templates:
Open TikTok & tap +.
Select the Templates tab.
Swipe left and right through the previews & select the one you like.
Hit Select photos.
Select your desired photos.
Tap OK.
Adjust any other settings.
Select Next.
Fill out the rest of the post screen and tap Post.
Remember that the selected template will get downloaded first on your app if it wasn't downloaded prior to this process.
Check our separate post on How to Fix Airpods Not Working on Tiktok
How to Make a TikTok Video With Only Pictures
TikTok provides the option to make videos using only pictures. You can add pictures to TikTok directly from your camera roll. You can also add multiple photos in one go and create a video entirely made of pictures.
Here are the steps to make a TikTok video with only pictures:
Launch TikTok and tap on the + icon.
Select Upload.
Switch to the Photo tab and select your desired picture from the gallery.
Click on the Select multiple option if you want to add multiple images.
Adjust other settings if you want.
Click Next.
Click on Switch to photo mode if you want.
Hit Next.
Confirm a suitable title & fill up all the additional info.
Tap Post.
You can also make a slideshow by tapping on the Slideshow button at the top right corner of the gallery section. You can also customize your sound settings and tweak the display duration of your slideshow images.
Also, check out our separate post on the Why is My TikTok Account Suspended, Here's a complete guide on Why Have I Been Banned From TikTok Live, Check out the easiest way to Why is TikTok Not Showing My Videos
FAQs
How do you remove the transition from a picture on TikTok?
If you want to remove the transition from a picture, simply touch the curved arrow during the editing phase to delete it and put another one in its place.
Can I share images from Google Photos to a TikTok video?
Yes, but you won't find them in the TikTok app. You need to install & open the Google Photos app to add a photo from your Google Photos gallery. You can select multiple images in the Google Photos app and share them directly with TikTok.
How do I edit a picture on TikTok?
You can edit a picture by uploading it with the video and then add text, stickers, and other effects during the editing phase. Once you have edited the clip to your liking, you can publish it on the platform.
Wrapping Up
TikTok's built-in features empower its user base to show their creative ideas and present them in a better way. Though it's mainly a video-based platform, your pictures can get in on the act in many ways.
Adding pictures to a video comes in handy when conveying your idea through a slideshow or a background of a specific location. It allows the creative crowd to add a greater depth of storytelling.
I hope my guide has enabled you to express your creative soul by easily adding pictures to your TikTok videos. If you have any further queries, feel free to ask them in the comment section below.