Discord is a communicating platform built focusing on gamers primarily. Gamers can easily chat and make calls between the members or participants. Discord offers a feature that shows other associates what game you are currently playing without you needing to update your status regularly.
But you might have faced an issue that you can not add any game as you like. I also had faced a similar problem. And I found an easy solution for it.
Keep reading to know more about that.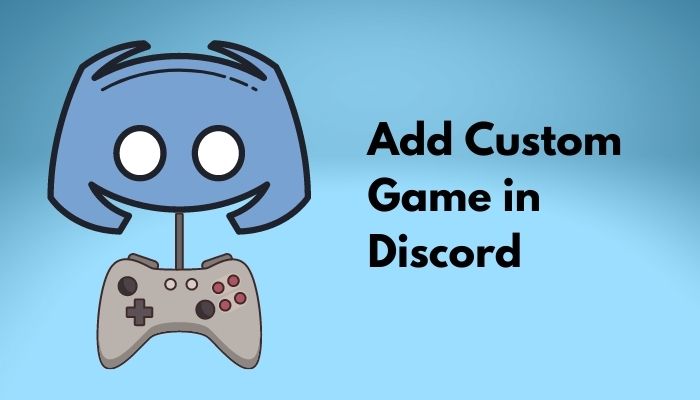 Check out our separate post: Discord Game Detection not Working
How to Add Games in Discord
Adding custom games isn't such a big issue. Although without knowing the process, it might be a very tough task. Besides showing the game's name as your Discord status, it shows when you last played the game.
Here are the steps to add games in Discord:
Open Discord
Go to the User Settings
Scroll to the Activity Status tab located inside the Activity Settings. Generally, all the games you play might get added automatically. But if it didn't, click on Add it! option there.
Select the games or programs you want to add to Discord. Once you have added a game, Discord will show it up as you are playing the game as your status.
If you are on a mobile device and want to change the status of playing a game or add some games in Discord, that is also available here.
For a Mobile Device
Open the Discord app on mobile.
You will be greeted with a pop-up saying Enable Game Detection. Enable it and follow the rest of the instructions.
If nothing pops up, simply go to the User Settings (Gear Icon inside the hamburger menu).
Select Games, and there will be a list of games installed on your mobile device.
Turn on both the options available there below the list.
Follow our guide on Discord: Allow Friends to Join Your Game
What does the Blue Badge mean in the Discord game list?
The games that have been added automatically by Discord itself will contain a Blue Badge at the end of the name of that game. These are the programs and apps that seem to be games to Discord. User-added things won't have any badges.
You might be wondering if you can fake the game's name on the status of the Discord profile. Yes, you can add any custom name in place of the game on the Discord profile. You don't have to change anything critical or advanced settings. It's simple and easy.
You may ask:
What is the Game Detection service on Discord?
Discord now offers a Game Detection service, which allows you to show the game's updates that you are playing. If you are playing Genshin Impact, Discord will detect your activity and show it on the Discord profile.
Read more on how to Claim Discord Nitro with Xbox Game Pass
Add Twitch, Steam, Spotify, and other statuses to Discord
You can add anything there now that you have learned about setting up the custom status on Discord. You can add about watching movies or playing games. But everyone knows that is not an official status and can be customized as you like.
I.e., you were playing Halo on Xbox and wrote about it on Discord status. Why take this hassle while you can just connect the official apps from Xbox, Steam, Twitch, Spotify, and many others.
In that case, a Discord has a wide range of support for third-party apps that allows customized and official status updates. Connecting these official apps can regularly update your status on Discord. If you are playing Forza on Xbox or streaming Valorant on Twitch, as you have connected the official handles to Discord, it will constantly update the status. Now you can get a proper status update with a verification mark next to it.
Also, follow our guide on how to Get FREE Games with DISCORD NITRO
Here are the steps to add official apps to Discord:
Open Discord App
Go to Settings and click on the Connections
Select any app from there and log on to it.
And you are done! You have successfully added the official handles of the third-party apps on Discord. While you will be playing any games on these platforms, Discord will update your profile status on that.
Check out the easiest way to fix Better Discord not working.
What Game status should I include on Discord?
As Discord allows you to update status as you like, you can add customized statuses on the Discord. There are some fancy and cool ideas regarding statuses. You can share what you are up to or what you are feeling through updating these statuses.
Discord introduced this custom status feature to refresh the status monotony cycling into just presets. You have come to the right place if you are searching for ideas to customize your Discord status.
Here I am going to share some ideas to customize your Discord status:
1. Add Some Emoji and Kaomoji
You can add some Emoticons and Kamojis to spice up your statuses on Discord. A simple line ending with an emoji or kaomoji can enrich the appeal of your status on Discord.
2. Use Aesthetic Fonts
You can change the fonts of status on Discord, did you know? While everyone is updating their status in the same way, you can stand out using something aesthetic. There are many Font Generators available on the internet for free. Use them to update something remarkable.
Follow our guide to fix Discord not ringing for Incoming Calls.
3. Share What is Going with You
It is a delightful idea to share what you are doing and whatnot. Playing a game or watching a movie, or working on a cool project, share the information through updating the status on Discord with your friends and colleagues.
4. Use Hashtag
You can put a trending hashtag in statuses on Discord. There are many times when a particular hashtag becomes popular on social media. Use that to reflect your choices with that specific thing.
5. Share A Link
Sharing links of your favorite things can be an exciting status update. You can share a link to that song you recently heard of, or it can be your latest project link that you want to share with your friends and colleagues. But don't overdo the link-sharing as it might be irritating for your contacts.
Check out the easiest ways to fix Discord Entry Point Error.
Conclusion
Discord is a gamer-focused platform, and the status updating feature might be helpful for you. Imagine you are playing a game, and your friend is continuously sending messages into your inbox. This might create an irritating situation.
To avoid this kind of disturbance, you can use the status feature to let your contacts know about your current state. If you are playing a game or listening to a song, Discord automatically updates the status according to your activity so that your acquaintances get to know what game you are playing and jump into it directly.