Do you wish to be like Iron man and use Jarvis as your fellow AI virtual assistant, who will be with you all the time to be your guide and assist you? As for now, it's not possible to be like an iron man, but you can surely use an AI virtual assistant.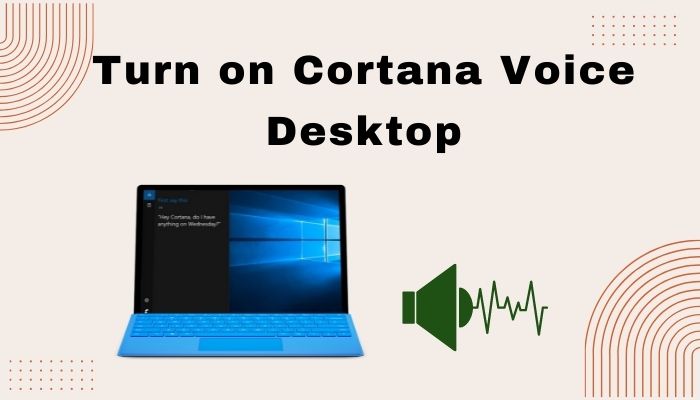 Cortana can fulfill your desire as a virtual assistant. You must be a windows user to access Cortana so that It can assist you when you feel lonely. In Windows 10 or 11, you can have Cortana as your assistant.
Don't you know how to turn on Cortana on your Windows machine?
Release your agitation right now. Let me assist in turning on Cortana and utter the magic word Hey Cortana to wake up your virtual assistant.
Why Use Cortana Voice?
You can use Cortana to tell you a joke, turn key windows features on-off, set up a reminder for a specific date & time, or set an appointment date in the calendar. Cortana helps you open a particular app, hear the weather forecast, compose emails and search media files and documents by name.
You may need to go to your friends or family for suggestions and advice in your real life. But frankly speaking, the modern lifestyle is tremendously dependent on technology. Now sometimes, you need a virtual assistant more than a real-life assistant.
Here comes Cortana to play the role of a virtual assistant. It is an entirely AI-based virtual associate. Perhaps it is one of the most multi-device and multisense-based AI assistants.
Cortana is a part of the Windows shell, and it is also available in Microsoft office 365. But in Microsoft office 365, it is known as a Cortana enterprise service. Cortana helps you achieve more things with less effort and focus on what matters.
Microsoft released Cortana on April 2nd, 2014, and it is available in multiple languages, dependent on the software platform and region. This AI assistant was decoupled from the Windows search bar in April 2019. It was developed for Windows Phone 8.1 and launched for the Windows OS platform.
Cortana mobile app shut down globally on March 31, 2021. The fun fact about Cortana is that it is named after the HALO video game's artificial intelligence character. In the game, the character Cortana is also an AI virtual assistant.
Cortana is excellent for web searches, and it can easily search the web. You can also link Cortana to Spotify to play music with voice commands. Cortana can read texts out loud to you if you want.
You may also like to read: Logitech G Pro X Microphone Not Working.
How to Turn on Cortana Voice
Like the game HALO's character Cortana, you can also use Cortana as your virtual assistant on your Windows machine. If you are desperate to use Cortana as your AI assistant, let me assist you in turning on Cortana voice assistant.
If you didn't sign in to your Microsoft account, you could only use the essential functions of Cortana. To use all the advanced features of Cortana, first log in to your Microsoft account.
Here are the steps to turn on Cortana voice in Windows:
Go to search and type Cortana.
Click on the Cortana icon to open the Cortana app.
Sign in to your Microsoft account to use the full functions of Cortana. If you don't sign in, you can only use the essential functions of Cortana.
Click on the three dots on the upper left-hand side of the Cortana app and go to Settings.
Select the Voice activation option to turn on voice features for Cortana.
Click on the Voice activation permissions link from the pop-up window.
Hit on the Yes As a first-time user, you need to click it once.
Go to voice activation settings and turn on the switch to Allow apps to use voice activation. Enabling it will allow Cortana to use the voice activation function.
Scroll down to move to Choose which apps can use voice activation section.
Flip on the switch for Cortana to respond to the keyword. You can also turn on the specific button if you want to use Cortana when your device is locked.
Done all the settings. Now you speak out the wake-up word Hey Cortana or Cortana to speak with Cortana. The more you talk with Cortana, the more Cortana will be trained to talk with you. You can also set Cortana when your device is locked.
Also read, Logitech Webcam C920 Mic Not Working.
How to Fix Microphone Not Working for Cortana
If you can't speak to Cortana even after plugging in your microphone, you should go to the settings to fix this issue. Follow the below steps to resolve the issue.
Here are the steps to fix the microphone not working for Cortana:
Go to the settings first by right clicking on the Windows start logo.
Click on the Privacy settings option.
Click on the Microphone option after that.
Flip on the switch to Allow apps to access your microphone.
Scroll down and click on Choose which Microsoft Store apps can access your microphone.
Turn on the switch for Cortana.
Now open the Cortana app again. Click on the microphone logo to speak with Cortana or just utter the wake-up word Hey Cortana. Now you will see the microphone picks up your voice. Congrats! You have fixed the microphone issue.
Follow our guide to Fix AirPods Microphone Not Working.
How to Reset or Delete Cortana App Data
If you want to reset Cortana to fix any issues while using the Cortana app or want to delete all your Cortana app data, follow the below steps.
Here are the steps to reset or delete Cortana app data:
Go to the search option in Windows and type in Cortana.
Right-click on the Cortana app icon and select App settings.
Select the Reset button from the Cortana app settings window under the Repair button.
In the previous version of Windows 10, Windows provided a specific setting option for Cortana where you turn off collecting information data for Cortana.
Related guides: How to Backup and Restore in Windows 11.
FAQs
Is Cortana listening to you all the time?
No, Cortana is not listening to you always. By default, it's set not to hear you all the time because of the privacy policy. You can tweak the settings if you want Cortana to listen to you always.
Can Cortana Open up apps for you?
Yes, Cortana can open up the app for you. For example, Just say, "Hey Cortana, open the wifi setting," and It will open the wifi settings for you instantly.
Can Cortana shut down your computer?
Yes, it can shut down your computer by your voice command. As a virtual assistant, It can do this type of thing for you. Cortana can shut down, restart, log off, hibernate, sleep, and other kinds of stuff by your voice command. Just give it a voice command, and It will do that instantly.
Have some time to spare? Check out our latest fix for Bluetooth Toggle Missing On Windows 11
Final Word
Cortana now became so much popular after it collaborated its functionality with Alexa. Alexa and Cortana can access each other. It opens another dimension in AI technology where one AI-based virtual assistant can talk to another.
Now it's your time to use Cortana and join the era of artificial technology.
I hope you have gone through the entire article and already turned on Cortana as your first AI Virtual assistant. You can share your experiences by leaving a comment in the comment box. Don't hesitate to let me know if you face any problems.
Let the AI make your days unforgettable. See you next time!