Anyone who has faced errors while playing a multiplayer game knows how annoying it can be. Specially the troubleshooting part.
Like many other multiplayer games, Roblox is also prone to various connection errors, especially the error code 403. If you're facing such error & don't know what to do next, you're in the right place.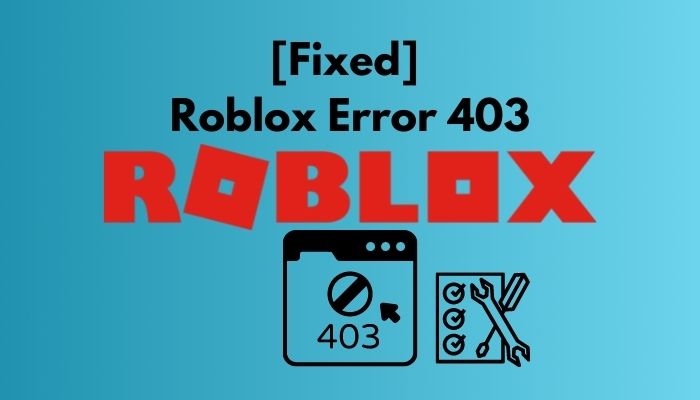 Let's dive into this article & discuss everything you need to know to resolve this issue.
What is Roblox Error 403?
Roblox error 403 is an access authentication error. It occurs when you don't have permission to view/access the page. There are multiple reasons why you might be facing this error, such as Roblox server maintenance, server downtime, unstable DNS or Roblox cache corruption.
After clicking on the play button of any Roblox game, an error comes with the access issue to your Roblox account. You'd usually get a message An error was encountered during authentication. Please try again or access is denied, along with the error code: 403.
If your IP address is blocked/banned from a particular site which can be related to your VPN, you will also get a similar error message.
Additionally, you can face this error due to corrupted Roblox files or if your current DNS server is not stable. Basically, it's very much similar to the Roblox error code 279.
How to Fix Roblox Error Code 403
Gamers can fix the Roblox 403 error by deleting the appdata and clearing the Roblox cache folder. It can also be resolved by disabling any 3rd party antivirus or VPNs. If the error is occurring due to server sided issues, you'll need to wait until the maintenance/downtime is over.
When you are just about to start playing on Roblox, it is really unfortunate to receive this sort of error. It prevents you from accessing the files because the access permissions may be implicitly changed.
To fix this issue, a number of measures you can take. I am going to enlist all the possible fixes to ease off your problem. Perhaps, this is the last time your face this error 403.
Before we begin, visit the Roblox server status page & make sure that the Roblox servers are up and running. If the servers are down or under maintenance, no amount of troubleshooting will fix this issue. Additionally, you need to update Roblox if you're using an older client.
Here are the methods to fix Roblox Error Code 403:
1. Uninstall and Reinstall Roblox
Uninstalling and reinstalling an application is the primary as well as the most effective way to fix issues with it. And it's no exception in this case as well.
Here are the steps to uninstall Roblox from your computer:
Open the Control Panel on your computer.
Go to Programs and Features. You will find a list here with all the applications installed on your system.
Locate Roblox in the list, and click on it.
Tap on the Uninstall button at the top bar next to Organize.
Click on OK to confirm your deletion and give all the necessary permissions.
Wait till the uninstallation finishes.
Now, Roblox is successfully removed from your device. So, download a fresh copy of the application and install it again. Some users have reported facing endless installation loop error for Roblox. Fortunately, you can easily fix this infinite install loop for Roblox.
2. Clear the Roblox Cache Data
Sometimes, even after reinstallation, the problem persists. The main culprits are the local and junk files that you will mostly find corrupted and broken. So, if you do not remove those during the uninstallation, they create hazards. How will you fix that?
Here's how to clear cache data of Roblox:
Launch the Run prompt. Use the shortcut of Win+R.
Type %localappdata%, and hit Enter. A folder containing local data will open in File Explorer.
Locate the Roblox folder and delete it.
Reinstall the Roblox application on your computer.
Now, check if the error 403 occurs still persists. You can also try reseting Roblox without losing your settings.
3. Use SFC Command
If Roblox is still showing the error code 403, use your command prompt to check and verify the system's integrity. To do this, follow the steps given below.
Here are the steps to check system integrity using the SFC command:
Go to the Start.
Type Command Prompt on the search bar.
Right-click on Command Prompt and choose Run as administrator.
Click on Allow / Yes if any User Account Control pops up.
Type /sfc scannow, and press.
Wait till the process ends.
4. Scan with Windows Defender
You can make a thorough check and scan of your system with the help of Windows Defender. Depending on the system's configuration, the process may take 5-10 minutes.
Here are the steps to scan your computer with Windows Defender:
Open the Control Panel.
Navigate to Windows Defender and click on it. A new window will appear.
Tap on the small downward arrow icon next to Scan.
Choose Full Scan from the list.
Let it scan and wait until the scanning completes.
If there is any problem concealing your system, Windows Defender will point it out and fix it with your permission.
5. Disable Antivirus and VPNs
Oftentimes, it happens that antivirus and other security-providing software conflicts with the existing ones. The same thing is reported for VPNs as well.
That's why, if the previous methods I mentioned did not work for you yet, try disabling your antivirus and other contemporary applications for the time being.
Now, check if the error takes place. In the case of websites, whitelisting allows them to function properly.
6. Check Windows Firewall
Like the antivirus software, Windows Firewall blocks several sites and applications from operating smoothly. Therefore, in case it blacklists Roblox, you will face error 403 with denial of access message.
So, check if your firewall blocks entry to Roblox itself or its studio application. If you found Roblox blocked, unblock it at the soonest to play games.
If you are logged on to your system as an administrator, try running Roblox studio as an Administrator. If you are not, run Roblox as an administrator. Collect the password from the actual admin to access it. I Hope, this hack will solve your issue.
7. Modify Entries from Registry Editor
Modifying problematic entries from the Registry is the last resort to solve Roblox's error. Let's learn how to do this practically.
Here are the steps to delete entries from the Registry editor:
Open the Run.
Type regedit and hit Enter.
Right-click on HKEY_CURRENT_USER and HKEY_LOCAL_MACHINE SOFTWARE separately. A dropdown will appear.

Choose Permissions from the dropdown and give full control to the user.
Click on OK, and close the editor.
Restart your computer and reopen Roblox.
Now, check if the error still appears. This should be gone.
FAQs
What does 403 mean in Roblox?
403 in Roblox means that you don't have permission to view or access the page content of that link.
How do I stop error 403 on Roblox?
You can stop error 403 on Roblox by clearing the Roblox cache folder and disabling VPNs and antivirus. You might also need to give network permission from Windows Firewall
Bottom Line
That's about it. All the methods mentioned above are proven and tested by many. So, they should work for you in the same way. If the error does not resolve, contact Roblox support.
Write them your problem, context, and what measures you have already tried in short. They will get back to you with an obvious and efficient solution.
Was this article helpful? If you think it was, share it with others. If you have any queries, let us know in the comment box below. Adios.