Usually, the color blue means calmness and serenity. But when we see the Blue Screen of Death, we get all kinds of feelings but calm. It is an unavoidable screen when a PC goes through a serious issue.
Some of us face BSOD due to the registry Filter driver exception. Are you one of them?
This kind of issue is unpredictable, and you could face it while playing games, watching movies, or even when you are simply browsing.
Registry Filter Driver Exception mostly comes with a 0×00000135 bug check value, which refers to an unhandled exception issue. Your system could trigger this issue constantly or randomly.
Fixing this problem is not knotty; you could resolve this by applying some simple methods. Consequently, read this article till the end to fix this issue.
Let's begin!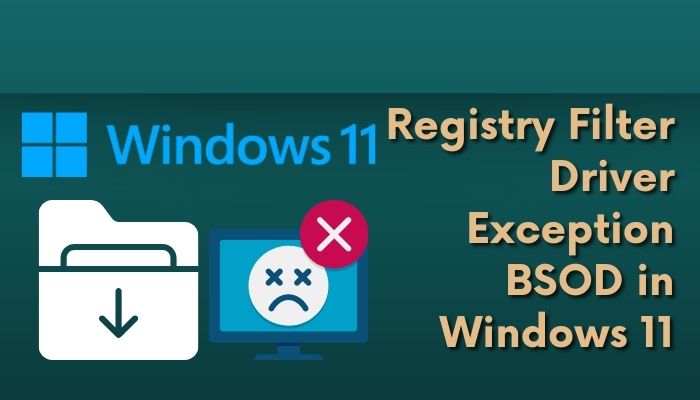 Read more on how to Download & Install Steam on Windows 11
What Caused Registry Filter Driver Exception BSOD in Windows?
You might face BSOD for Registry Filter Driver Exception for broken system files, faulty or outdated drivers, and bugs in the system. Hardware like faulty RAM, motherboard, or PSU can trigger this. Furthermore, malware can cause this registry filter driver exception too.
So, What is the registry filter driver exception BSOD error?
Registry Filter Driver Exception refers to an unhandled exception in the registry filtering driver, and this error comes with a bug check value of 0×00000135. The bug check signifies that a registry filtering driver could not handle an exception inside its notification routine.
BSOD is an awful thing that nobody wants to experience. But bad luck can knock anytime, and you never know when it's the time. You can flip this scenario by solving this error.
Will applying those methods be difficult for you?
Simply not! I will pave the easiest and quickest fixing way for you.
Related guide: 4 Easy Steps to Open Windows 11 Administrative Tools
How to Fix Registry Filter Driver Exception BSOD in Windows 11
I know how terrible this problem is, and I have gone through this painful situation too. Among all the methods I have applied, only a few have been successful. To make it easier for you to solve this registry filter driver exception error, I will only show the working ones but with easy steps.
Here are the methods to fix registry filter driver exception BSOD in Windows 11:
1. Update Drivers
Backdated and corrupted drivers can cause this issue. You will need to update the backdated driver to get out of this registry filter driver exception.
Here are the steps to update the drivers from device management: 
Right-click on the Windows icon and click on the Device Manager.
Click on the expand button beside the hardware name.
Right-click on the drive name and choose update driver.
Click on Browse my computer for drivers.
Select Let me pick from a list of available drivers on my computer.
Check the box for Show compatible hardware and choose the model from the list.
Click on the Next button.
Windows will update the driver automatically for you. Do this for each of the hardware. If BSOD occurs for backdated drivers, you won't face this again.
Also read, Windows 11: An Error Occurred While Creating the Directory
2. Run Tools to Check System Files
You can face BSOD for a corrupted system file. System files are the core files that are essential to running your system smoothly, but when these files get corrupted, you will see inevitable failures in the system.
Registry filter driver exception error is one of them. So you will need to run a scanner to check system files. You can check system files through various tools like Windows SFC scanner, DISM, or chkdsk tool. But using this tool is only possible by the CMD.
Here are the steps to run a system file checker using SFC:
Right-click on the Windows key and select Run.
Type CMD in it and press Ctrl + Shift + Enter to run it using Admin privileges.
Type sfc /scannow and hit Enter.
This scanning process will begin, and it will take some time. Wait until the process shows you a 100% complete message.
Well, if you look forward to checking bad sectors in the storage devices, you can do that too from CMD. Checkdisk utility checks for any disk errors and fixes them. In the CMD, you will have to use chkdsk, which will do the job for you.
You may also like to read: 13 Best Windows 11 Settings You Should Change Right Away
Here are the steps to check bad sectors in the storage devices using chkdsk:
Launch the command prompt as administrator.
Type in the following line in the CMD and hit Enter.
Chkdsk /x /f /r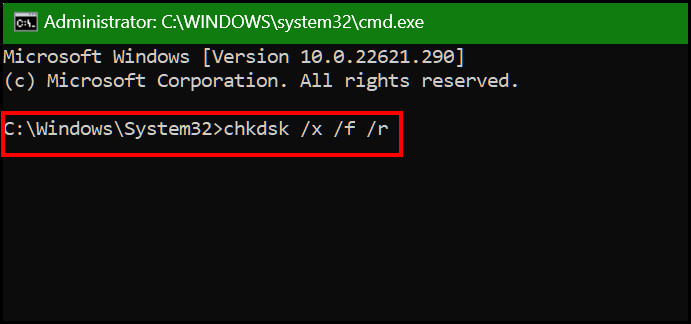 Press Y to continue when you get the message The volume is in use by another process.
Reboot the PC after that.
After that, the check disk utility features will start scanning the storage for bad sectors and apply the fixes.
Another tool is DISM (Deployment Image Servicing and Management), mainly used to service and prepare Windows images. With this, you can also restore system health, and the steps are pretty simple to run this through CMD.
Here are the steps to run the DISM tool using CMD:
Click on the Windows search icon and search CMD.
Launch the CMD as Administrator.
Type the following command line and hit Enter.
Dism /Online /Cleanup-Image /RestoreHealth

This process will run for several minutes, like 15 minutes. Don't close the CMD or turn off your computer while the process is running. After the process is complete, look if that fixes the error.
Check out our separate post: Windows 11 Remote Desktop Authentication Error
3. Update Windows
Updating the Windows to the latest releases is essential for avoiding unwanted issues. The updates come with several bug fixes and improve the system stability. If a registry filter driver exception error occurs by any bugs, updating the Windows will fix it.
Here are the steps to update the Windows 11 latest releases:
Right-click on the Windows start icon and select Settings.
Click the Windows Update.
Click the Check for updates button.
Restart the PC after Windows downloads and installs the updates by itself.
After the restart, run your PC for a long time and check if that fixes the problem.
Also related: Delete Windows 11 File Explorer Address Bar History
4. Uninstall Third-Party Apps
Sometimes third-party apps can interfere with the system and cause BSOD. The app might have bugs or corrupted files, which is why it interferes with the system.
To solve this, you will need to find which recently installed apps are behind the BSOD problem, then uninstall those apps.
Here are the steps to uninstall third-party apps: 
Go to Windows Settings by right-clicking on the Windows logo.
Navigate to Apps > Installed apps.
Find recently installed apps.
Click on the three dots from the right side and select the Uninstall button.
Then follow the on-screen instruction to end the uninstallation process. After completing the process, continue all the work and check whether the BSOD problem is gone.
You may also like Enable or Disable Offline Files in Windows 11
5. Turn off Windows Security's Real-Time Protection
The registry filter driver exception error (WdFilter.sys) is related to the Windows defenders bug. A buggy or corrupted Windows defender is liable to trigger this BSOD problem. If that's the reason you are having this error in your Windows 11, turn this off now.
Here are the steps to turn off Windows defender:
Go to the system tray on the Taskbar.
Click on the Windows defender's shield icon.
Go to Virus & threat protection.
Click on the Manage Settings under Virus & threat protection settings.
Turn off Real-time protection.
Restart the PC.
Turning off the real-time protection of the Windows defender will solve the Blue screen of death, provided that's the main reason behind this.
Note: Don't forget to install a third-party antivirus software after turning off the defender's real-time protection. Else, malware will cause havoc in your system.
Also read, Taskbar Won't Auto-Hide In Windows 11/10
6. Restore Windows Defender
In case the problem isn't solved by switching off the defender's protection, you can restore the defender. Restoring the defender will resolve the BSOD error when the defender itself is responsible for the issue.
When Windows defender gets corrupted, you can apply this restoring process to resolve the BSOD issue for the registry filter driver exception.
Here are the steps to restore Windows defender: 
Open CMD with Administrative privileges.
Run the following commands and hit Enter after each line.
sc config WdFilter start= boot
sc start WdFilter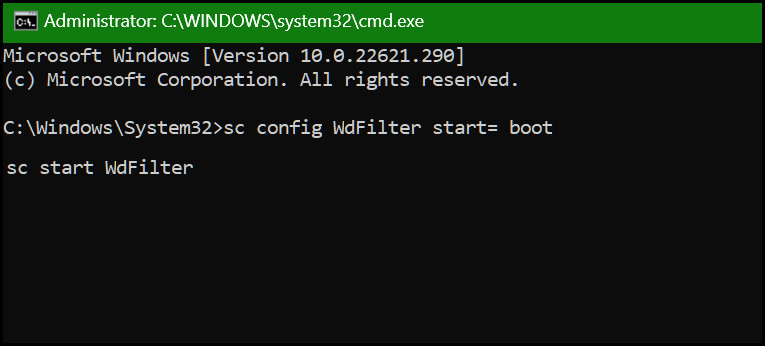 After executing both commands, restart your desktop or laptop.
Read more on how to Password Protect a File or Folder in Windows 11
7. Uninstall Windows Corrupted Updates
Updates are suitable for Windows health and ensure overall system stability. But sometimes, things could go wrong when you are stuck in the middle of an updating process. It could trigger the BSOD for Registry Filter Driver Exception in Windows 11.
Nonetheless, Windows updates sometimes come with corrupted updates. So, uninstalling those corrupted updates will resolve the BSOD problem.
Here are the steps to uninstall Windows corrupted updates:
Go to Windows Settings and click on Windows Update.
Click on Update history.
Scroll down and select Uninstall updates.
Choose the update that is responsible for the error.
Click on the Uninstall option from the right side of the updates.
After uninstalling, restart the PC. The blue screen problem should be fixed by now.
Follow our guide on how to Disable Accidental Drag and Drop in Windows 11
8. Run Windows Memory Diagnostic App
Memory is crucial when talking about running your system with a stable performance. But sometimes, memory can get corrupted, resulting in PC freezing, slow performance, and even triggering a blue screen.
You can't run a PC with this problem, which needs to be fixed.
Speaking of fixing memory issues, Windows Memory Diagnostic (WMD) can be a great app. WMD is an excellent tool for troubleshooting all kinds of memory-related problems. BSOD errors like registry filter driver exceptions can happen due to faulty RAM or wrongly allocated memory.
Here are the steps to run Windows memory diagnostic tool: 
Go to Windows Search and search for Windows memory diagnostic.
Open the App, click on Restart now, and check for problems (recommended).
Windows will restart and boot in the blue-colored Windows memory diagnostic tool interface. The test will take several minutes, and you will see an overall test status bar. It will run several test passes. (windows-memory-diagnostic-tool-test)
If the test found any error, it will show. Replace the RAM in case there is a problem with it. After changing the RAM, you won't face any blue screen again.
Pro Tip: You can also use the MemTest86 app to test the RAM to the core level. It is a reliable app, and tech geeks always use this app to test and point out any fault in the RAM.
Check out our separate post on how to Speed Up Windows 11 Performance by Tweaking Settings
9. Go for System Restore
Just in case all the above methods failed to resolve the BSOD error for the registry filter driver exception, go for this last method. Roll back the Windows installation to restore the Windows to its previous state.
Sometimes recently released updates come with bugs, enough to make an unstable system. That's when you will face BSOD, and the solution is to restore the system. Let's see how it's done.
Here are the steps to restore the system in Windows 11: 
Press Windows key + X and select Run.
Type rstrui and click on OK.
Click on Next on the System Restore Window.
Select the restore point from the list by looking at the date when the BSOD problem didn't happen and click Next.
Click on the Finish button to begin the restoring process.
Note: Without creating a restore point before, you won't be able to restore the system.
Restoring points helps to roll back your system to the early state when the system was working without any error. All the installed programs are uninstalled, and your changes will revert after the restoration is completed.
Also related: How to Unblock Websites on Windows 11
FAQs
How to fix BSOD for registry filter driver exception?
To fix the blue screen of death for registry filter driver exception, scan for corrupted system files, update all backdated drivers, remove third-party apps, or try uninstalling corrupted Windows updates.
What is the registry filter driver exception error in BSOD?
The registry filter driver exception is an error due to outdated or corrupted drivers, broken system files, or bugs.
What is WdFilter.sys in Windows?
The WdFilter.sys is a Windows driver. This  WdFilter is Microsoft's anti-malware file system filter driver. 
Bottom Line
BSOD due to registry filter driver exception error occurred due to driver problem and corrupted system files. Many users have already faced and reported this error in many forums.
But don't worry about going there and asking for solutions. I have already given all the proven fixes in this article. Just stick to those methods and apply the steps as it was given.
Solving this blue screen error problem for this particular reason will be easy when you finish reading this article by the end, and I hope you have.
See you at the next one. Peace out!