Microsoft brought back the widgets and modernized it on Windows 11 with a dedicated panel; A neat way to quickly explore news, weather, stock exchange, and so on.
Though reports are coming in, Windows 11 widgets are not working after an update or stopped working without a hint. Also, showing the "We're having trouble loading this content" message.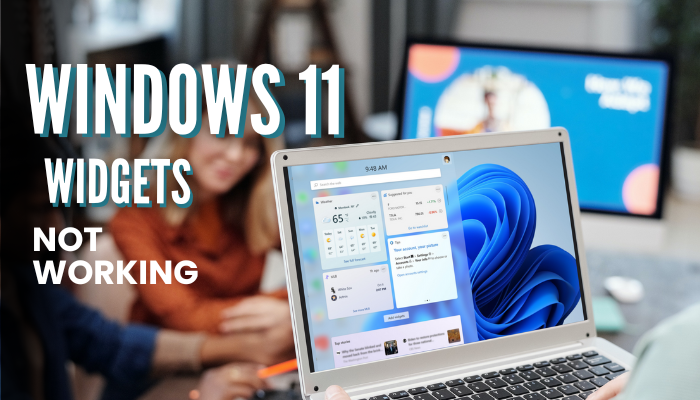 If you are on the same page regarding a not responding widget panel, this guide will help you sort out this issue permanently.
So, let's have a look, shall we?
How to Fix Windows 11 Widgets Not Working
Fixing Windows 11 widgets not working problem requires you to follow some easy and procedural steps. Despite that, it doesn't necessarily signify the effectiveness of each method for every computer. So, try the fixes one by one, and one of them will work for you. For me personally, restarting the widget process did wonders!
Below, I've accumulated all the possible fixes for Windows 11 widgets not working issue. Let's have a detailed look.
Enable Widgets Manually
The obvious reason why the Windows 11 widget is not loading is that it is turned off. It may sound counter-intuitive and inconceivable at first, but after an update, it may get turned off hence no widget popping up. Who knows?
For this reason, manually turn on the Widget on Windows 11.
Below I've listed two ways you can enable widgets manually:
From Taskbar Settings
Right-click on Desktop.
Select Personalization from the context menu.
Go to Taskbar.
Toggle on the Widget switch. If it is already enabled, turn it off and on again.

From Group Policy
Hold down Windows 🪟 + R to open Run.
Write gpedit.msc and hit Enter.
Expand Computer Configuration from the left pane.
Expand Administrative Templates followed by Windows Components.
Scroll down and select the Widgets folder.
Double-click on Allow widgets from the right pane.
Choose Enabled and click OK from the next window.
Note: Assuming turning on the Widget from the Taskbar Settings comes out ineffective, try the group policy method. It will surely turn on Windows 11 widgets.
Restart Widget Process & File Explorer
Windows Explorer is of immense importance and plays a crucial role in rendering UI elements. As the Widget is another UI feature, it's deeply integrated with the file explorer. So, any temporary glitch in the file explorer can lead to a non-functional widget.
Similarly, the widget process that's running in the background can glitch out as well. Therefore, restart them to fix the widget issue on Windows 11.
Widget Process
Press Ctrl + Shift + Esc to open the Task Manager.
Find Windows Widgets from the Processes tab and click on it.
Select End task from the top.
Try to open the Widget panel from the left bottom of the corner of the taskbar.
File Explorer
Launch the Windows Task Manager.
Find Windows Explorer and right-click on it.
Choose Restart.
After restarting, the widget should turn up just as it should.
Install or Repair Edge WebView2
Microsoft Edge WebView2 is required to run widgets without a hitch. If it's missing on your computer, download and install it right away. It's basically a runtime incorporating HTML, CSS, and JavaScript for Windows native applications.
However, if it's already there, repair it in the following process:
Press Windows 🪟 + I to open Settings.
Navigate to Apps > Installed Apps.
Type microsoft edge and click on the three-dot icon beside Microsoft Edge WebView2 Runtime.
Click on Modify.
Choose Repair from the next screen.
It may take a few minutes. Go through the process completely. Once done, the widget should launch and function properly.
Set Microsoft Edge as the Default Browser
It's a known fact that most users still use Chrome and Firefox as their default browsers. Though it's not a crime, it might be the reason the widget is not working on your Windows 11 machine.
See, some widget apps are integrated with Microsoft's in-house Edge browser. Due to this, when your default browser is not Edge, and you try to open a widget, it simply does not respond. So, set Microsoft Edge as your default browser.
To set Microsoft Edge as the default browser:
Click on the Start 🪟 menu button.
Choose Settings.
Go to Apps > Default apps.
Scroll down and select Microsoft Edge.
Select Set default in the top right corner from the next screen.
Click on every type of file and choose Microsoft Edge.
Log In to Microsoft Account
Some widgets, such as weather and news on Windows 11, fetch information from your Microsoft account. Thus, if you are logged in with a local account, chances are the widget panel will not show up as expected.
So, make sure you're signed in with a Microsoft account. If the answer is no, follow the below steps to log in to your Microsoft account.
Press Win 🪟 + I on your keyboard and open Settings.
Navigate to Accounts > Email & accounts.
Click on Add account > Sign in.
Provide your credentials and sign in to your account.
Create a PIN so that you don't have to enter your email and password every time you boot into Windows.
Once the sign-in process is complete, click on the Widget panel, and you'll see all the feeds are there.
Disable & Re-enable Graphics Driver
The graphics driver on your computer is the one behind a glitchy and not working widget on Windows 11. It may seem a little unorthodox, but many of my friends and co-workers reported that the GPU driver is the one to blame.
Surprisingly, turning the graphics driver off and on again can consequently make the widget work again.
So, why don't you give it a shot?
Here's how you can disable and re-enable the graphics driver:
Click on the Search 🔍 icon on the taskbar to open Windows Search.
Write device in the search box and open Device Manager.
Expand Display adapters.
Right-click on your display card and choose Properties.
Switch to the Driver tab and click on Disable Device.
Choose Yes from the confirmation screen. The display may flicker a couple of times.
Click on Enable Device under the Device tab again to re-enable the graphics driver.
Go back and try to open the widget now. If the GPU drive is the one responsible, the widget issue should be fixed.
Ending Remarks
When the widgets are not loading or crashing, try to emulate the fixing methods properly. Don't get frustrated after trying one or two fixes. Execute them sequentially, one of which will surely turn out to be effective. It can vary from one computer to another.
If you face any difficulty in the process, let me know in the comments.