Emojis can telegraph our feelings in a fun, clear, affecting way. Body language, subtle forms of humor, or mental conditions all can be described with the help of emojis at ease. They now act as one essential communicator full of life and color.
Microsoft has created over 1,800 emojis for its users and continuously improves them.
However, Microsoft Teams might not let you use emojis for some ghostly reasons. You can see the emoji buttons, but clicking them doesn't do anything.
Seems familiar?
To solve Microsoft Team's emojis not working problem, I searched above and beyond on the internet and included the best working fixes after trial and error.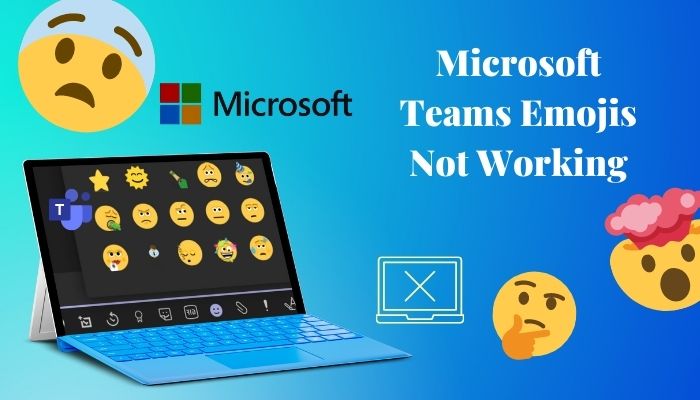 Read this article to solve your problem in minutes.
You should read this post,how to Convert Outlook Meetings to Teams Meetings
Evaluation of Emojis in Microsoft Teams
As we move toward hybrid work environments, Emojis are now very important as a digital form of human interaction. Even before the pandemic, professionalism started to evolve by adding emotional honesty and playfulness into work-life.
To become a part of this ongoing evaluation, Microsoft appointed Meghan Stockdale. Her main task is to evolve Emojis into graphical expressions of professionalism. In an interview, she stated that her inspiration came from Stuart Brown's excellent book, Play: How it Shapes the Brain, Opens the Imagination, and Invigorates the Soul.
The Company also emphasizes 3D designs over 2D and added animation to most emojis. Also, Microsoft included 5 new emojis on 17 July 2021 to honor world emoji day. As of December 22, 2021, the unique emoji style is only available in Windows 11 in 2D (3D is still in development).
However, these brand new styles of emojis sometimes won't work in Microsoft Teams. Users are frequently affected by this problem from early 2021 to this day.
Let's see how you can fix this problem in the paragraph below.
Check our new post how to Fix Microsoft Teams Keeps Freezing My Computer
How to Fix Emojis Not Working on Teams
Emojis occasionally stop working in Microsoft teams. Tech specialists in various Microsoft communities claimed the upgraded emojis sometimes wouldn't properly sync with the Microsoft Teams interface. Apply the solutions below to solve this problem.
Here are the fixes for Emojis Not Working on Microsoft Teams:
1. Re-log into Teams Using Task Bar
When your emojis don't work in Teams, you first need to log in and log out of MS Teams. This solution will do the trick if you use Teams on Windows PC.
Here are the steps to re-log into teams using the taskbar:
Tap the up arrow icon to open the background app.
Right-click Teams application > Select Sign-out.
Restart your device.
Log into your device again.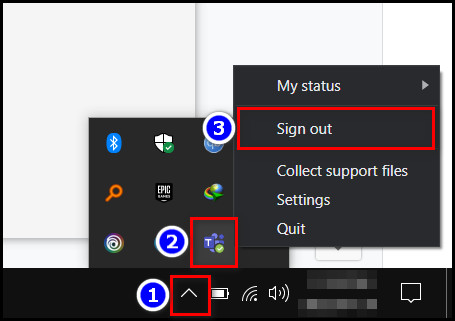 After applying this solution, the emojis in MS Teams will start working again. Follow the next solution if this one doesn't work.
Read more on how to Fix Microsoft Teams Chat Messages Not Showing Up
2. Clear Cache File
The cache file sometimes gets corrupted, making the emoji disappear from the Keyboard section in Teams chat. That time clearing the cache file solves your problem.
Here are the steps to clear the cache file of Teams:
Close Teams.
Go to Run (Win+R).
Type %appdata% > Press OK.
Navigate to Microsoft > Teams > Cache.
Delete the contents in the Cache folder.
Restart your PC.
After completing these steps, Open teams again and check if the problem still occurs.
Related contents you should read Fix Microsoft Teams Can't See Shared Screen on PC
3. Enable Dark theme
As hilarious as it sounds, setting a dark theme in the Teams app solves the emoji not working problem. Many users in Microsoft Community claim that emojis start working again by enabling dark themes in the Teams app.
Here are the steps to enable dark theme in MS teams:
Tap the 3-dot icon near your profile icon in teams.
Select Settings > General.
Choose Dark under the theme option.
After enabling the dark theme, go to chat and try typing any emojis. You should be able to use emojis now.
Check our new post on how to fix Microsoft Teams you can't send messages error.
4. Use teams on Different Devices
If the above solution doesn't work for you, try using teams on a different device. Like, if you use teams in Windows applications, then use that in the web version or mobile application. And your problem will be solved.
5. Use Keyboard Shortcuts for Emojis
Using keyboard shortcuts can be a good alternative when emojis don't show. But one of the demerits of this option is you have to memorize the shortcuts to apply the emojis.
Here are some keyboard shortcuts for most used emojis:
| Symbols | Emoji names |
| --- | --- |
| 🙂 | Smiley face |
| :] | Content face |
| 😉 | Winky face |
| 😀 | Thrilled face |
| ;P | Goofy face |
| 😛 | Silly face |
| 8) | Cool guy face |
| 😐 | Blank face |
| 🙁 | Sad face |
| o_O | Disgusted face |
| :/ | Sick face |
| :O | Surprised face |
Just type those symbols and press enter. And you will see the emoji in the sent message.
Read more on how to Microsoft Teams: Disable Microphone Auto Adjustment
6. Review Messaging Policies of your Organization
Sometimes, the organization's admin prevents the group members from using emojis, memes, and gifs per the organization's policy. When the admin stops emoji in the group chat, no members won't be able to use emojis in their messages.
So you should check your Organization's massaging policy when you can't send emojis in your office group chat.
Check out our new guides on Microsoft Teams set out of office alerts.
FAQs
How do I enable Emojis on Microsoft teams?
Generally, in the new teams' application, the emojis are already enabled. Follow The steps to enable emojis in the old version of MS teams; Open the Settings app on MS teams > Tap General > Toggle on Emoji support.
How do I get emojis on my Microsoft keyboard?
You need to type the correct symbol to send the emojis to others. Type the symbol in any chat and press enter to send emojis.
Example: Type 😛 and enter to send silly face emoji.
Why do I see rectangles instead of emojis?
Some of the main reasons for seeing rectangles instead of emojis are
Your device's Emoji library might not include all of the available emojis.
Your region of operation may block some emojis.
Your device (mostly iPhone) may render emoji differently.
Conclusion
Long story short, to solve Microsoft Teams Emoji not showing the issue at first, you can re-log into the application. When the solutions don't work, try clearing the cache file, enabling the dark theme, or using keyboard shortcuts for emojis. Additionally, check your organization's policies regarding emojis.
After applying the fixes, I'm sure you can use emojis in Teams without any issues.
Which of the following fixes solved your problem? Comment below.