The facilities Microsoft Teams offer significantly impact, turning the 20 million users from 2019 to 145 million as of 2021. With the fantastic features, the developing team implemented an additional screen share facility in the Teams system to enhance user interaction.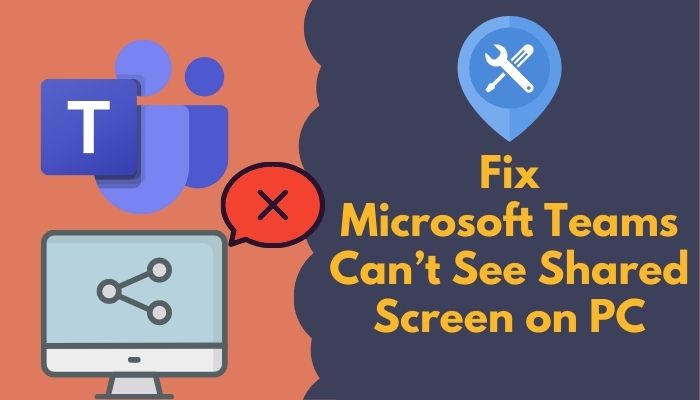 Nevertheless, sometimes we encounter the Microsoft Teams can't see the shared screen issue, such as it restricts us from the full potential of the Teams app. Occasionally, business partners or colleagues who face this issue turn their back on the Teams app.
But I reassure you there is no need to quit the Team app. That's because I formulated some working fixes when I studied this problem thoroughly. Those fixes operate like a vigorous spell and can exterminate your problem.
Don't miss out on anything. Let's begin!
Because of some internal or external issue, you can not see your share screen on the Teams app. Those issues are a faulty internet connection, firewall blockage, an old app version, corrupted cache, RAM shortages, Third party software, and some bugs and glitches.
Here are the reasons that cause screen share problems on the Microsoft Teams:
Internet Connection Problem
Microsoft Teams' surfing and processing power will be significantly hampered when you have a faulty internet connection. Due to that reason, Team's screen share problems can occur.
Firewall Blockage
Occasionally Windows Firewall blocks the share screen permission of Microsoft Teams. That can cause the Teams not to operate correctly.
Old Version of Teams
Data-hungry apps like Microsoft Teams always require the updated version of the app to operate correctly. If that's not the case, then the issue of the share screen can appear on Microsoft Teams app.
Quickly check out our epic guide on Microsoft Teams set out of office alerts.
Corrupted Cache
Sometimes cache data can be corrupted, which results in the Teams app not functioning correctly.
Bugs and Glitches
There are always some bugs and glitches in the software. Microsoft Teams is not above that problem. As a result of its bugs and glitches, Teams screen share problems can happen.
Microsoft Teams is a refined and slick app that can provide you with the best amenities functioning in the world. Yet the screen share complication can hinder that impression by a large margin.
To fix screen share complications on Microsoft Teams, follow the below steps.
Here are the steps to fix Microsoft Teams can't share screen:
1. Log Out & Log in
Without jumping into the more sophisticated solution, you can simply log out and log in from your Microsoft Teams account. This easy fix sometimes works like a charm for several Teams users.
Here are the ways to Logout and login to the Teams:
Navigate the Microsoft Teams app.
Move to the Name icon in the upper right corner and click it.
Find the Sign-out option and click it.
Wait for a moment until the Login Window appears.
Pick your Profile and Sign in.
Watch if it works for your PC or not.
Check out our latest fix for Microsoft Teams Error 80090030.
2. Update Microsoft Teams
Bugs and glitches can hamper the performance of the Microsoft Teams app. You must update your Microsoft Teams app to remove those bugs and glitches.
Here are the actions to update Microsoft Teams:
Open the Microsoft Teams app.
Click on the three dots in the top right corner.
Click the Check for updates option.
Download the update and install it.
Updated versions run smoother than the old ones.
But before that, do check our latest post on the change your background on Microsoft Teams.
3. Close Unnecessary Programs
When multiple apps and programs run in the background, it eats up data and processing power from our PC. Power-crazy programs like chrome or some high-end games can provoke Microsoft Teams to fall into dismay due to this background run.
Here are the steps to close unnecessary programs: 
Right-click on the Task Bar.
Select the Task Manager program.
Check which program is eating more space and processing power.
Choose it and click the End task box.
You can close the needless programs when connecting in a call on the Teams. And that will give more space for Microsoft Teams to function.
4. Request Attendees to Turn Off Their Video
When more participants are on the Teams app, and all their cameras are on, the bandwidth needed to function for Teams skyrockets. As a result, your end can have a screen share problem.
To resolve that screen share issue, you can simply request them to turn their cameras off if they are not utilizing them. Be frank with them about your problem and tell them you hope this temporary arrangement might be the push you need.
5. Enable Entire Screen from Admin Panel
If you are using Microsoft Teams on a company computer and face this screen sharing problem, you need to ask the admin to see if their screen sharing settings are configured.
Clearly saying, ask them to check the Org-wide policy and enable the Entire screen option from the Screen sharing mode option.

Facing error code caa70004,you can quickly fix Microsoft Teams error code CAA70004 from our detailed guide.
6. Disable New Meeting Experience
If you are a premium or paid user of Microsoft Teams, disabling the new meeting experience is convenient. Several users benefited from this fix, so to know more, follow the rest.
Here are the steps to Disable the new meeting experience:
Open the Microsoft Teams app.
Click on the Name icon.
Select the General section.
Disable the Turn on new meeting Experience option.
Restart the Microsoft Teams app.
Check if it's working or not. But if you don't want to change your new meeting experience option, double-click the sender's profile picture; the shared screen should load adequately.
7. Clear the Teams cache
The cache file from your Microsoft Teams can affect your performance; to stay clean and effective, you should clear the cache files more often.
Here are the ways to clear cache from Microsoft Teams: 
Shut down the Microsoft Teams app.
Launch the Run program.
Write %AppData%\Microsoft\teams\ and click OK, which will open a folder.
Move to the cache folder and remove all files.
Enter into the databases folder and cross out whole the files.
Navigate to the GPUcache folder and erase entire registers.
Enter the IndexedDB folder and wipe out all the files.
Head for the Local Storage folder and erase full records.
Move into the tmp folder and remove all the registers.
Clean your browser cache if you use Microsoft Teams for the web.
After clearing the cache files, you can hope for the best and run Microsoft Teams to see for yourself.
8. Lower the Display Resolution
The processing power of the Microsoft Teams is not so high as a 4k resolution. So if you have a higher-end display, you need to match the display according to Microsoft Teams.
Lower bandwidth can also create the same resolution problem for high-end displays. When that happens there is an urgent demand to change your resolution settings in compliance with the Microsoft Teams.
Here are the steps to lower your display resolution:
Go to the Search bar.
Type Settings and click it.
Select the System option.
Find the Display section.
Move to the Display resolution and select a lower resolution.
You are all set. Now check if this solves the issue.
9. Check the Registry Editor
Several users claim that twitching the registry editor to some extent can help you solve this problem, so follow on.
Here are the steps to check the registry editor:
Open the Search bar.
Write Registry Editor and hit enter.
Follow Computer\HKEY_LOCAL_MACHINE\SYSTEM\CurrentControlSet\Control\Terminal Server\WinStations\RDP-Tcp
Find the AudioEnumeratorDll option and double-click it.
Check in the Value data box.
Match dll.
If it matches, then your registry editor is all set.
10. Deactivate VPN
Sometimes when you are toggling from on mode to off mode in your VPN, this issue resolves itself. Numerous users fix their problems with this simple trick, so don't miss out and check it yourself.
FAQs
Why can't I see a shared screen?
Due to poor internet connection, firewall blockage, corrupted cache, bugs, and glitches you can't see the shared screen.
Can everyone share screens on Teams?
Yes, Microsoft Teams allow its user to share their screen simultaneously but when every participant shares their screen it required more data so high bandwidth is needed for this operation to perform.
Why can't I see presentations on Teams? 
You cant see your presentation due to the bugs and glitches issue on Teams to remove that you can clear your app cache and see if it works or not.
Bottom Line
Microsoft Teams web is a marvelous adaptation if you don't want any of the trouble. You just need to sign in to their page to exercise Microsoft Teams for the web.
Can't seeing the shared screen on Teams is a robust problem. It can twinge the user's intention and divert it to oblivion. But if you read my entire content, all your questions will fade away. And you can decode your screen sharing problem independently.
Inform me about your findings in the comment sections.
Stay safe!