After launching Microsoft Teams in 2017, Microsoft's main goal was to replace Skype and Microsoft Classroom.
With the help of its unique conversational approach, it has become trendy among office colleagues and business partners. But occasionally, they face their new chat messages not showing up.
Microsoft Teams has been my daily driver since its birth. For that, I know its advantages and drawbacks. I learned about this problem when some users claimed to have a pop-up message issue.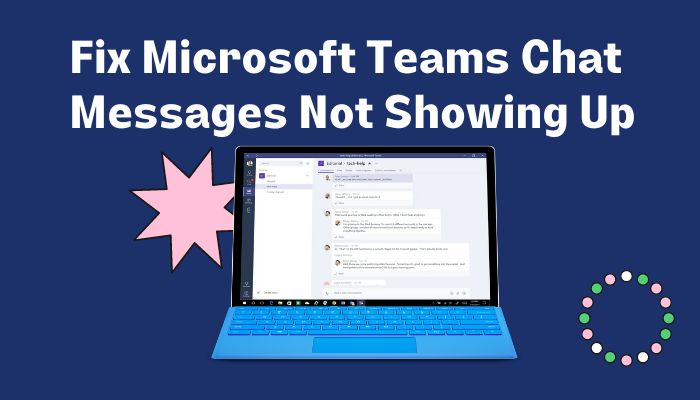 After investigating the message pop-up problem, I found some fascinating repairs that can annihilate your issue. So keep your pace up with me and read the entire content.
Let's jump in!
Follow our guide to Fix Cannot Start Microsoft Outlook Invalid XML
Why is Your Microsoft Team Not Showing New Messages?
The reasons behind your Microsoft Teams not showing new messages are several such as faulty internet connection, an old version of the app, the corrupted cache of the Microsoft Teams app, incorrect installation of the app, and also due to some bugs and glitches.
When your internet speed is not good enough, some glitches can confront your Microsoft Teams app and cause the popup issue.
The common reason for Teams chat not showing up is the unoptimized and corrupted cache files on the Microsoft Teams app.
Old versions of the Microsoft Teams app are not as enhanced as now. For that reason, Bugs and glitches are all around the corner in those versions of Teams. That triggered system failure for the old varients of Teams.
Check out our separate post on how to insert word page numbers in MS Word.
How to Fix Microsoft Team's Chat Not Working
Microsoft Teams is a refined and slick app for communicating with one another. It is a member of the Microsoft 365 family of products.
Although it was released in 2017 and is comparatively a new product, it has some issues. Microsoft Teams chat not working is one of them. To solve that, follow the options given below.
Here are the steps to fix Microsoft Teams chat not working:
1. Log Out & Log In
It is a common understanding that whenever an app doesn't work perfectly, you must log in and log out to fix its issues.
Microsoft Teams chat issue is not so different, so chase down the steps to solve your problem with chat.
Here are the steps to login and logout:
Open the Microsoft Teams app.
Click the Name icon of your account in the upper right corner of the top bar.
Select the Sign Out option. You'll see the Microsoft Teams app closing and opening automatically.
Select your Microsoft Teams account.
You are all set and successfully completed your login and logout. Now see if it works; if not, follow the next method.
Here's a complete guide on how to set background image on MS Word.
2. Check Your Internet Connection
Well established internet connection is a must-needed option for Microsoft Teams to work correctly. Without sufficient net speed, your operation on the app can go south.
Before jumping into more complicated fixes, you should check your internet connection and speed. You can use the speed checker apps from any commodity. But I suggest using an adequate speed checker according to your needs.
Turn off your router and restart it to resolve the issue with your router. Make sure you have sufficient internet speed to operate the Microsoft Teams app.
3. Update the Microsoft Teams App
Occasionally if your Microsoft Teams app runs on an older version, it can cause damage to the viewing angle of the app. That can result in the message not showing up dilemma.
An update of your current Microsoft Teams app can fix this problem.
Here are the measures to update the Microsoft Teams app:
Start the Microsoft Teams app from your PC.
Click on the Three Dots button beside your Name Tag option.
Select the Check for updates option.
Download the update and install it.
Check to see whether your problem is solved or not.
Also, check out our separate post on how to make only one page landscape in Word.
4. Try a Different Microsoft Teams Version
Microsoft Teams is available for Windows, Mac OS, iOS, and Android operating systems. You can log into your own account with the help of those operating systems.
When you are facing the issue of messages not showing up on your Microsoft Teams, you can always switch between the operating systems.
But if that's the case for all operating systems, you can say there is an optimization issue with your Microsoft Teams account settings. You can clear the app cache or establish contact with Microsoft support to resolve the issue.
Check out the easiest way to enable equation editor in Microsoft Word.
5. Clear the Teams App Cache 
Clearing cache can solve your problem of messages not showing on Microsoft Teams. You can delete your app cache and run the Disk Clean-up with the help of the following actions.
Here are the steps to clear the cache:
Close the Microsoft Teams app.
Open the run program.
Type %AppData%\Microsoft\teams\ and select OK, and a folder will open.
Enter into the cache folder and delete all files.
Go to the blob_storage folder and delete all files.
Navigate to the databases folder and delete all files.
Move into the application cache\cache folder and delete all files.
Enter into the GPUcache folder and delete all files.
Navigate to the IndexedDB folder and delete all files.
Move into the Local Storage folder and delete all files.
Enter into the tmp folder and delete all files.
Clear your browser cache if you use Microsoft Teams for the web.
Clearing all the cache and temporary folders, restart your PC, and open Microsoft Team to see if it works or not.
Quickly check out our epic guide on how to enable word wrap in notepad.
6. Run the Disk Clean-up
Running the Disk clean-up can sometimes fix your issue with the message not showing up. Follow the steps for cleaning the disk.
Here are the ways to Disk Cleanup:
Type Disk Clean-up in the Windows Search Bar.
Enter the Disk Clean-up app.
Select the drive in which you installed your apps.
Choose the Temporary Internet Files box and hit the OK button.
Now restart your PC and open Microsoft Teams to see if it's working or not.
7. Uninstall and Reinstall
Due to a faulty installation process, sometimes the Microsoft Teams doesn't function correctly. You need to uninstall and install the Teams to fix this message not showing hassle.
Here are the actions to Uninstall and Install the Microsoft Teams:
Open the Windows Search Bar.
Type Settings and click on the option.
Select the Apps option.
Go to the Apps & features interface.
Find the Microsoft Teams app.
Click on the Uninstall option.
Go to the Microsoft website and download the Microsoft Teams.
Install the Microsoft Teams app.
8. Use Microsoft Team for the Web
If you don't want to go through the installation process of Microsoft Teams, then you can use Microsoft Teams for Web. It can give you a smooth communication venture.
Microsoft Teams for the web demands less storage and data, which may be appropriate for light users. You can visit Microsoft Teams Web for further queries and Sign In to apply it for your daily communication.
But before that, go through our epic guide on do Microsoft points still work.
FAQs
Do Teams messages pop up when presenting?
In default settings, Teams messages do not pop up while presenting.
When you delete a message in Teams, does the other person know?
They can not see the message but a note that says the Message has been deleted.
How long does a deleted message stay in Teams?
A deleted message stays 1 to 7 days in Teams.
Conclusion
Those who are very conscious about their data and storage can always switch to the Microsoft Teams for the web. It can help them navigate the internet more efficiently.
Microsoft Teams help us communicate with one another in the most forthright manner. But we fall into a dilemma when our messages don't show up. To settle that dispute, you can pursue my findings above.
As usual, inform me of your take on this content in the comment below.
Have a great day!