Are you a regular user of Microsoft office products? Or an occasional one?
Whoever you are, you might face "Sorry we are having some temporary server problem" out of the blue while activating Microsoft Office 2016. It's pathetic when you are in the middle of something, isn't it?
But don't worry. Being a technical support engineer, I had to solve this issue quite a lot. I will explain precisely why you are facing this and provide you with the quickest methods to fix this irritating prompt problem "Microsoft office sorry we are having some temporary server problem" error.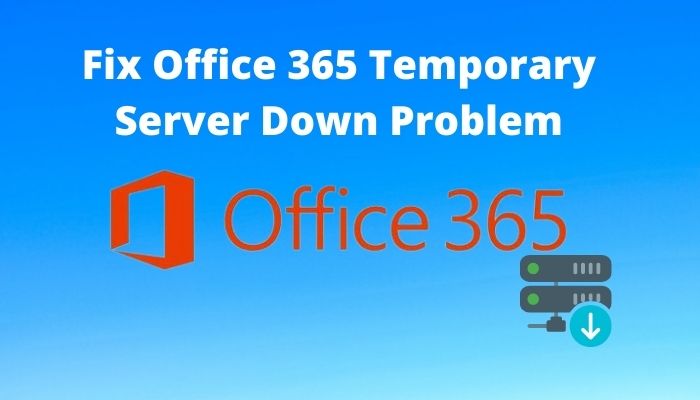 So, why am I seeing Office 365 "Sorry we're having some temporary server problem" error?
Office 365 "Sorry, we are having some temporary server problem" happens mainly due to lost or unstable internet connection issues. Corrupted Microsoft office files or misarranged internet settings are some of the other possible reasons too.
"Office 365 temporary server problem" is a temporary issue. But if you face this for a long time, go through the solutions and follow them till the end.
Check out our separate post on how to fix Office 365 Stuck
Fix Office 365 "Sorry we Are Having Some Temporary Server Problems Error"
Microsoft Office 365 needs the users who purchased the license for the office suite to register the product with the Microsoft server. You can register for Microsoft 365 using Microsoft Word, Powerpoint, Excel, or any Office application.
But Office 365 may fail to register the license at times.
Most of the time, the error is caused for blocking access to specific ports. Some users may resolve their issues by shifting to a different Wi-Fi connection. But as I am here for everyone, I will mention every way of solving this issue. Read till the end until you solve yours.
But before you start, verify your internet connectivity because you can't sign in to your Microsoft account and activate the product without any internet connection. Whether it's a Wi-Fi network or an Ethernet connection, it is recommended to check the validity of the source first.
Check out our epic post Office 365: Unable to Access Public Folders
1. Run Office As an Administrator
I have succeeded a couple of times in getting rid of temporary server problem issues by running the Office application as an administrator. Check if this works for you. Here's how you can do this.
Press the Windows key.

Type Word, Powerpoint, Excel or any Office application. 

Right-click on the application and choose

Run as administrator

.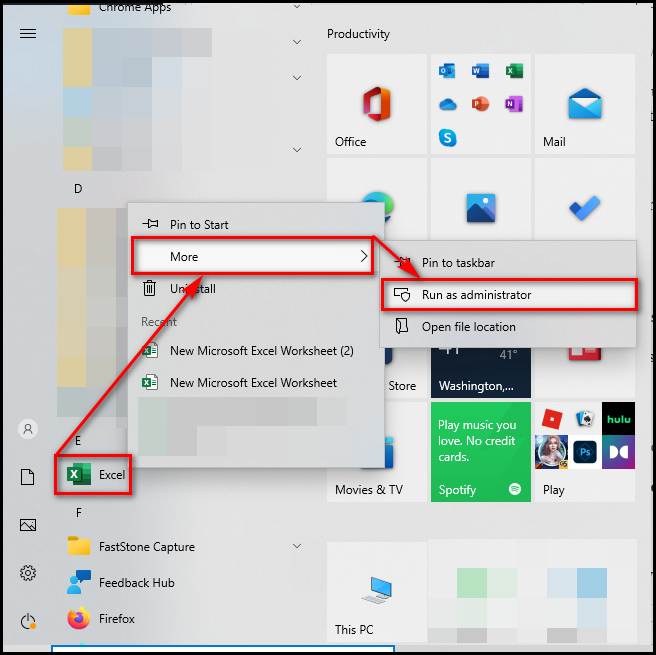 Now try to enable the license verification. Check if the problem is resolved. If not, move to the next one.
2. Disable the Microsoft Defender Firewall
Microsoft Defender Firewall helps you protect your device while on a private network. So, sometimes, people face the temporary issue because of this.
You should disable the Windows Firewall that is enabled by default. To do this, you have to:
Click the

Start

or

Search key

and go to

Settings

.

Select

Update and Security

. 

Choose

Windows Security

, and select

Firewall & network protection

afterwards. 

Click

Private network (active)

.

Toggle off the

Microsoft Defender Firewall

. 

Close the window and check if the problem goes away.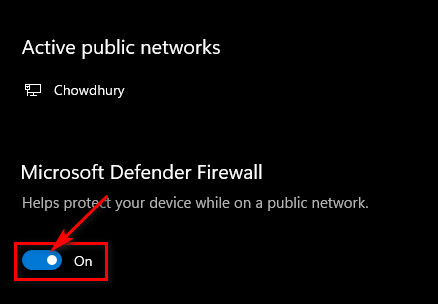 Note: Make sure you uncheck the box that says "Blocks all incoming connections, including those in the list of allowed apps" under the incoming connections section in the "Private network" tab.
You may also like to read: Office 365: Unable To Add Signature
3. Disable Two-Factor Authentication
Enabling two-factor authentication in Microsoft account is highly recommended for adding an additional layer of security. If your account has two-factor authentication enabled, make sure you disable it this time.
Choose a web browser and log in to your Microsoft account. 

Go to the

Manage your account

page.

Log in again if required and scroll down until you find

Two-Step Verification

.

Click on

Disable two-step verification

.

Click

Yes

when a pop-up window appears and want to know if you're sure to disable it.
Launch Microsoft Office and enter the activation key. As you have successfully disabled two-factor authentication, you might be able to proceed to the following method after activation appears.
4. Use The Office 365 Support and Recovery Assistant
The Office 365 Support and Recovery Assistant works by running tests and stuffs to figure out what is wrong and offers the best solution for the detected problem. It can fix many issues or at least tell you how to fix them. All you need to:
Open a browser and search

365 Support and Recovery Assistant

.

Download it. 

Launch the

installer

and click

Install

when the dialogue box opens.

Select

I Accept

to accept the service agreement. 

Click

Yes

when prompted by the UAC. 

Follow the instructions that appear on your screen and complete the Recovery process.
Open Microsoft Office and check if the problem disappears. If not, keep moving to the next ones.
Follow our guide to Fix Office 365 Error 70003 Your Organization Deleted
5. Check the Time Zone
We perform big tasks and go through more challenging steps to solve a problem most of the time. But we forget to check if there is an easier way to resolve the issue.
An incorrect time zone can cause this problem. So, before you activate your license, make sure the time, date, and time zone are set correctly on your system.
If you find a fault there, you have to:
Right-click on the time and date at the bottom-right side of your screen.

Choose

Adjust date/time

.

Check

Set time automatically

and then

Set time zone automatically

.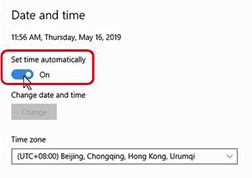 If you still see incorrect times and dates on your device, go to Adjust date/time again and change them manually this time.
Read more on how to Fix The "Failed to Connect to the KMS server" Error
6. Reset Internet Explorer
Are you facing your Internet explorer not working? Well, maybe it's because your Internet Explorer's settings are messed up. So, you are facing this problem when you're trying to activate Office 365.
So you need to reset the settings of Internet Explorer. Here is how you can do that.
Press Windows key+R to open the

Run

dialogue box. 

Type

inetcpl.cpl

in the box and hit

Enter

. Internet Options window will pop up.

Switch to the

Advanced

tab and click

Reset

in the

Reset Internet Explorer Settings

.

Select

Reset

again when you find a box asking,

"Are you sure you want to reset all the Internet Explorer Settings?"

Select

Close

and

OK

afterwards.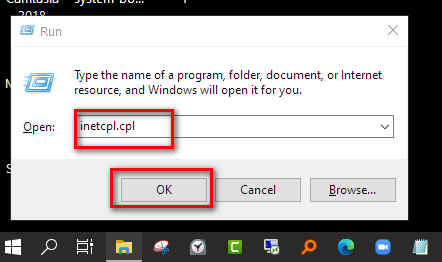 Restart your PC to apply changes. Check if the issue resolves or not. Read till the end if you can't solve your problem yet.
Also read, Causes And Fixes of 5xx Server Error Instagram
7. Use Incognito Window
If you still face the temporary server problem, you should use an incognito window to start a private browsing session and download Microsoft Office. Using a private session prevents your browser from storing your data, cookies, browsing history, most importantly, user name and passwords.
To start a private session in the Incognito Window, you need to:
Go to your browser and click on

Menu

. 

Select

New Incognito Window/New InPrivate Window

. If you are using Internet Explorer, you should go to

Menu> Tools> Security> Private Browsing

. 

Log in to

office.com

and sign in with your account.

Click

Install

to start the download. 

Close the browser after installing Office.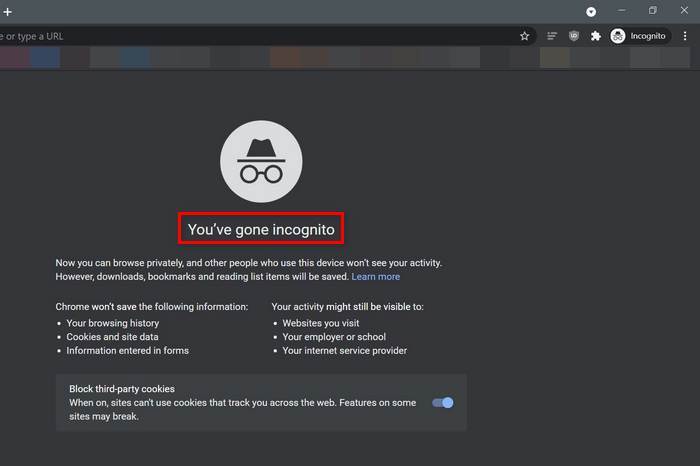 Check if this time you are successful with this plan. If not, there is only one option left to try out.
8. Contact Microsoft Support 
If none of the solutions helped you activate the license, i.e., fix Office 365 temporary server down the problem, it's time to contact Microsoft support. Microsoft team will help you to get over your situation.
But sometimes it takes longer than you think. So, have patience. If they can't solve your problem immediately, the support staff will fix the problem for you and inform you through email.
Check out our separate post to Fix Outlook Not Connecting to Server Error
Conclusion
Office 365 is every day use for small companies to big companies, students, and officials. It's not uncommon that you are having this issue for the first time, and you may face this problem after solving once for many reasons.
But I have mentioned every way of solving office 365 "Sorry, we are having some temporary server problem" error. Whoever reads this article, I wish you solve the problem by following the troubleshooting suggestions.
Let me know if you have solved your issue. Besides, if you have further questions, drop them in the comment box.